Sometimes being a film critic means being a straight guy who spends hours pondering the meaning of Zac Efron. It's not that bad, actually. Say what you want to about the High School Musical series, the actor who catapulted to stardom off them has some game. His career reminds me of John Travolta's in the late 1970s. They're both musically talented actors with the looks to capture the hearts of millions of preadolescent girls and the personality to keep everybody else engaged.


Of course, Efron will never have the streetwise quality that Travolta had, but he's picked his projects wisely, at least until now. (And even though some people point to Efron as Exhibit A in the wimpification of the American male leading man, next to 1970s-era Travolta he's practically an Olympic weightlifter.) Watch him blend into an ensemble in Hairspray or carry the lead in last year's 17 Again, and you see a guy who can carry off light comedy and make it look effortless, which is always an underrated skill.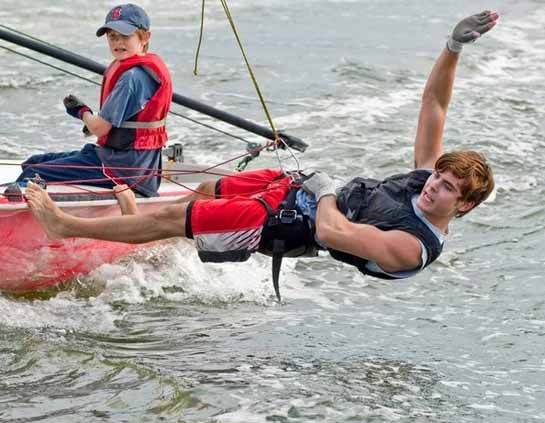 That said, his latest film, Charlie St. Cloud, is a misstep, though an enlightening one. Based on Ben Sherwood's best-selling 2004 novel The Death and Life of Charlie St. Cloud, this weeper stars Efron as the title character, a golden boy from Quincy, Mass., who wins every sailing race he enters and is set to go to Stanford University on a scholarship. That all changes when he drives his beloved little brother Sam (Charlie Tahan) into a fatal car accident. Five years later, he's still in Quincy working as a caretaker in the cemetery where Sam is buried. Not only that, he still honors a pact he made with Sam shortly before his death, heading into the woods every sunset to hold imaginary conversations with Sam's spirit. It's up to Tess (Amanda Crew), a former schoolmate of Charlie's who's now enjoying the sailing career that he should have had, to persuade him to rejoin the land of the living.
OK, let's start by dispensing with the most obvious problem here. Efron isn't cut out to play characters who are tormented and delusional. He gives this part an admirable try, but he comes up blank in the many scenes in which Charlie is supposed to be subtly damaged and shutting out the rest of the world. The plot turns on a further supernatural development that gives Charlie's conversations with Sam repercussions in the real world, and director Burr Steers (who made a far more interesting film in 2002 called Igby Goes Down) doesn't adequately prepare us for this.
Steers also directed Efron in 17 Again, and they both seem to be more comfortable doing comedy than they are with the generic demands of this melodrama. Efron's at his best here clowning around with Tahan (as either the pre- or post-mortem Sam) or with Crew (a lively presence here). Leading men with this combination of looks, skill, and sense of fun are hard to come by. So are projects that fit their talents. Efron should find himself another one of those.