Late-Night Dining
Critic's choice: Every year it seems that more quality places are staying open later to accommodate those who work nights, need some grub after a hard night of boozing, or just get a late-night craving.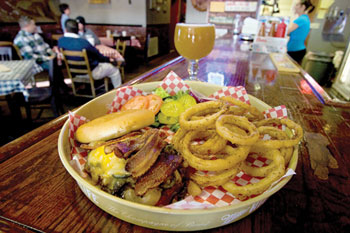 Drive down Hemphill Street, and you'll find a decent variety of taco trailers. You'll also come across El Mil Tacos, which stays open until 3:30 a.m. on weekdays and 4 a.m. on weekends. Taco meccas Ernesto's Taqueria and Juanito's Taqueria stay open past 3 a.m. on weekends. At La Gran Plaza, at Seminary Drive and I-35 South, Salsa Limón stays open until 2 a.m. on Fridays and 4 a.m. on Saturdays.
On hoppin' Magnolia Avenue on a weekend night, Benito's serves authentic Mexican fare until 2 a.m.
For Berry Street night owls, Fuzzy's Tacos is at the top of the list, churning out tacos until 3 a.m. on weekends. Across the street, in front of The Cellar bar, the Salsa Limón truck serves taqueria-style tacos until people stop ordering them. The Aardvark has long been one of the Fort's premier music venues, and now it can also boast of being one of the city's best late-night dining destinations — they keep serving good bar food until last call.
In the West 7th Street corridor, the new hero is Tacoheads', which serves tacos in Poag Mahone's parking lot until 3 a.m. on weekends. New to the list, The Wild Rooster Bar on Camp Bowie Boulevard west of University Drive has made a strong first impression, serving tasty bar grub until 2 a.m. every night.
All-Star Mexican Food
Tacos: Whether at its restaurant location in La Gran Plaza or its taco truck around town, the ingredients at Salsa Limón are always fresh, the meat is evenly spiced and never too oily, and everything is delicious. 4200 S Fwy, Ste 1099, FW.
Burritos: It's not just that they're big as your head, it's not the fact that there is such a wide variety, and it's not because they cost less than any of the Mc-burrito chains. No, what makes these burritos the best is that they are flavorful, unique, and always made fresh, with house-made tortillas. Chalio Birrieria Mexican Restaurant, 2020 N Main St, FW.
Tamales: This tiny Northside spot packs its tamales full of fresh, flavorful meat and serves them at a reasonable price. Amy's Restaurant, 1537 N Main St, FW.
Enchiladas: At a joint that walks the strange line between a taqueria and French fine dining, these enchiladas come stuffed with all of the standard meats and a few fancier ones. They're always superbly cooked and appropriately gooey. Paco and John, 1116 8th Av, FW.
Ceviche: Tangy and fresh, the Ceviche Yucateco keeps people coming in droves to this restaurant's multiple locations. La Playa Maya, FW.
Chiles Rellenos: Huge and stuffed with cheese, chicken, or beef, these rellenos take Mexican comfort food to new gooey, meaty heights. Benito's, 1450 W Magnolia Av, FW.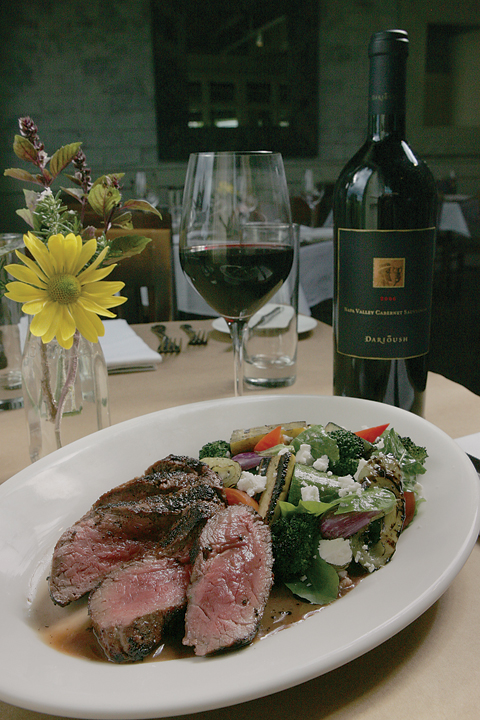 Burger
Readers' choice:Fred's Texas Cafe, 915 Currie St, FW
Critic's top five:
1. Start with an extra-thick, super-drippy burger with a great charbroiled flavor. Pile on tasty extras (teriyaki and pineapple, mushrooms and Swiss, piles of blue cheese). Add a side of gooey chili cheese fries, and you're all set. OC Burgers (three locations; see www.ocburgers.com.
2. Not retro, just really, really old: Clown Burger Too flips up seriously old-school sliders with fresh-cut fries and a touch of cranky-old-man 'tude. 5020 Stanley-Keller Rd, Haltom City.
3. The Big Nasty lives up to its name: a bun-busting, hand-formed burger heaped with cheese, chili, bacon, grilled onions, and jalapeños for a purely Texas blend of meaty, smoky, savory, spicy, two-handed heartiness. Chubby's Burger Shack, 7618 Camp Bowie W, FW.
4. Fresh, never-frozen beef makes the juicy difference in these small (just over 1/3 lb.), amazingly tasty griddled burgers. Mooyah, 8004 Denton Hwy, Watauga.
5. No matter how far we roam, we always come home to the chipotle-hot, Swiss cheese-creamy Diablo Burger. Fred's Texas Café.
Steak
Readers' choice: Del Frisco's Double Eagle Steakhouse,
812 Main St, FW
Critic's top five:
1. Neither glamorous nor trendy, Cattlemen's Steakhouse offers perhaps the most extensive menu: a baker's dozen of steaks for every kind of carnivore, served out of cases where picky diners can select what's for dinner. The "Rose O'Texas" center-cut tenderloin is amazing. 2458 N Main St, FW.
2. There's only one steak on the menu at Ellerbe Fine Foods –– chef Molly McCook's choice. If you're lucky, it will be the melt-in-your-mouth rib-eye. However, trust this chef to pick the best of what's available, cook it exactly as you want it, and pair it with beautiful, fresh, in-season veggies with locally made ingredients at one of the best restaurants in the country. 1501 W Magnolia, FW.
3. The best prime rib comes from Lou Lambert's kitchen. Served only with au jus and a horseradish cream, the meat is this close to being fork-tender. You can also get an obscenely big porterhouse steak. For starch, opt for the green chile grits. Lambert's Steaks, Seafood & Whiskey, 2731 White Settlement Rd, FW.
4. The ridiculously tender filet mignon at BB and Luigi's Vineyard Steakhouse comes in small (6-oz.), medium (8-oz.), and excessive (12-oz.) portions. Order a size down, because the entrée comes with an impressive brick of scalloped potatoes, layered with mild Italian cheeses. 1000 Texan Trail, Ste 130, Grapevine.
5. Del Frisco's Double Eagle Steakhouse has held up the corner of Main and Houston streets for more than a decade. The servers are scrupulous about making sure you understand exactly how your meat will be cooked. Sometimes this results in a five-minute conversation about the relative difference between medium and medium rare. But it's fine because whatever ends up on your plate — whether it be the filet mignon, the 16-oz. rib-eye, or the 24-oz. porterhouse –– is perfect.
---
All-Star International
Drink: Tangerine-like calamansi juice is available in the frozen-juice section of your favorite Asian mega-grocery, but it's best enjoyed as a chaser with fresh, fusion-y Philippine cuisine. Filipiniana Bakeshop and Café, 209 Bedford Rd, Bedford.
Bread: Sop up your curry with paneer kulcha, a puffy Indian flatbread stuffed with raisins and homemade cheese. Star India, 703 W Park Row Dr, Arl.
Appetizer: One thing everybody likes about Terra Mediterranean: smooth, rich, ultra-silky hummus with just a flick of garlic. 2973 Crockett St, FW.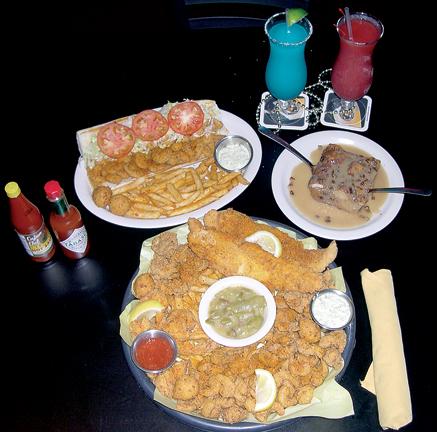 Soup: Better than chicken soup for curing whatever ails you: Hue-style spicy beef noodle soup, a symphony of rich, earthy flavors. Pho Saigon, 1730 Randol Mill Rd, Arl.
Salad: Greatest summer salad ever: sopska, a traditional Eastern European toss of diced tomato, cucumber, red onion, feta, and a sparkling vinaigrette. Blue Danube, 2230-A W Park Row Dr, Pantego.
Entrée: Yeah, yeah, we're fools for fool bel Zeiht, a dazzling vegetarian dish of fava beans long-simmered in tomatoes, lemon, and olive oil. Semiramis Café, 803-A W Park Row Dr, Arl.
Sides: Thick-sauced Cuban-style black beans, garlic-soaked yuca, cilantro rice, fried sweet plantains — you won't even need a main dish (but you shouldn't pass them up). Mi Tierra Latin Fusion, 603 W Abram St, Arl.
Dessert: Give peace pudding a chance: The teeny tapioca pearls and coconut bits in sweet coconut cream will win you over. Thai Basil Leaf, 805 W Park Row Dr, Arl.
Taqueria
Critic's top five:
Taco truck: Tacos Lupita, around 4330 E Lancaster Av, FW. Other taco trucks boast a much nicer view and sometimes even a little shade, but we'll risk sunburn for Lupita's slow-cooked, expertly spiced barbacoa, pastor, and lengua, all overstuffed into grilled corn tortillas. Plus, she often serves until midnight.
Gourmet: Salsa Fuego, 3520 Alta Mere Dr, FW. It's not quite all about the housemade sauces at Salsa Fuego — what's underneath counts, too, like gorgeous honey chipotle crispy-shrimp tacos mellowed with mango sauce or humongous burritos smothered in classic New Mexico red chile sauce. Tortas are swiped with roasted-jalapeño mayo, and amazingly delicious enchiladas can be topped with any of half-dozen spiced-up creams.
The real thing: El Rincon de Hidalgo, 3139 E Seminary Dr, FW. So you've been eating barbacoa and carnitas tacos along Hemphill for years, even ordering in actual Spanish. Are you ready to step it up? Try the octopus, squash flower, cactus, or huitlacoche (corn fungus) tacos at this tiny but friendly dive, and then you can honestly sneer at Taco Bell.
Afternoon snack: Taco Loco, 930 N Collins Av, Arl. Snack attack? Taco Loco's grilled-to-order quesadillas and hearty gorditas, huaraches, and tacos will hit the spot, for cheap. If by some chance you're still hungry, the rest of the menu — traditional breakfast and dinner specials, plus burritos and tortas — is equally great.Hidden gem: Salsa Limón, 4200 S Fwy in La Gran Plaza, FW. Traditional Mexico City spices and Oaxacan-style attention to freshness — plus meats so tender, you'll think you're eating foie gras — make the mall a destination again.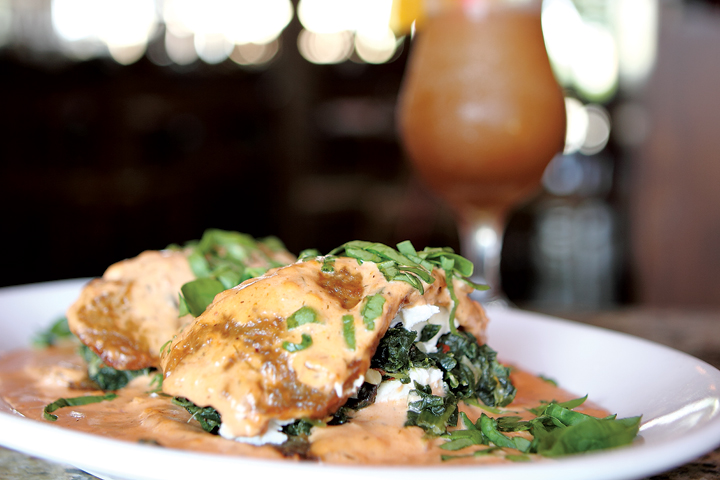 Breakfast
Readers' choice: Ol' South Pancake House, 1509 S University Dr, FW
Critic's choice: Ol' Rip's, 3105 Cockrell Av, FW
Go for the breakfast tacos — potato, eggs, and cheese plus bacon or sausage. The plain refried bean and cheese tacos are exceptional, and migas and huevos rancheros are also worth a sample. The neighbors aren't too happy with Rip's owners' expansionist tendencies these days, but that doesn't change the quality of the grub. The TCU-area restaurant is meant to open at 7:30 a.m., but look for a little flexibility on mornings after a big football party.
Cajun
Readers' choice: Razzoo's, 318 Main St, FW
Critic's choice: Boo-Ray's of New Orleans,
7255 Boat Club Rd, FW
The original Boo-Ray's, in Weatherford, is still going strong and is worthy of praise, but the new Boo-Ray's, on Boat Club Road, really takes the king cake. In a comfortable, sports-bar-ish setting, prepare to have your belly busted by such distinctly Loozianan delicacies as fried alligator, gumbo, étouffée, or buttery tilapia stuffed with shrimp and crabmeat, grilled to perfection and covered in crawfish hollandaise.
Coffee
Critic's choice: Sumatran, Caffé di Angeli, 954 W Rosedale St, FW
This dark-roast coffee is delicious whether you drink it on the premises or take the beans to brew at home. It is a rich, bold coffee with a great kick, no bitter aftertaste, and locally roasted beans, so they're always fresh. Even better, one pound of Sumatran (or any of several other roasts) can be bought for two to three bucks cheaper per pound than those expensive coffees sold by a certain chain.
Coffeehouse
Readers' choice: Paris Coffee Shop, 700 W Magnolia Av, FW
Critic's choice: Caffé di Angeli
This is another slow-down-or-you'll-miss-it place on the old South Side — and if you're a coffee lover, that would be a tragedy. Inside this small but airy café, the atmosphere is cozy — magazines and newspapers stacked every which way, the smells of home-made pastries and freshly roasted coffee, and a warm greeting from owners Karl and Carolyn Spahr. The smooth house blend is served up every way from straight black to cafe au lait. The pastries are to die for, especially an English puff pastry called Eccles cake, baked especially for the Spahrs. For lunch: panini and croissant sandwiches and fresh salads, all whipped up in the kitchen. Stop by Caffé di Angeli and help keep one of the increasingly rare breed of independent coffee shops going strong.
---
Donuts
Readers' choice: Paul's, 1324 Hemphill St, FW
Critic's choice: Kountry Donuts, 102 S Main St, Grapevine
There really isn't that much difference among the donuts you can get at any number of local shops, but this little place stands out for its drive-thru service and huge array of crullers, twists, pastries, and donuts in both cake and yeast varieties. If you're up that way, they make an excellent start to your day.
Vegetarian Meal
Readers' choice: Spiral Diner, 1314 W Magnolia Av, FW
Critic's choice: Eggplant lasagna, Chadra Mezza
There's no denying it: A lot of Fort Worth's dining options center on meat. Between barbecue and Tex-Mex, vegetarians often get stuck with coleslaw or chips and salsa. However, Chadra Mezza's Lebanese-cum-Italian menu offers, amid the ground beef and lamb dishes, a variety of flavorful and filling vegetarian dishes. Chief among these is the eggplant lasagna. Underneath a not-too-heavy vodka cream sauce, you'll find eggplant baked to a flaky finish and stuffed with spinach. It's hard not to wolf it down, but take your time, because this dish is meant to be savored.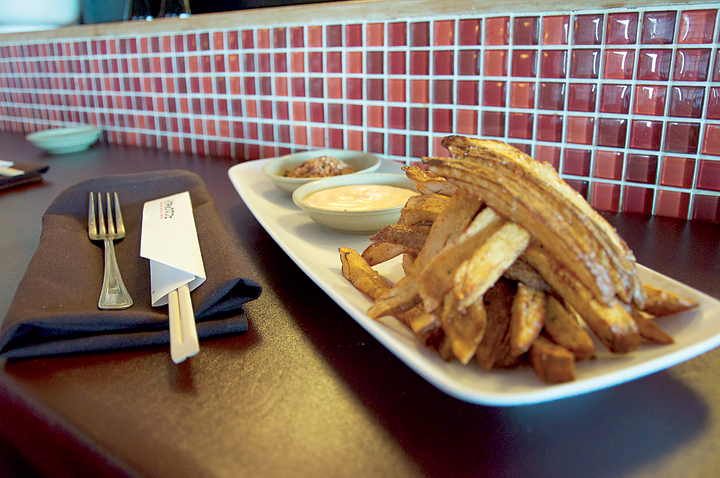 Brunch
Readers' choice: Blue Mesa, 1600 S University Dr, FW
Critic's choice: Sanford House, 506 N Center St, Arl
This lovely bed-and-breakfast offers breakfast and lunch daily and dinner on weekends, but we give thanks for the Sunday brunch. Whether it's the classic home-style pot roast or the fresh, creative "Eggs Benny," every culinary detail is perfect. As is the setting: The Monet Room, with its chandeliers, cushy drapes, gilt-framed landscapes, and roaring fire (in winter), is comfy for families and friends, a romantic dream for lovers.
Lunch Bargain
Readers' choice: Paco and John
Critic's choice: El Puerto Mexican Restaurant #2, 2621 Hemphill St, FW
There's nothing fancy about El Puerto. But let's face it: Décor and atmosphere are not what draw many people. The Monday and Tuesday enchilada lunch specials for $3.99, however, are. The deal includes two enchiladas of your choosing (cheese, chicken, or beef), rice and beans, and all of the salsa and chips your heart desires. It's rare to get out of a restaurant for less than $5 these days, let alone get something as filling and delicious as the gooey, creamy enchiladas at El Puerto.
Buffet
Readers' choice: Chadra Mezza, 1622 Park Place Av, FW
Critic's choice: Terra Mediterranean Grill, 2973 Crockett St, FW
We're surprised that the national war on obesity –– which doesn't seem to be working –– hasn't led to a prohibition on all-you-can-eat buffets. If you're going to nosh in overdrive, though, do it with the kind of healthy foods available on the excellent weekday lunch spread at Terra. All the Greek-Lebanese favorites –– including humus, tabouli, baba ghannouj, olives, feta, lamb, and chicken — are offered in fresh, frequently replenished abundance.
Home Cooking
Readers' choice: Old Neighborhood Grill, 1633 Park Place Av, FW
Critic's choice: Ginger Brown's Old Tyme Restaurant, 6312 Lake Worth Blvd, Lake Worth
Simple food loaded with all the tasty ingredients used by every self-respecting grandma is available in a casual atmosphere (each booth has its own wall jukebox) with cheap prices and friendly service. And nothing's better for topping off a meal than one of Ginger's homemade cinnamon rolls.
Deli
Readers' choice: Carshon's Deli, 3133 Cleburne Rd, FW
Critic's choice: Carshon's
Since 1928, this family-owned and -operated deli has been slinging New York-style sandwiches and sides here. While Carshon's isn't reinventing the deli wheel, it remains a model of consistency and comfort, offering all the classic deli meats and sandwiches with a personal, mom-and-pop touch and decent prices.
Fries
Critic's choice: Tokyo Café, 5121 Pershing Av, FW
French fries at a Japanese restaurant? Oh yes, indeed. The tok fries at this establishment just off Camp Bowie Boulevard win for their uniqueness. These thick potato wedges are seasoned with red pepper flakes and served with a chili mayonnaise and a spice rub that includes seaweed and sesame seeds. (You roll the fries in it after dipping them in the mayo.) Even folks who prefer their fries thin and crispy will be seduced by this East-meets-West concoction.
---
Greasy Spoon
Critic's choice: Paris Coffee Shop
The good folks over at the venerable Paris Coffee Shop will probably take this award as a backhanded compliment, but it's one delivered with love. The place has been serving up red-eye gravy and some of the best danged breakfasts, lunches, and desserts in Fort Worth for decades. They're served up fast — though the friendly wait staff is often furiously overworked — and good. And those homemade pies make it a destination all by themselves.
Thai
Readers' choice: Thai Tina's, 600 Commerce St, FW
Critic's choice: Junsuree Thai House, 1109 W Magnolia Av, FW
Family-owned and operated, Junsuree remains the jewel of Magnolia. Junsuree serves all of the classics, like pad Thai and panang curry, but it also offers unique dishes that make it a regular destination for foodies and Thai purists alike. The Angry Dish, for instance, is a tear-inducing treat that can be soothed only by Junsuree's housemade Thai-style coconut ice cream.

Indian
Readers' choice: Bombay Grill,
4625 Donnelly Av, Ste 109, FW
Critic's choice: India Grill, 4000 Five Points Blvd, Ste 109, Arl
The jewel of Arlington Highlands, India Grill artfully blends fragrant spices and rich, fresh flavors to deliver the best of North Indian cuisine — from the first sip of traditional lentil soup to the last drop of mango-pistachio ice cream, with delectable curries and tandoori dishes in between. Gracious hospitality and a peaceful room are the icing on the gulab jamun.
French Dish
Critic's choice: Café 1187, 8780 FM 1187 E, FW
Chef/owner Michele Tezak is a graduate of La Verenne Culinary School in Paris, and her training shows in the first bite of her luscious beef bourguignon. With beef braised in a broth flavored with red wine, garlic, onions, and herbs from Tezak's kitchen garden, this traditional peasant dish is both comfort food and haute cuisine. Café 1187's menu changes with ingredient availability, and the entrées aren't always Frenchy — chicken-fried steak appears regularly — but they're always prepared with the discriminating touch of a classically trained chef.
Wings
Readers' choice: Buffalo Bros.,
3015 S University Dr, FW
Critic's choice: Buffalo Bros.
With most wings, all you taste is the hot sauce. At Buffalo Bros., you can actually taste the chicken, and you can tell that it's fresh. Though the restaurant also offers amazing pizzas and sandwiches, it's not called Buffalo Bros. for nothing. The wings are the perfect size, and the meat is plentiful and juicy. Though Buffalo Bros. doesn't offer as many flavors as the chains, the premium quality more than makes up the difference.
Italian
Readers' choice: Nonna Tata, 1400 W Magnolia Av, FW
Critic's choice: Bardo's Pizza & Pasta,
2740 Western Center Blvd, FW
Don't let the inexpensive prices fool you: Bardo's offers top-quality Italian fare, including many unique twists on traditional delicacies. Don't pass up on the stuffed mushrooms appetizer, the chicken parmesan, or the pizza –– Bardo's pizza was our critic's favorite last year.
Chinese
Readers' choice: Szechuan, 4750 Bryant Irvin Rd, FW, and 5713 Locke Av, FW
Critic's choice: Pappa Chang Asia Bistro,
1526 Pennsylvania Av, FW
Pappa Chang does things big. The daily weekday lunch buffet is a treasure trove of perfectly cooked staples, and the menu offers cooking styles from Korea, Malaysia, Mongolia, and Thailand, in addition to China, of course. Pappa Chang also serves up a killer boba tea.
Greek
Critic's choice: King Tut Restaurant, 1512 W Magnolia Av, FW
The appetizers are key at King Tut. The dolmas (spiced rice-stuffed grape leaves) are excellent, almost as good as any Yia-Yia could make, and the hummus is a delicious balance of spice and tart tahini flavor.
---
Tex-Mex (Under $10 Entrée)
Readers' choice: Fuzzy's, 2917 W Berry St, FW, and 2719 Race St, FW
Critic's choice: Nuevo Leon, 1544 Ellis Av, FW
The North Side is jam-packed with cheap Tex-Mex fare, but Nuevo Leon stands out because the building is nicer, the food better, and the prices more reasonable than most. Plus, the servers and owner are always friendly. The $5 lunch special for chicken enchiladas is hard to beat.
Tex-Mex (Over $10 Entrée)
Readers' choice: Joe T Garcia's,
2201 N Commerce St, FW
Critic's choice: Mi Chula, 1431 E Southlake Blvd, Ste 551, Southlake
Mi Chula's fairly extensive menu is broken into Mexican and Tex-Mex sections, and almost everything is made on site. From "Mi Chula's Best" list, pick the guisada, a fancified version of Mexican stew. Want tacos? Take your pick of mahi-mahi, shrimp, fajita, or New Mexican chile pork. Or try an enchilada or combo plate. Just not all at one sitting — the portions are generous.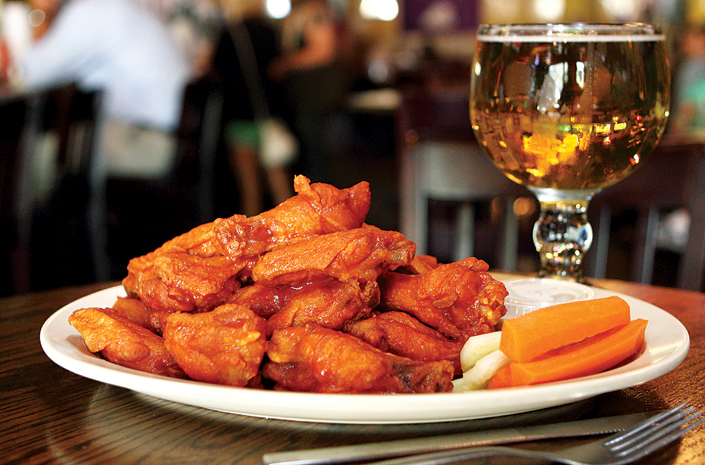 Vietnamese
Readers' choice: My Lan, 4015 E Belknap St, Haltom City
Critic's choice: Pho 95, 5302 E Belknap St, Haltom City
At this hole-in-the wall in Haltom City, the shrimp and pork spring rolls are served with a cool, perfect peanut sauce, and the pho portions and selection are large. Our favorite bun dish (vermicelli served over sliced salad components) is topped with sliced fried egg rolls and char-broiled shrimp. Add some spicy red pepper paste, pour the nuac cham (salty fish sauce) over the top, and you'll have a great and filling meal. And you'll get out of there for about 10 bucks, including tip.
Middle Eastern
Readers' choice: Chadra Mezza
Critic's choice: Istanbul Grill, 6204 S Cooper St, Arl
Outside is a boring South Arlington strip mall; inside, you're in southern Turkey, surrounded by intricately patterned rugs, bucolic paintings, and lute-filled folk music. Handsome, charming young Turks bring you traditional Middle Eastern dishes, made more exotic with Turkish marinades and spices: fresh-tasting hummus, baba ghannouj, and tabouli; juicy, crispy-edged gyros (here called doner kebab); and a char-grilled feast of chicken, lamb, and shish kebab on the mixed-grill platter. Try to save room for baklava like you've never had before.
Latin/Caribbean
Readers' choice: Gloria's, Montgomery Plaza, 2600 W 7th St, FW
Critic's choice: Jamaica Gates, 1020 W Arkansas Ln, Arl
Jamaican-born chef Barbara Renfro continues to dish out spectacular Caribbean fare from the small but big-hearted restaurant owned by her son and daughter-in-law. Unlike many first-time entrepreneurs, Renfro and company have kept traditional flavors alive by applying them to items popular with the college crowd, hence the spicy jerk chicken nachos and the sticky citrus-and-jerk chicken wings. For lovers of standard Caribbean fare, the escovitch tilapia in savory pan sauce is excellent.
Nontraditional Burger
Critic's choice: Cowboy Burger, Spiral Diner
Not many cowboys stroll into this vegetarian diner and say, "Howdy, pardner with all the piercings in your face, I'll have me one of them Cowboy Burgers with the nut patty made from sunflower seeds, carrots, and brown rice –– and don't be stingy with the avocado!" However, any cowboy who actually ordered the flavorful and healthy dish would probably love it.
Chicken-Fried Steak
Readers' choice: Tom's Burgers & Grill, 1530 N Cooper St, Arl
Critic's choice: Cat City Grill, 1208 W Magnolia Av, FW
Not your grandma's CFS, that's for sure. At Cat City Grill, expect to be blessed with an honest-to-goodness piece of peppery, melt-in-your-mouth steak (not that pounded-flat stuff), caked in a light batter and accompanied by cream gravy that you can actually taste.
Desserts
Readers' choice: Reata, 310 Houston St, FW
Critic's choice: McKinley's Fine Bakery & Café, 1612 S University Dr, Ste 402, FW
McKinley's, the quaint and popular little breakfast and lunch spot that is about to change locations within the University Park Village shopping center, offers a true cornucopia of sweet treats. A glass case near the register displays tons of cakes, cookies, and pies just waiting to be devoured. From cookie sandwiches to chocolate peanut butter pie to lemon scones, this place can satisfy just about any craving.
---
Chicken-Fried Steak
Readers' choice: Tom's Burgers & Grill, 1530 N Cooper St, Arl
Critic's choice: Cat City Grill, 1208 W Magnolia Av, FW
Not your grandma's CFS, that's for sure. At Cat City Grill, expect to be blessed with an honest-to-goodness piece of peppery, melt-in-your-mouth steak (not that pounded-flat stuff), caked in a light batter and accompanied by cream gravy that you can actually taste.
Barbecue
Readers' choice: Railhead, 2900 Montgomery St, FW
Critic's choice: Angelo's, 2533 White Settlement Rd, FW
Angelo's is the Fort's original no-frills meat market. The place is cavernous, dark, and slightly dusty, but you don't eat the furniture. For more than 50 years, folks have been piling into this Westside institution for hickory-roasted, vein-clogging brisket, ribs, and chopped beef (although the huge, frosty mugs of cheap beer don't hurt).
Tamales
Readers' choice: Hot Damn! Tamales, 713 W Magnolia Av, FW
Critic's choice: Amy's Restaurant, 1537 N Main St, FW
Amy's is so small if you blink you might miss it, especially among all the other Mexican restaurants on North Main. But what it lacks in size, it makes up for in deliciousness. The tamales come in all of the traditional flavors: pork, chicken, beef. They're house-made, fresh, and reasonably priced.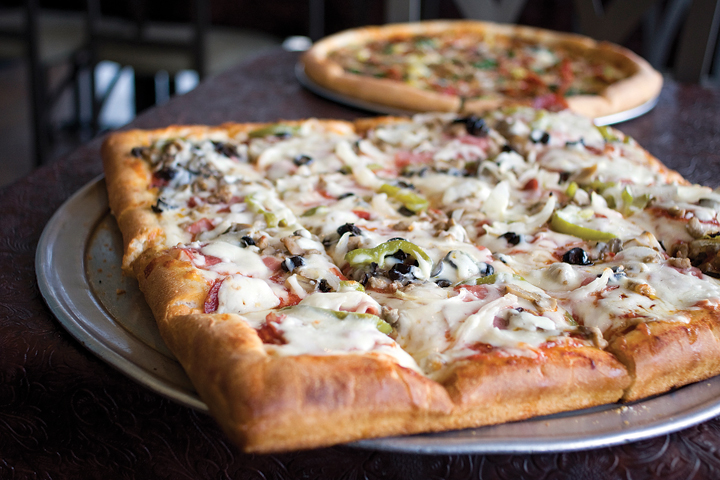 Queso
Readers' choice: Fuzzy's Tacos, multiple locations
Critic's choice: El Gabacho, 3408 W Abrams, Arl
The queso at El Gabacho is notable because actual chunks of onion, tomato, and pepper blend with the golden melty goo. This is not a queso for people who like theirs runny or with pureed veggies added. It's medium spicy, stands up to the fresh-fried chips, and doesn't turn to concrete midway through the meal.
Quesadillas
Readers' choice: Paco and John
Critic's choice: El Rincon de Hidalgo, 3139 E Seminary Dr, FW
Rincon, which translates roughly into "cubbyhole," is an apt description for this little place near the intersection of Seminary Drive and Mansfield Highway. The only impressive thing inside is the food, and it's one of a kind (for Fort Worth, at least). We're not sure where they have space to keep all the ingredients, but Rincon offers quesadillas with no fewer than 26 choices of filling, including octopus, huitlacoche (corn mushrooms), hot chipotle chicken, and flor de calabaza (squash blossoms), everything served in a huge homemade flour tortilla.
Red Salsa
Readers' choice: La Familia, 841 Foch St, FW
Critic's choice: Fernandez Café, 4220 W Vickery Blvd, FW
Good red salsa requires a delicate balance: Too much tomato, and it's bland. Too much spice, and it overwhelms the other flavors in your meal. But the folks at Fernandez Café have unraveled the mystery. A perfect balance of spice and flavor makes the red at Fernandez stand out. It's especially great on the breakfast tacos.
Green Salsa
Readers' choice: Paco and John
Critic's choice: Mi Cocinita, 3509 Bryan Av, FW
Red salsa is king in Texas, but a small number of Tex-Mex lovers cross over to the spicier side of life, partaking of the wonderful world of salsa verde, where boiled and blended jalapeños provide the basic ingredient. Most places ruin the green by diluting the jalapeño flavor with too much sweet and icky tomatillo, but not at Mi Cocinita. And if you ask for the green sauce, it appears in the same bowl with the red, creating a colorful explosion of flavors.
Pan-Asian Restaurant
Readers' choice: Pappa Chang Asia Bistro
Critic's choice: Korea House BBQ, 4750 Bryant Irvin Rd, FW
This peaceful little place in the Cityview area will give you a huge meal in the traditional Korean way, with as many as eight side dishes offering savory bites of pickled radish, fried tofu, and, of course, kimchee. These complement spectacular main dishes that include a spicy-sweet bulgogi that will give even Texas barbecue lovers pause.
Menudo
Critic's choice: El Asadero, 1535 N Main St, FW
A rich reddish-brown color is important to a good bowl of menudo. A bowl of tripe, after all, has to be somewhat attractive to get anyone to eat it. El Asadero not only has the color part down, they succeed in the flavor and texture departments as well.
---
Sushi
Readers' choice: Piranha Killer Sushi, 335 W 3rd St, FW
Critic's choice: MK's Sushi, 2901 Fair Dr, FW
Though MK's also serves up spectacular noodles and rice dishes, the sushi's the thing here. The rolls are bursting with inventive flavors. The Ahi Tower (mixed at the table by your server) is a monster of crab, cucumber, and avocado topped with spicy tuna and caviar. The Walu Walu (featuring the titular fish flown in from Hawaii) also incorporates cucumber and avocado and is topped with baked lobster sauce. One of the best sellers is the Samurai: tuna, crab, cucumber, and soy paper topped with salmon and sweet-and-spicy sauce.
Pizza
Readers' choice: Mellow Mushroom, 3455 Bluebonnet Cir, FW
Critic's choice: Brix Pizza & Wine Bar, 2747 S Hulen St, FW
Everything at this quaint establishment is as fresh as fresh can be. The pizzas are hand-tossed to perfection and, if you order a specialty pie, loaded with goodies. A perfect balance of sauce and cheese makes each slice at Brix one to remember.
Kids' Dining Venue
Readers' choice: Purple Cow Diner, 4601 W Fwy, FW
Critic's choice: La Gran Plaza, 4200 S Fwy, FW
On the lower level of the mall is a huge climbing tube where kids can wander almost endlessly. After that, choose one of more than a dozen restaurant/bars that serve everything from yogurt to hot dogs to Tex-Mex to pizza to fresh fruit juices. On the weekends, there is often live mariachi music and other specialty acts that will keep you and your kids entertained –– not to mention the outdoor carnival that passes through a few times a year.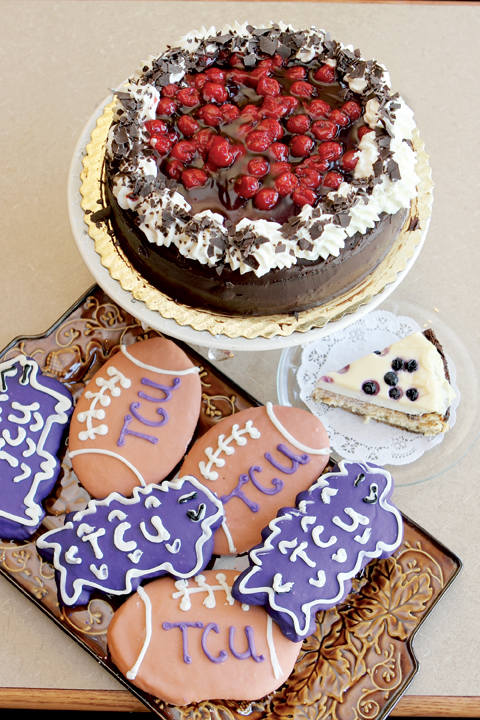 Seafood
Readers' choice: (tie) Eddie V's Prime Seafood, 3100 W 7th St, FW; and Flying Fish, 2913 Montgomery St, FW
Critic's choice: Truluck's Seafood, Steak and Crab House, 1420 Plaza Place, Southlake
Some restaurants have a dessert tray. Truluck's has a crab tray, with three sizes of Florida stone crab claws as well as Dungeness and king crab. Served icy cold with a chilled mustard-infused butter, the crab claws come pre-cracked –– one of the many classy touches here. The restaurant also is committed to sustainable seafood: Endangered or over-fished species (Chilean sea bass, swordfish, marlin) are not on the menu. And Truluck's doesn't just feature claw-wielding critters. Try the jalapeño salmon, covered with luscious crabmeat and gulf shrimp in a spicy béarnaise sauce, or the surprisingly hearty and meaty Texas-striped bass Pontchartrain.
Fried Chicken
Readers' choice: Babe's, 120 S Main St, Burleson
Critic's choice: Buttons, 4701 W Fwy, FW
The I-don't-care-what-this-will-look-like-on-my-butt fried chicken at Buttons, seriously, might be the best in a town with some fine competitors. The crust is absolutely crispy, not too salty, and not too peppery, while the insides –– white or dark meat –– are moist and tender. As for seasoning, Chef Keith Hicks cops to cayenne pepper but, asked about other secret ingredients, said only "a pinch of yo mama!" Fine. The chicken is often paired with waffles for an up-all-night blues fan's breakfast, but if you don't want the whole thing, you can opt for just the chicken with a side, for around eight bucks.
Sandwich
Readers' choice: Carshon's
Critic's choice: The Dominican, Embargo, 210 E 8th St, FW
This popular menu item is a huge, mouth-watering assemblage of carne asada, ham, cheese, and grilled onions with chipotle sauce on a pressed baguette. The ingredients are always fresh and the flavors brilliant.
Hot Dog
Readers' choice: Love Shack So7, 817 Matisse, FW
Critic's choice: Hotdog Heaven, 600 Alta Mere Dr, FW
What, never heard of Hotdog Heaven? If you've ever been to the Lowe's on Alta Mere, you've passed right by John King's cart-and-picnic-tables operation. Hotdog Heaven serves up tasty dogs, brats, and Polish sausages, grilled to perfection, in a little lunch spot that's not fancy but also not to be missed. Adding a little zoom-zoom to the mustard and relish, you usually get a free air show from Carswell fighter jets doing practice runs.
Salad
Critic's choice: That Salad, Bailey's Prime Plus, 2901 Crockett St, FW
Bailey's Prime Plus isn't known as a haven for veggies, but That Salad (cute name) is a lovely counterpoint to all the cow on the menu. Although not as impressive-looking as its cousin, the Wedge, That Salad is far tastier. Simple mixed greens come augmented with tart Michigan cherries, a flavorsome, not overwhelming, sweet-and-sour maple-sherry vinaigrette, and shelled pistachio halves, which stand in for the more traditional walnuts or pecans. Chunks of Oregon blue cheese complete the package.
Bread
Readers' choice: Panera, 1700 S University Dr, FW
Critic's choice: The Italian Market, 241 I-20, Arl
The focaccia bread, made fresh in small batches several times a day, comes free with your entrée or salad, but it's so good the restaurant (formerly Mandola's) would make a fortune selling it alone. The simple bread, bathed with olive oil, salt, and herbs, is tasty enough to be eaten unadorned. However, pile on more olive oil and aged balsamic vinegar for a combo that's absolutely divine. Or use it to mop up any of the interesting sauces. You'll never be happy with a plain breadstick again.
---
Appetizers
Readers' choice: St. Emilion, 3617 W 7th St, FW
Critic's choice: Cowtown Diner, 305 Main St, FW
At this classic-diner-meets-trendy-bistro, "down-home" gets kicked up a few notches. Here, "pigs in a homemade quilt" are grilled venison sausages wrapped in puff pastry, finished with a punchy honey-mustard dip. The "ranch queso" is made with four cheeses (and brisket, on request). Deep-fried pickled okra, Cowtown Diner's take on the jalapeño popper, is stuffed with bacon and pimiento cheese. The cuisine fusion crescendos with the deep-fried deviled egg, bacon-wrapped and tempura-battered. You could make a meal out of just one of Cowtown's creative appetizers, but we recommend you try them all.
Ice Cream
Readers' choice: Marble Slab, 308 Houston St, FW
Critic's choice: The Italian Market
The chains tend to dominate ice cream options in Tarrant County, but one place you can get artisanal homemade gelato is at this Italian restaurant. The wide selection of flavors, which tends to narrow a little as you approach closing time, includes a luscious sea-salt caramel.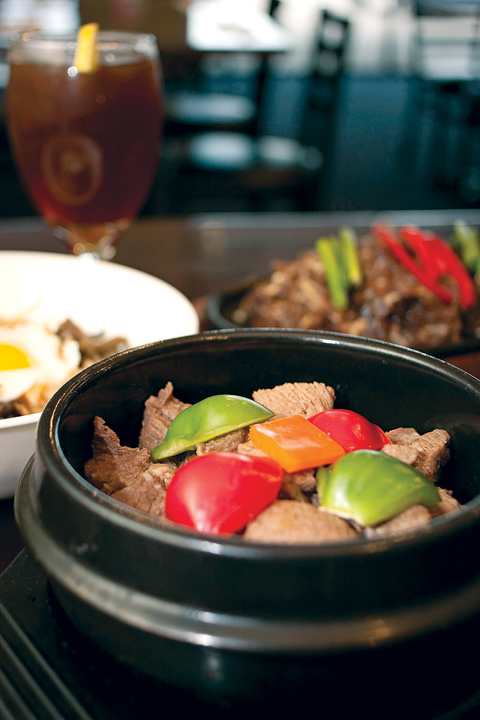 Frozen Yogurt
Critic's choice: Cassie's Frozen Yogurt, 603 S Main St, Grapevine
Fro-yo places have been sprouting all over Tarrant County this past year, and most seem to be using the same interior decorator. This place in historic downtown Grapevine wins for its red velvet yogurt, the toasted coconut topping option, reasonable prices, and plenty of space for sitting and chilling with your choice of self-serve treats.
Wine List
Readers' choice: St. Emilion
Critic's choice: Ellerbe Fine Foods
When Bon Appétit named Ellerbe's one of the country's top 10 new restaurants earlier this year (the only Texas restaurant on the list), the magazine suggested that the Magnolia Avenue food paradise is "what it would be like to have a charming Southern grandma who invited you over to her cozy little house for Sunday supper" except with better cooks. Not surprisingly, the wine list here is also way better than Granny's even if she grew up in Napa. The vintages include some of the best the wine world has to offer — and that you may not be able to find anywhere else in North Texas.
Place to Buy Ethnic Food
Readers' choice: Central Market, 4651 W Fwy, FW
Critic's choice: Cho Saigon New Market, 2206 S Collins St, Arl
How many different types of bok choy are there? Whatever the answer, it seems like they're all at Cho Saigon New Market. The pan-Asian produce selections are as numerous as they are exotic, and so is the seafood, much of which is still alive in tanks. If you're into the wilder side of Tarrant County cuisine, stock up at Cho Saigon or at least stop by the in-store deli.
Presentation
Critic's choice: Buttons
Just one glance at Buttons' signature dish — a bed of Belgian waffles and perfect fried chicken, topped with a mound of slivered sweet-potato fries and scattered fresh berries — and your soul is already happy. It'll be even happier after a bite, or course.
Place to Dine Al Fresco
Readers' choice: Joe T Garcia's
Critic's choice: Fred's Texas Café
Fred's keeps getting better and better — especially in the summer. For one thing, it's the most Fort Worthian spot on the south side of West 7th Street. For another, Fred's patio is always packed with people having a good time, and now there's a lot more shade. Add to that a steady roster of countrified live music and outlaw chef Terry Chandler's famous creations, and Fred's patio makes for a rockin' party.
Non-alcoholic Drink
Critic's choice: Dracula o Vampiro, La Media Naranja, 861 W Magnolia Av,
and La Gran Plaza, FW
This blend of juiced-to-order beets with celery and carrots is said to be muy healthful, but we just like the fresh taste. And the name, of course.
---
Place to Dine Alone
Readers' choice: Kimbell Art Museum,
3333 Camp Bowie Blvd, FW
Critic's choice: West 7th Movie Tavern,
2872 Crockett St, FW
Go ahead, take yourself out for dinner and a movie. You're worth it! And because you're also efficient, you'll do both at one place — enjoy a current blockbuster at Movie Tavern while chowing down on server-delivered yummies like pizza, burgers, and nicely tricked-out sandwiches. Best of all, unlike at restaurants, movie etiquette permits you to shush your screechy neighbors.
Place to Buy Car Food
Critic's choice: Tiger Farms Market, 1411 SW Wilshire Blvd, Burleson
True, this is a reach, but let's just assume your trip is taking you south of Cowtown on I-35. In that case, get off at Wilshire Boulevard and drive about a mile to the big Exxon station. This is no simple gas mart — it's one of the best markets in the city, with an impressive selection of organic fruits and vegetables, a great grill, a smoothie station, and a range of cold sandwiches from avocado and cheese on whole grain to superb chicken salad. The coffee is as good as you'll get anywhere –– and if you buy gas, the java's free.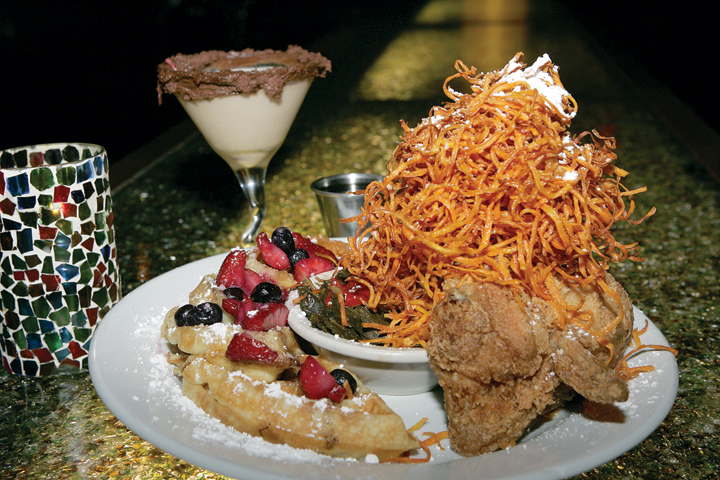 Spicy Dish
Critic's choice: Chuletas de puerco, Caro's Mexican Restaurant, 3505 Bluebonnet Cir, FW
All of Caro's signature dishes involve puffy masa shells, but more adventurous diners also know about the full-fledged fire of these pork chops. The recipe is old, and the seasoned cooks at this TCU-area favorite follow it religiously. The chuletas are coated with pepper, grilled, and then topped with a relish of hotter-than-hot jalapeños. This dish is so spicy, a stick of butter may be the only option for putting out the flames.
View
Readers' choice: Reata
Critic's choice: The Point, 1349 Bomber Rd, FW
The Point, a few feet from the western fence of the giant Lockheed plant, has perhaps the prettiest, and least known, lake view (in this case, Lake Worth) of any public establishment in Tarrant County. The food is roadhouse/lake joint classic: catfish, sandwiches, seafood, blue-plate specials, and burgers, including a mushroom-Swiss version that ranks among the city's best. The interior is plain, but who needs décor when you've got a big bank of windows overlooking the horseshoe pit and the lake? The bar is pleasant, with its own deck, and there's music on Sunday afternoons. But don't tell anybody.
Romantic Atmosphere
Readers' choice: St. Emilion
Critic's choice: Simply Fondue, 111 W 4th St, FW
The Fort's only fondue restaurant sits in a dark but opulent basement in the heart of downtown. Diners share cozy, high-backed booths seemingly set off from the rest of the world and enjoy lengthy but leisurely –– and sensual –– gustatory experiences. The decadent food (especially the rich melted chocolate desserts), remote-island seating, and elegant ambiance could put even the coldest fish in the mood.
Atmosphere
Critic's choice: Ruffino's, 2455 Forest Park Blvd, FW
Ruffino's has gotten "Romantic Atmosphere" honors in past years and deservedly so. But honestly, who needs romance when you've got casual elegance, on-the-spot servers, great, inventive food, and just the general feeling that you're among friends — and classy, fascinating friends, at that.
Chef
Readers' choice: Jon Bonnell, Bonnell's Fine Texas Cuisine, 4259 Bryant Irvin Rd, FW
Critic's choice: Sean Alvarez, Ferré Ristorante e Bar, 215 E 4th St, FW
It's a culinary Horatio Alger story: Instead of going to food school in Paris or Poughkeepsie, Sean Alvarez started his career as a dishwasher at a Fort Worth lunch counter. Fifteen years later, having studied under star chefs like Tim Love and David McMillan, he's a star himself. At sleek, stylish Ferré, Chef Sean's great talent is in glamming up contemporary Tuscan dishes with a delicate hand: just a sprinkling of crispy prosciutto to perk up a wedge salad, a mere drizzle of white truffle oil and balsamic vinegar to enhance scallops. A master of taking simple ingredients to astonishing depths of flavor, Sean Alvarez is now the chef to emulate.
Off-Campus Lunch Spot
Critic's choice: Buffalo Bros.
With unbeatable wing specials and a happy hour that's cheap even for college students, Buffalo Bros. has become a popular eatery/watering hole for town and gown alike. What's more, it added a patio this year and has been booking local singer-songwriters, so it's also a pretty bitchin' little music venue.
---
Soul Food
Critic's choice: Drew's Place, 5701 Curzon Av, FW
Every few years we champion an upscale, ambitious local variation on African-American home-cooking for this category. We never regret going fancy, but Drew's Place, the cuisine's 23-year-old local standard-bearer, is still hard to beat. Don't pass on Drew's pork chops (fried or smothered), spicy catfish (filet or whole), chicken wings (baked or fried), or excellent sides, including collard greens, red beans, black-eyed peas, and candied yams.
Cheap Groceries
Critic's choice: Import Food Market, 701 E Pioneer Pkwy, Arl
Tired of paying through the nose at gourmet grocery stores for fresh, tasty, healthful Middle Eastern food? Get your mango lassi on at Import Food Market, and then shop the olive bar, the feta case, and the three full aisles of spices. With fresh, inexpensive produce — including the cutest little grape tomatoes in town — plus halal meats, Danish butter, and enough olive oil to fill a swimming pool, this is your one-stop grocery store for value-priced global goodies.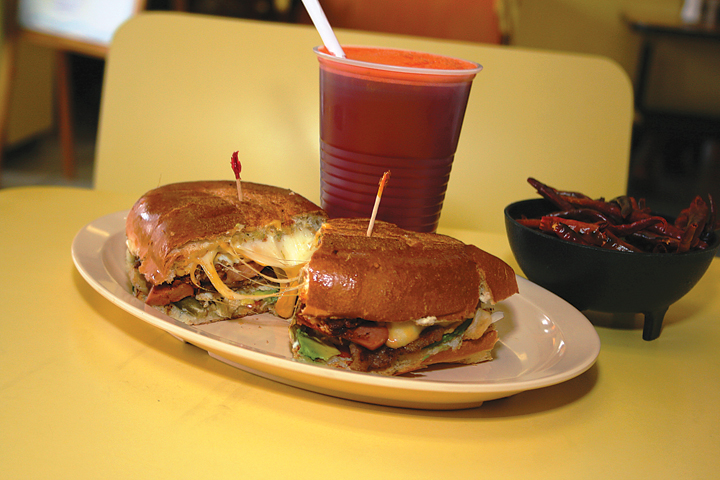 Carb Loading
Critic's choice: Pizza lunch buffet, Mama's Pizza, 5800 Camp Bowie Blvd, FW
We love the bottomless breadbasket at La Madeleine, but carb-loaders cannot live on bread (and butter and jam) alone. We need pasta and tomato sauce and gooey cheese and spicy sliced pepperoni too. Down the street from La Madeleine at Mama's Pizza, the daily pizza lunch buffet is hot, fast, and flavorful. Whether you're training for a marathon or nursing a broken heart, Mama knows what you need.
Fast Food
Critic's choice: Chick-Fil-A, various locations
Chick-Fil-A has always had good chicken sandwiches, but now the chain has made far-reaching menu changes that emphasize healthy eating. Besides the basic chicken sandwich (hand-breaded on site, cooked in non-transfat peanut oil), offerings now include char-grilled chicken wraps, with plentiful veggies and cheese inside multi-grain flatbread. The coleslaw is made fresh daily at each location. For a healthy side, skip the waffle fries and go with the carrot, raisin, and pineapple salad.
Creative Menu
Critic's choice: Café Modern, 3200 Darnell St, FW
Still one of the most consistently lovely places to dine in North Texas, this café would probably do well serving limp lettuce and Cheerios, thanks to its cool, classy, understated décor and beautiful views of the Modern's reflecting pool. But honestly, the chefs here are on a par with the artists whose more permanent works fill the rest of the building. The menu, also like the Modern itself, brings together many cultures, mixing classics from the café's permanent collection (Moroccan chicken, for instance) with traveling shows of sandwiches, salads, appetizers, and entrées. Gluten-free and vegetarian dishes are included.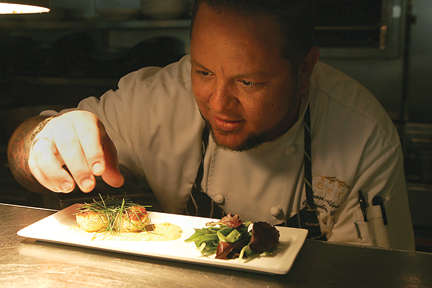 Best-Kept Secret
Critic's choice: La Media Naranja, 961 W Magnolia Av, FW
Few outside the neighborhood have heard of this hole-in-the-wall with a bright interior and big menu of "real Mexican food." The cooks turn out huge, great-tasting tortas in varieties from catfish to the Hawaiana (ham, cheese, and pineapple) to the Cubana (a monster with steak, pork, ham, cheese, chorizo, eggs, sausage, avocado slices, and nicely warm chiles). The menu also includes several varieties of sincronizadas — grilled flour tortilla sandwiches filled with meat (usually ham) and slabs of white cheese. Breakfasts include the expected offerings but also granola topped with berries and wheat germ. La Media serves a wide variety of yogurts and fruit drinks, and cabrito and menudo are available on weekends.
Wait Staffer
Readers' choice: Scott Berkman, Ellerbe
Critic's choice: Judy Brickey, Montgomery Street Café, 2000 Montgomery St, FW
The staff at the Montgomery Street Café is experienced and efficient, friendly and witty, while at the same time being able to sling the hash from kitchen to table quickly, old-school style. Judy Brickey works the counter, and she is all of the above. She always has a smile and a "hon" for her customers and never lets a tea or water glass sit empty for long. We'll call her "hon" right back.
Host
Readers' choice: Vance Martin, Cat City Grill
Critic's choice: John Whitten Jr., Caro's Mexican Restaurant
The "Puff Taco Daddy" himself has been pouring the stiffest margaritas in town for more than two decades now. It's hard to call him a host, since he does a little of everything. But he's always there to greet you at the door with a sarcastic grin and a booming laugh.
Restaurant
Readers' choice: St. Emilion
Critic's choice: Nonna Tata
Shortly after Nonna Tata opened in early 2006, the Weekly said this little gem was "destined to be epic." That has turned out to be an understatement. Though owner/chef Donatella Trotti has mystified some people with her genuine Italian cuisine — what, no cream in the carbonara? — she has thrilled many more with her ever-changing menu of gorgeous antipasti, hearty soups, crisp salads, and made-from-scratch pastas. Nonna Tata takes only cash and doesn't accept reservations, yet the half-dozen tables crowded into this teeny space are always full of very happy diners.
New Restaurant
Readers' choice: Cat City Grill
Critic's choice: Brownstone, 840 Currie St, FW
This lovely eatery in the West 7th development is both stunningly sophisticated and fresh from the farm. The soaring-ceilinged room is grounded with earth-toned fabrics and solid cabinetry; the superbly trained servers are professional and gracious. Chef Casey Thompson, of Top Chef fame, uses local, regional, and sustainable ingredients to infuse her innovative menu with Southern-home-style touches, from cherry-braised Kobe beef cheeks layered over spoonbread to ginger-peach cobbler with housemade buttermilk ice cream. In adding a dash of California style to Texas comfort foods, Brownstone offers the best of both worlds on one delicious plate.
Best in a Field of One
Critic's choice: Spiral Diner
You'd think a vegan restaurant in a city nicknamed Cowtown would be a tough sell, but go to Spiral Diner for lunch, and you'll find all the tables packed. Even the proudest carnivore is bound to (begrudgingly) find something to enjoy on the menu, and its I-Scream (vegan ice cream, of course) is legendary. Do your body good and cruise on down.