Bartender
Readers' choice: Jason Pollard, Buffalo Bros., 3015 S University Dr, FW
Critic's choice: Carey Wolff, Malone's Pub, 1303 Calhoun St, FW
Sure, Malone's Pub might not pack 'em in the way other bars do, and Malone's bartenders probably make far fewer complicated shots and labor-intensive drinks. But there's something nice about a bartender who knows your name and your drink and is always ready with a dirty joke or a good story. Long-time barkeep Carey Wolff fills the void for people who are getting too old to be served by ice queens or by boneheads who can't carry on a conversation deeper than "Whadda you want?" Wolff is funny, self-deprecating, and laid back. And more importantly, he knows what he's doing behind the bar.


Cheap Buzz:
Readers' choice: (tie) The Wild Rooster Bar, 3204 Camp Bowie Blvd, FW; and Chat Room Pub, 1263 W Magnolia Av, FW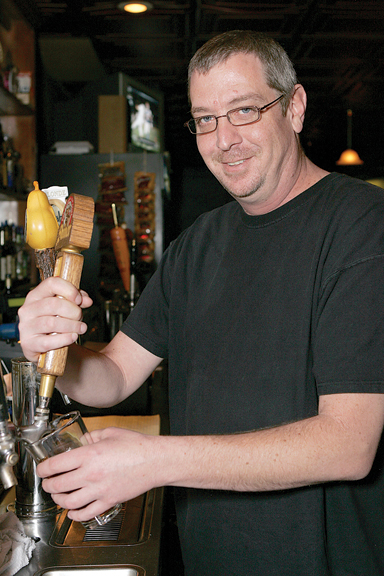 Critic's choice:
You get up on a weekday morning, and when you go to let the dog out, you notice the weather is absolutely perfect. So you call to explain to your employer, in your most convincing sore-throat voice, that you can't make it in. And what's the best way to recuperate from a bogus illness? By putting a nice cold beer can or bottle to your forehead, of course –– and then to your lips. Start your afternoon on the comfy patio of Chimy's Mexican Cerveceria (1053 Foch St by So7), where a couple of tacos and a beer can be had for about five bucks. From there, head a few blocks west on West 7th Street to the Wild Rooster Bar (3204 Camp Bowie Blvd), where cans of PBR and Lone Star Light are always only $1.50. If you've paced yourself, happy hour should be right around the corner, in which case you'll want to head farther west to hit up Spencer's Corner (6861-C Green Oaks Rd next to Ridgmar Mall) for wells that range from 50 cents to a dollar. While you're on the far West Side, swing by Cowtown Sports Bar and Grill (7108 Camp Bowie W), where domestic bottles are $2, domestic drafts $1.50, and well you-call-its only $2.50 during happy hour (4-7pm Sun-Thu). Hop in a cab and head over to the TCU area. At The Moon (2911 W Berry St), Mondays feature dollar domestic bottles, Tuesdays $2 wells, and Wednesdays $2 domestic drafts. Got the munchies? If the Rangers are playing, you're in luck. Tiff & Andi's Place (3516 Bluebonnet Cir) serves up super-cheap food (barbecue sandwiches, potato salad, $2 hot dogs) during Rangers games. Get back in the cab and head downtown to, well, pretty much the only unabashed dive bar there, perennial Best Of winner Malone's Pub (1303 Calhoun St). Specials include $2.50 imports and domestic pints on Mondays, $1.75 longnecks on Thursdays, and $2 wells on Sundays, all from open 'til close. And don't forget about the wilds of Arlington. At Ozzie Rabbit Lodge (6463 E Lancaster Av), Thursdays highlight $1 wells and $2 doubles, Fiesta Fridays revolve around $2.50 Mexi-beers and $2.50 Cuervo shots, and Saturdays are for $2 you-call-its. And Caves Lounge (900 W Division St), which is like Lola's Saloon but without the great live music, features $1.75 tall drafts of Coors Original, $2.50 tall drafts of PBR, and $3 Jim Beam on Mondays, $2.50 Texas beers on Wednesdays, and $2.50 Mexi-beers and house margaritas on Saturdays. PBR drafts are $2 all day every day.
Coldest Beer
Readers' choice: Railhead, 2900 Montgomery St, FW
Critic's choice: Tanstaafl Pub, 409 N Bowen Rd, Arl
This funky little pub might not get mentioned much in society circles, but it has a lot going for it: good music (both live and on the jukebox), interesting patrons both young and old, and an enticing sense of hipness and revelry. The same family has owned the Tanstaafl for more than 30 years, and they take great pride in serving what they claim to be the coldest mugs of beer in the county. After many hours of devoted research, we've determined that the Tanstaafl beer is indeed very cold –– and very good.
Happy Hour
Readers' choice: The Usual, 1408 W Magnolia Av, FW
Critic's choice: The Wild Rooster Bar
For our most subjective category –– the party is always inside you, as the old saying goes –– we're going to merely tip our hats in the direction of the old standbys (7th Haven, Shamrock Tavern, Knotty Pine) and give the full nod to a newbie. Upon opening earlier this year, the Rooster quickly became the go-to place for Weekleteers and evidently a lot of other people who enjoy a cocktail or two (or 12) after work. The fine print: From 2 to 9 p.m. daily, domestic bottles and drafts are only $2, and wells are $3. You also can't beat the $1.50 cans of PBR and Lone Star Light all day, every day.
Exotic Beer
Readers' choice: Flying Saucer Draught Emporium, 111 E 4th St, FW
Critic's choice: Flying Saucer
The Saucer offers such unique cold and frosty delicacies as Warsteiner Dunkel (Germany), Rogue Mexicali/Chipotle (Oregon), Xingu Brazilian Black (Brazil), Ommegang Bier De Mars (New York), Kronenbourg 1664 (France), plus the Texans (Rahr, Shiner, St. Arnold) and a hearty selection of suds from such beer-friendly locales as Belgium, England, and Ireland.
Bouncer
Critic's choice: Kevin Long, The Moon, 2911 W Berry St, FW
The scene on Berry wouldn't be the same without Kevin, who is usually perched calmly on his stool next to The Moon's patio. As Fort Worth grows, some of its small-town feel is disappearing. Luckily, we have someone like Kevin, who greets the all of the bar's regulars (and newly legal visitors) like old friends. By setting up a communal vibe in the midst of drunken unpredictability, he is also preventing fights and other forms of idiotic behavior. Maintaining happy order on one of the most raucous corners of the Fort is no easy task, so we salute you, Kevin.
---
Nightlife Impresario
Critic's choice: Brian Forella
For more than 13 years, Brian Forella has sunk heart and cash into Fort Worth's nightlife scene. From legendary joints like the dearly departed Wreck Room and the Torch to contemporary hotspot Lola's Saloon, Forella has had his hand in some of Fort Worth's most celebrated bars and clubs. Why? Because he loves the scene. Moreover, he's at other people's bars almost as much as his own, so next time you see him, buy him a shot and say thanks. Fort Worth nightlife wouldn't be the same without him.
Cocktail Lounge
Readers' choice: The Usual
Critic's choice: The Usual
The Usual serves carefully measured Prohibition-era cocktails in a sleek, Modernist, smoke-free room. The drinks are pricey but well made and chock-full of premium liquor. Sure, you could order a Bud Light, but why bother when you can get a Caipirinha (Brazilian cachaça, fresh-squeezed lime juice, and sugar ), Sidecar (Remy Martin cognac, Cointreau, lemon juice, and a sugared rim), or Jimador's Revenge (Cazadores Reposado tequila, agave nectar, cayenne, and lemon), drinks that you probably can't get anyplace else in North Texas.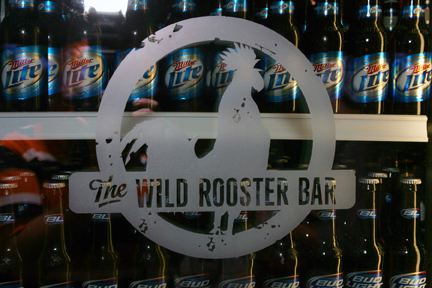 Pub
Readers' choice: The Ginger Man, 3716 Camp Bowie Blvd, FW
Critic's choice: Ye Olde Bull & Bush, 2300 Montgomery St, FW
The Bull & Bush has all the basics of any good pub — Guinness on tap, dart leagues, and a good jukebox — but what makes it a great pub is the odd mix of characters on both sides of the bar. Owner Nick Gregory regales patrons with stories of his native England and gets his hands dirty busing tables. The bartenders, including Yorkshire John, Amy, and Tyra, know their customers and make them feel welcome. Lawyers, nurses, musicians, deputy sheriffs, and real estate agents rub elbows and share opinions here. Occasionally, cowboys from the Will Rogers Memorial Center down the street wander in with spurs a-jingling. Which makes the Bull & Bush not so much British as an authentic Cowtown pub.
Bar-Bar
Readers' choice: Lola's Saloon, 2736 W 6th St, FW
Critic's choice: 7th Haven, 2308 W 7th St, FW
This near-Westside staple does have a nice rooftop bar, but at heart the Haven (as it's affectionately known) is simply a dark, clean, comfortable place where a body can either drink a pint in peace or get rowdy with his friends. Props to the crack bartenders, who never forget a face (or a drink preference), and also to the consistent lack of drama. Whether on a hot date or just looking to unwind after a long day, choose 7th Haven.
Biker Bar
Readers' choice: 2500 Club, 2500 E Belknap St, FW
Critic's choice: Sammie's Bar-B-Q, 3801 E Belknap St, FW
While not technically a biker bar, this Eastside barbecue joint draws hawg riders every Tuesday night with "Biker Night in the Beer Garden." There are longneck specials and live music by three of Cowtown's most interesting singer-songwriters: James Michael Taylor, Guthrie Kennard, and Rick Babb, collectively known as the Buddies.
Gay/Lesbian Bar
Readers' choice: Rainbow Lounge, 651 S Jennings St, FW
Critic's choice: Best Friends, 2620 E Lancaster Av, FW
Fort Worth still doesn't have a bona fide lesbian bar, just a couple of places where gay guys try to make the gay gals feel welcome. (and the fishnet hose-wearing go-go girls at the Rainbow Lounge are cool no matter who you are). Until the Sapphic scene gets its own hangout, longtime fave Best Friends will be indispensable. The staff is friendly, the place is spacious (for a bar), and weekend shows and events feel like family gatherings. It's like a clubhouse where boys and girls are equally welcome.
Wine Bar
Readers' choice: Zambrano Wine Cellar, 910 Houston St, FW
Critic's choice: Times Ten Cellars, 1100 Foch St, FW
Times Ten Cellars is just one part, albeit a big one, of the Times Ten wine empire, with a tasting room in Dallas and vineyards in West Texas. The Foch Street tasting room is just a cork's throw from Montgomery Plaza, and you'd never know by looking at the place that it was once a factory. Most of the grapes come from Alpine, where the soil is formerly volcanic, which means that it's rich enough to provide for some sassy reds. (The company also bottles wine from grapes grown in other parts of the country.) Times Ten wines are available at Central Market, but to really enjoy the vino, you should visit the tasting room to sit, relax, and sip.
Bar Décor
Readers' choice: The Usual
Critic's choice: Times Ten Cellars
It's pushing the envelope a little to call Times Ten a bar, but after all, its raison d'être is making and serving alcohol. The Times Tenners have done a beautiful job with their building, which houses a winery operation as well as a wine bar. Inside and out, it's a little slice of Napa dropped into the West 7th Street neighborhood — a very contemporary combo of hard edges and soft curves: rough but varnished concrete floors, thick floor-to-ceiling draperies pulled back to define different rooms, ornate wrought-iron light fixtures mixed with others that look like repurposed wine barrels. There are intimate seating groups within the rather cavernous space, which formerly housed a pecan-shelling operation. It could benefit from some measures to make it feel a little cozier, but all in all it's a beautiful spot in which to raise a glass or three with friends, nibble on some delish light food offerings, and contemplate the wonders of what can be accomplished with sunlight, earth, rain, grapevines, knowledge, loving care, and a little time.
---
Hotel Bar
Readers' choice: Cassidy's, Radisson Hotel, 2540 Meacham Blvd, FW
Critic's choice: Whiskey & Rye, Omni Hotel, 1300 Houston St, FW
Whiskey & Rye is more than just a hotel bar. The plush joint, located inside the equally plush Omni Hotel, has been known to attract some of us townies looking for a little jet-setting excitement. With several plasma-screen TVs on the walls, a free billiards area, and an extensive cocktail menu, Whiskey & Rye is as comforting and sexy as any locally populated swank address.
Sports Bar
Readers' choice: Buffalos Bros.
Critic's choice: Fox and Hound English Pub & Grille, 603 Houston St, FW
Like the other F&Hs in this area, the downtown location reinvented itself as a soccer pub during this past summer's World Cup tourney. Loyal viewers turned up everywhere, but only this one was packed to the rafters for all the big matches, with one fan blowing a vuvuzela inside the building during the final. Bonus points for the delicious (if artery-clogging) breakfast entrées available during those early-morning matches.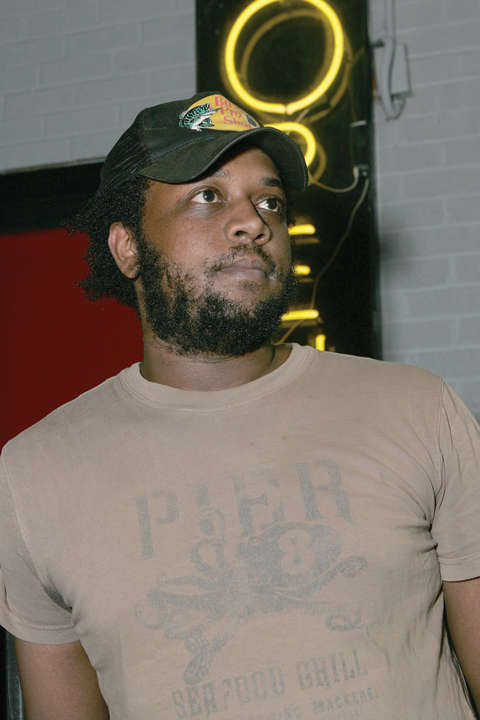 Jukebox
Readers' choice: Malone's Pub
Critic's choice: Caves Lounge, 900 W Division St, Arl
There's something to be said for a bar that stuffs its jukebox with as many employee-compiled comps as it has tried-and-true chestnuts. In other words, it's just good taste. Caves' jukebox runs the gamut from punk to indie to gangster rap, plus all the stuff in between. Perusing the cleverly titled comps is as much fun as actually kicking out the jams, and you're likely to spend a credit on something you've never heard. On what other juke can you find tracks from Two Gallants, Primus, and Dr. Dre?
Meat Market Bar
Critic's choice: Embargo, 210 E 8th St, FW
Some like it hot, and if you're one of 'em, Embargo is the place for you. The Cuban-flavored joint is always packed with Fort Worth's hottest guys and dolls. Heck, even the bartenders are easy on the eyes. Embargo keeps its scene blazing by also offering free salsa lessons and a killer mojito.
Strip Club
Readers' choice: Rick's XTC, 7101 Calmont Av, FW
Critic's choice: Cabaret North, 5316 Superior Pkwy, FW
Located right off Loop 820 by I-35 North, Cabaret North is a huge warehouse of shapely female forms. Most of the women are as talented as they look, capable of putting on floor shows full of acrobatic maneuvers and proving that good ol' fashioned burlesque is still alive and kicking –– it's just a little more naked-y than it used to be.
Margarita
Readers' choice: Joe T Garcia's, 2201 N Commerce St, FW
Critic's choice: Fuzzy's Tacos, 4201 W Green Oaks Blvd, Arl
One can argue whether Fuzzy's Tacos provides an "authentic" Baja taco since none of the chain's 13 existing locations is anywhere near a Baja-like beach. What is indisputable, however, is that many of them are located near universities and colleges, where people appreciate cheap, cold beverages. The original frozen 'rita at Fuzzy's is a mere $3.95 all day, every day. And you're not getting watered-down limeade in a tea glass: Fuzzy's packs full-test alcohol in a frozen schooner the size of a small fishbowl. Oddly, the margarita mix varies among the six locations in the 817. We deem the frozen 'rita in South Arlington to be the best of the bunch.
Martini
Readers' choice: M Lounge, 835 Foch St, FW
Critic's choice: M Lounge
One of the first martini bars to open in Fort Worth, lo, these five or six years ago, M Lounge (formerly known as Ten) still sets the standard. The cocktail menu contains two full pages of martinis, ranging from the standard appletini to the luxurious cucumber martini. For the adventurous palate, may we recommend the Godfather (an equal mix of bourbon and amaretto) or the Marker Manhattan (a careful blend of Maker's Mark, bitters, and sweet vermouth). No matter your decision, it's really hard to go wrong here.
Bar Food
Readers' choice: Buffalo Bros.
Critic's choice: Flips Patio Grill, 6613 Fossil Bluff Dr, FW
Flips isn't just a bar –– you can bring your family here and enjoy a fine meal without touching a drop of alcohol. But Flips' bars –– there are two –– are the main attractions, and for a nosh between beers, you could do a helluva lot worse than Flips' spicy wings and mouthwatering burgers. The Big Cheesy is one of the best in town.
---
Bar Games
Readers' choice: The Ginger Man (trivia Thursdays)
Critic's choice: Spencer's Corner, 6861-C Green Oaks Rd, FW
There's no beating the games selection at Spencer's Corner. The entire first floor of the two-story sports bar is devoted to games, games, and more games, including billiards, darts, shuffleboard, and Golden Tee. The uniformly inexpensive drink prices allow you to save up your quarters for the competitive fun.
Outdoor Patio
Readers' choice: (tie) Joe T Garcia's and 7th Haven
Critic's choice: Fred's Texas Café, 915 Currie St, FW
Despite the massive gentrification in West 7th, Fred's Texas Café remains as it was, in all of its iconic, grubby glory. Perhaps in a nod to snooty new neighbors, though, Chef Terry Chandler and staff have enhanced the comfort of the patio. Although the unroofed outside space won't provide sufficient shelter to keep your dinner dry in a thunderstorm, the upgrades (including a lot of umbrellas and tents for shade and comfort) are an improvement. Plus, it's always happy hour at Fred's when it rains. Most evenings, the outdoor stage provides a platform for local guitar heroes, ranging from Kurt South and Devin Leigh to Darrin Kobetich. And although the large painted sign advertising it on the side of the building no longer exists, you can still get a cold-ass beer –– and a diablo burger.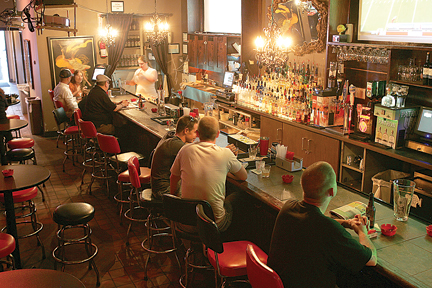 Rooftop Patio
Critic's choice: Capital Bar, 3017 Morton St, FW
When this bar opened in the Cultural District last year, the main selling point to drinkers was a kick-ass rooftop patio. The owners certainly delivered. The roof is slanted toward the west, keeping the sun out for much of the afternoon and early evening while at the same time opening up sunset views off the downtown buildings to the east. Powerful ceiling fans in the summer and heaters in cold weather extend the patio season. And now, with the opening of the bar's backyard concert stage, you can look down on the bands from your scenic perch.
Bar Bathroom
Readers' choice: 8.0 Restaurant & Bar, 111 E 3rd St, FW
Critic's choice: Shamrock Tavern, 2710 W 7th St, FW
The bar is set pretty low in this category. There aren't many bars where it's safe to drop trou without facing the threat of disease, a rash, or getting your pantaloons soaked in a pool of dubious origin on the floor. Anyone who has spent any time in the West 7th Street corridor knows that the safest place in which to handle your business is the Sham. Despite the bar's volume, the bathrooms area always clean and well-stocked, and the stalls and urinals actually provide a little privacy.
Country Venue
Readers' choice: Billy Bob's Texas, 2520 Rodeo Plaza, FW
Critic's choice: Love Shack So7, 817 Matisse St, Ste 445, FW
At Love Shack So7, diners will find delicious burgers, ice-cold beer, sidewalk chalk, and, on most nights, a guy playing acoustic guitar and singing with a twang. Brad Hines and Kurt South are regular performers, and except for the occasional blues or soul artist, country reigns supreme.
Acoustic Night
Critic's choice: Mondays at The Cellar, 2916 W Berry St, FW
The Cellar, long a haven for Berry Street boozehounds, recently reinvented itself as a live music establishment. The Fort Worth Music Co-Op books weekend shows there, and multi-instrumentalist Adrian Garza hosts a catch-all acoustic night on Mondays. Serious musicians, comedians, and supporting players regularly make the scene, and some folks from Latin Express have even been showing up with drums and horns, lending a decidedly professional vibe to the event.
Nontraditional Music Venue
Critic's choice: The Where House, 2510 Hemphill St, FW
In the wake of the Funkytown Fall Festival, which featured heavy hitters KatsüK, Pablo and the Hemphill 7, Spoonfed Tribe, and others, the Where House has become the new "it" venue in Fort Worth. Also doubling as an art space and rehearsal space for bands such as Telegraph Canyon, the Where House has quickly cemented its place at the top of heap of nontraditional music venues.
Karaoke Night
Readers' choice: Sarah's Place, 5223 Camp Bowie Blvd, FW
Critic's choice: Spencer's Corner
Atonally crooning along with Hall and Oates is probably best left for the car, but people show up at karaoke nights anyway, especially at Spencer's Corner. Maybe it's the Corner's big stage that puts the stars in peoples' eyes, or maybe it's the cheaper-than-cheap Wednesday-night drink specials, but karaoke at Spencer's is a scene unto itself. It's pretty fun to watch folks grimace when their buddy comes in late on a Nickelback song, especially when that buddy is you.
---
Band Name
Readers' choice: Poo Live Crew
Critic's choice: Can a Bus Dream?
So we're suckers for pot jokes. Sue us. This Arlington thrash-punk outfit stands out, thanks mainly to its surprisingly whimsical name. And cannabis dreams to you all.
Local Music Show in Last 12 Months
Readers' choice: Lola'sPalooza
Critic's choice: Calhoun at First Friday on the Green
As part of Fort Worth South Inc.'s and the Weekly's free monthly outdoor concert series, Calhoun performed for hundreds of people who piled into Magnolia Green Park one balmy June evening. The highlight was watching them rush the stage and sing along to "Kick-Drum Mind" –– and you thought people only sang along to radio hits.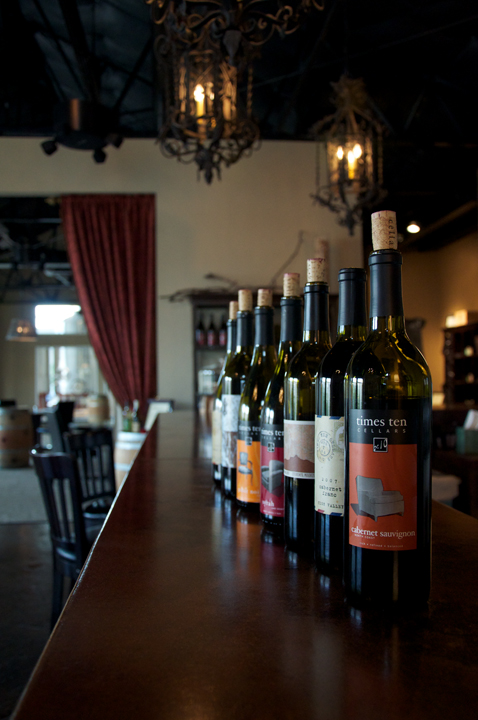 MVP Musician
Readers' choice: Michael "Big Mike" Richardson
Critic's choice: Ray Liberio
Many concertgoers recognize Liberio as the charismatic, bearded singer of the venerable Me-Thinks and the high-energy early-punk tribute group Stoogeaphilia. No one-trick pony, Liberio also plays drums in the new stoner metal band Vorvon. When he's not busy practicing music or working full time, this multi-talented guy also pumps out some of the scene's best promotional materials via his graphic design company, Pussyhouse Propaganda.
Local Rock Star
Readers' choice: (tie) Josh Weathers and Justin Pate
Critic's choice: Chris Johnson of Telegraph Canyon
Telegraph Canyon's frontman doesn't look the part, unless your idea of a rock star is the Unibomber. But stick a guitar in this guy's hands, put him on stage, and his rock star vibe is undeniable. Don't be surprised if his mug is on the cover of the Rolling Stone one day soon.
Club DJ
Critic's choice: DJ The Whole F'n Show
First off, Fort Worth is not Dallas. We're never going to be a city where boom-siss-boom-siss-boom-siss music works. Laid back, friendly, and utterly unpretentious, the Fort is geared more toward music with soul, which is why DJ The Whole F'n Show is tops of the pops. Catch him Thursday nights at The Grotto (517 University Dr.) spinning a variety of reggae, dub, and hip-hop, music that gets the butts shaking and that everyone can agree is dope.
Recording Studio
Critic's choice: Eagle Audio Recording,
911 S Main St, FW
A musician can pursue obsessions from electronic whirls to deep savory guitar tones, and the folks at venerable Eagle Audio will pull it off with panache. One of the oldest recording studios in town, Eagle has been in operation for nearly three decades. They have the capability to do both analog and digital recordings, mixing, and mastering. Out of the kindness of his heart, owner Jeff Ward recently donated an unused upstairs portion of the studio to house the Fort Worth Music Co-Op.
DIY Venue
Critic's choice: 1919 Hemphill, 1919 Hemphill St, FW
It doesn't get much more DIY than 1919 Hemphill. Everything that the self-described "community space" provides — from forward-thinking, diverse concerts to monthly screenings of radical documentaries and much more — is paid for by the sweat of the volunteers who make the place a reality. Even better: Anyone can get involved. There's no booking agent. No age requirements. If your band wants to play a show, book the line-up yourself — even if you just finished driver's ed. Running eight years strong, 1919 is the oldest space of its kind in Texas and an indispensable part of Fort Worth's artistic community.
Seat for People-Watching
Critic's choice: Starbucks, Montgomery Plaza, 2600 W 7th St, FW
Think of it as Cowtown's version of a Parisian sidewalk café: Sit here long enough over your cup, glass, Fort Worth Weekly, or textbook, and eventually everyone you know will either walk by, call your cell phone, or e-mail you on the laptop propped in front of you. Manager Calvin King and a crew of talented baristas keep the caffeine flowing, as a river of city officials, joggers, bikers, cops, condoids, students, people from the bus stop, and button-down business types surges in and out, conducting business, romance, friendship, life.
---
Place to Have a Nightcap
Critic's choice: The Mule Pub, 5731 Locke Av, FW
Any time's a good time to hit this friendly Westside bar that's been open for, like, 100 years but doesn't look at day over 99. But when you're on the way home and not quite ready for night-night, the Mule is the place where you're more than likely to run into someone –– maybe an old friend, maybe a stranger –– who's also up for keeping the party going. Cheap drink prices have a way of extending the good times, and the drink prices at the Mule are always bargain-basement-floor low.
Shoot Pool
Readers' choice: Fox and Hound, several locations
Critic's choice: Rusty's Billiards, 7703 Hwy 80 West, FW
Featuring high-quality Dufferin and Lucasi house cues and Brunswick tables, Rusty's is the place for the eight-ball connoisseur. For the pros, Rusty's also offers cue lockers. (Rusty's also has a location in Arlington at 3151 S Cooper St.)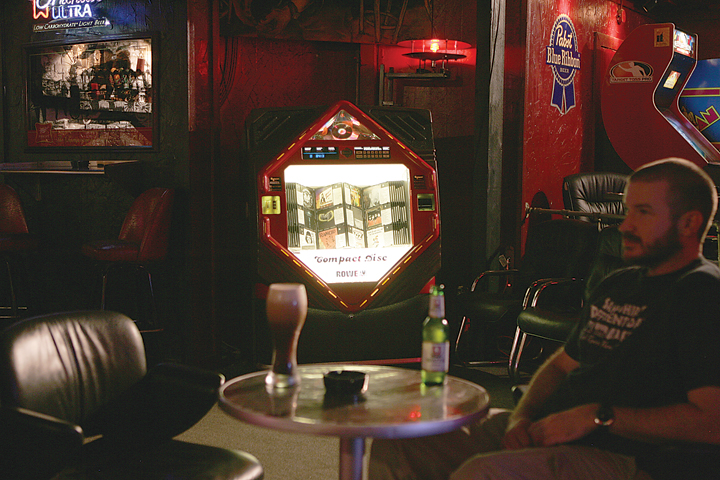 Meet Someone of the Opposite Sex
Readers' choice: (tie) Velvet Box, 9100 N Fwy, Ste 124, FW; and PR's, 2400 N Main St, FW
Critic's choice: 24 Hour Fitness, 2701 Halloran St, FW
This 24 Hour Fitness offers something no bar can: a lot of attractive people barely dressed and all sweaty. The young and physically restless are always out around 11 p.m., the women wearing spandex and the men skirting the shirts-required policy by wearing sleeveless open-at-the-sides tops. Monthly memberships here cost as much as some people spend at the bar in one night.
Meet Someone of the Same Sex
Readers' choice: Rainbow Lounge
Critic's choice: GayBingoFW at Hotel Trinity, 2000 Beach St, FW
We've got nothing against bars. Some of us squandered more than a few young adult years soaking up that smoky, dimly lit, idle-chitchat vibe. But bars can be difficult places to make strong personal connections, especially if you're a member of a minority that has limited options for safe, open socializing in the city. For a well-lit, healthy, and more interactive environment, check out the monthly GayBingoFW events at the Hotel Trinity. Your match-making grandmother would approve, especially if she's a drag queen.
Break Up
Readers' choice: Fort Worth Botanic Garden, 3220 Botanic Garden Blvd, FW
Critic's choice: The Grotto, 517 University Dr, FW
You've built up resentment toward that jerk you once loved, and nothing would make you feel better than screaming, "You used to complete me –– now you completely disgust me!" But confrontational screaming is not your style. So take your soon-to-be ex to the cozy Grotto on a Friday or Saturday night when the local bands are blasting away. It's a license to yell –– that's the only way you can be heard.
Take a First Date
Readers' choice: West 7th Street Movie Tavern, 2872 Crockett St, FW
Critic's choice: M Lounge
You want that first date to be classy, but you don't want to spend a fortune on a potential loser you might not see again. M Lounge is the perfect solution. The bar is sleek and elegant, with original and mostly local art on the walls, and the prices are affordable.
Take Someone from Austin
Readers' choice: Fred's Texas Café
Critic's choice: Hip Pocket Theatre, 1950 Silver Creek Rd, FW
Assuming your visitors show up between June and Halloween, blow their minds with a drive outside the city limits to this outdoor theater. From the minute you escort them onto the patio, they'll wish their town had something half as original. Live music and cold drinks (and, in the fall, firepits) set the stage for wildly creative drama on the stage. If your Austintatious buddies arrive when the Hipster season has passed, take them to an event at Arts Fifth Avenue. You'll see some of the same folks.
Eavesdrop
Readers' choice: Velvet Box
Critic's choice: Lola's Saloon
If the key criterion here was overhearing the most possible conversations, Dallas/Fort Worth International Airport would win, hands down. But honestly, aren't you tired of all those strangers yakking on the phone about their business deals and family problems as if there weren't 150 other human beings within earshot? No, for eavesdropping, the experience has to be pleasant. Pick a night when there's no music scheduled, and at Lola's you'll usually find a group of low-key, friendly regulars musing over life and love and the world's latest kick in the pants. No tips here on who's making the next jillion-dollar deal in town but something more important: people with stories you actually want to hear.
Nurse a Hangover
Readers' choice: The Pour House, 2725 W 7th St, FW
Critic's choice: Jamba Juice, various locations
It has to be cold, it has to be liquid, and, unlike cold liquids filled with alcohol, it should have some health benefits. A smoothie qualifies on all fronts, and Jamba Juice has some good ones. Our hangover-quashing favorite is the Coldbuster, a blend of orange juice, orange sherbet, peaches, and bananas. For an extra buck or so, get them to throw in an immunity boost. Don't know what's in that, but it sounds healthful.
Time Travel Without Going Anywhere
Readers' choice: Scat Jazz Lounge, 111 W 4th St, Ste 11, FW
Critic's choice: Oui Lounge, 3509 Bluebonnet Cir, FW
Go to your closet and shove the fancy stuff out of the way. You're looking for something comfortable that you can throw into the washing machine the minute you get home. You're on your way to the Oui Lounge, and you'll look just as good as anybody else there. The Oui (pronounced "ow-ee" by some of our friends) is dark and smoky and usually loud. The servers aren't all warm and fuzzy, but then some of them have been there for 40 years. So have some of the patrons. It's a real bar with real drinks and no traces of the legendary original French owner. First opened nearly 60 years ago, the bar was almost destroyed by a major fire in 2000. But somehow every inch of the place looks original.