When Fort Worth school district officials last week released their investigative report on allegations of wrongdoing at Arlington Heights High School, the document confirmed almost every major allegation made about the Westside school over the past several months. Those problems, which could end up costing the district many thousands of dollars, are now the subject of investigations by the Texas Education Agency and the Tarrant County district attorney's office.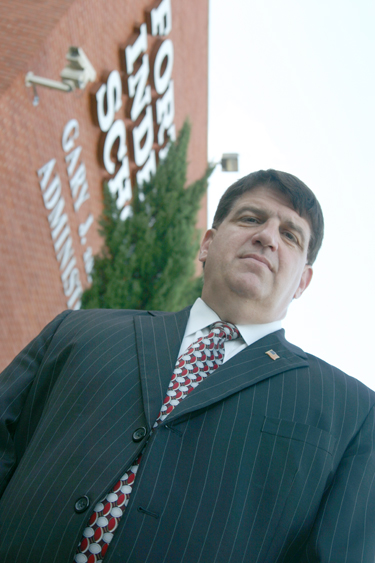 Despite that, the report's author, district administrative chief Sylvia Reyna, spent more than half its 27 pages listing charges — in some cases apparently unsubstantiated — against Joe Palazzolo, the assistant principal who was the main whistleblower on the case, who believes he has been retaliated against by the district for his actions. Reyna's report describes a school totally out of the control of its principal, Neta Alexander, who was bullied by her foul-mouthed girls' athletic coordinator, Isabelle Perry, and Perry's high-level protector, assistant superintendent Chuck Boyd, into allowing a litany of illegal and unethical practices to dominate the school's culture for years — all of which Fort Worth Weekly reported in August.
The report doesn't even give Palazzolo credit for blowing the whistle on the record-tampering, sexual harassment, and other problems. It credits Robert Ray, chief of schools, with taking the allegations to district investigators who opened an investigation on May 28. However, it was Palazzolo who first brought the problems to his superiors' attention — in March.
At least as interesting as last week's report is an earlier document, prepared in June and obtained by the Weekly in the last few days. In it, Michael Menchaca, chief of the district's Office of Professional Standards, the investigating arm of the district, concluded that Perry and Arlington Heights assistant principal Harold Nichols had indeed committed numerous serious transgressions. Ironically, that earlier report credits Palazzolo with being the first to bring forth the teachers' allegations.
Menchaca found Nichols had committed fraud by authorizing changes to records of student absences "without appropriate reason," had physically attacked a teacher who questioned his attendance-record tampering, and had conducted an affair with a subordinate, Perry.
That same day, Menchaca also delivered his judgment on Perry. He concluded that she was "implicated in wrongdoing, including excessive use of profanity, sexual harassment, and student record changing." Nichols, with the district for 24 years, was allowed to retire, and Perry, a 22-year veteran, resigned — both "in lieu of further action."
Significantly, Menchaca's report stated that there was enough evidence to support allegations that Heights personnel altered attendance documents to allow students to graduate who otherwise would not have because of their high truancy rates.
Nichols confessed that he changed student attendance records to help "deserving students" graduate. Perry denied altering any records, but Menchaca found otherwise.
Altered attendance documents given to the Weekly two months ago show Perry's signature on several of them, noting which students' absences she had changed from unexcused to excused.
Perry's resignation papers, obtained through an open-records request, state that she is "not eligible for rehire." Nichols will still draw his retirement benefits. Neither faces further punishment from the district.
However, knowingly altering or falsifying a public document is a crime under the Texas law, said Tarrant County Assistant District Attorney David Lobingier of the office's Economic Crimes Division. Lobingier is already investigating charges that Heights booster club funds were misused by Perry, who allegedly held the fund's checkbook in violation of school policy and wrote unauthorized checks out of it.
Lobingier said the falsification of attendance documents is not "an aspect of the investigation as yet, but could become one."
Reyna's report gave telling new details about what had been going on at Arlington Heights.
One staffer told investigators that she was "instructed by [Alexander] to refrain from filing [truancy] cases against 11th- and 12th-grade students and students of color" so that the school's dropout rate would not be affected. The report states that Alexander "readily admitted" to the charge because she did not want the campus attendance rates to suffer.
In addition, the investigators confirmed the charges of sexual harassment of teachers leading to a hostile work environment, the unreported theft of over $8,000 in school property that was directly in Perry's control, and Perry's vulgar descriptions of her torrid affair with Nichols, describing the sexual acts in graphic detail, including all-night sex sessions. She was also found to have regularly cursed at students, yelling such things as "Get the fuck out of my gym."
Alexander, calling Perry a "crusty old girl," admitted that she was aware of her "sordid" language and that it was offensive to many but indicated to the investigators that she refrained from disciplining Perry "because of her relationship with Chuck Boyd, assistant superintendent of secondary school leadership." Alexander stated that she felt Perry "enjoyed preferential treatment" from Boyd, citing several occasions on which she tried to assign additional teaching responsibilities to Perry (who was teaching only one class and doing no coaching) only to be overruled by Boyd. Alexander said Boyd told her that Perry should only have to teach one class "since she did so much for the school."
Perry, who had no administrative credentials, was also allowed to act as a "substitute administrator" in Alexander's absence, the principal said, "upon the recommendation of Mr. Boyd."
Reyna's report quotes Boyd as saying he encouraged Alexander to use Perry in that capacity but denied that he intervened on Perry's behalf in other issues. .
And a loan of $4,900 from Perry to Boyd several years ago was confirmed by the investigators who found that, while not illegal, it exhibited "poor judgment" and raised "questions of ethics" on Boyd's part.
All the major allegations brought forward by Palazzolo about attendance fraud have now been substantiated by the district: falsification of attendance records, seniors gaining graduation credits by cleaning offices, awarding students passing grades even though they did not spend the required time in class, and failing to enforce truancy laws.
Since he reported the allegations, brought to him by more than a dozen Heights teachers, Palazzolo has suffered a series of retaliations for his actions, he says, first being transferred to a smaller school at lower pay, then being abruptly transferred from that school to another high school, and within a week being put on administrative leave with pay — after a six-month-old complaint surfaced, allegedly from a student, accusing him of touching her on the shoulder.
The Reyna report provides mostly hearsay evidence and no documentation for its charges that Palazzolo disciplined students of color disproportionately to white students, was overly reliant on police to enforce school discipline problems, was in the school building "on two occasions" after hours without the knowledge of the principal, and mishandled a fight involving 60 or more minority students last spring. That altercation, which was described as a "riot" by many eyewitnesses who spoke to the Weekly, was downplayed in Reyna's report as a fight among "several students." She blamed Palazzolo for not calling the police — even though a few pages back she had accused him of being "overly reliant" on the police to enforce discipline. Further she said that black and Hispanic kids were punished while the white kids who started the fight were not.
Palazzolo and others who were present that day say that it was Alexander who would not allow the police to be called until kids were bleeding. As for the disparity in punishment, the same witnesses said the white kids, who started the fight with racial taunts, disappeared when physical violence broke out and were never identified.
More troubling to Palazzolo and his attorney Jason Smith are charges that came from an anonymous letter to Johnson and the board on Sept. 2 — that he was "convicted in a federal criminal court and falsified this information on his application" and that he was charged with bullying in a previous workplace.
The report does not explain that those allegations came from an anonymous letter, nor that the charges referred to were, in actuality, misdemeanors to which he pled guilty 13 and 20 years ago — one over a child support dispute with his ex-wife and another over a failure of an employee of his former security firm to renew her security officer's license. He settled with his wife and paid a fine for the employee's non-renewal.
Palazzolo told Reyna that he did not think he was supposed to report misdemeanors, only felonies. Several school board members said Reyna told them that the charges were felonies.
Palazzolo denies the accusation of bullying, saying that he has "no idea who the charge might have come from."
Additionally, he said, the fact that the district investigated an anonymous letter flies in the face of a policy that Menchaca quoted to him when Palazzolo first reported the problems at Arlington Heights that he was hearing about from teachers there.
"The first documents from the teachers I submitted to him were unsigned, because they feared retribution," Palazzolo said. Menchaca refused to accept them unless he had signatures, stating that he "did not investigate anonymous charges," Palazzolo said. So he went back to the teachers and found 11 who agreed to sign their statements.
The charges of racial bias by Palazzolo were dismissed as nonsense by the Rev. Kyev Tatum, who as the head of the Tarrant County chapter of the Southern Christian Leadership Conference recently filed three civil rights suits against the district for its discrimination against minority students at Arlington Heights.
"Joe Palazzolo is not the problem. This discrimination started long before Mr. Palazzolo's arrival at Heights," Tatum said. He and several teachers at Heights pointed out that Palazzolo in fact intervened on behalf of minority students and reported bias in favor of white students by Alexander in the original allegations. Charges that Alexander favored the "rich white kids" were supported by numerous teachers, all of whom spoke to the Weekly anonymously, fearing they would be subjected to the same kind of retaliation they saw happening to Palazzolo.
That's exactly the intent of the district's retribution against Palazzolo, said Larry Shaw, whose United Educators Association had earlier represented the former Heights assistant principal. The message from the district to its teachers, he said, is to "keep quiet or you will be next."
Shaw pointed out that the report agreed with everything the teachers and Palazzolo reported. "So why," he asked, "did they feel they had to make him a part of the investigation when he was never named in the original complaints?"
The investigation of Palazzolo has had a "chilling effect" on his supporters at Heights, one teacher said. "Morale here is very low."