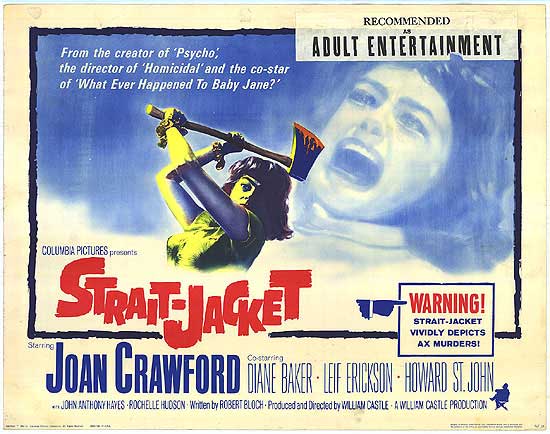 I've always thought that in horror/suspense flicks, women are more interesting as psycho killers than men. It's empowering — in a trashy pop culture way – to watch a woman subvert all expectations of sweetness, maternity, and victimhood by grabbing a blade and slicing up the people who piss her off.
This weekend Turner Classic Movies presents two hugely entertaining but underappreciated B-movie thrillers directed by the late master of shlocky shock, William Castle. I saw 1964's Strait-Jacket (airing Oct 30, 5:15pm) just a few years ago and, though I'm not a big Joan Crawford fan, was instantly impressed with the diabolical enthusiasm she poured into her role. I saw 1961's Homicidal (airing Oct 30, 2pm) many years ago and vaguely remember only its opening murder and final plot twist. It made me wonder why the striking, genuinely freaky lead actress Jean Arless (a.k.a. Joan Marshall) never made a name for herself.
Needless to say, Strait-Jacket is camp of the highest order – what else would you call a movie where Joan Crawford plays the axe-murdering wife of a pig farmer? But the homicides it depicts are surprisingly jolting and gruesome for the era, and one of the movie's central gimmicks – that a dark wig and a sexy dress are responsible for transforming Crawford into a seething killer – is itself a great sendup of society's pressures on a woman's appearance. Watching Joan chuck her "matron" status and attempt to seduce a much younger man is a hoot, too.
Homicidal is an unsettling, unorthodox female killer opus that doesn't follow the conventions of a traditional plot. It's a somewhat complicated family horror show featuring a grown up brother and sister, an elderly mute woman in a wheelchair, a crazed but hot blonde "family friend" (Jean Arless), a scary old house, and a multi-million dollar inheritance. The moral? The shitty decisions of adults can turn children into vengeful monsters who don't care about the inheritance – they'll happily kill for free. That's one "traditional family value" I can appreciate. In the movies, that is.