OPENING:
Pirates of the Caribbean: On Stranger Tides (PG-13) Johnny Depp and Geoffrey Rush return for this fourth adventure as two pirates searching for the fountain of youth. Also with Penélope Cruz, Ian McShane, Kevin McNally, Sam Claflin, Astrid Berges-Frisbey, Stephen Graham, Anton Lesser, Roger Allam, Judi Dench, and Keith Richards. (Opens Friday)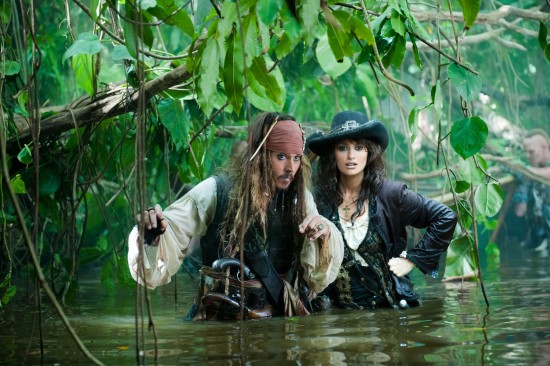 Cost of a Soul (R) Sean Kirkpatrick's thriller stars Chris Kerson and Will Blagrove as two Iraq veterans returning home to their corrupt, crime-ridden neighborhood. Also with Mark Borkowski, Judy Jerome, Maddie Morris Jones, Gregg Almquist, Nakia Dillard, and Daveed Ramsey. (Opens Friday in Dallas)
Earthling (NR) This North Texas-filmed science fiction movie by Dallas filmmaker Clay Liford is about a group of people who discover they are space aliens who must choose between the Earth and their home. Starring Rebecca Spence, Peter Greene, Jennifer Sipes, Savanna Sears, Matt Socia, and William Katt. (Opens Friday in Dallas)
The First Grader (PG-13) Justin Chadwick (The Other Boleyn Girl) directs this drama about a real-life 84-year-old Kenyan (Oliver Litondo) who demands a chance to learn to read under his country's new public education system. Also with Naomie Harris, Sam Feuer, Tony Kgoroge, Nick Reding, Vusi Kunene, and Lwanda Jawar. (Opens Friday in Dallas)
Twelve Thirty (NR) This drama by Jeff Lipsky (Flannel Pajamas) stars Jonathan Groff as a college student who has destructive simultaneous affairs with two sisters (Mamie Gummer and Portia Reiners) and their mother (Karen Young). Also with Reed Birney, Halley Feiffer, and Rebecca Schull. (Opens Friday in Dallas)
African Cats (G) Samuel L. Jackson narrates this Disney documentary about feline predators of Africa. Sita, a cheetah, and Layla, a lion, struggle to raise their cubs in Kenya's Masai Mara National Reserve, a land full of hyenas and rival lion prides and a river full of crocodiles. The cinematography is nothing short of amazing, though the movie's attempt to anthropomorphize the animals through Jackson's narration feels shoehorned in. But it is a Disney documentary, after all, so all of that is to be expected. The device also can be effectively heart-tugging. Any problems with narration can't mar the breathtaking effect of seeing these incredible animals and the land they inhabit on the big screen. — Cole Williams
Arthur (PG-13) As much fun as flat champagne, this remake of the 1981 comedy stars Russell Brand as a spoiled drunken British playboy in New York who must either stay wealthy by marrying a socialite he hates (Jennifer Garner) or give up his fortune for a tour guide he truly loves (Greta Gerwig). Brand's ad-libbing yields a few funny lines, but he doesn't have the charming guilelessness that Dudley Moore brought to the original. The lack of charisma makes a fatal hole in the center of this comedy. Just as the tour guide can do better than Arthur, the female talent here can do better than Arthur. Also with Helen Mirren, Luis Guzmán, Geraldine James, John Hodgman, and Nick Nolte.
Bridesmaids (R) A treasure. Kristen Wiig co-writes and stars in this comedy as a woman enduring a rough time when her best friend (Maya Rudolph) gets engaged. This is not a romance, nor is this a female version of The Hangover, despite a few uproariously raunchy set pieces. It's one of the best movies ever about female friendship, and it would still work even if you took the jokes out, though why would you want to? Wiig gives a compelling performance as someone self-destructing as a richer, more glamorous, condescending new friend (Rose Byrne) seems to be stealing away her old pal. An intelligent and moving film, as well as a hilarious one. The supporting cast is stellar, but watch for Melissa McCarthy, stealing laughs everywhere as a foul-mouthed, intense, deadly serious bridesmaid. Also with Chris O'Dowd, Wendi McLendon-Covey, Ellie Kemper, Matt Lucas, Rebel Wilson, Michael Hitchcock, Ben Falcone, Terry Crews, an uncredited Jon Hamm, and the late Jill Clayburgh.
The Conspirator (PG-13) Robert Redford's commentary on civil liberties disguised as a period legal drama is much easier to take than it should be. James McAvoy portrays the real-life lawyer who takes on the case of boardinghouse owner Mary Surratt (Robin Wright) after she's accused of helping her son and his friend, John Wilkes Booth, kill Abraham Lincoln. Perhaps because of the low budget, Redford can't evoke a sense of the mass panic that's behind the prosecution, so his movie never feels as big and important as it's meant to. As the lawyer employs every trick to try to impede an unfair legal proceeding that's bent on grinding up his client, McAvoy exhibits the tensile and cunning moral outrage that is the heart of this thing. Also with Kevin Kline, Tom Wilkinson, Evan Rachel Wood, Justin Long, Alexis Bledel, Norman Reedus, Colm Meaney, Jonathan Groff, James Badge Dale, Stephen Root, Johnny Simmons, and Danny Huston.
Everything Must Go (R) The recipient of a surprise screening at last year's Lone Star Film Festival, this drama stars Will Ferrell as an alcoholic, recently unemployed man who keeps his possessions out on his front lawn after his wife locks him and them out of the house. Writer/director Dan Rush adapts from Raymond Carver's short story "Why Don't You Dance?" He does a nice job with the tone of the piece and Ferrell plays the character's alcoholism straight up to remarkable effect, but the drama is generally undercooked and doesn't build to enough of an arc to make the whole thing memorable. Also with Rebecca Hall, Michael Peña, Stephen Root, Glenn Howerton, Christopher Jordan Wallace, and Laura Dern.
Fast Five (PG-13) This fifth installment of the Fast and the Furious series takes place in Brazil, where our band of outlaws (Vin Diesel, Paul Walker, and Jordana Brewster) lie low, though their idea of lying low seems to involve huge car chases and shootouts with both a Brazilian slumlord (Joaquim de Almeida) and a DEA agent (Dwayne Johnson). The attempts at humor are regrettable, and the movie gets soggy trying to portray the outlaws as some sort of family. But the climactic chase scene with two muscle cars towing a giant steel vault is nicely done. Also with Tyrese Gibson, Ludacris, Sung Kang, Matt Schulze, Gal Gadot, and Elsa Pataky.
---
Go for It! (PG-13) Forget the story, which is about a poor Latina high-school girl (Aimee Garcia from TV's
Off the Map
) in Chicago whose chance at a future outside the barrio lies in her ability to dance. You know where every plotline is going as soon as it makes its appearance. The important consideration is whether the star and the dancing are any good. The star is: Garcia is in her 30s and still able to play a teenager, and she moves with assurance and style. The dancing is disappointing: Writer-director Carmen Marron over-edits the sequences and squanders some nice ideas, like the crew of Asian girls hip-hop dancing in kimonos. The supporting cast is inept too. There are better dance films out there. Also with Al Bandiero, Jossara Jinaro, Gina Rodriguez, Louie Alegria, Derrick Denicola, and Andres Perez-Molina.
Hanna (PG-13) What's this movie trying to say? Saoirse Ronan portrays a 16-year-old girl raised in seclusion by her dad (Eric Bana) to assassinate a sinister CIA section chief (Cate Blanchett with a Kentucky bourbon accent). The backstory emerges in dribs and drabs but never coalesces into a cracked fable about kids growing up. Director Joe Wright films this action thriller like one of the Bourne films, a distinctive approach that fails to evoke the fairy-tale atmosphere that he's going for. The onscreen talent is personable — Ronan and Jessica Barden make a nifty comedy team in the frankly hilarious middle section, when Hanna hitches a ride with a bohemian British family and becomes best friends with their pop culture-obsessed daughter. It's a delightful piece of randomness in a scattered story. Also with Tom Hollander, Sebastian Hülk, Mohamed Majd, Martin Wuttke, Olivia Williams, and Jason Flemyng.
Insidious (PG-13) The director and screenwriter of the original Saw try to take on the limitations of a PG-13-rated horror flick and come up with a few good scares. Patrick Wilson and Rose Byrne play the parents of a boy (Ty Simpkins) who falls into a coma after a household accident. The couple finds strange things happening around their home even after they do the smart thing and move into a different house. The movie does great in the first half, when the sinister stuff is only suggested, but loses steam in the second half, when the horrors become more explicit. Still, the good points outweigh the bad, and if this is short of a classic haunted-house flick, it's still a worthy addition to the genre. Also with Andrew Astor, Lin Shaye, Leigh Whannell, Angus Sampson, and Barbara Hershey. — Cole Williams
Jumping the Broom (PG-13) Better than anything Tyler Perry has ever done. The marriage between a wealthy bride (Paula Patton) and a working-class groom (Laz Alonso) on Martha's Vineyard is the occasion for this comedy that takes the tension between two markedly different African-American families and goes in some new directions with it. The material doesn't always work and the leads are flavorless, but TV director Salim Akil avoids dead spots and manages to make the movie's points without turning preachy. The supporting cast also is lively. It's no comic masterpiece, but its solid construction and generosity of spirit make it pleasant enough. Also with Loretta Devine, Angela Bassett, Meagan Good, Mike Epps, Tasha Smith, DeRay Davis, Romeo Miller, Valarie Pettiford, Gary Dourdan, Julie Bowen, Brian Stokes Mitchell, and T.D. Jakes.
Limitless (PG-13) Bradley Cooper stars in this clever sci-fi thriller about a struggling writer who finds a magic pill that boosts his brainpower to genius levels but has nasty side effects. Screenwriter Leslie Dixon and director Neil Burger adapt this from Alan Glynn's The Dark Fields, pulling surprises and coming up with a better ending. The movie works best as a dark comedy, with a slapsticky shootout at the end and the hero taking extreme measures to ingest the last of his pills. It's also a great showcase for the star, who gets to be both a confident charmer and an arrogant douchebag. The premise would collapse if not for the intelligence glinting in Cooper's icy blue eyes. Also with Robert De Niro, Abbie Cornish, Andrew Howard, Johnny Whitworth, Tomas Arana, Robert John Burke, Ned Eisenberg, and Patricia Kalember.
The Lincoln Lawyer (R) Matthew McConaughey is back in his sweet spot as a smooth-talking, morally shifty L.A. attorney who works out of his chauffeured luxury car in this throwback legal thriller based on Michael Connelly's novel. The story revolves around the lawyer defending a wealthy client accused of sexual assault (Ryan Philippe), only to discover that the guy is guilty of far worse. The dense, knotty plot takes in a huge array of characters played by actors who relish their material. McConaughey comfortably holds the center, and first-time writer-director Brad Furman does a superb job laying out all the plot twists. Also with Marisa Tomei, William H. Macy, Josh Lucas, John Leguizamo, Laurence Mason, Michael Peña, Bob Gunton, Frances Fisher, Margarita Levieva, Pell James, Shea Whigham, Katherine Moennig, Michael Paré, Trace Adkins, and Bryan Cranston.
Madea's Big Happy Family (PG-13) When a woman (Loretta Devine) finds out her cancer has returned, she gathers her children (Shannon Kane, Shad "Bow Wow" Moss, and Natalie Desselle) together for a nice evening to share the news. But family problems and long-buried secrets only push the family members apart, which looks like a fine job for family matriarch Madea (Tyler Perry). The normal trappings of a Tyler Perry movie are all here: over-expository dialogue, stagey direction, jarring tonal shifts, and heaps of melodrama. Still, the actors give it their all, there are a few funny lines, and it's not necessarily painful to sit through. Also with Cassi Davis, Tamela J. Mann, David Mann, and Isaiah Mustafa. — Cole Williams
Priest (PG-13) Slightly better than terrible. Paul Bettany plays a member of an obsolete caste of warrior clerics who takes up arms again after vampires abduct his niece (Lily Collins). Based on a Korean graphic novel, this movie paints an interesting picture of a dystopian world governed by a fascist theocracy battling against animalistic vampires that act like bees in a hive. Yet the movie has no resonance, thanks mostly to the rotten acting, especially by Maggie Q as a fellow priestess and Cam Gigandet as a local sheriff. The film is showing in both 2D and 3D. It's definitely not worth the 3D surcharge. Also with Karl Urban, Brad Dourif, Stephen Moyer, and Christopher Plummer.
Rio (G) Casting Jesse Eisenberg as the voice of a neurotically squawking parrot is a great idea. Too bad the inspiration in this animated family film largely stops there. Eisenberg is the voice of Blu, a sheltered and critically endangered macaw who's brought to Brazil to mate with the last female of his species (voiced by Anne Hathaway) when the two birds are kidnapped by exotic pet smugglers. Director Carlos Saldanha (from the Ice Age movies) relishes the chance to set a movie in his homeland and makes the most of the Brazilian scenery, but the voice work is slack, the characters are dull, and the movie seems unsure as to whether it's a musical. The result is disjointed and bland. Additional voices by George Lopez, Jamie Foxx, will.i.am, Jemaine Clement, Leslie Mann, Rodrigo Santoro, Carlos Ponce, Tracy Morgan, Jane Lynch, Wanda Sykes, Gracinha Leporace, Sérgio Mendes, and Bebel Gilberto.
Something Borrowed (PG-13) Like the Emily Giffin novel that it's based on, this movie starts with its main character (Ginnifer Goodwin) sleeping with her best friend's fiancé and not feeling terribly guilty about it. That's an interesting place for a romantic comedy to start, but this one goes nowhere. The heroine is such a doormat that we can't sympathize with her, and though the best friend (Kate Hudson) is a narcissistic attention hog, she's not hateable enough to make us think she deserves the betrayal. The fiancé (Colin Egglesfield) is pretty weak, too. Backstory and character motivation are removed or tampered with, and John Krasinski struggles manfully with a supporting role that makes no sense at all. You may not know who to root for, but you'll know this is bad. Also with Steve Howey, Ashley Williams, Geoff Pierson, and Jill Eikenberry.
Soul Surfer (PG) You wouldn't think the story of a girl surfer who had a shark bite her arm off would make for a dull movie, yet here it is. AnnaSophia Robb stars in this biography of Bethany Hamilton, the 13-year-old Hawaii native who lost her left arm in 2003 and overcame her misfortune to become a professional surfer. Director/co-writer Sean McNamara wraps the story in cozy platitudes and tries to immerse us in the world of surfing but only succeeds in confusing movie fans who don't know the jargon. The special effects are low-grade, the inconvenient emotions in the story are all dealt with too neatly, and the actors are muffled, even the ones who really should be better. (Not among the latter: Carrie Underwood in a regrettable turn as a youth minister.) Even the surfing sequences don't provide any spark. Also with Dennis Quaid, Helen Hunt, Ross Thomas, Jeremy Sumpter, Lorraine Nicholson, Sonya Balmores, Kevin Sorbo, and Craig T. Nelson.
Source Code (PG-13) An ordinary-looking Hollywood sci-fi thriller that gives way to some spectacular vistas. Jake Gyllenhaal portrays a soldier who takes part in a military science experiment, trying to find the perpetrator of a recent terrorist bombing by repeatedly reliving the last eight minutes in one of the victims' lives. Like a video game hero, every time he dies, he goes back to the last save point and pursues a different course of action to try to alter the outcome. Director Duncan Jones (Moon) takes full advantage of his first big-budget outing with bigger stars and glossy visuals, yet the movie retains an intimate feel with its small cast of characters. Even after the terror plot is resolved, the script still saves up its biggest emotional punch and the most mind-blowing implications of its plot for the very end. This is what great science fiction is supposed to do. Also with Michelle Monaghan, Vera Farmiga, Jeffrey Wright, Michael Arden, Cas Anvar, and Russell Peters.
Thor (PG-13) Not as good as the Iron Man films but better than The Incredible Hulk and a worthy entry into the Avengers series. Chris Hemsworth stars as a Norse god whose arrogance and hotheadedness get him cast out of Asgard onto Earth, where he falls for an astronomer (Natalie Portman) who believes his stories about another realm. The romance is flat, the human storylines are botched, and Portman looks lost. The Oedipal drama in Asgard is much better handled, with Tom Hiddleston as a scheming Loki and Anthony Hopkins (who seems rejuvenated by the presence of director Kenneth Branagh) as Odin. Branagh's comic touch remains as subtle as Thor's hammer, but his zest for the material carries the movie over its rough patches. Also with Stellan Skarsgård, Kat Dennings, Colm Feore, Clark Gregg, Idris Elba, Ray Stevenson, Tadanobu Asano, Jaimie Alexander, Josh Dallas, Rene Russo, and uncredited cameos by Samuel L. Jackson and Jeremy Renner.
Water for Elephants (PG-13) Sara Gruen's best-selling novel becomes this intelligent but emotionally distant period drama starring Robert Pattinson as an orphaned veterinary student who joins a traveling circus in 1931 and falls dangerously for the star performer (Reese Witherspoon), who's married to the circus' cruel, capricious owner and ringmaster (Christoph Waltz). Director Francis Lawrence keeps this from dragging, and Waltz gives a terrific performance as a self-loathing, self-destructive dictator. Still, the chemistry between the romantic leads is all wet, and the movie never attains the grandeur and power that it aspires to. Also with Paul Schneider, Jim Norton, Mark Povinelli, and Hal Holbrook.
DALLAS EXCLUSIVES:
Cave of Forgotten Dreams (NR) Werner Herzog's latest documentary looks at the oldest drawn pictures of humans in the Chauvet caves of southern France.
Forks Over Knives (PG) Lee Fulkerson's documentary proposes the eradication of most diseases by eliminating processed or animal-based foods from one's diet.
Hesher (R) Spencer Susser's drama is about a widowed father (Rainn Wilson) and his young son (Devin Brochu) who learn to embrace life after a violent drug dealer (Joseph Gordon-Levitt) takes up residence in their garage. Also with Natalie Portman, John Carroll Lynch, and Piper Laurie.
I Am (NR) Tom Shadyac (Liar Liar, Bruce Almighty) directs this documentary about what's wrong with the world and how to improve it. Also with Desmond Tutu, Noam Chomsky, Howard Zinn, Lynne McTaggart, John Francis, Coleman Barks, and Marc Ian Barasch.
Last Night (R) Keira Knightley and Sam Worthington star in Massy Tadjedjin's drama about a married couple who are both tempted to stray when they're separated one night. Also with Eva Mendes, Guillaume Canet, Anson Mount, Stephanie Romanov, and Griffin Dunne.
Meek's Cutoff (PG) Based on historical events, this drama by Kelly Reichardt (Wendy and Lucy) is about a party of settlers in 1845 who must decide whether to trust an unstable guide (Bruce Greenwood) to lead them out of the Oregon desert. Also with Michelle Williams, Will Patton, Zoe Kazan, Shirley Henderson, and Paul Dano.