Singer-songwriter Joshua Loewen's got a fevah, a vest-wearin', spasmatic-dancin', bangs-flippin', grass-smokin' ache for jangly guitars, snappy beats, and velveteen melodies. He's tuned his satellite radio to the late '60s, marveling at the stars through a kaleidoscope. To him, the past and present have merged, forming a surreality in which Brit-pop, vintage Rolling Stone articles, and modern technology –– the air thick with the musky bouquet of vinyl, cardboard, and doobage –– coexist peacefully. In Loewen's universe, Ray Davies was born with an iPod in his ears, Mick Jagger died along with the Stones' relevance, and Dick Clark broadcasts from Saturn.


On the surface, you might be inclined to write off young Josh as an obsessively anachronistic nostalgist, protesting the plastic age in which we live, but the Fort Worthian approaches his craft with love, humility, devotion, and an appreciation for the mastery of style as its own reward.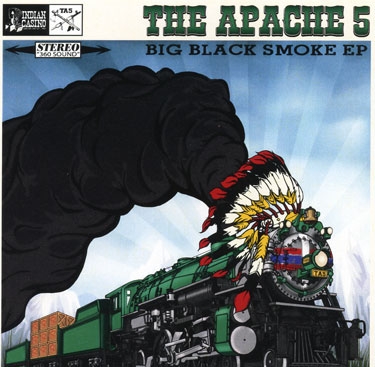 With his band The Apache 5, Loewen has just released Big Black Smoke, an EP that might go down as one of the finest local products of the past few years and one that is easily the most idiosyncratic.
Blasting right out of the gate with a simple, bouncy riff, the first track, "Gotta Be Free," is a neatly packaged slab of hi-fi ramalama, a joyous combination of crunchy but not sloppy guitars, ass-shaking percussion (replete with tambourine and hand-claps), groovy-baby organ accents, and singer Loewen's distant-sounding, masculine voice, exhorting the virtues of true love, specifically the phenomenon of feeling freer, more like yourself, the closer you get to your loved one. In the chorus, dusty echoes of The Who pop up to resolve themselves in light-hearted, early-FM grandeur.
"Gotta Be Free" dives right off a cliff at the end, with all of the instruments ringing into oblivion, making a perfect entrée for the album's ostensible single. "Shiver and Shake" explodes from the speakers, all of the instruments, including a rollicking piano, hitting on the same note several times before receding into a bumping semi-tribal beat around which a syrupy bass line stumbles and gurgles. Loewen goes on to describe a siren, "a shiny path but a clouded mind." And the song, with its sweet three-part harmonies in sections, feels the closest of any of the tracks to what Loewen said he imagined when he first began writing material for the album.
The time was a couple of years ago, a while after Loewen's first band, Voigt, had dissolved and when he was playing bass in honey-brown alt-country purveyors Chatterton. "I fooled around [with songwriting] for a while," he said. "I wrote Wilco-y songs, tried to mess around with country-tinged stuff, things that I just didn't listen to. I didn't know what I wanted."
Not long afterward, Loewen had an epiphany. "It just hit me one day, and it started with 'Shiver and Shake,' " he said.
As a boy, after his mother had passed away, Loewen was struck by a particular brand of music. The authors? The Beatles. "That [affinity] grew into The Kinks, The Who, T. Rex, the whole '60s British invasion," he said. "I really dug deep into that stuff and cheesy takeoffs of that stuff like the That Thing You Do movie."
So when time came for Loewen to begin work on his own material, he called upon his first love.
To commit his work to tape, Loewen enlisted the help of Kyle Barnhill, a former member of the dearly departed cut*off who has a home studio in North Richland Hills and who would become the band's bassist. Loewen's band, which didn't have a name yet, was rounded out by two other cut*off members: guitarist Jayson Hamilton and drummer Jake Webster. The tradeoff was that Barnhill would work for free but only on his schedule, which extended the recording process by several months.
But during that time, Hamilton and Webster had to bow out, making room for two guys who would become steady members: in-demand country guitarist Austin Morgan and Telegraph Canyon drummer Austin Green. "People showed up and were angels for me for six months, and something called them away, but it kept pushing this thing along," said Loewen, who also spent some time playing guitar with skate-surf rockers Darth Vato.
How Loewen ended up ultimately recording with Beau Bedford at Bedford's Southlake mansion/home studio is another odd coincidence –– let's just say it has something to do with suburbia, loud drumming, noise ordinances, pot, and cops.
Bedford, who played in Dallas' popular Southern-fried rockers Jonathan Tyler & The Northern Lights, was recommended by Morgan, who had worked with the producer before. With Bedford's help, The Apache 5 sound "became even better than what I heard in my head," said Loewen, a history major at the University of Texas at Arlington and assistant manager at Lambert's Steaks, Seafood & Whiskey who has funded the project himself. "He brought not only great engineering and quality sound but really great attitude."
The album was mixed by a Northern Light, Nick Jay, and was completed in the fall of 2010, not long after Loewen and Morgan came up with the band name.
And with the possible exceptions of Secret Ghost Champion and The Hendersons, The Apache 5 is the only local band throwing back to the '60s with feet firmly planted in the here-and-now. Loewen's valentine to such a fertile, distinct period of popular music –– confidently straddling the bombastically sublime and dynamically simple –– is only a couple of tinny, bad production choices (and bad Beatles haircuts) away from a parlor trick. Hey, Pops! Check out this CD from 1965. It's by this band called The Apache 5! But few bands, from today or yesteryear, have in them a semi-psychedelic dirge like "Drag City," a slow burner fueled by Morgan's itchy dobro slide, a huge, drunken, Stones-ified chorus, and gospel-tinged background wailing (courtesy of Jay). Nor are there many bands capable of something like "Destroyer," a stereotypical '60s hit that, with its skipping beat, brightly echoing and softly strummed guitar, and dense Peter Gunn accents, could have been cooked up by The Zakary Thaks fronted by Eric Burdon. High praise indeed.
After the CD's completion, the band recruited Ray Liberio (The Me-Thinks, Stoogeaphilia, Vorvon) to design the cover art and signed to Indian Casino Records, a Seattle label run by Haltom City ex-pat John Frum and home to The Me-Thinks, Eyes Wings & Many Other Things, and others.
After The Apache 5's live debut, at Lola's Saloon in November, Morgan got called up to the big leagues again. In his place now is Steffin Ratliff (Pablo & The Hemphill 7), who made his debut a couple of weekends ago at The Grotto.
The goal is to perform live more regularly and get back into the studio later this year. "It's just that I want to make records I like, that I want to listen to, with my friends, and everybody's having fun and not stressed," Loewen said. "The other fun thing about this band is we want to make good music and have a good time and not ever stress or worry about 'Are we making it?' We all have our own lives and places to go. … It doesn't matter if I'm gonna do something else for a career. I just need to play to be fulfilled."