With the summer heat going at full blast, now's a good time for the two special movie events going on this week. Movie houses have recently been reaching out to theater fans by showing Broadway performances, but what makes this Thursday's broadcast of Stephen Sondheim's Company unique is the absurdly big-name cast assembled for this concert performance.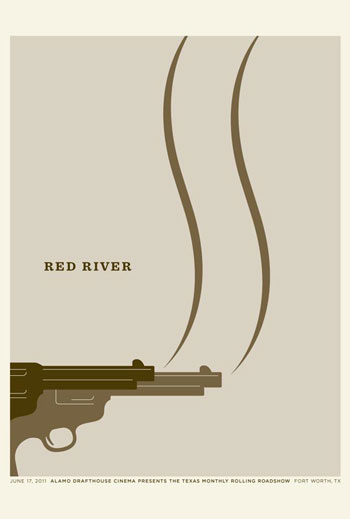 Neil Patrick Harris stars as the confused, commitment-shy New Yorker, and he's supported by the likes of Patti LuPone, Christina Hendricks, Jon Cryer, and Stephen Colbert, who's not at all known as a song-and-dance guy. The New York Philharmonic accompanies these performers as they sing "You Could Drive a Person Crazy" and "Side by Side by Side." For some reason it's only playing at the Cinemark in Mansfield, so Sondheim fans should drive out to suburbia.
The Alamo Drafthouse's Rolling Roadshow is an annual series of films shown in the locations that inspired them or, in some cases, where they were filmed. This year's series is screening Texas movies throughout our state, with No Country for Old Men being shown in Marfa and The Last Picture Show in Archer City. This weekend the tour hits Fort Worth with the 1948 John Wayne Western Red River being shown at the Fort Worth Stockyards, the place from which Wayne's cattle-driving character heads north on the old Chisholm Trail. Before the film begins, there'll be an actual cattle drive and a Western gunfight re-enactment. Moviegoers tend to come away from Drafthouse screenings raving about the experience, and this should be no exception. –– Kristian Lin
Company screens at 7pm Thu at Cinemark Town Center, 2041 Hwy 287, Mansfield. Tickets are $15-17. Call 213-639-6166.
The Rolling Roadshow screens at 8pm Fri at Fort Worth Stockyards, 121 E Exchange Av, FW. Admission is free. Call 310-809-8882.