I know, I know, the weather for last weekend's 2011 Fort Worth Weekly Music Awards Festival was nearly unbearable. You poor souls relegated to our two outdoor venues deserve medals. At The Backyard at Capital Bar for Calhoun's set, my wife thought that multi-instrumentalist and co-chief songwriter Jordan Roberts was wearing a tie-dyed shirt –– in actuality he was togging a plain salmon-colored button-up made psychedelic by the sweat pouring out of him and seeping through the fabric.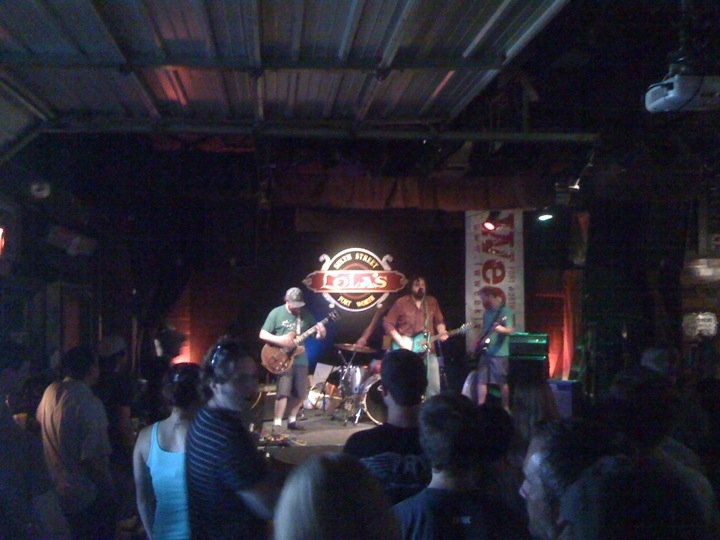 What anyone was doing wearing a long-sleeved shirt in the middle of summer in Texas is another question. Maybe Roberts didn't want to get sunburned. (Hey, Jordan. Two words: Sun. Block.) Anyway, yes, the temps were not fit for man nor beast, and, yes, some venues were having air-conditioner problems, but c'mon. What's better than listening to or playing some kickass rock 'n' roll; drinking cold, frosty beverages; and sweating a little (OK, a lot)? Well, maybe listening to or playing kickass rock 'n' roll; drinking cold, frosty beverages;and not sweating, which is why in response to the smattering of heat-related complaints I've received, my Weekly brethren and sistren and I promise to consider moving the Music Awards and its attendant festival to a time of year that's less capable of turning everyone into puddles of sweat, beer, and urine.
I don't mean to impart the idea that the festival was in any way unpleasant. I think it was mighty fine, myself. Easily the best ever. Granted, I didn't have to play the Cap Bar or the other outdoor venue, Fred's, but I managed to spend some time at Lola's when the A.C. may or may not have been working and when the place was one-in/one-out –– there was a line out the door during Burning Hotels' 8 p.m. set and up until EPIC RUINS capped the night off. Lawdy, Lola's was sweaty. Standing up front taking in the (awesome) EPIC RUINS show, I accidentally extended my bare forearm a little and touched another concertgoer's bare arm –– I thought we were going to be stuck together for the rest of the night. Regardless, with eight venues and six shows per venue (giving concertgoers a choice of 48 bands, alllll from the F-Dub), not every venue was graced by my presence. But of the shows I did see, I can say I'm proud that Fort Worth is full of local-music-loving folks (in addition to awesome musicians, of course). The early scene was much livelier than it's been in years past. Not crowded. Just lively. 1945's and Kevin Aldridge's early sets at Lola's were comfortable, and there was a decent crowd at The Pour House for Jefferson Colby's 5 p.m. gig. I caught a little bit of JJ & The Rogues' early 7th Haven show (see: feature above) –– but I couldn't see them, only hear them, for all of the people packed into the place. From that point on, every venue I went to was wall-to-wall humanity. Maybe the best part? No medical emergencies or fights. And a big shout-out to the guys from Exit 380 who did an acoustic set for a no-show. Much love. For a full festival recap, including photos and videos, visit www.fwweekly.com.
Contact HearSay at hearsay@fwweekly.com.