It's not hard to find good pizza in Fort Worth, but it is hard to find it fast. Your options are basically limited to heat-lamped lunch buffets and Pizza Hut's greasy cheese wheels. Pie Five Pizza Co., Pizza Inn's new fast-casual dining concept, aims to fill the fast/good niche by offering up top-quality pies with the quickness. For what you'll pay, you could do a lot worse.


Pie Five is housed in an airy space in Montgomery Plaza, next to Pei Wei, and is dominated inside and out by red and white, a color scheme that connotes an R-and-D lab rather than a stereotypical "It's-a me! Mario!" Italian joint. Pie Five's approach is pretty similar to Potbelly's: Diners form a line that leads to a guy lording over bins of ingredients, who assembles your culinary delight and puts it on a conveyer belt-fed convection oven. I don't really know the particulars, but for practicality's sake, just know that convection ovens can bake things super-fast, like, in about three minutes tops. The industrial nature of this setup is mirrored by Pie Five's factory-themed décor — the wall opposite the kitchen features a massive red-and-white diagram depicting some kind of pizza-making machinery, ostensibly the innards of a convection oven. According to the wall art, some part housed inside that stainless steel box dispenses "magic dust."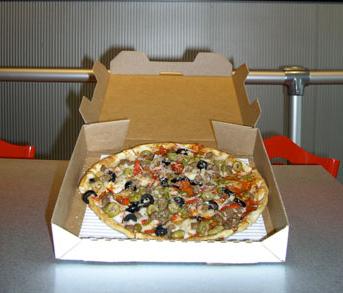 You won't taste any magic dust at Pie Five, but you will get a pretty tasty personal pizza.
The menu offers 10 specialty pies plus a build-your-own. The first pie I sampled was the Pie Five High Five –– I'm guessing it's called "High Five" for fun, because it's actually covered in eight things: pepperoni, Italian sausage, bacon, ham, beef, Tuscan marinara, cheddar, and mozzarella. The toppings were kind of bland — I had trouble telling the beef from the sausage (even after I sampled a couple chunks of each individually). The pepperoni was dominant, which was fine by me, though –– I love the stuff.
On my next visit, I went with a custom job, choosing from around 25 toppings, including three sauces (marinara, spicy diavalo marinara, and spinach Alfredo) and several pretty standard meats, with the addition of chopped bacon and pulled pork. I had a thin crust topped with mozz, black olives, pepperoni, bacon, and pulled pork on a base of the allegedly spicy diavalo. Unfortunately, the sauce turned out to be not so devilish — basically the same wimpy marinara with not enough zip in it to stand out. I ended up dousing every bite with Cholula hot sauce. Still, my creation was enjoyable. The pulled pork was juicy and tasty, offering a nice counterpoint to the Cholula-aided bite of sauce and pepperoni.
My wingman went with a house specialty, the bacon cheeseburger pizza. I thought it could have used more beef, but the mustard, bacon, and onions mimicked an above-average cheeseburger at a pretty good greasy spoon, and after having two pies on the thin crust, the cheeseburger pie's classic crust was a welcome switch — the crust was light and crispy with the right amount of chewiness, no doubt the result of the convection oven's technical wizardry.
Of the specialty pies I didn't try, I'd probably give the Five Star and the p3 each a shot. The former features two layers of mozzarella covering pepperoni, pork sausage, green and black olives, red onions, and a two-pepper medley, though I'd wager that finishing one of these off would guarantee a nap afterward. While not as heavy-sounding, the p3's foundation of pulled pork and double whammy of mozz and cheddar would probably put me in a similarly comatose state. Other in-store templates include buffalo chicken, chipotle chicken, chicken carbonara, the Athenian (a Greek-themed pie with kalamata olives and more chicken), and the Spin Art, using the spinach Alfredo as a vehicle for marinated artichoke hearts.
For folks whose arteries clog just contemplating such carb excesses, Pie Five also offers three salads: the chef, caesar, and garden. I left them where they were, boxed up in the refrigerator, chilling above a limited selection of bottled beers.
The joint's simplicity and speed are its greatest strengths. Pie Five's pizzas won't make you forget about Mario, but for the price ($6.49 per 9″ individual pie) and cook time, you'll get a perfectly serviceable pizza that doesn't leave a sheen of grease on your fingers.
Pie Five Pizza Co.
2600 W 7th St, Ste 105, in Montgomery Plaza, FW. 817-332-7435.
Sun-Thu 11am-10pm, Fri-Sat 11am-midnight. All major credit cards accepted.
High Five……………………………….. $6.49
Custom pie…………………………….. $6.49
Bacon cheeseburger pie…………. $6.49
Caesar salad…………………………. $6.49