Not so long ago, a movie like Crazy, Stupid, Love. would have been released at the height of Oscar season and touted for awards. This dramedy set squarely in middle-class American life recalls the 2000 Best Picture-winning American Beauty: funny, well-made, glib, multi-generational, sprawling in a good way, and crowd-pleasing in a bad way. Instead, this movie is being released during high summer as yet another comedy, albeit one with a more mature outlook than Bad Teacher or Friends With Benefits. The "mature" part doesn't come off, but quite a bit else does.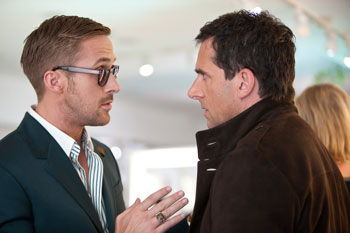 The movie begins with Emily (Julianne Moore) driving home with Cal (Steve Carell), her husband of 20-plus years, while breaking the news to him that she cheated on him and wants a divorce. Cal doesn't take the news well; he opens the passenger door and jumps out while the car's still moving. As Cal maunders about his marital problems to everyone around him at a trendy singles bar, wealthy playboy Jakob (Ryan Gosling) takes pity on him and agrees to take Cal on as a project, helping him join the dating scene by making over his unhip wardrobe and boosting his confidence around women. The tables turn, though, when Jakob falls for a pretty law student named Hannah (Emma Stone) and suddenly needs the older man's advice on how to make a relationship last.
What a cast this movie has! Kevin Bacon (as Emily's co-worker/one-night stand) and Marisa Tomei (as the first woman Cal picks up at the bar) are also on hand here, and all these experienced comedians don't miss a turn. They are more than just an all-star team, too. They make up a finely tuned ensemble who know exactly when to initiate the comic business and when to pull back and react to someone else's comic business. To watch this movie is to marvel at the dexterity of these performers, who are like the cast of a long-running play that's had time to get used to one another's rhythms, only with the energy of an opening night. It's always a treat when a movie runs so deep that a tenth-billed actor makes a notable contribution. This film is that well cast, down to its smallest roles, which are filled by the likes of Liza Lapira as Hannah's boy-crazy best friend and lite classical singer Josh Groban (with a dorky haircut) as Hannah's murderously boring boyfriend.
Special mention needs to go to Gosling, who doesn't have nearly the same comedy cred as his co-stars but matches them step for step anyway. Sly and cocksure but with hidden vulnerabilities that surface in the movie's latter stages, his Jakob is constantly surprised and chagrined by Cal's extreme uncoolness, yet he can't help being won over by the guy's decency. The matchless chemistry between Carell and Gosling makes it convincing that these two men from such mismatched backgrounds might become such fast friends. The old-school charisma that Gosling brings to this is something we've never seen from him; he manages to look sexy even when he's standing in the middle of a shopping-mall food court and polishing off a slice of bad pizza.
The team of Glenn Ficarra and John Requa have directed movies before, but this is their first time directing someone else's script. Writer Dan Fogelman has done good work on kids' movies (Tangled, Bolt, the original Cars). This love story for grown-ups, however, is a soppy concoction that tells us that no relationship is too broken to repair with a little perseverance, even if that turns into stalker-like behavior. The script badly needs the hard-won wisdom of The Kids Are All Right or even the demented perspective of Ficarra and Requa's own I Love You Phillip Morris. The subplot with Cal and Emily's 13-year-old son (Jonah Bobo) heedlessly pursuing his 17-year-old babysitter (Analeigh Tipton) is just too cutesy, and it's made even worse by the fact that the babysitter herself has a schoolgirl crush on Cal. All the efforts of the directors and the actors are needed to steer this movie clear of sentimentality. If the movie had a slightly worse cast, we'd easily see this as the hackneyed Hollywood romance that it is.
Then again, there are memorable set pieces like the parent-teacher conference attended by a post-breakup Cal and Emily, an already awkward situation that receives a huge unforeseen dose of awkwardness on top. Whatever the intellectual and emotional shortcomings of Crazy, Stupid, Love., this is still a funny movie with a peerless cast. If we lived in a better world, we'd see Hollywood talent put to such good use every week. As it is, this movie is something to savor.
Crazy, Stupid, Love.
Starring Steve Carell, Ryan Gosling, Julianne Moore, and Emma Stone. Directed by Glenn Ficarra and John Requa. Written by Dan Fogelman. Rated PG-13.