Colombiana (PG-13) Zoë Saldana stars as an assassin determined to take revenge on the drug dealers who murdered her parents. Also with Michael Vartan, Jordi Mollà, Cliff Curtis, Callum Blue, and Max Martini. (Opens Friday)


The Man Who Fell to Earth (R) Anniversary re-issue of Nicolas Roeg's 1976 science-fiction film about a space alien who becomes lost on Earth as he tries to return to his home planet. Also with Candy Clark, Rip Torn, Bernie Casey, and Buck Henry. (Opens Friday in Dallas)
Our Idiot Brother (R) Paul Rudd stars in this comedy as a stoner who wreaks havoc on the lives of his sisters (Elizabeth Banks, Zooey Deschanel, and Emily Mortimer) as he stays with each of them in turn after his release from prison. Also with Rashida Jones, Steve Coogan, Adam Scott, Kathryn Hahn, T.J. Miller, Polly Draper, Katie Aselton, and Hugh Dancy. (Opens Friday)
Senna (PG-13) Asif Kapadia's documentary portrait of the Brazilian auto racing champion Ayrton Senna. (Opens Friday in Dallas)
Suing the Devil (NR) Timothy Chey's drama stars Bart Bronson as a washed-up law student who files a lawsuit against Satan (Malcolm McDowell), only to be surprised when the devil shows up to defend himself. Also with Corbin Bernsen, Tom Sizemore, Shannen Fields, Rebecca St. James, Jeff Gannon, and Roslyn Gentle. (Opens Friday at AMC Grapevine Mills)
Bridesmaids (R) A treasure. Kristen Wiig co-writes and stars in this comedy as a woman enduring a rough time when her best friend (Maya Rudolph) gets engaged. This is not a romance, nor is this a female version of The Hangover, despite a few uproariously raunchy set pieces. It's one of the best movies ever about female friendship, and it would still work even if you took the jokes out, though why would you want to? Wiig gives a compelling performance as someone self-destructing as a richer, more glamorous, condescending new friend (Rose Byrne) seems to be stealing away her old pal. An intelligent and moving film, as well as a hilarious one. The supporting cast is stellar, but watch for Melissa McCarthy, stealing laughs everywhere as a foul-mouthed, intense, deadly serious bridesmaid. Also with Chris O'Dowd, Wendi McLendon-Covey, Ellie Kemper, Matt Lucas, Rebel Wilson, Michael Hitchcock, Ben Falcone, Terry Crews, an uncredited Jon Hamm, and the late Jill Clayburgh.
Captain America: The First Avenger (PG-13) Accomplished but empty comic-book adaptation stars Chris Evans as a scrawny asthmatic U.S. Army reject during World War II who submits to a medical experiment that turns him into a warrior with superhuman strength and reflexes. Director Joe Johnston does it all up professionally and prevents the movie from overplaying the patriotism angle. The indistinct characterizations and the blandness of lead actors (Evans and Hayley Atwell as a British agent who's part of the project) are the reason why the movie feels so impersonal. Perhaps he'll be more interesting as part of next year's The Avengers, but here Captain America is a stalwart but boring presence. Also with Tommy Lee Jones, Hugo Weaving, Stanley Tucci, Toby Jones, Dominic Cooper, Sebastian Stan, Richard Armitage, Neal McDonough, Derek Luke, and Samuel L. Jackson.
Cars 2 (G) Better than its rep. Pixar's sequel to its 2006 hit has Lightning McQueen (voiced by Owen Wilson) competing in a grand prix race around the world while Mater (voiced by Larry the Cable Guy) is caught up in an international spy plot when two British secret agents (voiced by Michael Caine and Emily Mortimer) mistake him for an operative. The thriller plot is grafted onto Pixar's customary character-based drama, and the combination doesn't always work. Still, the animation is beautiful and finely detailed as always, the action sequences are neatly done, and the choice of villains (a bunch of outdated lemon cars who work for Big Oil and are trying to discredit alternative fuels) is pretty clever. For pure escapism, you could do a lot worse. Additional voices by Eddie Izzard, Joe Mantegna, John Turturro, Thomas Kretschmann, Bonnie Hunt, Franco Nero, Tony Shalhoub, Jeff Garlin, Jason Isaacs, Bruce Campbell, Cheech Marin, John Ratzenberger, and Vanessa Redgrave.
The Change-Up (R) Better than the similar Hall Pass and Grown Ups, though that's not saying much. Two best friends — a married dad pining for his bachelor days (Jason Bateman) and a single slacker (Ryan Reynolds) — wish for each other's lives and are then magically transported into each other's bodies. The actors squeeze more out of the film's tired premise than you might expect, but for every gag that works there's at least one that's calculated, cynical, and rancid. This movie is occasionally funny, but there are other funny movies out there that don't leave you feeling queasy. Also with Leslie Mann, Olivia Wilde, Mircea Monroe, Gregory Itzin, Sydney Rouviere, Craig Bierko, and Alan Arkin.
Conan the Barbarian (R) Robert E. Howard's Conan (Jason Momoa) returns to the big screen, seeking revenge on Khalar Zym (Stephen Lang), the man who killed Conan's father and is now seeking to unlock the powers of an ancient magical mask. Though visually strong, with images that seem to have sprung from a Frank Frazetta fantasy painting, the movie is hamstrung by Marcus Nispel's mediocre directing and clumsy action sequences. While Momoa strikes the right chord of melancholia, wit, and bloodthirstiness and Lang has fun as would-be god Zym, neither are served by an uninvolving script. The flick's not terrible, but it doesn't capture the spirit that's made the character so enduring. Also with Rachel Nichols, Rose McGowan, Raad Rawi, Saïd Taghmaoui, and Ron Perlman. — Cole Williams
Cowboys & Aliens (PG-13) Not bad at all, but given the setup, this movie should have been altogether wilder and wackier. When space aliens invade an Arizona mining town in 1873, a sadistic cattle baron (Harrison Ford) has to team up with an amnesiac (Daniel Craig) who wanders into town and happens to hold the key to defeating the aliens. Adapted from Scott Mitchell Rosenberg's graphic novel, the story is told from the point of view of cowboys with no concept of extraterrestrials, but this doesn't provide as much juice as it should. Jon Favreau directs this fluidly and makes the movie into an agreeable Western with a twist. It still should have been more. Also with Olivia Wilde, Sam Rockwell, Paul Dano, Noah Ringer, Ana de la Reguera, Adam Beach, Walton Goggins, Clancy Brown and Keith Carradine.
Crazy, Stupid, Love. (R) Funny, well-made, glib, sprawling in a good way, and crowd-pleasing in a bad way. This ensemble comedy revolves around a man (Steve Carell) who reacts to being left by his wife (Julianne Moore) by hanging out at a singles bar, where a younger wealthy playboy (Ryan Gosling) teaches him how to join the dating scene. Dan Fogelman's soppy script tells us that no relationship is too broken to repair with a little perseverance, even if that shades over into stalker-like behavior. The movie steers just clear of sentimentality thanks to the tidy direction of Glenn Ficarra and John Requa and the efforts of a peerless, fine-tuned cast that doesn't miss a single beat and plays well as a group. Also with Emma Stone, Jonah Bobo, Analeigh Tipton, Liza Lapira, Josh Groban, Kevin Bacon, and Marisa Tomei.
---
The Devil's Double (R) This uneven, sensationalistic drama stars Dominic Cooper as both Uday Hussein and Latif Yahia, the real-life Iraqi army officer forced to work as Uday's double in the late 1980s. The movie draws some juice from its hero's unique situation and the contrast between the hardscrabble lives of ordinary Iraqis and the palatial circumstances enjoyed by the Husseins. However, the characters are overdrawn except for the psychotic Uday, director Lee Tamahori's pacing is indifferent, and there are too many identical scenes of Latif being disgusted and horrified by his lookalike's torturous/murderous/rapine/pedophiliac ways. Cooper's magnetic performance as the psychotic Uday is the only thing holding this together. Also with Ludivine Sagnier, Raad Rawi, Mimoun Oaïssa, Khalid Laith, Nasser Memarziah, Mem Ferda, Dar Salim, Jamie Harding, and Philip Quast.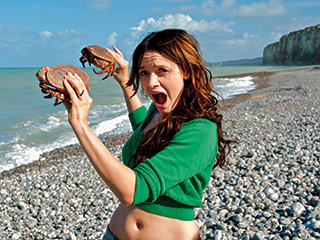 Final Destination 5 (R) While dying provides the only finality in the Final Destination series, this fifth installment quickens the pace of the formula of using coincidental Rube Goldberg set pieces to kill off attractive twentysomethings who had managed, temporarily, to cheat death. The acting here is at least as good as a Viagra commercial's, and the characters have about as much depth as a cookie sheet, but the red herrings leading up to the demise of each human build sufficient tension and lead to hilariously grisly payoffs, underscored by the cheap 3D gore. Well played, Grim Reaper. Starring Nicholas D'Agosto, Emma Bell, Miles Fisher, Arlen Escarpeta, David Koechner, and Tony Todd. –– Steve Steward
Fright Night (R) The 1985 vampire classic is updated with ample humor, pitch-perfect performances, and digital gore in this breezy remake that stars Anton Yelchin as a dorky high-school kid who suspects that his mom's new boyfriend (Colin Farrell) is a blood-sucker. Director Craig Gillespie (Lars and the Real Girl) can't bring the chills or paper over the holes in the plot, but he delivers a nice genre piece without bogging down in details or trying to redefine the vampire movie. It all adds up to a rewatchable summer diversion. Also with Toni Collette, Imogen Poots, Christopher Mintz-Plasse, Dave Franco, Sandra Vergara, Chris Sarandon, Lisa Loeb, and David Tennant. — S.S.
Harry Potter and the Deathly Hallows: Part 2 (PG-13) End of the line! The quest to destroy Lord Voldemort (Ralph Fiennes) leads Harry and his friends (Daniel Radcliffe, Rupert Grint, Emma Watson) back to school for an ultimate showdown. Director David Yates still fumbles a few of the book's key emotional points, and the 3D is unnecessary gilding. On the other hand, there are cool action set pieces and a shattering flashback revealing the hidden motivations of Professor Snape (Alan Rickman). The film stands up well enough on its own, with a lyrical middle bookended by action-dominated sections. Yet it's the slow aging of these kid actors into young men and women that gives unique power to J.K. Rowling's saga of children becoming adults. Also with Warwick Davis, Helena Bonham Carter, Maggie Smith, Michael Gambon, Matthew Lewis, Julie Walters, Mark Williams, Tom Felton, Helen McCrory, Jason Isaacs, Ciarán Hinds, Kelly Macdonald, Bonnie Wright, David Bradley, Gary Oldman, and Robbie Coltrane.
The Help (PG-13) Kathryn Stockett's wildly popular novel becomes this charming but flawed film about two African-American housemaids (Viola Davis and Octavia Spencer) in Jackson, Miss., during the 1960s civil rights movement and one white Ole Miss graduate (Emma Stone) who decides to interview them and write down their stories in a book. The film is impeccably cast down to its smallest roles, but writer-director Tate Taylor's inexperience is plain to see in his inability to transition between scenes. The main characters never seem in any degree of danger, and Taylor yanks on your heartstrings rather shamelessly. This movie is just good enough to make you wish it had been better. Also with Bryce Dallas Howard, Jessica Chastain, Allison Janney, Ahna O'Reilly, David Oyelowo, Chris Lowell, Nelsan Ellis, Anna Camp, Leslie Jordan, Cicely Tyson, Mary Steenburgen, and Sissy Spacek.
Horrible Bosses (R) Exactly what it says in the title. Jason Bateman, Charlie Day, and Jason Sudeikis star in this black comedy as downtrodden white-collar workers who conspire to murder their tyrannical, psychotic employers (Jennifer Aniston, Colin Farrell, and Kevin Spacey). The working guys are tools and the plot machinations overwhelm the writers near the end, but the jokes are consistently funny and the bosses are played with unseemly verve by all three actors, especially Aniston (gleefully shedding her clothes and likability as a sexual harasser) and Farrell (as a cokehead with 30 extra pounds and a greasy combover). It'll do until a better nasty comedy comes along. Also with Jamie Foxx, Julie Bowen, Lindsay Sloane, Isaiah Mustafa, Wendell Pierce, Ioan Gruffudd, Donald Sutherland, and Bob Newhart.
Midnight in Paris (PG-13) Woody Allen's charming paean to the City of Lights stars Owen Wilson as an aspiring writer who's magically transported from present-day Paris to the city in the 1920s, where he gets to rub shoulders with Picasso, Gertrude Stein, and F. Scott Fitzgerald. The contemporary characters like the writer's shrewish fiancée (Rachel McAdams) and her phony ex (Michael Sheen) don't add much, but the movie kicks into gear whenever it takes place in Lost Generation Paris, with frequent laughs and a breezy tone. Watch for Corey Stoll's amusingly brusque performance as Ernest Hemingway. Also with Marion Cotillard, Tom Hiddleston, Alison Pill, Léa Seydoux, Gad Elmaleh, Adrien Brody, Kathy Bates, and Carla Bruni. — Cole Williams
One Day (PG-13) David Nicholls' best-selling novel is reduced to this tastefully indistinct film that follows two British university graduates (Anne Hathaway and Jim Sturgess) on successive July 15ths between 1988 and 2008. The book's insights about British culture and the rewards and discontents of early adulthood are lost, with screenwriter Nicholls turning his characters' struggles into fodder for sitcom patter, and not even funny patter at that. No one brings their best to this, not director Lone Scherfig, not the principal actors, not cinematographer Benoît Delhomme, not composer Rachel Portman. Without the book's insights, the movie feels gimmicky and banal. Also with Patricia Clarkson, Rafe Spall, Romola Garai, Ken Stott, and Jodie Whittaker.
Rise of the Planet of the Apes (PG-13) This sci-fi prequel stars James Franco as a genetic researcher whose attempt to cure his Alzheimer's patient dad (John Lithgow) leads to a race of superintelligent apes. Director Rupert Wyatt does this smoothly, particularly in the middle section when the scientist's cerebrally enhanced chimp (played by a motion-captured Andy Serkis) is abandoned in a hellish primate facility where he leads a prison break. Yet the plot is too dependent on security breaches and incredible human stupidity. Somehow, the movie is never as frightening or as thought-provoking as it would like to be. Watch for tons of references to the 1968 film. Also watch for the Harry Potter series' Tom Felton as an animal-torturing American zookeeper. Also with Freida Pinto, David Oyelowo, Tyler Labine, and Brian Cox.
The Smurfs (PG) Exactly as bad as you'd think. This rotten family flick features six of the famous magical blue beings transported to live-action present-day New York City — along with their wizard nemesis Gargamel (Hank Azaria) — and enlisting an expectant married couple (Neil Patrick Harris and Jayma Mays) to help them get back home. The 3D animation is lame, with director Raja Gosnell (the Scooby-Doo movies) bringing his non-magical touch to the proceedings. The script is somehow even lamer, cherry-picking all the most obvious cultural references and indulging in product placement that's shameless even for kids' movies. This movie will give you the blues, all right. Also with Sofía Vergara and Tim Gunn. Voices by Anton Yelchin, Katy Perry, Alan Cumming, George Lopez, Fred Armisen, and Jonathan Winters.
Spy Kids: All the Time in the World in 4D (PG) Worse than dirty diapers. Robert Rodriguez writes, produces, and directs this fourth installment in the precocious-siblings-using-gadgets-and-flatulence-to-defeat-supervillians franchise, perhaps dealing with some family issues at home via a heavy-handed message about the importance of spending time with your kids. Ricky Gervais as a talking robot dog commiserates with the audience by cracking wise, but even he isn't safe from farting babies, awkward exposition, and a peculiar idea of how hearing aids work. Neither late-act cameos by the grown-up stars of the original film nor the "4D experience" (using scratch-off scent cards) can save this. Also with Jessica Alba, Joel McHale, Jeremy Piven, Alexa Vega, Daryl Sabara, Rowan Blanchard, Mason Coon, Danny Trejo, and an uncredited Antonio Banderas. –– S.S.
30 Minutes or Less (R) Jesse Eisenberg reunites with his Zombieland director Ruben Fleischer for this comedy that isn't as ambitious or audacious but powered by the same anarchic spirit. Eisenberg plays a pizza delivery boy kidnapped by two criminal morons (Danny McBride and Nick Swardson) who strap a bomb to him and force him to rob a bank. The mayhem comes from all directions here, especially from Aziz Ansari as the delivery boy's best friend who's an alternately brilliant and unhelpful sidekick. There's just enough violence here to give the comedy an unpredictable edge, and even though it lacks the final ounce of lunacy, this quick-and-dirty movie scores its laughs and gets off the screen. Also with Michael Peña, Dilshad Vadsaria, Bianca Kajlich, and Fred Ward.
Transformers: Dark of the Moon (PG-13) Most 3D movies aren't worth the heftier ticket prices, but 3D is the only meaningful way to experience this monstrosity. The latest in Michael Bay's robot saga is the first to use 3D effects, and all the destruction looks good; when future film historians want to know how advanced special-effects were in 2011, they'll have to look this movie up. It's the humans who drag this thing down. The movie would have better, though not necessarily good, if all the characters had been robots. Megan Fox has been jettisoned for Rosie Huntington-Whiteley, and Bay spends a lot of time inviting us to ogle the new girl's ass. If only he'd taken as much care making a movie that doesn't suck. Also with Shia LaBeouf, Frances McDormand, John Malkovich, Patrick Dempsey, John Turturro, Josh Duhamel, Tyrese Gibson, Kevin Dunn, Julie White, and Ken Jeong.
DALLAS EXCLUSIVES:
Another Earth (PG-13) Brit Marling co-writes and stars in this indie sci-fi movie as an astronomy student seeking redemption for an accident she caused on the night a duplicate Earth is discovered in the sky. Also with William Mapother, Meggan Lennon, Jordan Baker, Robin Taylor, Kumar Pallana, and Flint Beverage.
Attack the Block (R) Gee, have recent news events made this premise less funny or more? Joe Cornish's sci-fi comedy is about a bunch of London ghetto thugs who take it upon themselves to repel an invasion of Earth by space aliens. Starring Jodie Whittaker, Luke Treadaway, John Boyega, Alex Esmail, Jumayn Hunter, Paige Meade, Leeon Jones, and Nick Frost.
The Future (R) Miranda July (Me and You and Everyone We Know) writes, directs, and stars in her second film, here as a woman whose long-term relationship with her boyfriend (Hamish Linklater) is thrown into chaos after they take in a wounded stray cat. Also with David Warshofsky, Isabella Acres, Joe Putterlik, and Kathleen Gati.
The Guard (R) John Michael McDonagh's action-comedy about a loose-cannon small-town Irish cop (Brendan Gleeson) and an uptight FBI agent (Don Cheadle) who are forced to team up to bust an international drug-smuggling ring. Also with Mark Strong, Liam Cunningham, David Wilmot, Rory Keenan, and Fionnula Flanagan.
The Names of Love (R) Michel Leclerc's autobiographical romantic comedy is about the relationship between a conservative middle-aged French veterinarian (Jacques Gamblin) and a promiscuous younger half-Arab left-wing political activist (Sara Forestier). Also with Zinedine Soualem, Carole Franck, Jacques Boudet, Michèle Moretti, and Zakariya Gouram.
Sarah's Key (PG-13) Kristin Scott Thomas stars in this drama based on Tatiana de Rosnay's novel about a present-day American-French journalist who discovers the hidden connection between herself and a Jewish Parisian family during the Holocaust. Also with Mélusine Mayance, Niels Arestrup, Frédéric Pierrot, Michel Duchaussoy, and Aidan Quinn.