Had enough of all the wailing and gnashing of teeth that accompanied last Tuesday's Oscar nominations? Don't worry, I'm not going to join them, even if the omission of Albert Brooks for Drive left me wanting to stick a fork in somebody's eye. Instead, I thought I'd examine one of the nominations that isn't getting much coverage right now, Meryl Streep's Best Actress nod for The Iron Lady.
I've already gone on record saying I don't think the performance is that good, but I'm more intrigued by Streep's status as a default pick. This is her 17th Oscar nomination, more than any other actor has ever garnered. A lot more, actually — Katharine Hepburn is second on the all-time list with 12, which she acquired over a span of 50 years. Streep has gotten her 17 in a scant 33 years. The numbers are even more intimidating than that. If you ignore the films in which Streep only provided voice work (such roles never get nominated for Oscars), you find that she has only acted in 25 films in which she wasn't rewarded with an Oscar nod. That's a nomination rate of more than 40 percent! (Gabourey Sidibe has just two films on her resumes, so her one nomination gives her a higher rate at 50%.) No other established star in history comes close to this. This is an awesome achievement.
How'd this happen? Streep earned an Oscar nomination for just her second film, 1978's The Deer Hunter, and then followed that up with a succession of lead roles in heavy dramas such as The French Lieutenant's Woman, Sophie's Choice, and Silkwood. It wasn't until the late 1980s that she started to star in comedies on a regular basis. Other Oscar winners have lost their reputations as Serious Thespians while performing in lighter stuff (Nicolas Cage stars in the Ghost Rider sequel next month, by the way), but Streep has held on to hers by judiciously mixing ambitious projects such as Rendition and Lions for Lambs with lighter fare. This helps explain why she gets Oscar nominations for movies like Julie & Julia and The Devil Wears Prada, which (rightly or wrongly) wouldn't be considered for Oscars if someone else were in Streep's role.
Here's the thing, though: Streep almost never wins. She has lost the Oscar race more times than any other actor in history. Statistically, this is likely to happen to someone with far more nominations than anyone else. Still, her 12 consecutive losses are threatening to reach Susan Lucci territory. Her last victory came 29 years ago. Jennifer Lawrence, a previous acting nominee who announced the Oscar nominations last Tuesday, wasn't alive the last time Meryl Streep won an Oscar. The same goes for 12 other acting nominees over the years, including Keira Knightley and Jonah Hill. A bunch of other Oscar nominees, including Ryan Gosling, Jessica Chastain, and Michelle Williams, would have been babies at the time.
Why is this? Because Streep is a default pick among voters who don't have the imagination to consider a lead actress in a foreign film or an offbeat role, there's often a case of buyer's remorse once the voting for the statuette rolls around. She frequently loses for no reason other than that someone else in the race hasn't won yet and is considered "due." (See: the 2009 race.) The token Meryl Streep nomination is not only unfair to the lead actresses who are deprived of recognition, it's also unfair to Streep herself. The undeserved nominations cheapen the ones that are deserved, and the ones that are deserved are frequently ignored in Oscar voting because Streep already has two of the gold statuettes at home. There are worthier objects of pity in the world than a two-time Oscar winner who's still headlining major Hollywood studio films in her 60s. Still, the whole phenomenon of the token Meryl Streep nomination is a sign that Oscar voters need to start considering other people.
Below are analyses of Streep's 10 previous nominations. Let's see how they shake out. While this post focuses on Oscar nominations that Streep got and perhaps didn't deserve, one could argue that she deserved nominations that she didn't get for The Manchurian Candidate (2004) and Death Becomes Her (1992).
2011
Nominated for: The Iron Lady
Rest of field: Glenn Close, Albert Nobbs; Viola Davis, The Help; Rooney Mara, The Girl With the Dragon Tattoo; Michelle Williams, My Week With Marilyn
Not nominated: Kirsten Dunst, Melancholia; Kristen Wiig, Bridesmaids; Charlize Theron, Young Adult; Tilda Swinton, We Need to Talk About Kevin
Notes: Streep actually has a decent shot at winning this one, though Davis and Williams have the advantage of not having won before. No one seems all that keen on the quality of the films in which any of these performances appear. We're probably going to look back at this race and say it was weak. This would be a much more interesting race if the four untapped performances I listed above had been nominated.
Is her nomination deserved?: Many others will disagree with me, but I say no.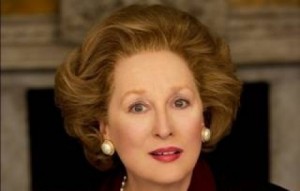 2009
Nominated for: Julie & Julia
Lost to: Sandra Bullock, The Blind Side
Rest of field: Carey Mulligan, An Education; Helen Mirren, The Last Station; Gabourey Sidibe, Precious
Not nominated: Vera Farmiga, Up in the Air; Kristen Stewart, Adventureland; Michelle Pfeiffer, Chéri; Penélope Cruz, Broken Embraces; Zooey Deschanel, (500) Days of Summer
Notes: Much like The Iron Lady, the role in Julie & Julia is a showcase for Streep's uncanny skills at impersonation. Unlike The Iron Lady, it also gives her a chance to build a real character underneath a public figure who's familiar to us. Hers is fine work, but Farmiga and Stewart in particular did better. I'm still not sure why everyone has ignored Chéri.
Was her nomination deserved?: This is a borderline pick, but I'd say no.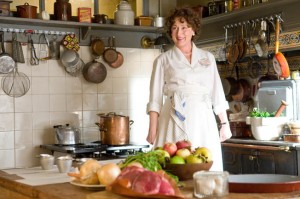 2008
Nominated for: Doubt
Lost to: Kate Winslet, The Reader
Rest of field: Anne Hathaway, Rachel Getting Married; Angelina Jolie, The Changeling; Melissa Leo, Frozen River
Not nominated: Sally Hawkins, Happy-Go-Lucky; Michelle Williams, Wendy and Lucy; Kate Beckinsale, Snow Angels; Kristin Scott Thomas, I've Loved You So Long; Scarlett Johansson, Vicky Cristina Barcelona
Notes: Anne Hathaway deserved to win this one. A rather shamelessly Oscar-grubbing turn by Winslet prevailed, though that doesn't change the fact that Streep was curiously flat in this role. The fact that both of them got nominations while the ebullient Hawkins went unrecognized is a real shame.
Was her nomination deserved?: No.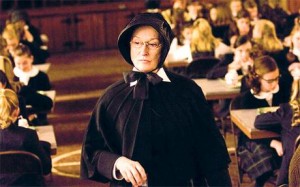 2006
Nominated for: The Devil Wears Prada
Lost to: Helen Mirren, The Queen
Rest of field: Penélope Cruz, Volver; Judi Dench, Notes on a Scandal; Kate Winslet, Little Children
Not nominated: Maggie Gyllenhaal, Sherrybaby; Abbie Cornish, Somersault; Lee Yeong-ae, Lady Vengeance; Ivana Baquero, Pan's Labyrinth
Notes: No one was beating Mirren this year. I would argue that this is Streep's best performance of the '00s. I'd also argue that it's a supporting role, and that Anne Hathaway is the lead. Had Streep competed for Best Supporting Actress, she might just have taken the trophy from Jennifer Hudson.
Was her nomination deserved?: Not only that, she deserved to win.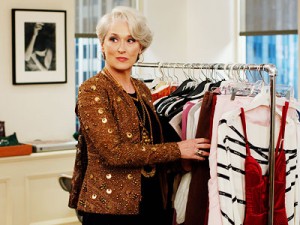 2002
Nominated for: Adaptation
Lost to: Catherine Zeta-Jones, Chicago
Rest of field: Kathy Bates, About Schmidt; Queen Latifah, Chicago; Julianne Moore, The Hours
Not nominated: Emily Watson, Punch-Drunk Love; Hilary Swank, Insomnia; Samantha Morton, Minority Report; Claire Danes, Igby Goes Down, Emily Mortimer, Lovely & Amazing
Notes: This was a Supporting Actress nomination, for her performance as a wacked-out version of author Susan Orlean. Streep does justice to the role and the film's off-kilter sense of humor, but she also invests the part with thoughtfulness that's above and beyond what's called for.
Was her nomination deserved?: Yes.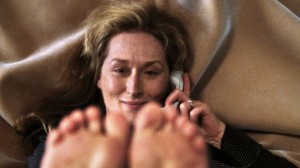 1999
Nominated for: Music of the Heart
Lost to: Hilary Swank, Boys Don't Cry
Rest of field: Annette Bening, American Beauty; Janet McTeer, Tumbleweeds; Julianne Moore, The End of the Affair
Not nominated: Reese Witherspoon, Election; Cecilia Roth, All About My Mother; Franka Potente, Run Lola Run; Toni Collette, The Sixth Sense; Helena Bonham Carter, Fight Club
Notes: Wow, this one looks bad. The race was largely between Swank and Bening, and the right woman prevailed. As for Streep, her dull turn in a dull inspirational-teacher flick aced out a whole field's worth of far more deserving candidates.
Was her nomination deserved?: Dear God, no.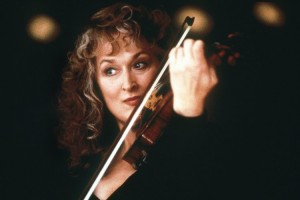 1998
Nominated for: One True Thing
Lost to: Gwyneth Paltrow, Shakespeare in Love
Rest of field: Cate Blanchett, Elizabeth; Fernanda Montenegro, Central Station; Emily Watson, Hilary and Jackie
Not nominated: Holly Hunter, Living Out Loud; Christina Ricci, The Opposite of Sex; Jennifer Lopez, Out of Sight; Chloë Sevigny, The Last Days of Disco; Jane Horrocks, Little Voice; Ally Sheedy, High Art; Natasha Lyonne, Slums of Beverly Hills
Notes: Streep's work was acceptable in a weepy melodrama, but hers was the weakest in the Best Actress field, while both Hunter and Lopez gave their best performances to date and went unrecognized. (You could argue the same for Ricci, as well.)
Was her nomination deserved?: No.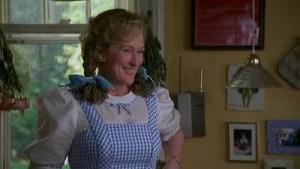 1995
Nominated for: The Bridges of Madison County
Lost to: Susan Sarandon, Dead Man Walking
Rest of field: Elisabeth Shue, Leaving Las Vegas; Sharon Stone, Casino; Emma Thompson, Sense and Sensibility
Not nominated: Nicole Kidman, To Die For; Julie Delpy, Before Sunrise; Julianne Moore, Safe; Toni Collette, Muriel's Wedding; Alicia Silverstone, Clueless; Jennifer Jason Leigh, Georgia; Gong Li, Shanghai Triad
Notes: The nomination from this year that looks really bad now is Stone's. Streep did fine work in Clint Eastwood's weeper, but Kidman's turn proved that she wasn't just a pretty face. Sadly, few voters embraced the nihilistic satire To Die For, while Delpy and Silverstone were in movies that skewed young, and Moore was in an indie drama that too few voters saw.
Was her nomination deserved?: No.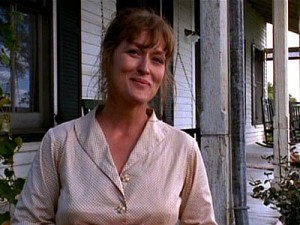 1990
Nominated for: Postcards From the Edge
Lost to: Kathy Bates, Misery
Rest of field: Anjelica Huston, The Grifters; Julia Roberts, Pretty Woman; Joanne Woodward, Mr. and Mrs. Bridge
Not nominated: Laura Dern, Wild at Heart; Uma Thurman, Henry & June; Mia Farrow, Alice
Notes: Very strong field, even if you'd be hard pressed to find anyone who's seen Mr. and Mrs. Bridge. Streep had a reputation at this point as someone who only headlined heavy dramas and period pieces, so her turn in a contemporary comedy was something of a revelation. Postcards holds up very well today, as does Streep's sharp sense of comic timing.
Was her nomination deserved?: Yes.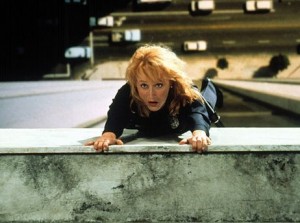 1988
Nominated for: A Cry in the Dark
Lost to: Jodie Foster, The Accused
Rest of field: Glenn Close, Dangerous Liaisons; Melanie Griffith, Working Girl; Sigourney Weaver, Gorillas in the Mist
Not nominated: Susan Sarandon, Bull Durham; Elizabeth Perkins, Big; Michelle Pfeiffer, Married to the Mob; Jamie Lee Curtis, A Fish Called Wanda; Juliette Binoche, The Unbearable Lightness of Being
Notes: "A dingo ate my baby!" Nothing terribly wrong with Streep's work as an Australian mother accused of murder, but man, look at who got passed over! Close and Foster deserved their nods, but any of the names I mentioned above would look better now than Streep, Griffith, or Weaver.
Was her nomination deserved?: No.