OPENING:
John Carter (PG-13) Andrew Stanton (Finding Nemo, WALL-E) directs this live-action adaptation of Edgar Rice Burroughs' John Carter of Mars, about a Civil War veteran (Taylor Kitsch) who's transported to Mars and taken prisoner by four-armed, 12-foot-tall beings. Also with Lynn Collins, Samantha Morton, Willem Dafoe, Thomas Haden Church, Mark Strong, Ciarán Hinds, Dominic West, James Purefoy, Polly Walker, Daryl Sabara, and Bryan Cranston. (Opens Friday)
Being Flynn (R) Paul Weitz' adaptation of Nick Flynn's memoir Another Bullshit Night in Suck City stars Paul Dano as a struggling writer who finds his long-lost father (Robert De Niro) while working in a homeless shelter. Also with Julianne Moore, Olivia Thirlby, Eddie Rouse, Steve Cirbus, Victor Rasuk, Wes Studi, and Lili Taylor. (Opens Friday in Dallas)
Crazy Horse (NR) The latest documentary by Frederick Wiseman (Titicut Follies, High School) looks at life in a legendary Paris nude dancing club. (Opens Friday in Dallas)
Declaration of War (NR) Valérie Donzelli directs, co-writes, and co-stars in this autobiographical film about two parents (Donzelli and her real-life husband, Jérémie Elkaïm) who react in self-destructive ways after their infant son is diagnosed with a brain tumor. Also with Gabriel Elkaïm, Brigitte Sy, Elina Löwensohn, Michèle Moretti, Philippe Laudenbach, Frédéric Pierrot, and Anne Le Ny. (Opens Friday in Dallas)
A Thousand Words (PG-13) Eddie Murphy stars as a compulsive liar of a literary agent who falls under a curse that leaves him with 1,000 words left to speak before he dies. Also with Kerry Washington, Cliff Curtis, Clark Duke, Allison Janney, Jack McBrayer, and Ruby Dee. (Opens Friday)
Tim and Eric's Billion Dollar Movie (R) TV and web comedians Tim Heidecker and Eric Wareheim write, direct, and star in this comedy as two comedians who have just lost $1 billion budgeted for their movie and try to make up the money by working at a shopping mall. Also with Robert Loggia, Bob Odenkirk, Erica Durance, Jeff Goldblum, and uncredited cameos by Will Ferrell, John C. Reilly, Zach Galifianakis, and Mark Cuban. (Opens Friday in Dallas)
The Viral Factor (NR) Jay Chou stars in this Hong Kong action thriller as a dying law enforcement agent who teams up with his long-lost criminal brother (Nicholas Tse) to stop a terrorist from spreading a deadly plague. Also with Andy On, Kai Chi Liu, Bai Bing, Elaine Jin, and Carl Ng. (Opens Friday at AMC Grapevine Mills)
NOW PLAYING:
Act of Valor (R) The makers of a film about the Navy SEALs, starring Navy SEALs, have two things on their side: unparalleled realism and an audience curious about the elite force that took down Osama bin Laden last year. Directors Mike McCoy and Scott Waugh (both former stuntmen) do little, however, to elevate their work into meaningful art or even entertainment. The film follows the SEALs as they rescue an undercover CIA agent (Roselyn Sanchez) and thwart an international Chechen-jihadi terror plot that culminates in a battle south of the border with a Mexican drug cartel. (There are Filipinos and a self-interested Russian Jew for good measure.) However convoluted the network of villains, the thriller itself is rather simplistic and the acting stilted. Taking for granted the heroism of these men, the film is more an exercise in badass action sequences and military propaganda than in conveying any deeper political or emotional purpose. Also with Jason Cottle, Nestor Serrano, Alex Veadov, and Emilio Rivera. — Zack Shlacter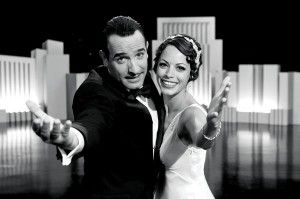 The Artist (PG-13) This unexpectedly emotionally draining French silent film stars Jean Dujardin as a 1920s Hollywood silent-movie star who refuses to adjust to sound. Writer-director Michel Hazanavicius (OSS 117) does this up largely as pastiche, referencing A Star Is Born, Singin' in the Rain, and Chaplin's comedies, but the main character's hubris-fueled descent into poverty gives the film its dramatic power, helped by Ludovic Bource's emotive score and Dujardin's performance as a charmer trying to summon his charm in the face of disaster. Instead of a simplistic ode to the olden days, Hazanavicius pays tribute to technological progress while keeping an eye on its victims. All this and a few tap dance numbers contribute to the magic of this film. Also with Bérénice Bejo, James Cromwell, Penelope Ann Miller, Missi Pyle, Malcolm McDowell, and John Goodman.
Chronicle (PG-13) Truly something we haven't seen before: a vérité superhero flick. Josh Trank's film stars Dane DeHaan as a high-school nerd who films his life to protect himself from his abusive dad but instead winds up documenting how he, his cousin (Alex Russell), and the BMOC (Michael B. Jordan) develop the power to move things with their minds. The cheap video look and the pricey special effects make this sci-fi story credible, give rise to some funny bits, and compensate for the last third of the film, when the movie's storytelling turns too smooth. This may just be the same old superhero flick in a new wrapper, but the wrapper sure is eye-catching. Also with Michael Kelly, Ashley Hinshaw, Bo Petersen, and Anna Wood.
Deadline (PG-13) Based on Mark Ethridge's novel, this journalism drama is intelligently scripted but poorly made and acted. Steve Talley portrays a Nashville reporter who takes on a 19-year-old racially charged unsolved murder case in Alabama. Ethridge's script does well with the gritty details of pursuing a cold case and the professional pressures on journalists, but director Curt Hahn is tone-deaf when it comes to emotions and dramatic impact, and the glaringly racist villains don't do him any favors. This could have been a decent movie in different hands. Also with Eric Roberts, Anna Felix, Lauren Jenkins, J.D. Souther, Jeremy Childs, David Dwyer, Tommy Cresswell, Clay Brocker, and Jackie Welch.
The Descendants (R) Alexander Payne's films are about unremarkable people, which makes the star wattage of George Clooney an odd fit with this story (based on Kaui Hart Hemmings' novel) about a wealthy Hawaii lawyer trying to raise two daughters (Shailene Woodley and Amara Miller) after his wife is rendered comatose by a boating accident. The movie (an opening night selection at the recent Lone Star Film Festival) just misses masterpiece status, but there's still much to like. The writing is sharp, the landscapes are beautiful, and even the small roles are brilliantly acted. Woodley is a real find, and Clooney is terrific even though he's miscast. The film never achieves the exquisite balance of comedy and pathos that it's going for, but it's very good. Also with Judy Greer, Matthew Lillard, Nick Krause, Beau Bridges, and Robert Forster.
Dr. Seuss' The Lorax (PG) This travesty of the much-loved book turns a crepuscular, unsettling cautionary tale into a cheerful, upbeat kiddie flick that loses its message. Like other big-screen Dr. Seuss adaptations, this one is padded out with extra story about a boy (voiced by Zac Efron) and the girl he has a crush on (voiced by Taylor Swift) trying to reverse the environmental damage done by the Once-ler (voiced by Ed Helms). The violent slapstick gags in the background are the best thing here, but the movie is all over the place, lurching from social satire to action picture to musical (with some unmemorable, tacked-on numbers) without ever settling into a groove. This is nowhere near as painful to sit through as The Cat in the Hat, but you'll find much better family entertainment in a lot of other places. Additional voices by Danny DeVito, Rob Riggle, Nasim Pedrad, Jenny Slate, and Betty White.
Ghost Rider: Spirit of Vengeance (PG-13) "I made a lot of mistakes, but Danny is the one good thing I ever did." "That being the case, we'd better make sure he doesn't turn out to be the Antichrist." The directing team of Neveldine/Taylor (the Crank movies) takes over the 2007 hit's sequel and makes it as ridiculous as possible. Nicolas Cage is only too happy to play along. The result is actually rather enjoyable in the way that bad movies sometimes are, with Cage's rider fighting the Devil (Ciarán Hinds) for the soul of a boy (Fergus Riordan) when he's not busy urinating fire or delivering his lines with the intensity of a man about to spontaneously combust. It's all positively crap-tastic. Also with Violante Placido, Idris Elba, Johnny Whitworth, Anthony Head, and Christopher Lambert.
Gone (PG-13) This unexpectedly effective psychological thriller stars Amanda Seyfried as a young woman with a history of mental illness who can't convince anyone that a serial killer has kidnapped her sister (Emily Wickersham). The plot has some holes, and the ending is problematic, but director Heitor Dhalia controls the pace beautifully and makes good use of the Portland setting. Seyfried's mercurial performance as a world-class liar with anger issues is pitched perfectly between sanity and insanity, and she does some remarkable work late on when she holds a phone conversation with the killer, or possibly the voice in her head. Reasonably compelling stuff. Also with Daniel Sunjata, Jennifer Carpenter, Sebastian Stan, Wes Bentley, Nick Searcy, Socratis Otto, Joel David Moore, Katherine Moennig, Michael Paré, and Hunter Parrish.
Good Deeds  (PG-13) Multi-hyphenated artist/hack Tyler Perry returns with a drama about a successful yet unfulfilled businessman finally pushed to follow his heart. As his father's successor in a job he doesn't particularly like, and as a crutch to his unstable brother, Wesley Deeds (Perry) is so accustomed to doing what's expected of him that even his fiancée (Gabrielle Union) finds him boringly predictable. Unfortunately, Deeds' mission to make his life more unpredictable — falling in love with his office's night janitor (Thandie Newton), a straight-talking single mother on the verge of losing everything — is about as formulaic as it gets. And just in case you miss the characters' emotional subtext, the dialogue gets awkwardly literal in places. While the film thankfully isn't manipulative with this material, Perry's latest effort suffers a trite plot and one-dimensional protagonists that pander to, instead of resonating with, the audience. Also with Eddie Cibrian, Brian J. White, Phylicia Rashad, Beverly Johnson, Jamie Kennedy, and Rebecca Romijn. — Z.S.
The Grey (R) This Gloomy Gus of a thriller stars Liam Neeson as a suicidal Gloomy Gus of a professional wolf killer on an Alaskan oil-drilling site who takes charge of the survivors after his plane crashes in the middle of the wilderness. The characters succumb variously to cold, wolves, and the hazards of navigating the terrain, but none of them do or say anything interesting. Director Joe Carnahan mistakes moroseness for seriousness, as he too often does, and his leading man follows him right down the path. If you're up for some pointless woe, here's your movie. Also with Dermot Mulroney, Dallas Roberts, Frank Grillo, Nonso Anonzie, James Badge Dale, and Joe Anderson.
Journey 2: The Mysterious Island (PG) When it comes to the 3D effects, this is miles better than the 2008 original. As far as the story goes, it's still crap. The only holdover left from the original, Josh Hutcherson, stars as a teenager who receives a radio transmission from a lost island and goes off with his stepdad (Dwayne Johnson) to find the place. This chintzy amusement park ride of a film is so obsessed with special effects that the characters make no sense. No wonder the actors all look lost. The lack of magic here is depressing. Also with Vanessa Hudgens, Luis Guzmán, and Michael Caine.
One for the Money (PG-13) The first of Janet Evanovich's Stephanie Plum novels becomes this surprisingly watchable comic thriller starring Katherine Heigl as the tough-talking Jersey girl who responds to a dire financial situation by taking up bounty hunting. The movie goes a bit far depicting Stephanie making rookie mistakes in her new job, and her romance with an ex she's supposed to bring in (Jason O'Mara) is tepid. Still, director Julie Anne Robinson manages a sprawling plot pretty well and Heigl is much more likable when she's not trying so damn hard. A sequel with Stephanie's further adventures wouldn't be the worst thing. Also with John Leguizamo, Daniel Sunjata, Sherri Shepherd, Debra Monk, Ana Reeder, Leonardo Nam, Fisher Stevens, and Debbie Reynolds.
Project X (R) Exactly two things distinguish this "wild teenage party" movie from all the others. One: Director Nima Nourizadeh films this in a vérité style, which doesn't accomplish anything that a conventional treatment wouldn't have. The other is more significant: The sheer scale of destruction in the last 15 minutes or so indeed dwarfs anything in any similar film. That's notable, but the overall effect of this movie is wearying rather than liberating or frightening. It certainly isn't funny. A movie about an out-of-control party should be more fun than this. Starring Thomas Mann, Oliver Cooper, Jonathan Daniel Brown, Dax Flame, Kirby Bliss Blanton, Brady Hender, Nick Nervies, Alexis Knapp, and Miles Teller.
Safe House (R) This effective anti-recruitment video for the CIA would have you believe that a) the agency's bosses are willing to kill their underlings and colleagues and sell out their country to protect themselves and b) in South Africa, you can shoot up public places and kill civilians and cops without any consequences. Ryan Reynolds plays an agent in charge of a safe house in Cape Town who's called upon to protect a notorious traitor (Denzel Washington) after the house is attacked. Daniel Espinosa's direction is appropriately grimy, but he worsens the ham-handed and predictable turns in the script. The result is really loud and dull. Also with Vera Farmiga, Brendan Gleeson, Rubén Blades, Robert Patrick, Nora Arnezeder, Fares Fares, Liam Cunningham, Joel Kinnaman, and Sam Shepard.
The Secret World of Arrietty (PG) The legendary Studio Ghibli adapts Mary Norton's The Borrowers with some breathtaking results. Bridgit Mendler provides the voice of the titular 13-year-old girl, a member of a race of miniature people whose family is the last living in a remote country house. Co-writer Hayao Miyazaki hands off directing chores to his protégé, Hiromasa Yonebayashi, but Miyazaki's visual touch is everywhere in evidence, balancing gossamer beauty and earthiness. The film wobbles a few times early on, but when Arrietty goes on her first borrowing expedition with her dad, some celestial gear clicks into place. The movie mostly sustains its magical vibe afterwards. Arrietty's friendship with a sickly human boy (voiced by Daniel Henrie) living in the house becomes a piercing emotional subtext to this delicate animated fantasy. Unlike the Borrowers, this movie cries out to be seen. Additional voices by Will Arnett, Amy Poehler, Moises Arias, and Carol Burnett.
Star Wars: Episode I – The Phantom Menace (PG) The first in a planned series of three Star Wars prequels is abundantly stuffed with visual splendors, exciting action sequences, and state-of-the-art special effects. Obviously, George Lucas has tried to give his loyal audience maximum bang for their box-office bucks. As a storyteller, however, he has grown rusty. During long stretches of The Phantom Menace, he permits the pace to slacken while key scenes dawdle aimlessly, then end abruptly. The continuity is spotty, the acting is wildly uneven, and integration of live actors with computer-generated co-stars isn't always totally convincing. By turns simplistic and confusing, the movie trips over itself while trying to cover too many bases and plays too obviously like an opening chapter rather than a self-contained narrative. — Joe Leydon
This Means War (PG-13) There are no grown-ups in this wet firecracker of a comic thriller that stars Tom Hardy and Chris Pine as CIA agents and best buds who discover that they're dating the same woman (Reese Witherspoon) and try to sabotage each other's dates with her without telling her that they know each other. The immature behavior would be tolerable if the actors were fun to be around, but only the loose-limbed Pine delivers on that score. Witherspoon, meanwhile, is reduced to playing a collection of neurotic single-gal clichés. McG directs it all like a birthday party clown trying to amp up some bored kids by asking them, "Isn't this fun?" The filmmakers should have gone Spy Kids on us and cast 13-year-olds in these roles. Then these characters' antics would make sense. Also with Til Schweiger, Chelsea Handler, Rosemary Harris, Natassia Malthe, Laura Vandervoort, and Angela Bassett.
The Vow (PG-13) It's like Eternal Sunshine of the Spotless Mind, except that it sucks. Channing Tatum plays a man who must woo his wife (Rachel McAdams) again after she loses her memory in a car accident. What follows is a relentlessly prettified story where he fights for her against her snobby rich parents (Sam Neill and Jessica Lange) who see a chance to get her to give up her artistic career and go back to law school. It all plays out exactly as you'd think, and McAdams' overacting makes it annoying. When Channing Tatum is the best thing in your movie, that's not good. Also with Wendy Crewson, Jessica McNamee, and Scott Speedman.
Wanderlust (R) Paul Rudd and Jennifer Aniston star in this fitfully enjoyable comedy as two downsized New York professionals who try living at a Georgia commune. Director/co-writer David Wain tries to do for hippies what he did for LARPers in his last comedy, Role Models, only this time he doesn't strike the right balance of satire and respect. He's smart to recognize that petty power games go on even at such communities, but the mendacity and hypocrisy are too neatly embodied in the commune's spiritual leader (Justin Theroux). The rampant ad-libbing from the cast results in some very funny lines, and some sequences that go on way too long. It's all charming in a minor sort of way. Also with Alan Alda, Malin Akerman, Ken Marino, Joe Lo Truglio, Kathryn Hahn, Kerri Kenney-Silver, Michaela Watkins, Jessica St. Clair, Michael Ian Black, Michael Showalter, Lauren Ambrose, and Linda Lavin.
The Woman in Black (PG-13) Daniel Radcliffe doesn't embarrass himself in his first post-Harry Potter role, but neither does he do much except look gloomy. He stars in this Gothic horror flick as a young lawyer in the 1910s who's terrorized by visions of a black-clad woman while working at a secluded estate on the northeast coast of England. Director James Watkins (Eden Lake) makes sure everything looks good, but his staging lacks wit, invention, and a feel for atmosphere. The whole affair takes too long to get going, and the woman in black is less scary than Janet McTeer, who injects massive energy and is on screen too briefly as the lawyer's unhinged hostess. Handsome though this is, it's disappointing. Also with Ciarán Hinds, Misha Handley, Jessica Raine, Liz White, and Roger Allam.
DALLAS EXCLUSIVES:
Coriolanus (R) Ralph Fiennes directs and stars in this modern-day adaptation of Shakespeare's play about a Roman war hero whose disdain for politics and the people inspire him to turn traitor. Also with Gerard Butler, Jessica Chastain, Brian Cox, Paul Jesson, James Nesbitt, Lubna Azabal, Ashraf Barhom, and Vanessa Redgrave.
In Darkness (R) Nominated for the Oscar for Best Foreign Film, this drama by Agnieszka Holland (Europa Europa) stars Robert Wieckiewicz as a real-life Polish career criminal who hid 14 Jews from the Nazis in the city of Lvov during World War II. Also with Benno Fürmann, Agnieszka Grochowska, Herbert Knaup, Marcin Bosak, and Maria Schrader.
A Separation (PG-13) An Oscar nominee for both Best Foreign Film and Best Original Screenplay, Asghar Farhadi's drama stars Peyman Moadi and Leila Hatami as an Iranian married couple whose attempts to resolve their differences result in tragedy. Also with Sareh Bayat, Shahab Hosseini, Sarina Farhadi, Kimia Hosseini, and Babak Karimi.
Undefeated (PG-13) The winner of the Oscar for Best Documentary Feature, Daniel Lindsay and T.J. Martin's film profiles a poor inner-city Memphis high-school football team looking to win its first playoff game in 110 years.
We Need to Talk About Kevin (R) Lynne Ramsay (Morvern Callar) adapts Lionel Shriver's novel about a New York mother (Tilda Swinton) coping with the aftermath of her son (Ezra Miller) committing a mass murder at his school. Also with John C. Reilly, Ashley Gerasimovich, and Siobhan Fallon Hogan.