OPENING:
Marley (PG-13) Not a sequel to Marley & Me, this documentary by Kevin Macdonald (Touching the Void) profiles the life and music of Bob Marley. (Opens Friday in Dallas)
Chimpanzee (G) Alastair Fothergill and Mark Linfield's nature documentary follows a 3-year-old chimp who becomes separated from his group. Narrated by Tim Allen. (Opens Friday)
Damsels in Distress (PG-13) The first new film in 14 years by Whit Stillman (Metropolitan, The Last Days of Disco) stars Greta Gerwig, Megalyn Echikunwoke, and Carrie MacLemore as three college girls who seek to change the culture of their previously all-male school through a program of good hygiene and tap dancing. Also with Adam Brody, Analeigh Tipton, Ryan Metcalf, Jermaine Crawford, Taylor Nichols, Carolyn Farina, Alia Shawkat, and Aubrey Plaza. (Opens Friday in Dallas)
The Deep Blue Sea (R) The first new fiction film in 12 years by Terence Davies (The House of Mirth, Distant Voices, Still Lives) is this adaptation of Terence Rattigan's play about a married Englishwoman (Rachel Weisz) who engages in a self-destructive affair with an RAF pilot (Tom Hiddleston). Also with Simon Russell Beale, Ann Mitchell, Jolyon Coy, and Karl Johnson. (Opens Friday in Dallas)
The Lucky One (PG-13) Just like all the other Nicholas Sparks adaptations, only worse. Zac Efron portrays a psychologically traumatized Marine veteran who seeks out a woman in a photograph that he credits with saving his life and finds her a divorced mom (Taylor Schilling) in Louisiana living in fear of her drunken abusive ex-husband (Jay R. Ferguson). Efron is tragically miscast as a damaged case, but his charisma still outshines almost everyone else in this personality-free cast. Scott Hicks contributes torpid direction, and all the complicated issues in the story are reduced to pablum, with a heavy infusion of syrup. This isn't to be confused with The Lucky Ones, a 2008 comedy that's also about war veterans on leave, which happens to be a much better movie. Also with Riley Thomas Stewart, Adam LeFevre, and Blythe Danner. (Opens Friday)
The Salt of Life (NR) Gianni Di Gregorio (Mid-August Lunch) co-writes, directs, and stars in this comedy as an Italian retiree who starts pursuing women in earnest at age 60. Also with Valeria de Franciscis, Alfonso Santagata, Elisabetta Piccolomini, Valeria Cavalli, Aylin Prandi, Kristina Cepraga, and Teresa Di Gregorio. (Opens Friday in Dallas)
The Skinny (NR) Patrik-Ian Polk's comedy is about five gay African-American college pals (Jussie Smollett, Anthony Burrell, Blake Young-Fountain, Jeffrey Bowyer-Chapman, and Shanika Warren-Markland) who reunite for a weekend in New York City. Also with Wilson Cruz. (Opens Friday in Dallas)
Zombie Dawn (NR) This Chilean horror flick's original Spanish-language title translates as Blind Death, and, well, that's not actually much of an improvement. The movie's set in an unnamed Latin country years after a zombie apocalypse. An evil corporation sends a scientist (Pamela Rojas) and some rankly sexist mercenaries to retrieve a mysterious package from the infected zone. Cristián Toledo and Lucio Rojas' direction is technically accomplished, and some of the shots of the soldiers wandering in a deserted landscape have the stark poetry of a Tarkovsky film. Yet the movie isn't scary, and it fails at both psychological realism and social commentary when the mercs start turning on each other. From a promising beginning, the movie peters out. Also with Cristián Ramos, Guillermo Alfaro, Pablo Tournelle, Christopher Offermann, and Felipe Lobos. (Opens Friday at Cinema Latino de Fort Worth)
 NOW PLAYING:
American Reunion (R) There are just enough sparks in this American Pie get-together to propel it over the finish line. The entire gang from the 1999 film returns for their reunion, and some of the actors look more comfortable back in these roles than they have ever looked anywhere else (Jason Biggs, Chris Klein, Tara Reid, Mena Suvari). Writer-directors Jon Hurwitz and Hayden Schlossberg (from the Harold and Kumar movies) drown the story in too many boring thirtysomething issues, but they scatter funny bits here and there, including Jim's dad (Eugene Levy) hooking up with Stifler's mom (Jennifer Coolidge) and Stifler (Seann William Scott) finally getting payback on Finch (Eddie Kaye Thomas) for the events of 13 years ago. It's an agreeable trifle, but it should have been more. Also with Alyson Hannigan, Thomas Ian Nicholas, Natasha Lyonne, Dania Ramirez, Katrina Bowden, Ali Cobrin, Jay Harrington, Chuck Hittinger, Neil Patrick Harris, Shannon Elizabeth, and John Cho.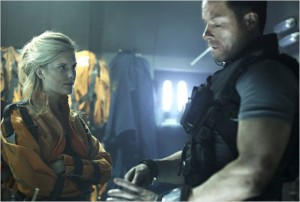 Blue Like Jazz (PG-13) That rare Christian film that's neither hectoring nor deadly dull, this adaptation of Donald Miller's memoir stars Marshall Allman as a disillusioned Texas kid who goes to a Portland liberal arts college to throw off his religious beliefs, only to find that they aren't so easily gotten rid of. Director/co-writer Steve Taylor positions the film neatly within the tradition of gently satirical stories of college life, taking in the drinking, drugs, and sex with an air of amused detachment rather than shock. There's a regrettably predictable turn involving the most anti-religion character (Justin Welborn), but the movie's generous attitude, breezy tone, and emphasis on finding one's own way make it an agreeable piece of entertainment. Also with Claire Holt, Tania Raymonde, Eric Lange, Matt Godfrey, Jenny Littleton, and Jason Marsden.
The Cabin in the Woods (R) The funniest slasher movie ever. Five heavily stereotyped college kids (Kristen Connolly, Chris Hemsworth, Anna Hutchinson, Fran Kranz, and Jesse Williams) spend a weekend at a cabin, not knowing that they're being remotely observed by three scientists (Richard Jenkins, Bradley Whitford, and Amy Acker) in a military-style bunker, manipulating events at the cabin to make sure the characters are killed. Drew Goddard and Joss Whedon's snappy script will leave you helpless with laughter, but they've got more on the agenda than just gags or sending up slasher-movie conventions. The twisty plot conceals existential and theological implications that are downright Pirandellian. It's about nine different kinds of awesome. Also with Brian White, Tom Lenk, Jodelle Ferland, and Sigourney Weaver.
Dr. Seuss' The Lorax (PG) This travesty of the much-loved book turns a crepuscular, unsettling cautionary tale into a cheerful, upbeat kiddie flick that loses its message. Like other big-screen Dr. Seuss adaptations, this one is padded out with extra story about a boy (voiced by Zac Efron) and the girl he has a crush on (voiced by Taylor Swift) trying to reverse the environmental damage done by the Once-ler (voiced by Ed Helms). The violent slapstick gags in the background are the best thing here, but the movie is all over the place, lurching from social satire to action picture to musical (with some unmemorable, tacked-on numbers) without ever settling into a groove. This is nowhere near as painful to sit through as The Cat in the Hat, but you'll find much better family entertainment in a lot of other places. Additional voices by Danny DeVito, Rob Riggle, Nasim Pedrad, Jenny Slate, and Betty White.
The Hunger Games (PG-13) Gary Ross' adaptation doesn't accomplish nearly all the things that Suzanne Collins' brilliant novels do, but it is a pretty good sci-fi action thriller. Jennifer Lawrence plays the teenage heroine in a future dystopian society who reluctantly volunteers to take part in a televised fight to the death with 23 other teens. The ruling city's gaudy luxury in the middle section doesn't come off, and the script loses many of the novel's richer aspects, especially the commentary on reality TV. Yet the sun-dappled, indie-film look of the outer sections gives the movie a distinctive feel, and Ross turns the screws of suspense expertly. Lawrence's dexterous and deeply felt performance keeps the movie on track. It's not the most imaginative version, but it's smart and reasonably well-made. Also with Josh Hutcherson, Woody Harrelson, Elizabeth Banks, Lenny Kravitz, Stanley Tucci, Wes Bentley, Toby Jones, Liam Hemsworth, Amandla Stenberg, Alexander Ludwig, Isabelle Fuhrman, Willow Shields, and Donald Sutherland.
John Carter (PG-13) The 100-year-old novel that influenced everything from Star Wars to Avatar finally comes to the big screen from WALL-E director Andrew Stanton. A Civil War veteran (Taylor Kitsch) finds himself transported to Mars, falls in love with a princess (Lynn Collins), befriends a four-armed green Martian (a Gollum-style motion captured Willem Dafoe), and fights a dictator (Dominic West). Despite a slow middle and a too long run time, a game cast, passionate direction, and exciting action scenes help create the kind of pure concentrated fun that makes a trip to the theater worthwhile. Also with Samantha Morton, Thomas Haden Church, Mark Strong, Ciarán Hinds, James Purefoy, Polly Walker, Daryl Sabara, and Bryan Cranston. — Cole Williams
Journey 2: The Mysterious Island (PG) When it comes to the 3D effects, this is miles better than the 2008 original. As far as the story goes, it's still crap. The only holdover left from the original, Josh Hutcherson, stars as a teenager who receives a radio transmission from a lost island and goes off with his stepdad (Dwayne Johnson) to find the place. This chintzy amusement park ride of a film is so obsessed with special effects that the characters make no sense. No wonder the actors all look lost. The lack of magic here is depressing. Also with Vanessa Hudgens, Luis Guzmán, and Michael Caine.
Lockout (PG-13) Guy Pearce's slouchy, disinterested attitude is the only point of interest in this otherwise rote sci-fi thriller. Playing every scene like he's just been rudely awakened from a nap, Pearce portrays a wrongly convicted spy in 2079 who's offered his freedom in exchange for freeing the president's daughter (Maggie Grace), who's trapped on a maximum-security prison in outer space that has been taken over by its violent inmates. Pearce spends the movie wisecracking and acting like he couldn't care less about his mission's success. Is his performance appallingly unprofessional or a brilliant distraction from the crappy special effects and writing? I can't decide. Also with Peter Stormare, Vincent Regan, Joseph Gilgun, Lennie James, and Jacky Ido.
Mirror Mirror (PG) This comic take on the Snow White fable stars Lily Collins as the princess who's exiled to a forest by a wicked queen (Julia Roberts). The script is deliberately silly without being funny, and the only thing that saves the early going from banality is director Tarsem Singh (Immortals, The Cell) and his flamboyant visual style. His approach doesn't fit the jokey material, but his sets and costumes are a joy to look at. Collins only looks authoritative at the end, when she leads a Bollywood dance number, a bit of foolery that comes off well and helps make this into a pleasant minor diversion. Also with Armie Hammer, Nathan Lane, Jordan Prentice, Mark Povinelli, Danny Woodburn, Martin Klebba, Joe Gnoffo, Sebastian Saraceno, Ronald Lee Clark, Michael Lerner, Mare Winningham, and Sean Bean.
October Baby (PG-13) What should be the stuff of painful drama instead becomes painfully boring to sit through. Newcomer Rachel Hendrix (pretty but not wildly talented) plays a college freshman who discovers all at once that she's adopted and that her current health problems are related to her birth mother having tried to abort her. Director/co-writers Andrew and Jon Erwin try to dig into their main character's feelings of betrayal, but their messages about forgiveness only manage to reduce this dramatically loaded situation to so much uninspiring inspirational porridge. Also with Jason Burkey, Jennifer Price, Carl Maguire, John Schneider, and Jasmine Guy.
The Raid: Redemption (R) The baddest Indonesian thriller you'll see all spring. Iko Uwais stars as a highly trained Jakarta police officer who tries to escape from the high-rise apartment that serves as a crime lord's headquarters after a raid goes wrong. The actors perform the Indonesian fighting technique of pencak silat with dizzying speed, and expatriate Welsh director Gareth Evans makes sure we feel every bone-crunching hit. Uwais makes a chiseled hero, but the show is stolen by Yayan Ruhian's small-statured, dead-eyed henchman who dispatches much larger men. The fight sequences are carried off with a brio that recalls Hong Kong's thrillers from the 1990s, and the fact that this represents a country making its first inroads into world cinema gives the thrills an extra charge. Also with Joe Taslim, Doni Alamsyah, Ray Sahetapy, Tegar Satrya, and Pierre Gruno.
Salmon Fishing in the Yemen (PG-13) This comedy gets off to a nice start before wearing out its welcome. Based on Paul Torday's novel, this is about a Yemeni potentate (Amr Waked) who tries to bring the sport of salmon fishing to his homeland's wadis with the help of a British investment broker (Emily Blunt) and a buttoned-up Scottish fisheries scientist (Ewan McGregor). The movie offers up some savory comic business in the early going, and Blunt is at her most appealing here: crisp, regal, with a fine sense of the absurd. Yet the fizz goes out of this movie amid some soggy romance and a move to the Arab desert that extinguishes the workplace humor. The ending is botched badly too. The movie turns from a zippy trifle into a starry-eyed bore. Also with Rachael Stirling, Tom Mison, Conleth Hill, and Kristin Scott Thomas.
The Three Stooges (PG) This bizarre exercise tries to copy the Stooges' old movies in every respect, with Chris Diamantopoulos, Sean Hayes, and Will Sasso giving dutiful impressions of Moe Howard, Larry Fine, and Curly Howard, respectively. Director/co-writers the Farrelly brothers have the Stooges trying to save the orphanage where they grew up and getting sucked into a murder-for-hire plot. The slapstick is uninspired, and the overqualified supporting cast doesn't add much, except for the brilliant stroke of Larry David as a crabby nun. The movie gains points for being precisely what it appears to be, but it doesn't amount to all that much in the end. Also with Jennifer Hudson, Jane Lynch, Sofía Vergara, Craig Bierko, Stephen Collins, Kirby Hayborne, Brian Doyle-Murray, and Kate Upton.
Titanic (PG-13) James Cameron's $200-million epic offers impressively lavish production values, a satisfying taste of period flavor, and — once the great ship starts taking on water — some genuinely awesome displays of terror, destruction, and special-effects wizardry. What the movie doesn't offer, however, is a compelling story. Leonardo DiCaprio and Kate Winslet simply aren't substantial enough as the romantic leads. And it doesn't help at all that Cameron, who directed his own screenplay, gives his actors great wads of cliché-heavy dialogue that fall from their mouths and onto the floor with a singular lack of grace. — Joe Leydon
Touchback (PG-13) This sententious football drama stars Brian Presley as a game-legged, financially struggling farmer who's magically given the chance to go back to his high-school days, shortly before a catastrophic injury derailed his athletic career. Writer-director Don Handfield plays it all wearyingly straight, and Kurt Russell's turn as a football coach is the only thing that gives this even a lick of flavor. We're supposed to believe that the injury is the only way the hero can get the wallflower girl who's now his wife (Melanie Lynskey), but there's not nearly enough chemistry between the actors to put that over. If we want to see a bunch of 30-year-old actors impersonating high-schoolers, we can just watch 21 Jump Street. Also with Marc Blucas, Sarah Wright, Drew Powell, Kevin Covais, and Christine Lahti.
21 Jump Street (R) They finally found something Channing Tatum is good at: silly slapstick comedy. He and Jonah Hill make a well-matched comedy team in this big-screen present-day update of the 1980s TV show as two rookie cops who go undercover as high-school students to break up a drug ring. The indifferent characterizations give the film a slightly impersonal feel, but writer-directors Phil Lord and Chris Miller (Cloudy With a Chance of Meatballs) deliver enough funny gags to offset that. If you're looking for a movie that blends laughs with action and thrills, this is your best bet right now. Also with Brie Larson, Dave Franco, Rob Riggle, Ice Cube, DeRay Davis, Chris Parnell, Ellie Kemper, Nick Offerman, Caroline Aaron, Joe Chrest, Dakota Johnson, Jake M. Johnson, Holly Robinson Peete, and an uncredited Johnny Depp.
Woman Thou Art Loosed: On the 7th Day (PG-13) The sequel to the 2004 film stars Blair Underwood and Sharon Leal as a couple whose buried secrets are revealed in the days following their daughter's kidnapping. Also with Nicole Beharie, Pam Grier, Clyde Jones, Jaqueline Fleming, Zoe Carter, and T.D. Jakes.
Wrath of the Titans (PG-13) This sequel to the 2010 hit Clash of the Titans is just as joyless, charmless, and flavorless as the original. Sam Worthington reprises his role as Perseus, who's forced to journey to the underworld to rescue his father Zeus (Liam Neeson) from the clutches of Hades (Ralph Fiennes), Ares (Édgar Ramírez), and Cronos (a big CGI volcanic cloud). There's an all-too-brief cameo by the always-entertaining Bill Nighy as a half-mad Hephaestus, but the rest of this movie is a long, hard slog of unfunny jokes, unthrilling action sequences, and special effects that aren't special. Also with Rosamund Pike, Toby Kebbell, Sinéad Cusack, John Bell, and Danny Huston.
 DALLAS EXCLUSIVES:
Footnote (PG) Joseph Cedar's film stars Shlomo Bar-Aba and Lior Ashkenazi as father and son Talmudic professors at a Jerusalem university whose difficult relationship comes to a head when the father is awarded the Israel Prize for his work. Also with Alma Zack, Yuval Scharf, Edna Blilious, Aliza Rosen, and Micah Lewensohn.
Jiro Dreams of Sushi (PG) David Gelb's documentary profile of Jiro Ono, an 85-year-old sushi chef whose restaurant in the basement of a Tokyo office building is considered to be the world's finest sushi place.
The Kid With a Bike (NR) The latest French-language film by Jean-Pierre and Luc Dardenne (Lorna's Silence, Rosetta) is about an abandoned 11-year-old Belgian boy (Thomas Doret) who's taken in by a local hairdresser (Cécile de France). Also with Jérémie Renier, Fabrizio Rongione, Egon Di Mateo, and Olivier Gourmet.