People Like Us (PG-13) Fantastic lead performances redeem an otherwise rote melodrama. First-time director Alex Kurtzman (who co-wrote Star Trek and the Transformers movies) bases the story on an incident from his own life: Chris Pine portrays a man who discovers shortly after his father's death that he has an illegitimate half-sister (Elizabeth Banks) who's a recovering alcoholic and single mom. There are too many useless subplots, and Michelle Pfeiffer is largely wasted as the dead man's resentful widow. The movie is worth watching for its actors: Banks is wild and compelling as a woman hanging on by a thread, and Pine expertly times each hesitation and pause to play a guy who habitually checks out of uncomfortable conversations. The bond that develops between these two messed-up siblings is this movie's one real achievement. Also with Michael Hall D'Addario, Olivia Wilde, Mark Duplass, Philip Baker Hall, and Jon Favreau.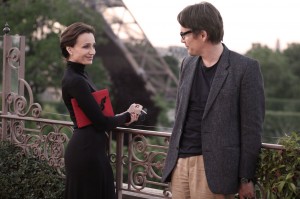 Prometheus (R) Returning to the Alien series after 33 years seems to have jolted Ridley Scott out of his torpor. This prequel to the 1979 classic stars Noomi Rapace as a scientist leading an expedition to a distant planet to find the human race's origins. Scott conjures up some glowering, volcanic, cloud-topped scenery for the planet as well as some moments of awe-inspiring beauty. (You'd do well to pay for the 3D upcharge.) The script doesn't match the visual beauty, with too many ends left hanging. Still, the movie does have the rapport between the hyperintense Rapace and the inhumanly calm Michael Fassbender as an android on the mission, and there's one scene involving a robot surgeon that matches the skin-crawling power of the original. The movie falls short of Alien in terms of thematic material, but its ambition makes it stand out amid the summer blockbusters. Also with Charlize Theron, Logan Marshall-Green, Idris Elba, Sean Harris, Rafe Spall, Patrick Wilson, and Guy Pearce.
Rock of Ages (PG-13) The cast is a better selling point than the music in this adaptation of the Broadway musical built around 1980s glam-rock hits. Julianne Hough and Diego Boneta are aspiring rock singers in love in 1987 Los Angeles, and even though the angelic-looking Boneta is a find, they're part of a story that's spread too thin among too many characters. The songs don't lend themselves to Broadway-style dance, either. Alec Baldwin and Russell Brand turn "Can't Fight This Feeling" into a goofy gay love duet, but the only time the movie ignites is when Tom Cruise shows up as a charismatic rock star who sings "Wanted Dead or Alive" and "Pour Some Sugar on Me" and uses his fame to indulge in lunatic behavior. Cruise is perfectly cast, and when he's on the screen, you can't look anywhere else. Also with Catherine Zeta-Jones, Mary J. Blige, Paul Giamatti, Malin Akerman, Bryan Cranston, Will Forte, T.J. Miller, Debbie Gibson, and Constantine Maroulis.
Safety Not Guaranteed (R) Aubrey Plaza is splendid in this science-fiction comedy as a magazine intern who chases a story about a grocery store clerk (Mark Duplass) who advertises for a time-traveling companion. Director Colin Trevorrow and writer Derek Connolly make assured debuts, but the show belongs to Plaza, who displays colors we haven't seen from her, as she gradually drops her air of disaffected sarcasm, becomes fired with a sense of purpose, and slowly begins to believe that the clerk might be for real. A sunnier lead actress would have sabotaged the movie, but Plaza's hard-shelled presence makes it uniquely powerful. For all the failed movies about jaded cynics who need to open their hearts and have faith in something, this is a wondrous success. Also with Jake Johnson, Karan Soni, Jenica Bergere, Lynn Shelton, Mary Lynn Rajskub, Kristen Bell, and Jeff Garlin.
Seeking a Friend for the End of the World (R) Set during the two weeks before an asteroid impact destroys all life on Earth, this mushy and scattershot romantic comedy stars Steve Carell as a harmonica-playing insurance salesman who takes a road trip with his pothead music geek neighbor (Keira Knightley) so they can see their loved ones before the world ends. Making her directing debut, writer Lorene Scafaria (Nick & Norah's Infinite Playlist) comes up with a lot of fuzzy philosophizing and unfunny situations that waste the plethora of comic supporting actors who drift in and out of the movie. Better chemistry might have saved this movie anyway, but Carell and Knightley don't have enough of it. Also with William Petersen, Connie Britton, Rob Corddry, Adam Brody, Patton Oswalt, Melanie Lynskey, Gillian Jacobs, T.J. Miller, Derek Luke, and Martin Sheen.
Snow White and the Huntsman (PG-13) First-time director Rupert Sanders turns the old fable into a big, dull swords-and-shields epic livened by some really cool visual touches. Charlize Theron (overacting with all her might) is the evil queen, Kristen Stewart is the imprisoned princess who escapes her clutches into an enchanted forest, and Chris Hemsworth is the hunter who's sent into the forest to bring her back. Sanders gives us an anthropomorphic mirror, warriors who turn themselves into flying shards of black glass, some beautifully rendered fairies, and a breathtaking interlude with the spirit of the forest. Yet the dialogue is witless and the momentum dies way too often. Good-looking though this is, it goes in the loss column. Also with Ian McShane, Bob Hoskins, Ray Winstone, Sam Claflin, Eddie Marsan, Nick Frost, and Toby Jones.
Ted (R) Seth MacFarlane makes a brilliant big-screen debut with this comedy about a man (Mark Wahlberg) who wished his teddy bear to life as a boy but now finds that the bear (voiced by MacFarlane) has aged into a horny bachelor whose hard-partying ways are jeopardizing his relationship with his girlfriend (Mila Kunis). The actors react to the bear no differently than they would to a human, and Wahlberg's underrated comedic skills finally get the showcase they deserve. Some of the jokes misfire, but for each one of those there's at least one that hits, like the conversation about white-trash girl names and especially the fistfight between the man and his teddy bear. Also with Giovanni Ribisi, Joel McHale, Patrick Warburton, Matt Walsh, Jessica Barth, Aedin Mincks, Sam J. Jones, Norah Jones, and an uncredited Ryan Reynolds.
That's My Boy (R) Merciful God, please grant me the sweet release of death. Adam Sandler stars as a man who, having fathered a child at age 13 with his schoolteacher, turns up at the wedding of his now-grown son (Andy Samberg) to beg for money. Even though the dad has turned into an alcoholic sex maniac, the movie still frames his childhood tryst as something romantic and awesome. Then again, this movie does so many hideous things that making light of child molestation actually counts as one of its lesser sins. Everything that happens in the last half hour will make you want a hot shower. Is this worse than Jack and Jill? It just might be. Also with Leighton Meester, Milo Ventimiglia, Eva Amurri Martino, Vanilla Ice, Meagen Fay, Tony Orlando, Will Forte, Rachel Dratch, Nick Swardson, Ana Gasteyer, Rex Ryan, James Caan, and Susan Sarandon.
DALLAS EXCLUSIVES:
Cure for Pain: The Mark Sandman Story (NR) Robert Bralver and David Ferino's documentary profile of the frontman of the "low rock" band Morphine.
Hysteria (R) Tanya Wexler's comedy stars Hugh Dancy and Maggie Gyllenhaal as a 19th-century British doctor and a female suffragette who invent the vibrator. Also with Jonathan Pryce, Felicity Jones, Ashley Jensen, Gemma Jones, Kim Criswell, Anna Chancellor, Tobias Menzies, and Rupert Everett.
The Intouchables (R) This award-winning French dramedy stars François Cluzet as a quadriplegic French billionaire who hires an ex-convict (Omar Sy) as his live-in nurse. Also with Anne Le Ny, Audrey Fleurot, Clotilde Mollet, Cyril Mendy, Christian Ameri, and Alba Gaïa Bellugi.
The Woman in the Fifth (R) Pawel Pawlikowski's adaptation of Douglas Kennedy's novel stars Ethan Hawke as an American writer in Paris who becomes erotically obsessed with a possible serial killer (Kristin Scott Thomas) who lives in the building where he works. Also with Joanna Kulig, Samir Guesmi, Delphine Chuillot, Julie Papillon, and Geoffrey Carey.
Your Sister's Sister (R) This comedy by Lynn Shelton (Humpday) stars Mark Duplass as a bereaved man who becomes romantically entangled while vacationing at a secluded cabin with his platonic best friend (Emily Blunt) and her gay sister (Rosemarie DeWitt). Also with Mike Birbiglia.