Those Dallas County writers think they're soooo clever.
D Magazine hotshots Tim Rogers and Zac Crain mocked Downtown Arlington's new logo and then had the gall to corrupt the slogan for their own sick amusement.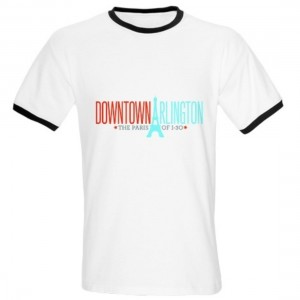 They're now hawking T-shirts with slogans such as "Downtown Arlington: The Paris of I-30" and "Downtown Arlington: Suck It, Grand Prairie."
I praised the same Arlington logo in May. It looks perfectly fine. Yes, I might have mocked downtown Arlington a little bit myself, but Arlington is family. I can call my own family boring, bucktoothed, lonely losers. But Dallas folks can't.
Vengeance is apparently mine as I've come up with a few slogans for downtown Dallas.
"Downtown Dallas: The Alcatraz of I-30"
"Downtown Dallas: Hey, Man, Can You Spare Some Change? I'm Traveling With My Pregnant Wife And I've Got A Job Offer In Maypearl And We Just Need $3 More And We'll Have Enough Gas Money To Get Us There And Start New And Better Lives. And Do You Have A Smoke Too?"
"Downtown Dallas: Uh, No, The Cowboys Play Over In Arlington"