On early summer weekends this year, volunteers, mostly young and Hispanic, fanned out through the neighborhoods of southeast Fort Worth trying to convince black, white, and especially Latino residents to elect a Hispanic to represent them on the city council.
Ramon Romero, a businessman with planning and zoning experience, was an underdog candidate in District 8, where the black population had elected one of their own to the city council for the last 30 years.
This time, it seemed like a Hispanic might actually win. In District 8, a long splinter hugging the east side of I-35 south of I-30, blacks aren't actually the largest racial group anymore –– eligible Hispanic voters outnumber them by about 2 percent.
"We had lots of support from people all over the city, in terms of funding," Romero said. "It was quite overwhelming, actually."
Romero ended up in a run-off with Kelly Allen Gray, a black woman who'd spent 12 years running an affordable-housing organization and who received the endorsement of the district's previous council member, the well-liked Kathleen Hicks.
It was a hard-fought battle, but among the 2,500 residents who showed up at the polls, Romero lost by 78 votes. More or less the same story played out in the newly created Congressional District 33, where Domingo Garcia lost a Democratic primary campaign to black opponent Marc Veasey in July despite that district's even larger Hispanic population.
"If a Latino wants to run, he's not going to win simply because he's Latino. He has to build a coalition," Romero said. "Right now, nobody has to work harder than a Latino candidate because they are being pushed to run as Latino candidates, and that's really not the right way to look at it."
When will the state's largest ethnic group –– and the nation's fastest growing –– unleash its full political power? It's arguably the biggest question in modern American politics.
Try Googling the words "Hispanic Sleeping Giant."
You'll get 242,000 results and dozens of different answers. The first 10 pages of search results are filled with headlines like "The Sleeping Giant of Latino Political Activism Awakens" and "Will the Sleeping Giant Play a Big Role in the National Election?" not to mention "The 'Sleeping Giant' Died a Half Century Ago –– Bury It."
Of course, Hispanics have swayed many an election, and as some Latino activists have pointed out, the "sleeping giant" metaphor is somewhat dated given that Hispanics have been voting in greater and greater numbers over past decades.
Others argue that America is a post-racial society and that the concerns of Hispanics will be addressed regardless of whether their representative happens to be black, white, or brown. As Stephen Colbert often jokingly says on The Colbert Report, "racism ended" when Barack Obama was elected president.
The reality, as Hispanic activists and political science professors attest, is that race remains a pivotal factor in how people vote and how their government treats them.
It's frequently the case, especially in Texas, that Hispanic candidates lose elections because their base is a politically unreliable group that continues to show up in smaller numbers at the voting booth than other ethnic groups, and as a result is under-represented in the halls of power.
In some ways, it's understandable. Republican leaders have done an excellent job, for example, of redrawing districts in a way that dilutes Hispanic voting power.
But though Hispanic turnout is incrementally improving in elections across the country –– they may represent as much as 10 percent of all votes come November –– Texas' Hispanics remain far less involved. They vote at about half the rate of those in California, for example.
"The story is that people have been waiting for the sleeping giant to awaken for 15 years, and it never does," said Cal Jillson, a political science professor at Southern Methodist University. "The proportion of voting Hispanics has been creeping up. But it has been only creeping …So long as Hispanic votes are only half of their population, the 'sleeping giant' will continue to sleep."
If and when that changes –– be it November 2012, 2016, or even 2020 –– how Hispanics vote may determine which political party controls the state and country for years or decades to come.
 ********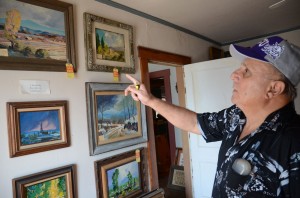 Domingo Garcia's campaign for Congress had no shortage of star power.
Several of the country's top Hispanic activists rallied to the cause. Andy Hernandez, a co-founder of the Southwest Voter Registration Education Project, a seminal organization in the history of Latino voting rights, was one of the chief campaign organizers.
So was Choco Meza, a veteran activist and chairman of the Bexar County Democrats, and Randy Parraz, who organized a recall election that successfully deposed Arizona State Sen. Russell Pierce, the Tea Party Republican who made the state's extreme anti-immigration laws the hallmark of his career.
The trio helped train more than 100 Latino canvassers to beat the bushes for Hispanic votes for Garcia.
Being trained by people like Hernandez, Meza, and Parraz was "a life-changing experience for a lot of us," said Jody Perry, one of Garcia's campaign managers. "It's like you were being trained by living legends. It was unbelievable the people that were a part of it … . That's why it was so disappointing."
Disappointing because Garcia still lost.
Though the population of the district is 61 percent Hispanic, the Latino portion of the district's eligible voters is only about 40 percent. That still means the district has more Hispanic potential voters than any other group. But overall, Hispanics are less likely to be registered to vote than blacks or Anglos.
And among those, the turnout was nothing to write home about.
So even though Hispanics outnumbered blacks in the district three to one, when the dust settled on election day, more African-Americans had showed up to vote.
"The truth of the matter is that just concentrating Hispanics in a district doesn't guarantee a Hispanic will be elected," said Matt Angle, director of the Lone Star Project, a liberal action committee that analyzes voting data.
It's clear there were other reasons for Garcia's loss, not least of which was his talent for pissing people off. He criticized many of Fort Worth's biggest employers early in the campaign, as just one example.
"He was just an extraordinarily poor candidate," Angle said.
Garcia's lackluster personality aside, there's a pattern to Hispanics' difficulty in electing their own, especially in congressional races. Nationwide, of the 28 congressional districts with a black majority, only one is not represented by an African-American. Of the 30 congressional districts with a Hispanic majority, six have non-Hispanic representatives.
"That's a statistically significant difference," as one political scientist put it.
Angle said it's important to understand that low Hispanic turnout has nothing to do with ethnicity. It's about age, class, and gender.
"If you took African-Americans or Anglos and made them demographically identical to Hispanics, they don't turn out [to vote] well either. The Latino community is poorer, younger, more mobile and has a lot of males in it," he said. "It's frustrating when somebody acts like Hispanics or Latinos are doing something wrong."
Contrary to many right-wing perceptions, there is no evidence that illegal immigrants are casting ballots in any numbers or even trying to do so.
There is plenty of evidence, however, that among the state's 9.5 million Hispanics who are U.S. citizens, many don't vote.
They are predominantly first-generation Americans with families that have never voted here and often don't trust the political system because of corrupt elections in their country of origin (more so than in the States, anyway).
It's perhaps that lack of education about the political process that most rankles Hispanic activists who find themselves frequently disappointed by the dearth of Latinos showing up at the polls.
That includes Gilberto Hinojosa, a former Cameron County judge who in June became the first Hispanic chairman of the Texas Democratic Party.
"African-Americans have been engaged in this battle for more than 50 years. This is something that is part of their lifestyle," Hinojosa said. "Hispanics have not fully adopted the culture of voting where it's a natural thing, where you just do it."
It's true in cities large and small. In Victoria, a South Texas city of about 63,000 residents, around 11,000 Hispanics are registered to vote, but only about 1,500 showed up at polls in 2010.
"They left 8,500 votes on the table. You see that across the state of Texas in a lot of places," Hinojosa said. "The rate would have been significantly better for whites or blacks."
There's no question, he added, that Texas Democrats for years squandered opportunities to reach out to Hispanic voters, who tend to vote Democratic by a margin of 2-to-1.
In the meantime, the state's dominant Republican leadership has been quite savvy at drawing districts that curtail Hispanic voting power by pitting them against blacks, who turn out in larger numbers.
That's what happened in District 33 and –– to hear local Hispanic activists tell it –– it's what's happened in Fort Worth's recent city council race as well.
Betting on racial division continues to be a smart move.
"Races vote for their races. If blacks turn out at almost twice the rate of Hispanics, they're going to be able to elect black candidates," Jillson said. "Just as importantly, the Republican majority knows all of this and works with it in their redistricting."
  ********