Look at that picture of Big Tex. I mean really look at it.
Imagine that Big Tex had never been seen before, and State Fair of Texas officials decided to install a new mascot at the front gate this year.
The day of the big unveiling ceremony arrives. Thousands of people and hordes of media are there. Anticipation is high. A drum roll draws everyone's attention. The curtain is pulled back.
And…that's…what…everyone…sees.
People would be aghast. Ridicule would be immediate and intense. The needle on the Snark-o-Meter would fly off the chart.
And now comes word that Big Tex will return pretty much the way he was — gawky, disjointed, ill-dressed, and goofy looking as ever.
The Dallas Morning News says the redo won't stray much from the original.
"We have no plans to do a drastic makeover of Big Tex," fair spokesman Sue Gooding told the paper. "Big Tex is not going to be monstrous or freakish when we finish. It will be very respectful of the icon that we've had from the very beginning. … Overwhelmingly, we are hearing that people want to recognize Big Tex."
I don't know which people are filling Gooding's ear. Blotch's ear hears a different tune.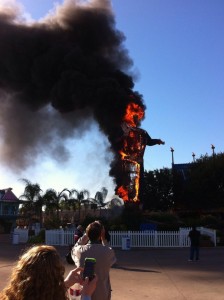 My post on the day of the fire ("Big Tex Burns (30 years Too Late") asked fair officials to take this golden opportunity to scrap the old Big Tex, who was already monstrous and freakish, and come up with something better.
A legion of supporters endorsed my sentiment — five of nine comments leaned in my favor.
How much evidence do fair officials need?