SIERRA BLANCA — A cloak of anonymity hung over Sierra Blanca for much of its 131-year history — until Willie Nelson got thrown in the pokey in 2010.
The Hudspeth County Jail is a big employer in this desolate little town about 20 miles from the U.S.-Mexico border and about 80 miles from Juárez, considered murder central in North America. Just outside Sierra Blanca, U.S. Border Patrol agents stop eastbound vehicles at a checkpoint on I-10 to confirm citizenship and look for drugs. People with drugs often wind up at the local jail.
Agents found marijuana in Nelson's tour bus and arrested him, and the iconic singer's mug shot went viral. Phone calls and e-mails flooded the sheriff's office.
County Attorney Kit Bramlett fanned the flames by telling a reporter that Nelson might get off easy if he came back and played "Blue Eyes Crying in the Rain" for the judge. He was joking, but the media ran with it. Reporters from Holland, New Zealand, Australia, France, Germany, and England called with interview requests.
That pissed off the judge, and she later tried to block a plea deal for Nelson.
The town might have faded back into obscurity, but the checkpoint busts kept coming. Actor Armie Hammer (The Social Network and J. Edgar) was arrested in November 2011, followed by Snoop Dogg in January 2012. Celebrity tabloid programs such as TMZ reported the drug arrests. So did The New York Times and mainstream media.
And then along came Fiona Apple.
Border Patrol agents searched the pop singer's tour bus in September and found marijuana and hash. She went to jail on Sept. 19 and missed an important gig in Austin the next day. Two days later, at a concert in Houston, she ripped the sheriff's office for the "shit that you did that I know was inappropriate and probably illegal."
Fans videotaped her tirade, put it on YouTube, and sent angry e-mails to the sheriff. News articles characterized Sierra Blanca as a "celebrity trap," the "checkpoint of no return," and the "black hole of tour bus drug busts."
Then things got weird.
Sheriff department spokesman Rusty Fleming released a statement directed at Apple that began, "Listen, honey … ." He said she should be thankful that the sheriff's department "jump-started" her career and ended by saying she should "just shut up and sing."
The following month, agents searched rap artist Nelly's tour bus and found drugs and a loaded gun. Nelly's bodyguard ended up in the hoosegow.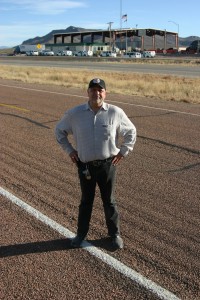 Online reports shared basic details about the arrests, followed by rampant conjecture in the comments sections.
"So they search people  because  they are celebrities or for no reason at all," read one comment beneath a New York Times story. "Now that is the good old USA for you, hypocritical and corrupt. Never mind that we have the Fourth Amendment of the United States Constitution."
Few reporters trekked to no-man's land to see for themselves. They made calls (an automated phone greeting at the sheriff's office plays a rowdy version of "I Fought the Law (And the Law Won)." Then they talked to good ol' boy Sheriff Arvin West or the crusty Fleming.
A writer and movie producer (and former alcoholic and junkie), Fleming in the past has embedded himself with Mexican drug cartels. His shows about the drug trade include the movie documentary Drug Wars and episodes of The History Channel's Gangland. He currently operates a drug rehabilitation center on Sierra Blanca's dilapidated main drag and works without pay as the sheriff's public information officer while continuing to produce documentaries.
Spending time in Sierra Blanca and meeting the colorful characters who live there provide context for the shenanigans that occur — even for Fleming's laughable press release. Political correctness hasn't found its way to this old railroad town. The sovereign souls living among the sprawling ranches and tumbleweeds — and amid kidnappers, extortionists, and drug runners — follow their own code.
Outsiders  might view them as "podunk, backwoods, bib-wearing rednecks," West said. "But I wouldn't trade it for the world. This is home."
I made the 500-mile trip to West Texas to see things up close. First, though, I cleaned and air-freshened the cab of my pickup, whose general odor is probably reminiscent of the aforementioned tour buses.
Two days later, I experienced firsthand what Nelson, Hammer, Dogg, Apple, and the others must have felt. A Border Patrol agent told me to pull my Ford into a search area, get out, and empty my pockets.
"The dog is hitting on your truck," he said, meaning the police canine was sniffing one of the many illicit odors it is  trained to detect.
I stood with clenched jaw and puckered sphincter, watching a German shepherd ricochet around inside my truck like a pinball, its senses joyously ablaze. After a few seconds, the dog wagged its tail and pointed its nose at my cigarette pack.
But I'm getting ahead of myself.
 ********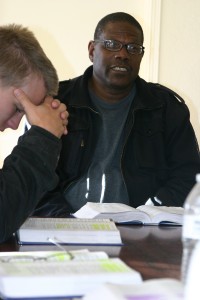 The Sierra Blanca exit from westbound I-10 leads to a town so shabby that visitors might wonder if they've inadvertently crossed the border into a Mexican village. El Paso Street, the main drag, is lined with buildings in various stages of disorder. Half are boarded up or falling down.
There is no rush-hour traffic at 7:30 a.m. when I roll into town. Small frame houses are scattered among dusty lots, and nobody stirs at the Sierra Blanca School, where students from kindergarten to 12th grade attend under the same roof.
Finally I notice a couple of guys smoking cigarettes in front of an abandoned gas station next to an old motel.
"It's like a ghost town," says Jay, who doesn't want to give his last name. "If not for law enforcement [officials and their families], there wouldn't be anybody here."
Hudspeth County is huge — 4,500 square miles of rugged Rio Grande basin — but sparsely populated. Four times the size of Rhode Island, the county has fewer residents than Sansom Park. Many of those in Sierra Blanca work at the county jail or courthouse, at the checkpoint, or at a private prison outside of town.
Jay is enjoying a cool morning breeze while sharing coffee, cigs, and conversation with Clarence Williams, the gold-toothed administrator at Ranch on the Rock drug rehabilitation center. Fleming started the facility a year ago in this renovated filling station and motel, and he made Williams his right-hand man.
Jay has been clean and sober for three years but came to Ranch on the Rock to "reconnect with God," he said. The Ranch offers room and board for clients who agree to stay sober, attend Bible study sessions, and perform daily community service.
Fleming sleeps at the motel and keeps an office a block away at the sheriff's department. He's casual in a gimme cap and dusty pair of boots, with his shirttail hanging out over black jeans. His goatee is gray, his voice raspy, and his words direct. His office resembles the jail cells — cinder block walls painted white with no windows.
His title is public information officer, or PIO, although some co-workers say the acronym stands for Pissing Individuals Off since Fleming shoots from the lip.
"It won't take you but a minute to figure out that Arvin and I are pretty outspoken people," Fleming said. "Not a lot of filter between brain and mouth."
He handles most phone calls regarding celebrity busts and tries to clear up misconceptions. Agents don't profile motorists, he tells everyone. More than 15,000 vehicles pass through the checkpoint each day, and all motorists are asked about citizenship. If agents find illegal immigrants, they handle it themselves. If they find guns or explosives, they call the U.S. Bureau of Alcohol, Tobacco, Firearms and Explosives.
The federal Drug Enforcement Agency handles arrests involving large amounts of drugs, while smaller cases are sent to West and his staff. A deputy (nicknamed the "checkpoint bitch") processes arrests each day.
"We average about 2,000 cases a year from the checkpoint," Fleming said. "It's a steady six to eight a day. It keeps us pretty busy."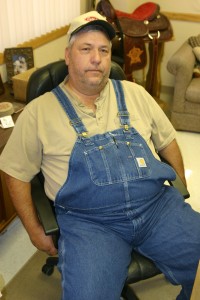 Get caught with a joint or two, and  you'll probably be ticketed for a Class C misdemeanor, given a $500 fine, and sent on your way.
"It's the equivalent of running a stop sign," Fleming said.
Get popped with an ounce or two, you might be jailed, charged with a Class B misdemeanor, and fined up to $2,000. Possession of two to four ounces is a Class A misdemeanor with a maximum jail sentence, if convicted, of a year. Larger amounts are categorized as felonies.
Other drugs, such as the small amount of hash found in Apple's bus, carry higher penalties.
"People don't always understand what the classifications are for this stuff," Fleming said.
Apple's felonious hash landed her in jail, but the justice of the peace wasn't around to arraign her. So a deputy removed her from her jail cell to walk her across the street to the county courthouse to see a magistrate.
"She threw a snot-slinging fit, talking about how, 'You can't take me out there, the press is out there, they're going to make a mockery of me,' " Fleming said. "Of course, there wasn't a swinging soul out there. This is Sierra Blanca. This ain't Dallas, Texas."
A lizard or two might have been sunning themselves on a rock outside, but no paparazzi. Deputies were trying to speed up her processing to get her back on the road, Fleming said.
"They tried to explain that to her, and she went off — she said, 'I don't want to be treated like some celebrity,' " Fleming recounted.
At that point, the deputy shrugged and began leading her back to her cell, and she "collapsed here in the hallway and had a crying fit — 'Oh, please, I'll be a good girl, I promise, don't take me back to my jail cell,' " Fleming said.
Apple appeared before the magistrate, posted a $10,000 bond, and was on her way. Based on her discombobulated YouTube diatribe, it's likely she had no problem replenishing her confiscated stash. Fan reaction was mixed. Somebody in the audience yelled, "Sing a song!" as Apple complained.
Here's her onstage speech about the sheriff's staff: "Now, most of the people were very nice to me. There are four of you out there, and I want you to know that I heard everything you did. I wrote it all down with your names and everything you did and said — stupidly thinking that I couldn't hear or see you. I then ripped the paper up, but not before I encoded it and … I got two lockboxes. We'll call them 'holding cell one' and 'holding cell two.' In 'holding cell one' is the encoded version of the shit that you did that I know was inappropriate and probably illegal. In 'holding cell two' is the decoder. I'm the only one who holds the key and you and I will be intimate forever because I will hold that secret forever. Unless of course the celebrity you had so much interest in, but you wanted to accuse me of bringing up while you laughed at me all night? Unless you're interested in being a celebrity, I'll make you fucking famous any time you ask and I'll open those boxes. So why don't you stay in your fucking holding cell?"