The Impossible (PG-13) A movie that leaves very little for a critic to do. Based on the story of a real-life Spanish family, the film stars Naomi Watts and Ewan McGregor as British parents of three boys who are separated from one another in Thailand during the tsunami of 2004. Director Juan Antonio Bayona (Orphanage) does a fine job staging the disaster, and there's a terrific performance by Tom Holland as the oldest of the boys. Elsewhere, the movie functions as a fine if unsubtle tale of survival against steep odds. Also with Samuel Joslin and Oaklee Pendergast.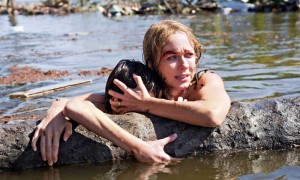 Jack Reacher (PG-13) Tom Cruise stars in this surprisingly potboilerish thriller as a former military policeman who investigates when an Army sniper is accused of shooting five people dead along the Pittsburgh riverfront. Adapted from Lee Child's novel One Shot, the movie has a couple of good car chases, some tasty stuff on the police procedural front, and a creepy turn from German filmmaker Werner Herzog as the chief bad guy. Yet writer-director Christopher McQuarrie paces this movie indifferently, and the hero (who's supposed to be hypercompetent in Child's novels) is curiously dull-witted at various points. It all makes for a rather average time. Also with Rosamund Pike, Richard Jenkins, David Oyelowo, Alexia Fast, and Robert Duvall.
Life of Pi (PG) Yann Martel's supposedly unfilmable novel has been most decisively filmed by Ang Lee, and like all of Lee's masterpieces, it's completely different from the others. Suraj Sharma plays a shipwrecked 16-year-old Indian boy who is marooned on the open sea for several months with an adult Bengal tiger. Purely as a piece of spectacle, this movie is just glorious, whether Lee is taking in the visual splendors of India or the unlikely events on the water. (Pay the 3D upcharge for this movie.) Yet he doesn't shortchange his actors, whether that's the newcomer Sharma or the great Irrfan Khan as the grown-up Pi who narrates his story. This emotionally draining adventure is wondrous, terrifying, and a classic of its kind. Also with Adil Hussain, Tabu, Ayush Tandon, Rafe Spall, and Gérard Depardieu.
Lincoln (PG-13) Steven Spielberg's take on our nation's 16th president is an incredibly timely defense of moderation, pragmatism, and realpolitik. Too bad it's so dry. Daniel Day-Lewis portrays Lincoln as he tries to pass the slavery-abolishing 13th Amendment to the Constitution in 1865. Day-Lewis easily strikes the right balance between Lincoln's fierce determination and political judgment. Spielberg wrings a fair amount of drama out of the legislative details and does full justice to the messiness of the lawmaking process. However, without more of Lincoln's soaring rhetoric, the movie may very well leave you unmoved. Also with Sally Field, Tommy Lee Jones, David Strathairn, Joseph Gordon-Levitt, James Spader, John Hawkes, Tim Blake Nelson, Jackie Earle Haley, Bruce McGill, Jared Harris, Lee Pace, Gloria Reuben, Michael Stuhlbarg, David Oyelowo, Lukas Haas, Dane DeHaan, and Hal Holbrook.
Les Misérables (PG-13) The best big-screen version of the bombastic Broadway musical that we were ever likely to get. Tom Hooper records the actors singing live on the set, and his approach yields mostly good results from Hugh Jackman as an anguished Jean Valjean, Samantha Barks outsinging her more famous castmates as Éponine, and Anne Hathaway going hellbent for leather as Fantine. Hooper can't do much with Russell Crowe's wobbly baritone (which seems to be emanating from inside a half-crushed beer can), nor can he do anything with the music bogging the show down in the second half as the boring characters of Marius and Cosette (Eddie Redmayne and Amanda Seyfried) take center stage. Still, the cast's singing and some un-stagey direction save the movie. Also with Sacha Baron Cohen, Helena Bonham Carter, Aaron Tveit, Daniel Huttlestone, Isabelle Allen, and Colm Wilkinson.
Monsters, Inc. (G) The 3D re-release of Pixar's 2001 animated spectacular wittily imagines the monsters who emerge from closets to scare little kids at night as employees of a utility company that powers the monsters' world. When a 3-year-old girl accidentally wanders into that world from her closet, the company's top scarer "Sulley" (voiced by John Goodman) and his assistant Mike (voiced by Billy Crystal) have to get her back to her bedroom without tipping off the firm's management. The vocal casting isn't exactly creative, and the movie runs into trouble at the end; little kids' irrational fears are bigger than the explanation this movie gives us. Yet the writing and visual gags are sharp, and the movie has a dazzling climactic chase through a warehouse of closet doors. Best of all, Pixar's movies still work the way kids' imaginations do, as well as looking good. Additional voices by Steve Buscemi, Mary Gibbs, James Coburn, John Ratzenberger, Bob Peterson, Frank Oz, Bonnie Hunt, and Jennifer Tilly.
Parental Guidance (PG) Billy Crystal and Bette Midler headline this painfully unfunny comedy as a grandparents who travel from Fresno to Atlanta to look after their three grandchildren at the request of their helicopter mom of a daughter (Marisa Tomei). Prepare yourself for a steady stream of pee and poop jokes and jokes about old people who don't know what Twitter is. Truly nothing works here. Forget parental guidance: Take my guidance and stay away. Also with Tom Everett Scott, Bailee Madison, Joshua Rush, Kyle Harrison Breitkopf, Jennifer Crystal Foley, Rhoda Griffis, and Gedde Watanabe.
Rise of the Guardians (PG) Above-average animated film is about Jack Frost (voiced by Chris Pine) as he is recruited into a superhero league with Santa Claus, the Tooth Fairy, and the Easter Bunny (voiced by Alec Baldwin, Isla Fisher, and Hugh Jackman) to protect the world's children against the Boogeyman (voiced by Jude Law). Adapted from William Joyce's novel, this bogs down in sentimentality near the end, but it has some nice jokes and a nifty voice cast, especially Jackman (using his native Australian accent) as a hypermacho rabbit who's overly sensitive about his cuddly species. Additional voice by Dakota Goyo.
Silver Linings Playbook (R) Bradley Cooper stars in this volatile, terribly funny comedy as a bipolar former schoolteacher and die-hard Philadelphia Eagles fan who leaves a mental institution to move back in with his parents. Adapting a novel by Matthew Quick, writer-director David O. Russell (The Fighter, Three Kings) captures the rage and instability inside his characters by filming ordinary domestic scenes with a whirling fury. His approach spreads to his actors, including Robert De Niro, bringing more energy than he's brought in 20 years to the role of the hero's combative dad, and Jennifer Lawrence, deploying her fierceness for comic effect as a cop's widow with her own mentally troubled history. This is Russell's warmest and most likable film, a tribute to the unconditional love that binds you to your family and your football team. Also with Jacki Weaver, Julia Stiles, Anupam Kher, John Ortiz, Shea Whigham, Paul Herman, Dash Mihok, and Chris Tucker.
Texas Chainsaw 3D (R) Alexandra Daddario stars in this latest adventure with a chainsaw-wielding killer. Also with Dan Yeager, Trey Songz, Scott Eastwood, Tania Raymonde, Shawn Sipos, Thom Barry, Richard Riehle, Bill Moseley, and Gunnar Hansen.
This Is 40 (R) Paul Rudd and Leslie Mann reprise their supporting roles from Knocked Up, with Judd Apatow presiding. It turns out those characters can't carry their own movie. The movie takes place during the week that both halves of this married couple turn 40. Rudd and Mann are brilliant comic actors, and funny bits turn up from Melissa McCarthy as a combative mom and Megan Fox (yes, you read that right) as a hot employee. However, the director often loses control of the tone, with too many scenes devolving into shouting or weepiness. We're never truly invested in whether this couple's marriage survives the crises of mid-life. This is Apatow's weakest directing effort yet. Also with Maude Apatow, Iris Apatow, Jason Segel, Annie Mumolo, Robert Smigel, Charlyne Yi, Albert Brooks, John Lithgow, Chris O'Dowd, and Lena Dunham.
Zero Dark Thirty (PG-13) Pro-torture without meaning to be, which is actually worse than being purposefully pro-torture. Jessica Chastain portrays a brilliant but obsessive CIA analyst who spends 10 years tracking down Osama bin Laden, and she doesn't quite manage to integrate this difficult and fundamentally unknowable character. Director Kathryn Bigelow (The Hurt Locker) lays out the detective work well enough and expectedly delivers some great action set pieces, including a slow-burning meeting with an informant midway through and the operation at the end. Still, she's fatally fuzzy about the role of torture in obtaining the information that takes down the terrorist mastermind, and pays scant attention to its repercussions. It's one thing to take in a morally complex situation and let the audience draw its own conclusions. This movie is just unclear. Also with Jason Clarke, Jennifer Ehle, Chris Pratt, Joel Edgerton, Édgar Ramírez, Kyle Chandler, Mark Strong, Reda Kateb, Fares Fares, Homayoun Ershadi, Harold Perrineau, Stephen Dillane, Mark Duplass, and James Gandolfini.
DALLAS EXCLUSIVES:
Hyde Park on Hudson (R) Roger Michell directs this adaptation of Richard Nelson's play about a woman (Laura Linney) who has a prime viewing spot as her distant cousin President Franklin Roosevelt (Bill Murray) welcomes King George VI of England (Samuel West) to his mother's house in upstate New York. Also with Olivia Colman, Elizabeth Marvel, Elizabeth Wilson, Martin McDougall, and Olivia Williams.
Rust and Bone (R) Jacques Audiard (A Prophet) adapts Craig Davidson's short stories into this French-language romance between a Belgian MMA fighter (Matthias Schoenaerts) and a killer whale trainer (Marion Cotillard) who loses her legs. Also with Armand Verdure, Céline Sallette, Corinne Masiero, Bouli Lanners, and Mourad Frarema.