The Last Stand (R) Arnold Schwarzenegger looks past it in this thriller as a small-town sheriff who must stop an escaped Mexican drug kingpin (Eduardo Noriega) from making it across the border. Neither the material nor the role of a former LAPD cop who has seen too much violence suits a star who comes from a less reflective generation of action heroes. This still could have been a nice thriller, but Korean director Kim Ji-woon (The Good, the Bad, the Weird) seems tentative in the action sequences, and the other characters include a highly inept set of feds and a boring romantic couple. All in all, this is just another hack thriller. Also with Forest Whitaker, Peter Stormare, Rodrigo Santoro, Jaimie Alexander, Johnny Knoxville, Luis Guzmán, Genesis Rodriguez, and Harry Dean Stanton.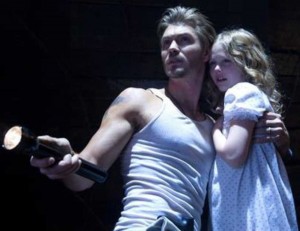 Life of Pi (PG) Yann Martel's supposedly unfilmable novel has been most decisively filmed by Ang Lee, and like all of Lee's masterpieces, it's completely different from the others. Suraj Sharma plays a shipwrecked 16-year-old Indian boy who is marooned on the open sea for several months with an adult Bengal tiger. Purely as a piece of spectacle, this movie is just glorious, whether Lee is taking in the visual splendors of India or the unlikely events on the water. (Pay the 3D upcharge for this movie.) Yet he doesn't shortchange his actors, whether that's the newcomer Sharma or the great Irrfan Khan as the grown-up Pi who narrates his story. This emotionally draining adventure is wondrous, terrifying, and a classic of its kind. Also with Adil Hussain, Tabu, Ayush Tandon, Rafe Spall, and Gérard Depardieu.
Lincoln (PG-13) Steven Spielberg's take on our nation's 16th president is an incredibly timely defense of moderation, pragmatism, and realpolitik. Too bad it's so dry. Daniel Day-Lewis portrays Lincoln as he tries to pass the slavery-abolishing 13th Amendment to the Constitution in 1865. Day-Lewis easily strikes the right balance between Lincoln's fierce determination and political judgment. Spielberg wrings a fair amount of drama out of the legislative details and does full justice to the messiness of the lawmaking process. However, without more of Lincoln's soaring rhetoric, the movie may very well leave you unmoved. Also with Sally Field, Tommy Lee Jones, David Strathairn, Joseph Gordon-Levitt, James Spader, John Hawkes, Tim Blake Nelson, Jackie Earle Haley, Bruce McGill, Jared Harris, Lee Pace, Gloria Reuben, Michael Stuhlbarg, David Oyelowo, Lukas Haas, Dane DeHaan, and Hal Holbrook.
Mama (PG-13) This horror flick with a lot of wasted promise stars Jessica Chastain as a woman whose husband (Nikolaj Coster-Waldau) takes in his two feral nieces (Megan Charpentier and Isabelle Nélisse) after they're discovered living alone in the woods. The girls claim that a ghostly entity they call "Mama" has been taking care of them, and she follows them when they move into a new house. Chastain is unrecognizable here as a heavily tattooed Goth-punk musician. She and the girls do good work, and the movie has an interesting story about a woman who doesn't want children being suddenly saddled with two special-needs kids. Yet Argentinian filmmaker Andrés "Andy" Muschietti squanders this with bombast and rote scare techniques. Too bad; this could have really been something. Also with Daniel Kash, Javier Botet, and Jane Moffatt.
Les Misérables (PG-13) The best big-screen version of the bombastic Broadway musical that we were ever likely to get. Tom Hooper records the actors singing live on the set, and his approach yields mostly good results from Hugh Jackman as an anguished Jean Valjean, Samantha Barks outsinging her more famous castmates as Éponine, and Anne Hathaway going hellbent for leather as Fantine. Hooper can't do much with Russell Crowe's wobbly baritone (which seems to be emanating from inside a half-crushed beer can), nor can he do anything with the music bogging the show down in the second half as the boring characters of Marius and Cosette (Eddie Redmayne and Amanda Seyfried) take center stage. Still, the cast's singing and some un-stagey direction save the movie. Also with Sacha Baron Cohen, Helena Bonham Carter, Aaron Tveit, Daniel Huttlestone, Isabelle Allen, and Colm Wilkinson.
Movie 43 (R) Uneven, like most anthologies of short films. A device about a struggling filmmaker (Dennis Quaid) pitching a studio executive (Greg Kinnear) about his project frames the 12 comedy shorts. Two of them work. One has Liev Schreiber and Naomi Watts as parents who dress up as high-school students so they can bully their home-schooled son. The other has Chloë Grace Moretz as a 13-year-old girl who sends a house full of men into hysterics when she has her first period. The other segments are either one joke run into the ground (Hugh Jackman as an otherwise perfect blind date with an extra set of testicles) or interesting ideas that go nowhere (Johnny Knoxville and Seann William Scott kidnapping a murderous leprechaun played by Gerard Butler). Given how much talent went into this thing, the results are disappointing. Also with Kate Winslet, Seth MacFarlane, Common, Anna Faris, Chris Pratt, Emma Stone, Kieran Culkin, Richard Gere, Kate Bosworth, Jack McBrayer, Uma Thurman, Justin Long, Jason Sudeikis, Kristen Bell, Leslie Bibb, Bobby Cannavale, John Hodgman, Christopher Mintz-Plasse, Halle Berry, Stephen Merchant, Terrence Howard, Josh Duhamel, and Elizabeth Banks.
Parental Guidance (PG) Billy Crystal and Bette Midler headline this painfully unfunny comedy as a grandparents who travel from Fresno to Atlanta to look after their three grandchildren at the request of their helicopter mom of a daughter (Marisa Tomei). Prepare yourself for a steady stream of pee and poop jokes and jokes about old people who don't know what Twitter is. Truly nothing works here. Forget parental guidance: Take my guidance and stay away. Also with Tom Everett Scott, Bailee Madison, Joshua Rush, Kyle Harrison Breitkopf, Jennifer Crystal Foley, Rhoda Griffis, and Gedde Watanabe.
Parker (R) This sleep-inducing thriller stars Jason Statham as an expert thief who enlists a Florida real estate agent (Jennifer Lopez) to help him gain revenge on the gang that betrayed him and left him for dead. The movie is based on a Donald Westlake novel, but screenwriter John J. McLaughlin loses the nuances of character here, and director Taylor Hackford's focus on them only makes him lose the action thread here. The only thing memorable here is Statham impersonating a cowboy hat-wearing businessman with the worst Texas accent you've ever heard. Also with Michael Chiklis, Wendell Pierce, Clifton Collins Jr., Bobby Cannavale, Emma Booth, Carlos Carrasco, Patti LuPone, and Nick Nolte.
Silver Linings Playbook (R) Bradley Cooper stars in this volatile, terribly funny comedy as a bipolar former schoolteacher and die-hard Philadelphia Eagles fan who leaves a mental institution to move back in with his parents. Adapting a novel by Matthew Quick, writer-director David O. Russell (The Fighter, Three Kings) captures the rage and instability inside his characters by filming ordinary domestic scenes with a whirling fury. His approach spreads to his actors, including Robert De Niro, bringing more energy than he's brought in 20 years to the role of the hero's combative dad, and Jennifer Lawrence, deploying her fierceness for comic effect as a cop's widow with her own mentally troubled history. This is Russell's warmest and most likable film, a tribute to the unconditional love that binds you to your family and your football team. Also with Jacki Weaver, Julia Stiles, Anupam Kher, John Ortiz, Shea Whigham, Paul Herman, Dash Mihok, and Chris Tucker.
Stand Up Guys (R) Not a movie about nightclub comedians, this tepid drama stars Al Pacino as a mobster who's released from a long prison stretch and spends a day with his best friend (Christopher Walken), who's been secretly ordered to kill him. Director Fisher Stevens captures some of the pathos of these old guys trying to make up for lost time, but the chemistry between the two stars stubbornly fails to spark and the plot developments offer little of interest. The movie is the cinematic equivalent of wallpaper, something you barely notice going on in the background. Also with Alan Arkin, Julianna Margulies, Addison Timlin, Mark Margolis, Vanessa Ferlito, and Lucy Punch.
This Is 40 (R) Paul Rudd and Leslie Mann reprise their supporting roles from Knocked Up, with Judd Apatow presiding. It turns out those characters can't carry their own movie. The movie takes place during the week that both halves of this married couple turn 40. Rudd and Mann are brilliant comic actors, and funny bits turn up from Melissa McCarthy as a combative mom and Megan Fox (yes, you read that right) as a hot employee. However, the director often loses control of the tone, with too many scenes devolving into shouting or weepiness. We're never truly invested in whether this couple's marriage survives the crises of mid-life. This is Apatow's weakest directing effort yet. Also with Maude Apatow, Iris Apatow, Jason Segel, Annie Mumolo, Robert Smigel, Charlyne Yi, Albert Brooks, John Lithgow, Chris O'Dowd, and Lena Dunham.
Warm Bodies (PG-13) This movie wants to be scary, funny, and romantic all at once, and while it succeeds fitfully at those things, it mostly proves that the combination is tough to pull off. Set in a world largely overrun by zombies, the movie stars Nicholas Hoult as a zombie who falls in love with a human girl (Teresa Palmer) and finds that the experience cures him of his zombiehood. Writer-director Jonathan Levine (50/50) scores with the zombie's neurotic interior monologue and some warm romantic flashbacks, but the material needed a wackier, more satirical comic sensibility. Even though Hoult does some remarkable work in a difficult role, the actors here largely seem lost, even as experienced a comic actor like Rob Corddry. Charming though this movie is, it's a well-intentioned misfire. Also with Analeigh Tipton, Dave Franco, Cory Hardrict, and John Malkovich.
Zero Dark Thirty (PG-13) Pro-torture without meaning to be, which is actually worse than being purposefully pro-torture. Jessica Chastain portrays a brilliant but obsessive CIA analyst who spends 10 years tracking down Osama bin Laden, and she doesn't quite manage to integrate this difficult and fundamentally unknowable character. Director Kathryn Bigelow (The Hurt Locker) lays out the detective work well enough and expectedly delivers some great action set pieces, including a slow-burning meeting with an informant midway through and the operation at the end. Still, she's fatally fuzzy about the role of torture in obtaining the information that takes down the terrorist mastermind, and pays scant attention to its repercussions. It's one thing to take in a morally complex situation and let the audience draw its own conclusions. This movie is just unclear. Also with Jason Clarke, Jennifer Ehle, Chris Pratt, Joel Edgerton, Édgar Ramírez, Kyle Chandler, Mark Strong, Reda Kateb, Fares Fares, Homayoun Ershadi, Harold Perrineau, Stephen Dillane, Mark Duplass, and James Gandolfini.
DALLAS EXCLUSIVES:
The Haunting in Connecticut 2: Ghosts of Georgia (R) The year's most confusing movie title belongs to this horror sequel starring Chad Michael Murray and Abigail Spencer as a couple who move into a haunted house in Georgia. Also with Morgana Shaw, Emily Alyn Lind, Grant James, Katee Sackhoff, and Cicely Tyson.
Quartet (PG-13) Featured at the Lone Star Film Festival, Dustin Hoffman's directorial debut stars Maggie Smith as a old opera singer who creates waves when she's sent to a retirement home for classical musicians. Also with Tom Courtenay, Billy Connolly, Pauline Collins, Michael Gambon, Sheridan Smith, Trevor Peacock, Andrew Ryall, and Dame Gwyneth Jones.
West of Memphis (R) This documentary by Amy Berg (Deliver Us From Evil) examines the failure of justice in the West Memphis Three murder case.