When corn crops in Texas played out in the mid-20th century, farmers started planting newer strains. When oil wells went dry, wildcatters learned new techniques and drilled new wells. But what are we going to do in Texas when we run out of water?
The answer someday may be: We go and buy some from a multinational corporation that owns the rights. And we pay multinational prices.
They've been calling the stuff "blue gold" for years now, as aquifers in Texas began to shrink under the onslaught of cities, farms, ranches, and industry, even before the current long-running drought and threats of climate change developed.
But "gold" is no longer even hyperbole. In a much-quoted statement, Citigroup's chief economist Willem Buiter told company officials in 2011 that in his opinion, water will soon become the single most important commodity in the world, "dwarfing copper, oil, agricultural commodities, and precious metals."
Around the world, major corporations have taken Buiter's words to heart and are buying up land in order to secure water rights. The online publication Market Oracle heralded the birth of a new class of "water barons — the Wall Street banks and elitist multibillionaires — [who] are buying up water all over the world at an unprecedented pace."
Texas, as with so many other dubious distinctions, led the way in this category too. During the 2000s, T. Boone Pickens bought up 210,000 acres of water rights near Lubbock and tried to sell water to far-off cities such as San Antonio and Fort Worth. The plan didn't work, and he's out of the game now. But his only mistake may have been that he was a man slightly before his time. Most cities aren't desperate for water yet — but the stakes are getting higher.
The Tarrant Regional Water District has been fighting for years to get access to southeastern Oklahoma's river water and pipe it back for North Texas cities. A lawsuit filed in 2007 has been accepted for review by the U.S. Supreme Court.
The Tarrant and Dallas water agencies have also agreed to share the costs of a 150-mile pipeline from Lake Palestine to Lake Benbrook, the latter a reservoir that gets drier each year. But that project isn't expected to be completed until 2021.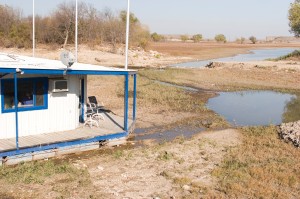 Parker County, where many folks depend on wells, is at the bottom of its water table in some places. Elsewhere across the state, oil and gas drillers are buying rights to water that ranchers and farmers also need. Aquifers have been ruined downstream from injection wells into which the gas-drilling industry is shoving its toxic wastes. Out of reach of city water and unable to afford to have water trucked in for the rest of their lives, families have simply had to pull up stakes and go elsewhere.
Until a few weeks ago, farmers and ranchers along the Brazos were fighting the Texas Commission on Environmental Quality over its decision to divert water from the agriculture users to Dow Chemical for its plant in Freeport. Recent rains led both sides to holster their legal guns, but it's a temporary truce.
Last summer, Chicago-based Exelon Corp., the nation's largest supplier of nuclear energy, announced it was halting its attempts to win approval for a nuclear plant near Victoria that would have used huge amounts of water from the Guadalupe River. And near Sweetwater, construction of a new coal-fired power plant has been indefinitely delayed, due in part to a suit by the Sierra Club. The environmentalist group has charged that there isn't enough water, aboveground or below, in Nolan County to supply the hundreds of millions of gallons of water the plant would need.
Other water-based industries are plowing ahead despite the warning signs. Parker County's water worries didn't interrupt plans to build a water park in Hudson Oaks that will rely on millions of gallons of groundwater. And Enron Oil & Gas is seeking permits for a sand- mining operation in Cooke County, north of Denton, that will draw about 3,700 gallons of groundwater every minute — close to 2 billion gallons a year.
Meanwhile, the Tarrant Regional Water District is charged with providing blue gold on a daily basis to about 2 million people. That number is expected to more than double by 2060. With only four reservoirs in its system, the district is on the hunt for more, more, more.
Even the Texas Legislature and Gov. Rick Perry have noticed the problem. Two years ago, Perry refused to dip into the state's emergency account — the so-called Rainy Day Fund — even to help meet the state's legal obligations toward public schools. Now, though, he's ready to pull $2 billion from the $8 billion coffer to help pay for water projects around the state.
"Some people will describe this as the water session," said State Rep. Lon Burnam of Fort Worth. "The fact that we have a crisis adds momentum."
The stage seems set for major fights among cities, agricultural groups, and industries for that scarce resource. Last month, directors of the Lower Colorado River Authority, under pressure from public officials in Austin, OK'd a plan that could cut off vital water supplies to South Texas rice farmers — as the authority did in 2012 — because it needs to save the water for Austin.
Conservation almost certainly is going to become a bigger factor in the lives of many Texans, from homeowners to huge industries. Even in areas with plenty of water, the prices may go up high enough to put St. Augustine lawns on the endangered list.
Alyssa Burgin, executive director of the Texas Drought Project, believes that in the near future, perpetual drought conditions will turn Texas into a new Dust Bowl, and the value of water will be inestimable.
"I hate to use the analogy, but we're looking at the perfect storm," she said. "It's kind of hard to calculate what the price of water will be when in some places there just won't be any."
 ********