Iron Man 3 (PG-13) An excellent finish to the series. Suffering crippling anxiety attacks, Tony Stark (Robert Downey Jr.) must deal with a terrorist bomber (Ben Kingsley) who leaves him without power for his suit. New director/co-writer Shane Black likes staging low-fi action sequences that force Tony to rely on his unaided wits and limbs. The banter between Tony and Rhodey (Don Cheadle) may be a bit worn, but robbing Tony of his armor re-establishes the character's humanity in his love for his girlfriend (Gwyneth Paltrow) and his best friend (Jon Favreau). We wouldn't mind seeing this Tony every couple of summers. Also with Guy Pearce, Rebecca Hall, Stephanie Szostak, James Badge Dale, and an uncredited Mark Ruffalo. — Steve Steward
Jurassic Park (PG-13) Steven Spielberg's 1993 dinosaur blockbuster holds up better than you might think in this 20th-anniversary 3D re-release. The script's characters are poorly drawn (the kids especially, but the adults too), which is the biggest reason why the movie doesn't rank with the director's best work. Still, Spielberg's ingenuity and flair for action sequences are on good display here — check the T. rex's artfully stage-managed entrance or the scene with the van stuck in a tree. For a movie whose success was based on special effects that were cutting edge 20 years ago, this has aged rather well. Starring Sam Neill, Laura Dern, Jeff Goldblum, Richard Attenborough, Ariana Richards, Joseph Mazzello, Bob Peck, Wayne Knight, and Samuel L. Jackson.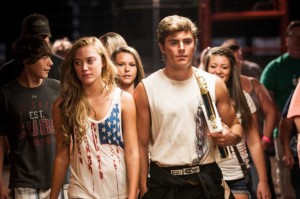 Mud (R) Jeff Nichols (Take Shelter) juxtaposes childhood against cold, hard reality in his second film. Tye Sheridan and Jacob Lofland play 14-year-old boys who discover a mysterious drifter (Matthew McConaughey) living on an island in the Mississippi River. Nichols evokes a world filled with stunted men who refuse to adapt to change, couching this story as a drama whose slow pace suggests the river's quiet, inexorable movement. The movie shines brightest when the characters finally come to grips with the hidden truths about themselves. Also with Reese Witherspoon, Michael Shannon, Ray McKinnon, Sarah Paulson, Joe Don Baker, and Sam Shepard. — Steve Steward
Oblivion (PG-13) It leaves you cold, but, man, it looks sharp. Tom Cruise stars in this science-fiction thriller as a drone repairman in a postapocalyptic Earth who discovers that the world and his place in it are not what he's been led to believe. Director Joseph Kosinski (Tron: Legacy) adapts this from his own graphic novel, and you can see the plot twists coming, especially since they were treated better in Duncan Jones' Moon. Yet the high-tech gadgetry is seamlessly integrated with the blasted natural scenery, and the movie benefits from Andrea Riseborough's crisp, authoritative-beyond-her-years presence as the hero's co-worker. Kosinski knows how to make cool visuals. If he ever gets hold of good material, watch out. Also with Morgan Freeman, Olga Kurylenko, Nikolaj Coster-Waldau, Zoe Bell, and Melissa Leo.
Olympus Has Fallen (R) Gerard Butler stars in this thriller as a haunted-by-failure Secret Service agent who infiltrates the White House after North Korean terrorists breach the perimeter and massacre everyone who's supposed to protect the president (Aaron Eckhart). The only thing that's done well is the staging of a large-scale, multiplatform, paramilitary assault on the White House, executed in scarily plausible detail by director Antoine Fuqua (Training Day). Everything else here is lame, jingoistic, obvious, and casually racist. Oh, and the plot is full of holes, too. Every story beat is shamelessly cribbed from Die Hard, and not well, but that 13-minute White House sequence is worth buying a ticket to a different movie and then sneaking into this one for. Also with Morgan Freeman, Angela Bassett, Melissa Leo, Dylan McDermott, Rick Yune, Robert Forster, Finley Jacobson, Radha Mitchell, Cole Hauser, and Ashley Judd.
Oz the Great and Powerful (PG) A good-looking mess. Sam Raimi directs this movie that stars James Franco as a circus illusionist who is transported to the magical land of Oz, where he meets three magically empowered sisters (Mila Kunis, Rachel Weisz, and Michelle Williams) and becomes the wizard. Raimi and cinematographer Peter Deming render Oz and its creatures in eye-popping color, but the movie is tone deaf, lurching from slapstick comedy to lyricism to action thriller at will. It misses badly, whether it's aiming for pathos or cuteness — the talking monkey voiced by Zach Braff is a big mistake. The only cast member who looks comfortable is Williams, finding the balance of funny and ethereal that the rest of the movie lacks. Also with Bill Cobbs, Tony Cox, Abigail Spencer, Joey King, and Bruce Campbell.
Pain & Gain (R) The best thing Michael Bay has ever done. That isn't the highest praise, but it's something. Mark Wahlberg, Anthony Mackie, and Dwayne Johnson star in this caper flick adapted from the true story of Miami bodybuilders who hatched a surprisingly successful kidnapping scheme in the 1990s. Unlike Bay's other films, this one is intentionally funny and criticizes macho excess by making its characters into fools who think bigger muscles make them better men. The movie is still too long, and Bay has neither the satirical chops nor the capacity for evoking horror that the material needs. Still, the guy who made the Transformers movies might turn into a real filmmaker yet. Also with Tony Shalhoub, Rob Corddry, Rebel Wilson, Bar Paly, Michael Rispoli, Keili Leifkovitz, Ken Jeong, and Ed Harris.
Peeples (PG-13) Craig Robinson is a funny guy who deserves better than this Meet the Parents rip-off as a vehicle. He portrays a children's musician who decides to propose to his long-time girlfriend (Kerry Washington) by dropping in unannounced at her family reunion, only to find that she hasn't told them about him. The soft-edged, big-bodied leading man generates some laughs, especially when he dances around in a 1970s headpiece while singing R&B. However, writer-director Tina Gordon Chism gives every family member a convenient secret for the guy to stumble onto, and the creaky farce drowns out everything else of interest. Also with David Alan Grier, S. Epatha Merkerson, Tyler James Williams, Kali Hawk, Malcolm Barrett, Kimrie Lewis-Davis, Ana Gasteyer, Melvin Van Peebles, and Diahann Carroll.
The Place Beyond the Pines (R) Derek Cianfrance's follow-up to his magnificent Blue Valentine is bigger, more ambitious, and worth seeing despite its mess. The film is divided into three sections, one about a motorcycle stunt rider (Ryan Gosling) who takes to robbing banks, one about a young cop (Bradley Cooper) who brings him down, and one about the cop's teenage son (Emory Cohen) and his friendship with a friendless kid (Dane DeHaan). Cianfrance does it all up as seriously as an O'Neill play, and his emphasis on fathers and sons only becomes too heavy in the third segment, which contains a plot revelation that's wholly unworthy of the rest of the movie. Still, each story is fascinating in itself, with great turns by DeHaan and Gosling and an acute look at a bully who disguises himself as a best friend. Earnest and intelligent, this is an Oscar-caliber film in the midst of spring. Also with Eva Mendes, Rose Byrne, Mahershala Ali, Ben Mendelsohn, Harris Yulin, Bruce Greenwood, and Ray Liotta.
Scary Movie 5 (R) Credit the filmmakers with this much: While their latest horror-movie spoof takes on some predictably behind-the-curve targets (Black Swan, Inception), it also sends up some more current movies like Mama and the Evil Dead remake, almost certainly by parodying those films' trailers rather than the films themselves. It's resourceful. The spoofs still aren't funny, though, and internet parodies have rendered movies such as these obsolete. Until someone comes up with actual material, they really should just stop these things. Starring Ashley Tisdale, Erica Ash, Simon Rex, Katrina Bowden, Sarah Hyland, Jerry O'Connell, Kate Walsh, Molly Shannon, Katt Williams, Terry Crews, Heather Locklear, Charlie Sheen, and Lindsay Lohan.
Temptation (PG-13) Early on, a therapist tells her patient, "I'm not judging you." No, that's Tyler Perry's job. The filmmaker's myriad issues reach pathological levels in this Fatal Attraction rip-off starring Jurnee Smollett-Bell as a young aspiring marriage counselor whose job at a matchmaking agency leads her to cheat on her solid, unexciting husband (Lance Gross) with a wealthy, charming social-networking mogul (Robbie Jones). Perry actually comes up with some perceptive stuff in the early going about how couples go stale, but then the movie degenerates into hysteria fueled by his typical need to punish professionally ambitious female characters, especially if they have sex outside marriage. This is truly reprehensible. Also with Kim Kardashian, Vanessa Williams, Renée Taylor, Ella Joyce, and Brandy Norwood.
DALLAS EXCLUSIVES:
At Any Price (R) The latest film by Ramin Bahrani (Goodbye Solo) stars Dennis Quaid and Zac Efron as a battling father and son who are forced to deal with a crisis at their expanding family farming business. Also with Kim Dickens, Clancy Brown, Chelcie Ross, Red West, and Heather Graham.
Kon-Tiki (PG-13) The Norwegian-language version of this film was nominated for the Oscar for Best Foreign Film, but we get the simultaneously filmed English-language version of Joachim Rønning and Espen Sandberg's epic about Thor Heyerdahl (Pål Sverre Hagen) and his journey across the Pacific on a wooden raft. Also with Anders Baasmo Christiansen, Tobias Santelmann, Gustaf Skarsgård, Odd Magnus Williamson, and Peter Wight.
Midnight's Children (NR) Deepa Mehta adapts Salman Rushdie's novel about two children (Satya Bhabha and Shahana Goswami) born in 1948 who grow up in a newly independent India. Also with Rajat Kapoor, Shabana Azmi, Ronit Roy, Siddharth, Seema Biswas, Shriya Saran, Kulbhushan Kharbanda, and Charles Dance.
No Place on Earth (PG-13) Janet Tobias' documentary about spelunker Chris Nicola and his discovery of a cave in the Ukraine where five Jewish families hid out for 18 months during the Holocaust.
The Reluctant Fundamentalist (R) Mira Nair (Monsoon Wedding) adapts Mohsin Hamid's novel about a Pakistani immigrant (Riz Ahmed) who goes from working as a Wall Street corporate raider to becoming an anti-American professor in his homeland. Also with Kate Hudson, Kiefer Sutherland, Liev Schreiber, Shabana Azmi, Martin Donovan, Nelsan Ellis, and Om Puri.
Renoir (R) Gilles Bourdos directs this period drama set in 1915 about a beautiful young Frenchwoman (Christa Theret) who inspires both the elderly painter Pierre-Auguste Renoir (Michel Bouquet) and his son, the future actor and filmmaker Jean Renoir (Vincent Rottiers). Also with Thomas Doret, Romane Bohringer, Carlo Brandt, and Hélène Babu.
The Sapphires (PG-13) Chris O'Dowd (Bridesmaids) stars in this musical based on a true story about an Irishman who manages an Australian Aboriginal girl group singing Motown songs for U.S. troops in Vietnam in 1968. Also with Deborah Mailman, Jessica Mauboy, Shari Sebbens, Miranda Tapsell, Eka Darville, and Tory Kittles.