Oblivion (PG-13) It leaves you cold, but, man, it looks sharp. Tom Cruise stars in this science-fiction thriller as a drone repairman in a postapocalyptic Earth who discovers that the world and his place in it are not what he's been led to believe. Director Joseph Kosinski (Tron: Legacy) adapts this from his own graphic novel, and you can see the plot twists coming, especially since they were treated better in Duncan Jones' Moon. Yet the high-tech gadgetry is seamlessly integrated with the blasted natural scenery, and the movie benefits from Andrea Riseborough's crisp, authoritative-beyond-her-years presence as the hero's co-worker. Kosinski knows how to make cool visuals. If he ever gets hold of good material, watch out. Also with Morgan Freeman, Olga Kurylenko, Nikolaj Coster-Waldau, Zoe Bell, and Melissa Leo.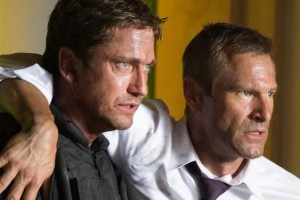 Olympus Has Fallen (R) Gerard Butler stars in this thriller as a haunted-by-failure Secret Service agent who infiltrates the White House after North Korean terrorists breach the perimeter and massacre everyone who's supposed to protect the president (Aaron Eckhart). The only thing that's done well is the staging of a large-scale, multiplatform, paramilitary assault on the White House, executed in scarily plausible detail by director Antoine Fuqua (Training Day). Everything else here is lame, jingoistic, obvious, and casually racist. Oh, and the plot is full of holes, too. Every story beat is shamelessly cribbed from Die Hard, and not well, but that 13-minute White House sequence is worth buying a ticket to a different movie and then sneaking into this one for. Also with Morgan Freeman, Angela Bassett, Melissa Leo, Dylan McDermott, Rick Yune, Robert Forster, Finley Jacobson, Radha Mitchell, Cole Hauser, and Ashley Judd.
Oz the Great and Powerful (PG) A good-looking mess. Sam Raimi directs this movie that stars James Franco as a circus illusionist who is transported to the magical land of Oz, where he meets three magically empowered sisters (Mila Kunis, Rachel Weisz, and Michelle Williams) and becomes the wizard. Raimi and cinematographer Peter Deming render Oz and its creatures in eye-popping color, but the movie is tone deaf, lurching from slapstick comedy to lyricism to action thriller at will. It misses badly, whether it's aiming for pathos or cuteness — the talking monkey voiced by Zach Braff is a big mistake. The only cast member who looks comfortable is Williams, finding the balance of funny and ethereal that the rest of the movie lacks. Also with Bill Cobbs, Tony Cox, Abigail Spencer, Joey King, and Bruce Campbell.
Pain & Gain (R) The best thing Michael Bay has ever done. That isn't the highest praise, but it's something. Mark Wahlberg, Anthony Mackie, and Dwayne Johnson star in this caper flick adapted from the true story of Miami bodybuilders who hatched a surprisingly successful kidnapping scheme in the 1990s. Unlike Bay's other films, this one is intentionally funny and criticizes macho excess by making its characters into fools who think bigger muscles make them better men. The movie is still too long, and Bay has neither the satirical chops nor the capacity for evoking horror that the material needs. Still, the guy who made the Transformers movies might turn into a real filmmaker yet. Also with Tony Shalhoub, Rob Corddry, Rebel Wilson, Bar Paly, Michael Rispoli, Keili Leifkovitz, Ken Jeong, and Ed Harris.
Peeples (PG-13) Craig Robinson is a funny guy who deserves better than this Meet the Parents rip-off as a vehicle. He portrays a children's musician who decides to propose to his long-time girlfriend (Kerry Washington) by dropping in unannounced at her family reunion, only to find that she hasn't told them about him. The soft-edged, big-bodied leading man generates some laughs, especially when he dances around in a 1970s headpiece while singing R&B. However, writer-director Tina Gordon Chism gives every family member a convenient secret for the guy to stumble onto, and the creaky farce drowns out everything else of interest. Also with David Alan Grier, S. Epatha Merkerson, Tyler James Williams, Kali Hawk, Malcolm Barrett, Kimrie Lewis-Davis, Ana Gasteyer, Melvin Van Peebles, and Diahann Carroll.
The Place Beyond the Pines (R) Derek Cianfrance's follow-up to his magnificent Blue Valentine is bigger, more ambitious, and worth seeing despite its mess. The film is divided into three sections, one about a motorcycle stunt rider (Ryan Gosling) who takes to robbing banks, one about a young cop (Bradley Cooper) who brings him down, and one about the cop's teenage son (Emory Cohen) and his friendship with a friendless kid (Dane DeHaan). Cianfrance does it all up as seriously as an O'Neill play, and his emphasis on fathers and sons only becomes too heavy in the third segment, which contains a plot revelation that's wholly unworthy of the rest of the movie. Still, each story is fascinating in itself, with great turns by DeHaan and Gosling and an acute look at a bully who disguises himself as a best friend. Earnest and intelligent, this is an Oscar-caliber film in the midst of spring. Also with Eva Mendes, Rose Byrne, Mahershala Ali, Ben Mendelsohn, Harris Yulin, Bruce Greenwood, and Ray Liotta.
Star Trek Into Darkness (PG-13) It's like The Wrath of Khan, except when it's not. J.J. Abrams' second adventure has Captain Kirk (Chris Pine) leading the crew of the Enterprise on a manhunt for a terrorist (Benedict Cumberbatch) with a mysterious history. The interplay between the crew members remains well oiled, and Cumberbatch kicks all kinds of ass as the bad guy. Abrams executes complicated action set pieces (like a scene with two spacesuited crew members shooting through space toward an enemy ship) with his customary flair, but even more impressive is how he manages to give longtime Trek fans what they want while still making his story new for a generation of newcomers. Despite some ragged plotting, this blockbuster is a worthy second episode in the series. Also with Zachary Quinto, Zoe Saldana, John Cho, Simon Pegg, Karl Urban, Anton Yelchin, Alice Eve, Bruce Greenwood, Peter Weller, and Leonard Nimoy.
DALLAS EXCLUSIVES:
Dead Man's Burden (NR) Jared Moshe's Western stars Barlow Jacobs and Clare Bowen as a brother and sister who discover each other's buried secrets as they reunite on their farm in New Mexico in 1870. Also with David Call, Joseph Lyle Taylor, Richard Riehle, and Jerry Clarke.
Erased (R) German director Philipp Stölzl (North Face, Young Goethe in Love) makes his English-language debut with this thriller about an ex-CIA agent (Aaron Eckhart) and his daughter (Liana Liberato) who are marked for death by the agency. Also with Olga Kurylenko, Garrick Hagan, Eric Godon, Yassine Fadel, and Alexander Fehling.
Frances Ha (R) Greta Gerwig stars in and co-writes this dramedy directed by Noah Baumbach as a modern dancer who tries to cope when her best friend and roommate (Mickey Sumner) announces that she's moving in with her boyfriend. Also with Adam Driver, Michael Esper, Charlotte d'Amboise, and Grace Gummer.
Love Is All You Need (R) The latest film by Susanne Bier (In a Better World, After the Wedding) stars Pierce Brosnan as a British widower who meets a cheated-on Danish wife (Trine Dyrholm) while they're attending a wedding in Italy. Also with Paprika Steen, Sebastian Jessen, Molly Blixt Egelind, Ciro Petrone, Marco D'Amore, and Line Kruse.
Renoir (R) Gilles Bourdos directs this period drama set in 1915 about a beautiful young Frenchwoman (Christa Theret) who inspires both the elderly painter Pierre-Auguste Renoir (Michel Bouquet) and his son, the future actor and filmmaker Jean Renoir (Vincent Rottiers). Also with Thomas Doret, Romane Bohringer, Carlo Brandt, and Hélène Babu.
Scatter My Ashes at Bergdorf's (PG-13) Matthew Miele's documentary traces the history of the Manhattan department store. Also with Giorgio Armani, Oscar de la Renta, Karl Lagerfeld, Diane von Fürstenburg, Isaac Mizrahi, Vera Wang, Tom Ford, Rachel Zoe, Marc Jacobs, Michael Kors, Manolo Blahnik, Christian Louboutin, Jason Wu, Candice Bergen, Joan Rivers, Nicole Richie, Ashley Olsen, and Mary-Kate Olsen.
What Maisie Knew (R) The team of Scott McGehee and David Siegel (Bee Season, The Deep End) direct this modern-day adaptation of Henry James' novel about the acrimonious breakup of a marriage, seen through the eyes of the couple's 7-year-old daughter (Onata Aprile). Also with Julianne Moore, Steve Coogan, Alexander Skarsgård, Joanna Vanderham, Sadie Rae, Amelia Campbell, and Maddie Corman.