The Internship (PG-13) Vince Vaughn and Owen Wilson re-team eight years after Wedding Crashers, and like most comebacks, this one falls short of the glory days. They play ace salesmen who are fired from their jobs and take internships at Google with a chance to land a permanent job with the tech giant. The rapport between the lead actors remains smooth, but the material just isn't there, with too many scenes devolving into so much babbling. The romance between Wilson and a poorly served Rose Byrne comes out soggy, and the older guys are portrayed as so out-of-touch that they don't understand their younger fellow interns' references to Harry Potter and the X-Men. It's time for these comic actors to start looking outside their familiar circle for new collaborators. Also with Aasif Mandvi, Max Minghella, Josh Brener, Tiya Sircar, Tobit Raphael, Jessica Szohr, Rob Riggle, Josh Gad, B.J. Novak, and an uncredited Will Ferrell.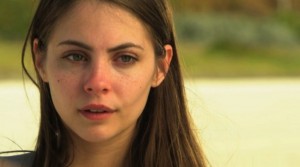 Iron Man 3 (PG-13) An excellent finish to the series. Suffering crippling anxiety attacks, Tony Stark (Robert Downey Jr.) must deal with a terrorist bomber (Ben Kingsley) who leaves him without power for his suit. New director/co-writer Shane Black likes staging low-fi action sequences that force Tony to rely on his unaided wits and limbs. The banter between Tony and Rhodey (Don Cheadle) may be a bit worn, but robbing Tony of his armor re-establishes the character's humanity in his love for his girlfriend (Gwyneth Paltrow) and his best friend (Jon Favreau). We wouldn't mind seeing this Tony every couple of summers. Also with Guy Pearce, Rebecca Hall, Stephanie Szostak, James Badge Dale, Ty Simpkins, and an uncredited Mark Ruffalo. — Steve Steward
Mud (R) Jeff Nichols (Take Shelter) juxtaposes childhood against cold, hard reality in his second film. Tye Sheridan and Jacob Lofland play 14-year-old boys who discover a mysterious drifter (Matthew McConaughey) living on an island in the Mississippi River. Nichols evokes a world filled with stunted men who refuse to adapt to change, couching this story as a drama whose slow pace suggests the river's quiet, inexorable movement. The movie shines brightest when the characters finally come to grips with the hidden truths about themselves. Also with Reese Witherspoon, Michael Shannon, Ray McKinnon, Sarah Paulson, Joe Don Baker, and Sam Shepard. — Steve Steward
Now You See Me (PG-13) A much better movie about magicians than The Incredible Burt Wonderstone. Of all directors, Louis Leterrier (The Incredible Hulk, Clash of the Titans) pulls off this neat little bit of sleight-of-hand starring Jesse Eisenberg, Isla Fisher, Dave Franco, and Woody Harrelson as four stage magicians who execute a series of Robin Hood-like robberies of scummy rich people while being chased by a hapless FBI agent (Mark Ruffalo). Not everything here hangs together, but the actors are well-cast in their roles. Both they and the filmmaker seem to be having fun, and you may very well share in that sentiment. Also with Morgan Freeman, Mélanie Laurent, Michael Kelly, Common, and Michael Caine.
The Purge (R) Ethan Hawke stars in this horror film as the head of a family who holes up in their house for safety during an annual 12-hour period when all crime is legal. Also with Lena Headey, Adelaide Kane, Max Burkholder, Dana Bunch, and Tom Yi.
Star Trek Into Darkness (PG-13) It's like The Wrath of Khan, except when it's not. J.J. Abrams' second adventure has Captain Kirk (Chris Pine) leading the crew of the Enterprise on a manhunt for a terrorist (Benedict Cumberbatch) with a mysterious history. The interplay between the crew members remains well oiled, and Cumberbatch kicks all kinds of ass as the bad guy. Abrams executes complicated action set pieces (like a scene with two spacesuited crew members shooting through space toward an enemy ship) with his customary flair, but even more impressive is how he manages to give longtime Trek fans what they want while still making his story new for a generation of newcomers. Despite some ragged plotting, this blockbuster is a worthy second episode in the series. Also with Zachary Quinto, Zoe Saldana, John Cho, Simon Pegg, Karl Urban, Anton Yelchin, Alice Eve, Bruce Greenwood, Peter Weller, and Leonard Nimoy.
DALLAS EXCLUSIVES:
Scatter My Ashes at Bergdorf's (PG-13) Matthew Miele's documentary traces the history of the Manhattan department store. Also with Giorgio Armani, Oscar de la Renta, Karl Lagerfeld, Diane von Fürstenburg, Isaac Mizrahi, Vera Wang, Tom Ford, Rachel Zoe, Marc Jacobs, Michael Kors, Manolo Blahnik, Christian Louboutin, Jason Wu, Candice Bergen, Joan Rivers, Nicole Richie, Ashley Olsen, and Mary-Kate Olsen.
Stories We Tell (PG-13) Sarah Polley's documentary about her family and the conflicting stories her mother told her about her parentage.
Tiger Eyes (PG-13) Judy Blume's beloved coming-of-age novel is adapted by her son Lawrence Blume, with Willa Holland starring as a teenage girl who moves to New Mexico with her family in the wake of her father's murder. Also with Amy Jo Johnson, Tatanka Means, Elise Eberle, Cynthia Stevenson, Lucien Dale, and Russell Means.
Violet & Daisy (NR) Saoirse Ronan and Alexis Bledel star as teenage assassins who are forced to reconsider their line of work after learning a secret about their next target (James Gandolfini). Also with Cody Horn, Tatiana Maslany, John Ventimiglia, Marianne Jean-Baptiste, and Danny Trejo.