Before Fort Worth was a city of cowboys and culture, it was a city of, well, cowboys. The people of this not-so-long-ago time are documented beautifully in The Swartz Brothers: Fort Worth's First Family of Photographers, a collection of 43 original and digitally duplicated photos by brothers John, Charles, and David Swartz.
Following a successful run at Fort Worth Library's central branch in May, the exhibit is scheduled to appear at Haltom City Library in August and TCU's Mary Couts Burnett Library later this fall. Dating from the late 19th century, the exhibit's photos are full of feisty-looking, gun-toting, outlaw types and other commoners.
The idea of collecting, digitizing, and displaying the photos started with Donna Donnell, a passionate Fort Worth historian and genealogist.
Donnell's fascination with the Swartz brothers began with eldest brother John's famous 1900 photograph of The Wild Bunch, which included Butch Cassidy, the Sundance Kid, and three other outlaws. The fates of Butch and Sundance are subject to their own long-running mystery, but what happened to John Swartz?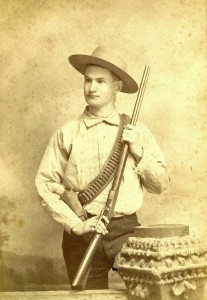 In 2009, with colleague Richard Selcer, a veteran author and professor, Donnell began intensive research into the family. The duo soon discovered that no other photographers did more to capture nascent Fort Worth life than the Swartz brothers. Donnell and Selcer immediately realized that an exhibit was in order.
The exhibit was accomplished with financial help from the Amon Carter Foundation, the city's Special Projects Fund, and private donors.
The stories these photos tell aren't just historic. They're also relatable and human.
In a photo from 1900, John perfectly captures the Humphries brothers: John, Cecil, Jess, and Olin, ages 7 to 13. Musicians, they're definitely posing, trying to look formal, but you can see the vibrant youth in their quiet faces. The Humphries brothers went on to record albums in the 1920s with famed cowboy singer and actor Roy Rogers and helped create the style of music that would eventually become Western Swing.
The revelation of the existence of a childhood photograph of these musical brothers came as a welcome surprise for Ron Humphries, a cousin of the brothers and also a historian.
Connecting families with their long-lost relatives is just one of Donnell's pleasures with the project. "To me, it is an experience, an adventure," she said. "To reunite a family and their place in history is pretty exciting for all involved."
Another famous photograph is believed by local historians to be that of Alton G. Ray, taken by David Swartz in 1895. One look says everything. Standing upright with an ammo belt across his shoulder and grasping a rifle, Ray looks like an extra in a Die Hard movie. Identifying him wasn't easy, though — most of these photographs lacked any sort of identification. Fortunately, Donnell knew someone who could help: Kevin Foster, another local historian.
"I found a photo to compare him to and positively identify him," Foster said.
Ray led a colorful life in Fort Worth. He started out with the Fort Worth Police Department earning a meager $2 per day as an "extra man," eventually working his way up to chief of detectives in 1907. Times were dangerous then, and when a disgruntled office employee pulled a gun on Ray, Ray pulled out his own and made sure to shoot first.
The youngest Swartz brother, Charles, was known around Fort Worth as "whiskers on wheels," a nickname he was proud of. The "wheels" here were of the bicycle type, and the "whiskers" were of the facial variety. Charles loved being outdoors, and most of his photos were taken outside the studio.
Charles' death was early and ignominious. He was hit by a train in 1905 while trying to retrieve his camera from train tracks in Fort Worth.
David relocated to Dallas around 1900 and was in and out of the photography business until 1918, when he relocated to Dayton, Ohio, where he soon died.
In 1920 John moved from Fort Worth to Sulphur Springs and continued running a photography studio for nine years before returning to the Swartz family farm in Shenandoah County, Va. He died in 1937 in Manassas.