Fort Worth was a pioneer in urban gas drilling, much to the dismay of residents who feared (and soon experienced) environmental and quality of life problems.
And now the movie director who introduced the scary side of fracking to a widespread audience with Gasland in 2010 is bringing Gasland II to Fort Worth for a special screening.
Director Josh Fox and other "stars" of Gasland II, including local activists Don Young, "Texas" Sharon Wilson, and former DISH mayor Calvin Tillman, will be there to meet and greet.
Gasland 2 will be shown at 7 p.m. Saturday at the newly restored Ridglea Theater, 6025 Camp Bowie Blvd.
Admission is free, although donations are welcome.
Doors open at 6. Popcorn and a full bar will be available.
Representative from local environmental organizations will be there, with some showing clean energy demonstrations and plug-in vehicles.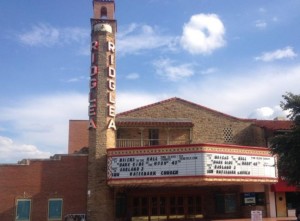 "The anti-fracking movement that is reinvigorating environmentalists worldwide has its roots in Fort Worth, Texas," Young said. "Fort Worth was the first large city in the country (maybe the world) to allow this dirty, dangerous and controversial process of extracting natural gas and oil from the Earth."
Young created FWCANDO.org as the first website devoted to urban gas drilling and fracking. The group created its own documentary Dirty Ol' Town (2006) on the negative impacts of fracking in the Fort Worth area.
The first public protest against fracking in Fort Worth occurred on Sept. 28, 2005, exactly eight years prior to this Saturday's movie screening.
"These are a few reasons why Josh Fox began filming the Academy Award-nominated documentary film Gasland in Fort Worth in 2008," Young said. "The film helped spark an international movement to ban fracking that is growing daily and inspiring people and organizations like few other environmental issues ever have. I am pleased to co-host this film for and with my fellow north Texans. Don't miss this rare opportunity to see it on the big screen in the city where it all began."