The Fifth Estate (R) Benedict Cumberbatch's performance as Julian Assange is the best thing about this film that details the rise and fall of WikiLeaks. The British actor never begs for the audience's sympathy and dives right into the character's galvanizing sense of morality and alienating ideological zeal, creating a repellent yet fascinating portrait of a man who's a hero precisely because he's a creep whose repressive childhood has taught him to assume the worst about human nature. Director Bill Condon doesn't do much other than come up with a tinny visual metaphor for WikiLeaks as an open-plan office with Julian at all the desks, but the complexity that Cumberbatch gives to this monstrous hero of our time is the actor's great achievement. And the film's. Also with Daniel Brühl, Laura Linney, Stanley Tucci, Anthony Mackie, Alicia Vikander, Moritz Bleibtreu, Carice van Houten, Alexander Siddig, Peter Capaldi, and David Thewlis.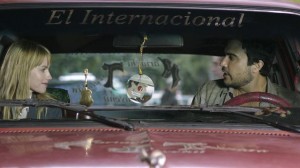 Grace Unplugged (PG) AJ Michalka stars in this sententious Christian drama as the daughter of a Christian music star (James Denton) who has to keep her eye on the path of righteousness as she tries to make her own way in the music world. This movie does show the well-intentioned dad behaving like a real jerk as he tries to keep his daughter in his own band, but nothing else in this snoozy film is remotely surprising, and the songs are an undistinguished bunch, too. Also with Kevin Pollak, Shawnee Smith, Michael Welch, Jamie Grace, and Pia Toscano.
Gravity (PG-13) The greatest 3D movie ever made. Alfonso Cuarón's unremittingly intense space thriller stars Sandra Bullock as a novice astronaut who is caught outside the shuttle in a high-velocity storm of space debris and stranded in the blackness of space. The film is essentially a series of long takes, and Cuarón's shooting of them in a simulated zero-gravity environment is an astounding technical feat. Yet the long takes also give us no chance to catch our breath; they turn this brief 90-minute film into a singularly harrowing experience, with our heroine narrowly escaping death from completely unforeseen yet logical dangers. Bullock rides over the script's infelicities and gives this film a human center, helping to turn this movie into an exhilarating and emotionally draining ride. Also with George Clooney.
I'm in Love With a Church Girl (PG) Ja Rule stars as a retired drug kingpin whose new girlfriend (Adrienne Bailon) leads him to God. Also with Michael Madsen, Stephen Baldwin, T-Bone, Galley Molina, and Vincent Pastore.
Insidious: Chapter 2 (PG-13) The second part of James Wan and Leigh Whannell's 2011 haunted house/demon possession/astral traveling hit combines so-so scares and wooden acting into a set of diminishing returns, but there's still a certain amount of fun to be had here. Patrick Wilson's trip to the netherworld of the dead gives the sequel an entertaining fantasy element that strays from the story's hair-raising ambitions and almost into family-friendly territory. Curiously, that element is }what makes the flick worth watching, besides the fact that it picks up where its predecessor left off. If you liked the first one, you might as well find out what happens next. Also with Rose Byrne, Barbara Hershey, Ty Simpkins, Leigh Whannell, Lin Shaye, and Angus Sampson. –– Steve Steward
Instructions Not Included (PG-13) Eugenio Derbez is a terrific comic actor, but his work as the director and co-writer of this soppy Spanish-language comedy yields much less happy results. He stars as an Acapulco playboy who's forced to settle down after his American hookup (Jessica Lindsey) literally abandons their baby on his doorstep. The movie comes up with some sly satire on the movie business after our hero gets a job as a Hollywood stuntman, but when the child's mother re-enters the picture and tries to claim custody of the now-7-year-old girl (Loreto Peralta), the proceedings become intolerably weepy. Derbez gives a fine performance despite his own self-inflicted script; he needs to stay in front of the camera. Also with Daniel Raymont, Alessandra Rosaldo, Sammy Pérez, Agustín Bernal, and Hugo Stiglitz.
Machete Kills (R) This sequel has a few huge laughs, but for the most part, the Latin-inflected black humor that drove the Robert Rodriguez' 2010 original is missing here. Danny Trejo reprises his role as the indestructible Mexican badass who is assigned by the president of the United States (Carlos Estevez, a.k.a. Charlie Sheen) to go south of the border to stop a mad scientist (Mel Gibson) from launching a weapon into space. Alas, the satire of the original has been replaced by sillier jokes, over-the-top action (not one but two deaths by helicopter rotor) and stunt casting that barely raises a laugh (like the master-of-disguise assassin who's played variously by Walton Goggins, Cuba Gooding Jr., Lady Gaga, and Antonio Banderas). Until Rodriguez can reapply his wit to American culture's relationship to Latinos, Machete should lay down his machete. Also with Michelle Rodriguez, Sofía Vergara, Amber Heard, Alexa Vega, Vanessa Hudgens, William Sadler, Marko Zaror, Tom Savini, Demián Bichir, and an uncredited Jessica Alba.
Prisoners (R) The pieces fit together just a little too neatly in this war-on-terror allegory that stars Hugh Jackman as a dad who reacts to the disappearance of his daughter and another girl by kidnapping and torturing the neighborhood's creepy mentally retarded guy (Paul Dano), convinced that he knows where the girls are. Director Denis Villeneuve (Incendies) is scrupulous about the ethical questions raised, and the cast is very good, including Jake Gyllenhaal as seemingly the only cop in this mid-sized Pennsylvania city. Yet there isn't enough background on the Jackman character, and Villeneuve can't quite disguise the whiff of exploitation about this project. Also with Terrence Howard, Viola Davis, Maria Bello, Melissa Leo, Dylan Minnette, Zoe Soul, Erin Gerasimovich, Kyla Drew Simmons, David Dastmalchian, Wayne Duvall, and Len Cariou.
Pulling Strings (PG) A simple but touching comedy about a Mexican mariachi (Jaime Camil) who falls in love with a workaholic American diplomat (Laura Ramsey). After she rejects his visa application, he finds her lost laptop containing sensitive diplomatic info and uses the promise of finding the "lost" computer as a way to get his visa approved. After several days searching Mexico City, (big surprise) love ensues as well as some memorable music performances by Camil and his band. Despite the use of mariachi singers and flamboyant depictions of Hispanics, this film manages to capture subtle cultural nuances of life in Mexico using humor and relatable family depictions. Brush up on your Spanglish before going — half the film is in español. Also with Omar Chaparro, Tom Arnold, Roberto Sosa, Aurora Papile, Renata Ybarra, and Stockard Channing. –– Edward Brown
Romeo and Juliet (PG-13) You need tons of courage and/or gall to add your own scenes to Shakespeare, which is what screenwriter Julian Fellowes (TV's Downton Abbey) has done in this adaptation of the classic. Unfortunately, his scenes are distracting even when they're well-written, which isn't always the case. In any event, the lack of chemistry between Douglas Booth and Hailee Steinfeld (True Grit) in the title roles is enough to doom Carlo Carlei's visually opulent but lifeless film. Neither the romance nor the swordfights engage one's interest, and the only creditable performance comes from Paul Giamatti as a hard-headed Friar Laurence. See the Baz Luhrmann or even the Franco Zeffirelli version of R&J before you see this one. Also with Ed Westwick, Christian Cooke, Kodi Smit-McPhee, Damian Lewis, Natascha McElhone, Tomas Arana, Laura Morante, Lesley Manville, and Stellan Skarsgård.
Runner Runner (R) Justin Timberlake's slick, unmemorable performance headlines this slick, unmemorable thriller about a Princeton math grad student who takes a job with a shady online poker mogul (Ben Affleck) in Costa Rica. Screenwriters Brian Koppelman and David Levien (Rounders) know their stuff when it comes to gambling, but the story is boilerplate and Affleck seems to be the only actor having any fun. Timberlake flashes his charisma in a scene at a casino table when he goads an obnoxious dice shooter into crapping out, but that's only once and only for a few minutes. Mostly, this movie's a bore. Also with Gemma Arterton, Anthony Mackie, Oliver Cooper, Michael Esper, Christian George, Yul Vazquez, Sam Palladio, Bob Gunton, and John Heard.
Rush (R) Ron Howard's blazing film dramatizes the real-life 1970s Formula One rivalry between the flamboyant, hard-living, thrill-seeking Englishman James Hunt (Chris Hemsworth) and the brusque, sour-faced, businesslike Austrian Niki Lauda (Daniel Brühl). The two actors do terrific work as enemies who gradually gain respect for each other, with Hemsworth showing the burning ambition behind Hunt's playboy façade and Brühl making Lauda's humorless arrogance into something entertaining. The movie features crackling dialogue by Peter Morgan (The Queen, Frost/Nixon) and a uniquely thrilling scene at the Italian Grand Prix when fans swarm the track to hail Lauda's courage in coming back from crippling injuries. This intelligent piece of adult fare just happens to be an exhilarating sports movie, too. Also with Olivia Wilde, Alexandra Maria Lara, Pierfrancesco Favino, David Calder, Stephen Mangan, Christian McKay, Alistair Petrie, and Natalie Dormer.
Seasons of Gray (PG-13) Andrew Cheney stars in this Christian drama as a man who must choose between revenge or forgiveness after being falsely accused of a crime. Also with Akron Watson, Megan Parker, Jonathan Brooks, Mark Walters, Spencer Harlan, Sean Brison, and Kirk Sisco.
The Snitch Cartel (R) Manolo Cardona stars in this thriller as a low-level drug dealer who rises through the ranks of the Cali drug cartel. Also with Juana Acosta, Kuno Becker, Adriana Barraza, Diego Cadavid, Saúl Lisazo, Sandra Echevarría, Tom Sizemore, and the late Pedro Armendáriz Jr.
DALLAS EXCLUSIVES:
Parkland (PG-13) Peter Landesman writes and directs this drama set at Dallas' Parkland Memorial Hospital in the immediate aftermath of president John F. Kennedy's assassination. Starring Zac Efron, Paul Giamatti, Billy Bob Thornton, Marcia Gay Harden, James Badge Dale, Tom Welling, Colin Hanks, Jackie Earle Haley, Ron Livingston, Rory Cochrane, Bitsie Tulloch, Gil Bellows, David Harbour, and Jacki Weaver.