********
Texas has a long poker history, with legends like Doyle Brunson, "Amarillo Slim" Preston, Jack Straus, Johnny Moss, Bill Smith, and Brian "Sailor" Roberts dominating the game's early days. These six men alone won nine of the first 16 WSOP Main Event titles. But that was before the game invaded the bright lights of Sin City, when the world of poker was a much different scene.
In the 1950s and '60s, players like Brunson traveled the state seeking high-stakes action in under-the-radar locales.
"Hijackings and gunplay were common, and it was not the easiest way to make a living," said Brunson, who now lives in Las Vegas. "At the time, poker did not enjoy the popularity that it does now. The game and players were seen as seedy and unscrupulous –– and definitely not part of the mainstream."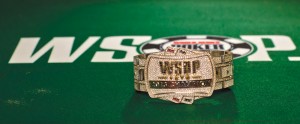 In Fort Worth, underground poker rooms and casinos thrived even through the '60s (and underground card rooms can still be found). Jacksboro Highway was a popular spot for illegal casino action and poker, as well as drinking, dancing, fighting, hell-raising — and, often enough, murder.
Brunson recalled playing in a poker game for five days straight on the Highway — the "longest poker session of my life," he said. One player seated at the table was taking pills, drinking, and smoking just to stay awake and stay in the game. Sometime during the night, while reaching to drag in a pot he'd won, the man dropped dead.
"That's when I found out how cold-blooded poker players can be," Brunson wrote in his autobiography, The Godfather of Poker. "All of us had known Virgil and played with him many times. After the paramedics took him away, the game resumed, and we played another 24 hours."
Another popular Cowtown poker spot was Exchange Avenue in the Stockyards, where Brunson said violence was a regular part of the scene in dingy back rooms thick with cigarette and cigar smoke. Crooks, pimps, drug dealers, and drunks might be at the tables regularly, but the poker legend was more interested in their money than their lifestyles. He found that world to be extremely exciting as well as lucrative.
"Over the next year on Exchange Avenue, I may never have seen the sun," Brunson wrote of one period in the mid-1950s. "I slept all day and played all night –– every night. I played almost every waking hour. My life was nothing but poker. Well, maybe girls too."
The World Series of Poker was born in 1970, when Dallas gambler and gangster Benny Binion gathered some of his old Texas pals, some of the best poker players around, at his Horseshoe Casino in Vegas for an event to draw publicity for his gambling house.
The WSOP has grown from a handful of players in the early years to thousands of players today, thanks in part to Chris Moneymaker's unlikely everyman win in 2003 (yes, that's his real name).
The Tennessee native and amateur player's effect on poker (now known as the "Moneymaker Effect") stems from the 2003 Main Event, when he won a $10,000 WSOP entry as a prize in a $39 online tournament. He went on to take the championship bracelet and $2.5 million in winnings.
Also adding to the event's visibility: the popularity of online poker and ESPN's broadcasts of the WSOP finals, allowing viewers to see "hole" cards and determine how they might play each hand.
Since the poker boom of the early 2000s, the game has undergone a massive transformation and now is seen as more legitimate. Brunson, who has won 10 WSOP bracelets, including Main Events in 1976 and '77, looks back fondly on his life growing up in Texas and playing poker there. He misses some aspects of the game's old days in his home state.
"Back then it was pretty wild. I guess I just enjoyed the excitement, and I was single and didn't have any attachments and so forth," he said recently. "You can take a boy out of Texas, but you can't take Texas out of the boy. … I love everything about Texas and the people in it."