Elected officials and high-powered business people mingled over steak, green beans, and chocolate mousse, congratulated each other on past successes, and peered ahead to the future at yesterday's 3rd Annual State of the County address featuring Tarrant County Judge Glen Whitley.
The Fort Worth Chamber of Commerce hosted the event at Cendera Center in Benbrook and filled the large meeting room.
Whitley became a county commissioner in 1997 and noted with pride  that  "the tax rate is actually lower today than it was in 1997" due to economic growth and adept fiscal management.
After Whitley promised to keep his speechifying short, a lone person could be heard applauding in the crowd.
"That was my wife," Whitley said.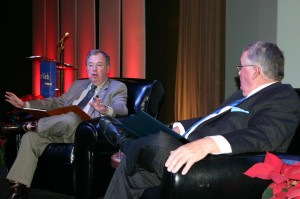 Much of his discussion centered on transportation issues, addressing the massive amount of highway construction currently underway, the need for more construction, a national trend that has seen federal assistance getting harder to come by, and the opportunities to establish more collaborative efforts among municipalities in the future.
The annual presentation of the Vandergriff Award went to Sundance Square, the downtown entertainment district that spans 35 blocks and attracts millions of visitors a year.
The award is named after the late County Judge Tom Vandergriff and honors those who have impacted Tarrant County in a positive way.
"I have to thank my brother Sid [Bass] who first conceived of the idea of Sundance Square," developer Ed Bass said.
Four crucial elements have gone into making Sundance Square a success, Bass said.
No. 1 — the power of an idea. No. 2 — partnerships with the city and county. No. 3 — a great management team. And No. 4 — support from the residents of Tarrant County all these years.
The Chamber's Business Ethics Award went to Teneo Linguistics Co. and TriQuest Technologies Inc.