Charles Morgan chose his home in Buffalo, a little town 70 miles southeast of Fort Worth, for its serene surroundings and solitude. That was 25 years ago, following first a career in the military and then in the Texas criminal justice system, both as a civil engineer. But public service was still in his blood, and the retired Air Force officer soon found himself serving on the school board, mentoring youths, and volunteering at his church. Locals describe him as a valued part of their community.
Then in 2006, the peaceful life he had built for himself and his wife abruptly ended.
Anadarko Petroleum installed a natural gas compressor station less than a mile from his home. The equipment compresses natural gas so it can be moved through pipelines. The noise began as simply a nuisance.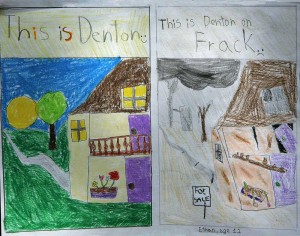 "In November I called them and said, 'Hey, you need to close the doors of your building,' " he said. "Things were fine for a while, then they put in a second, third, fourth, and eventually seventh compressor near my home."
Morgan said that 11 of the 1,340-horsepower compressors are currently running within a mile of his house without any noise-abatement equipment installed. According to Anadarko's website, the company has "more than 10,000 horsepower of compression" in the area.
As Morgan began complaining more frequently to Anadarko directors, their response was consistent and unambiguous. They refused to deal with him or his problem.
"They blocked my calls and ran the compressors louder than ever," he recalled. "I started to sleep in motels just to get peace. I was hurting something awful and shaking uncontrollably."
He rented a device to measure the sound levels in his home and found that the noise levels inside topped 123 decibels. According to the American Speech-Language-Hearing Association, a professional association of audiologists and speech therapists, that level falls in the "painful" range and is comparable to a jet taking off at close proximity. Because the frequency of the noise was largely below 500 cycles per second (the lower limit that humans can generally perceive),he did not hear the strongest part of the sound waves hitting his home — but his body registered the effects.
It took only a few days of Morgan's agony before his wife told him he needed to see a doctor. A local physician recommended he have a CAT scan.
When the results were ready, "The doc said he wanted to show me something," Morgan recalled. The doctor pointed to a small but significant black spot on his otherwise-healthy brain image. The spot was an indicator of cerebral ischemia, a chronic restriction of blood vessels in the brain. The condition leaves him with unpredictable sharp pains in his head. Morgan, who said he previously had no health issues, is now taking blood pressure medication to treat the symptoms.
His wife was diagnosed three years ago with peripheral neuropathy, a painful condition that results from nerve damage, usually the result of diabetes or infections. Morgan said her problems are also the result of living close to the gas compressors.
"Her feet get so bad she can hardly walk," he said.
The problems aren't limited to his home either. During the worst episode of his ordeal, his neighbors complained of similar problems. One father and two of his children had ruptured eardrums in 2008, Morgan recalled.
Morgan believes that the damage to his brain, his high blood pressure, and the sinking value of his property are direct results of low-frequency noise emitted from the compressor stations, and he's fighting back. Anadarko at one point even sued him for an alleged threat against a company employee –– an intimidation tactic, Morgan believes –– but eventually dropped it.
He's not the only one who's worried. A growing number of North Texas residents are reporting health problems, ranging from nausea to migraines, that they believe are directly related to noise from natural gas wells and compressors — and they're getting little help from their governments in most cases.
Even when the gas facilities are located in a city that, like Fort Worth, has a noise ordinance, the victims say the ordinances are ineffective because they depend on gas companies to monitor their own noise levels and do not allow measurements to be independently taken by residents. In Denton, a citizen group is moving to ban fracking outright — which would make it the first city in the country to ban the hydraulic fracturing process in a place that allows oil and gas production.
 ********
The World Health Organization published a report in 1999 called Guidelines for Community Noise to standardize risk assessment and management of noise dangers among participating countries. Researchers found that "acute noise exposures [can lead] to temporary changes such as increased blood pressure, increased heart rate, [artery] constriction, hypertension, and ischemic heart disease."
A 2002 National Institutes of Health article reported findings that repeated exposure to loud noises activates the release of adrenaline, which is known to constrict arteries.
The Environmental Protection Agency website provides research articles outlining the dangers of acute noise, including high blood pressure, coronary disease, migraine headaches, and low- birthweight babies.
Samuel Matteson, professor of physics at the University of North Texas and a specialist in acoustics, said low-frequency sound transmits easily through the soil and can travel great distances.
"It's very difficult to [protect] yourself from low-frequency sound," he said. "Houses aren't designed to insulate from [it], and it can easily be transmitted from the ground and up through the floors."
Sound waves originating under-ground or near the surface travel along the surface of the ground "like ripples on a pond," he said.
"I don't doubt these individuals are suffering," he said. "There is equipment that these [oil and gas] companies could use to lower the sound by many decibels and mitigate its transmission into the ground." It's a matter of resources and intent, he said.
Ernest Moore, professor at UNT's Department of Speech and Hearing Sciences, said that even though fracking is a recent phenomenon, "all these types of noise have been studied. Excessive noise at any frequency tends to result in hearing loss or annoyance.
"Now that's a key word. Annoyance is a psychological term, and people react to noise along a scale," he said. "Noise can cause a lot of psychological problems and sleeplessness. A lack of sleep can cause changes in hormones that shift workers commonly complain of." But ordinances are normally drawn to cover constant rather than intermittent noise. "That's how these companies get around the laws," he said.
Fort Worth's gas industry ordinance sets maximum noise levels for industry operations from drilling to compressor stations. Companies that do business in the city are required to file a noise- management plan, and low-frequency noise is covered.
City spokesperson Bill Begley said Fort Worth employees  measure noise levels at gas industry sites annually. In between those inspections, he said, complaints are addressed within 72 hours.
By and large, however, the companies are left to do their own monitoring and reporting of noise levels. It's a "fox guarding the henhouse" situation, said Gary Hogan, president of the North Central Texas Communities Alliance, which works for solutions to problems associated with gas drilling and pipelines.
Shelly Eshbaugh-Soha, who has battled noise problems from drilling in her neighborhood in southern Denton, said the deck is stacked in the industry's favor.
"There's no help for the citizen," she said. "It's all an industry-led thing, and nobody wants to take up the torch and fix this. You shouldn't be able to ruin people's lives with noise. The law is supposed to protect ordinary citizens from needless harm. It's written right there in the city code, but no authority is willing to stand up to industry giants to defend our quality of life. So where does that leave us?"
 ********