The temperature was already in the triple digits that July morning in 2000 when the bikers, decked out in their scariest chains, bandanas, vests, and shades (and clean Levis) rolled out of various suburban garages, 24-hour diners, and cheap motels from Fort Worth to Lewisville. Beards and long hair flapping, they converged on the Denton County courthouse.
The menace seemed to be on the loose again, or at least the Hollywood stereotype of menace: a biker gang, the sons of anarchy, once worth inch-high headlines, thundering down North Texas roads into this sleepy city, riding low in their saddles. Cars swerved out of their way; pedestrians avoided looking at them and their iron horses. Vest patches showing a clenched fist identified the club, but few weekday denizens of downtown knew the riders' names: BACA Mom, Gator, Viper, Striper, Sheriff, Skeeball, Danno, and others.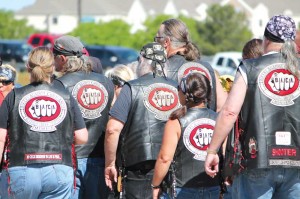 Some of them looked more like the computer technicians, salesmen, and homemakers they are, rather than the outlaw bikers from Easy Rider, the image they were hoping to project. Harleys flashing chrome as they roared down McKinney Street, the group turned into the courthouse parking lot and circled the perimeter, as though looking for signs of danger, before parking to wait for their charge to arrive.
They motioned for "Angel" and her family to park next to the bikes, and they escorted her and her family into the courthouse. Angel was determined, and Danno was excited for her. "We were ready to face the dirt bag," he said.
Police officers watched closely as the bikers walked through the metal detectors. No doubt some of them looked as if they'd been through the court system many times before. But these tough-looking bikers' visits to the courthouse had been with their young charges, and they chatted easily with the guards, victims' advocates, and prosecutors.
The judge allowed the bikers to wear their "colors" — leather vests with the patches identifying their club — into the courtroom. Filling the first two rows, some of them glared at the accused, David Wilson Heinze Sr., who would not meet their gaze. He was charged with child molestation — in the bikers' book, the most heinous of crimes.
The bikers watched silently as their young family member took the stand to face her grandfather and describe how he had sexually molested her for two years. She'd been "adopted" by the club just a year earlier but had quickly won their hearts. Only 10, she wore her colors with pride. The leather vest acted as a shield for her, she said, as if her new family had infused it with some of their strength.
She needed this extra strength because her parents weren't allowed in the courtroom. The defense attorney had listed them as witnesses, which meant they couldn't be present as their daughter testified.
Unlike the family, the bikers had no firsthand knowledge of the specifics of Angel's abuse and therefore no testimony to give. They didn't want to know. Their only concern was to help their newest member find the strength to get up on that stand and tell the court what had happened.
"Who are all these people?" asked the defense attorney, motioning toward the bikers sitting in the courtroom.
"That's BACA," Angel said.
"What is BACA?"
"Bikers Against Child Abuse," she answered.
"Is that bicycles?"
"No, you dummy, it's motorcycles."
"Why are they here?" he asked.
"Well, they're supporting me."
The defense attorney looked at the bikers, shrugged his shoulders, and continued with his examination. When he finished, the prosecutor motioned for the bikers to stand. They introduced themselves to the judge, the jury, and the audience.
"What is it that you do?" asked the prosecutor.
Danno, president of the newly formed BACA chapter in North Texas, answered. He'd removed his shades and pulled his long, dark hair into a ponytail, but he couldn't hide the biker stereotype because it was more than just a look — it was an attitude developed by spending much of his life on a bike.
"We empower abused children not to be afraid of the world in which they live," he said.
********
Bikers Against Child Abuse is a nonprofit organization that works in conjunction with local law enforcement, advocacy centers, and counseling centers to protect children. Though their biker nicknames emphasize their badass personae, every member of the group has undergone extensive background checks. After their regular jobs, they volunteer anywhere from five to 20 hours weekly with BACA.
"We're an adjunct service to the existing agency to help abused kids. We fill in the gaps that the other agencies are unable to," said Breeze, court liaison for the Dallas chapter. "Those agencies are incredible. But there are not enough CPS caseworkers in this world to answer phones at 3 o'clock in the morning."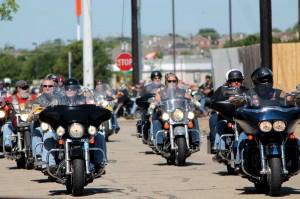 In addition to the background check, members must be fingerprinted before they can even ride with the club. They spend at least a year as probationary "prospects" before being inducted and allowed to wear the club patch. After that, they volunteer day or night as needed. They're not reimbursed for gas or time off from work.
"For most of us this is a lifestyle, not just a mission," said Elmo, who's been a member since 2007.
BACA's mission is simple: to create a safer environment for abused children.
"We work directly with the children on the street," Danno said, "and that's something that the advocacy centers can't do, something the police don't do, something counselors don't do."
The first organization to work with BACA in North Texas was the Children's Advocacy Center for Denton County. Head therapist Rose Boehm had seen what the group had to offer, Danno said. She convinced her board of directors to allow the bikers to visit the center.
When BACA showed up, members parked and let the children sit on their motorcycles while parents and guardians took pictures. They didn't push the organization on anyone, and they allowed children to decide if they wanted to become a patched member of the club.
Dan Leal, executive director of the Denton center, is an advocate for the use of organizations like BACA. "They serve as an extra support system, not only for the child but also the family during a very difficult process," he said. "I consider them a wonderful complement to the services we provide at the center. It really takes a whole team to help that child and that family."
If a child decides to be adopted as a BACA member, he or she chooses a road name and is assigned to two BACA members as primary contacts. If the child has a bad dream or is just feeling afraid, he or she can call the primary for moral support.
"It's part of our job to figure out which member will work with the kid," explained Breeze. "We initially talk to the kid and find the personality that suits him. It's someone who becomes like a big brother or sister but more than just that — a protector."
BACA stays in contact with the children until their help is no longer needed. Members take the children and their families for ice cream socials, spring picnics, a fall festival, and a summer camp. They also take the kids on a "child ride." An adoptee picks which motorcycle he or she wants to ride, and other members form a shield around that motorcycle by taking up both lanes of the road as they cruise through the neighborhood. "It's like a caterpillar track," said Oddball, president of the Dallas chapter.
The group offers three levels of response for helping children. Level 1 is the adoption, which includes going into court if and when a child testifies.
Level 2 kicks in on the rare occasion that there is a physical threat to the child — for instance, if a suspected predator is being sought by police. BACA members will line their bikes up in front of the child's house and camp out until the perpetrator is caught.
Level 3 involves raising community awareness. Members hand out fliers with information about BACA and child-abuse statistics. They don't identify a particular perpetrator but will let community members know that there is a potential threat in their neighborhood.
At Level 4, the last step, BACA members will approach a perpetrator and say, "Hey, this is who we are," Breeze explained. But the group has rarely had to initiate a Level 4 warning.
"Our focus is on the child," said Oddball. "We are not vigilantes."
 ********