Endless cups of strong java and comfort food at affordable prices have made diners popular for decades. Joe's Coffee Shop offers that experience and more, including all-you-can-eat catfish and a hamburger as big as your head.
In true diner fashion, Joe's has rows of booths and about a dozen tables. The walls are sparsely decorated with patriotic memorabilia. After taking our seat, my guest and I were approached by a boy who couldn't have been older than 7 who asked us what we wanted to drink. Amused, we told him, and by the time he returned with our sodas and water, our adult waitress had arrived to take the rest of our order.
Joe's breakfast menu is vast, but looking at the bustling lunchtime crowd, we figured there's a lot more to this place than bacon and eggs. We thought we'd start with something light, the stuffed tomato. Two large carved halves arrived, each bearing a heaping scoop of chicken salad: a hearty, zesty concoction involving tangy mayonnaise, chopped celery, and strings of cheddar cheese. The dish definitely wasn't light, but it was scrumptious. The only setback was that the tomato was a little tough.
With 20 sandwiches to choose from, it took us a few minutes to decide. We eventually went with the fried ham sandwich and a tuna melt. Accompanied by store-bought potato chips, the ham goodie (sliced pork, mayonnaise, tomato, and lettuce on two slices of buttered white bread) was magical. All of the flavors that characterize ham (sweet honey, saltiness) were condensed into a paradise of golden goodness.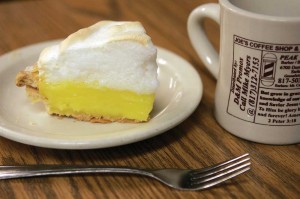 Served on buttery, pungent toasted rye, the tuna melt turned out to be one serious sandwich. Between the thick bread slices was a pound of soft, salty tuna chunks mashed with diced eggs, shredded cheddar cheese, and, yes, gobs of mayonnaise. Fortunately, the sammy came with something other than chips. The coleslaw turned out to be a fresh mix of chopped cabbage and carrots, coated with a light vinaigrette dressing.
Our next entrée, the Joe's Special, was a monster double cheeseburger. All the typical parts were there (toasted bun, lettuce, sliced tomatoes), but the magic was in the middle. Generous portions of grilled onions, mounds of melted American cheese, and two perfectly grilled and juicy quarter-pound patties hit all the right notes. Sadly, the accompanying crinkle-cut fries were underseasoned and begged to be drowned in ketchup.
For dessert we ignored the dozen freshly baked pies and opted for the cherry cheesecake. Light, fluffy, and creamy with a flaky crust, the slice was covered with soft, tart cherries in syrup and whipped cream. We were pretty full by the time the delicacy appeared, but somehow we found room to devour it entirely.
Joe's was bustling from the moment we entered until we left, but we never felt forgotten by our waitstaffers, who managed to keep the coffee coming strong and hot the whole time.
[box_info]
Joe's Coffee Shop
5912 Denton Hwy, Watauga. 817-788-9583. 7am-3pm Sun, 5:30am-3pm Mon-Thu, 5:30am-9pm Fri, 5:30am-3pm Sat. All major credit cards accepted.
Tomato stuffed w/chicken salad ….. $7.95
Tuna melt ………………………………….. $6.25
Fried ham sandwich …………………… $5.25
Joe's Special ……………………………… $6.95
Cherry cheesecake ……………………. $3.25
Coffee ………………………………………. $1.75
[/box_info]