Although there is a plethora of Japanese restaurants in Tarrant County, there aren't a lot of Korean eateries. Enter: Ume Sushi and Korean BBQ. While political relations between Korea and Japan have historically been testy, the cuisines of the two nations share common roots. Ume brings the best of both culinary traditions to a small strip mall in Cityview.
Before the meal, my guest and I experienced an unadvertised gastronomical amuse-bouche (French for "I didn't order this, but, dang, it's tasty"). The single cube of watermelon served in a ponzu-and-Prosecco sauce and kissed by a mint leaf was more of a palate cleanser than a starter, but the melding of the sweet melon and citrusy ponzu was delightful.
Our official starter was shrimp tempura: fluffy, crunchy batter and perfectly cooked shrimp and assorted veggies, augmented by a sprinkling of tasty curry salt on the plate.
Another appetizer, crispy Brussels sprouts, ended up being genuinely inventive and delicious. The veggies had been halved and pan-fried in a molasses-sweet, slightly spicy soy glaze. The frying caramelized the sprouts wonderfully.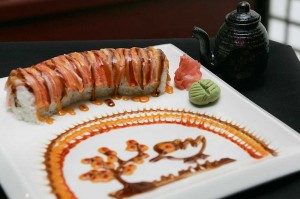 Our last app, the spicy tuna salsa, was also a creative mash-up, this time of Tex-Mex and Japanese. The fiery tuna matched well with the creamy coolness of avocado.
The Korean seafood pancake bears more resemblance to the soft Chinese pancake than to the crispy Vietnamese one — fair warning, so you won't be disappointed. The pancake had a nice amount of shrimp, crunchy veggies, and green onion. It was also glutinously gooey.
The Ume Tower was a scrumptious stack of spicy tuna, faux-crab mix, avocado, sushi rice, and sesame oil. Towers live or die by the freshness of the sashimi on top, and at Ume, the tuna did not disappoint. Unlike with some other towers, the krab and wasabi mayo mix also did not dominate.
From the Korean side of the menu, the calamari bulgogi (grilled, marinated beef) was a surprisingly mouthwatering blend of zesty red meat and delicately fried squid. This spring, Texas Rangers outfielder Shin-Soo Choo was hawking the beloved Korean dish in The New York Times. I'll go out on a limb and predict that Ume's version would be Shin-Soo-approved. The entrée was served with assorted veggies, including pickled daikon radish and kimchi. Although there are multiple recipes for kimchi, the fermented cabbage delicacy is something that people either like or don't. Ume's was beautifully spiced and didn't taste as sour as some other versions.
The bulgogi sushi roll –– meat wrapped in sushi rice, topped by what the menu identified as pepper jack cheese –– sounded whimsical and weirdly appealing. Although the beef-and-cheese combo was ultimately not unpleasant, the roll sounded better on paper than it tasted.
For dessert, Ume offers a green tea crème brûlée and a flourless chocolate cake called the Mt. Fuji. The crème brûlée had a perfectly caramelized crust, but, thanks to the tea, the custard was an unfortunate greenish-brown color. It tasted fine but not as good as the dense, almost bittersweet cake, whose name likely comes from the mountain of sweet, tart mascarpone cheese on top.
Ume also gets points for excellent service and attention to presentation. Each plate looked flawless and featured some kind of design painted in flavorful sauces or condiments. The best view of the garnish is from above, not eye level. Instagram away, readers.
[box_info]
Ume Sushi & Korean BBQ
4750 Bryant Irvin Rd, Ste 842, FW. 817-370-0685. 11:30am-2:30pm, 5-9pm Mon-Thu, 11:30am-2:30pm, 5-10:30pm Fri-Sat. All major credit cards accepted.
Shrimp tempura ……… $6.95
Ume Tower …………… 16.95
Calamari bulgogi …… $13.95
Mt. Fuji ………………….. $5.95
[/box_info]