As Ruth Brasier looked out across the large meeting room, she saw something she hadn't seen in years: a standing-room-only crowd. As the recruiter for Catholic Charities' international foster program, Brasier normally has her work cut out for her in getting the public's attention. But at the July 10 session in South Fort Worth, staff members rushed to set up microphones so that the crowd of 100-plus people could hear and be heard.
"Our mission is to partner with families like you to provide safe, culturally sensitive environments for these children," she said. "Many of these children are fleeing gang violence, abuse, and human trafficking."
Over the next hour, she gave the crowd a sobering description of the work that goes into fostering a refugee child. The approval process, which requires 39 hours of training and numerous background checks, can take months to complete, she said.
Leah Wilson, Catholic Charities' director of services for unaccompanied children, said the current crisis involving children coming over the U.S.-Mexico border has ignited public interest in her organization's foster-care programs. Many of those children have relatives in the United States, but many other don't, and those children will need foster care. She's hoping that news-media coverage will make people more aware of the broader problem of the children and perhaps attract more families to help. The ranks of such families are chronically low, compared to the need, she said.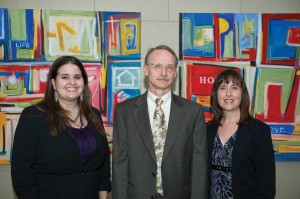 Mike Auman, resettlement director for Catholic Charities in Fort Worth, said Texas leads the nation in helping deal with international refugees. Roughly one in seven refugees in the U.S. settled in Texas last year, and North Texas is second only to Houston as a resettlement area, in part because of the proximity to Dallas/Fort Worth International Airport.
Nationally, Catholic Charities USA resettles more refugees in the U.S. than any nonprofit group. In Fort Worth alone, the nonprofit helps resettle an average of 550 refugees per year, including about 250 children.
"The kids we foster are in extreme circumstances," Wilson said. "In Hon-duras and El Salvador, the gangs rule. If we don't have foster families who are [available], then we can't help these kids. The need has been there for a long time."
She said the number of children arriving from Central America has risen over the past several years, to the point that they now make up about 40 percent of all refugee children coming here. But she dislikes making distinctions based on where the kids are from.
"There is a need to care for all these children," she said. "The reasons [they flee] are very similar, because you also have gang-type violence in Africa. I think the fact that they declared the recent border crossings a humanitarian crisis is making people more aware. We've had an outpouring of interest in the foster program. These kids enrich our community. They aren't a burden."
Near the end of the meeting, audience members began asking the questions that clearly had been on many people's minds, like where the children would be coming from. Several of the prospective foster parents said the influx of children from Central America was what drew them to the Catholic Charities of Fort Worth headquarters that evening.
The number of unaccompanied children crossing the U.S. border has increased tremendously in the past two years from about 7,500 in 2011 to 13,625 in 2012 and 24,668 in 2013.
Brasier explained that each family who fosters a child — regardless of where that child is from — frees up another family to provide a home for a child from Central America. She encouraged parents not to worry about which country their foster child might come from.
The large crowd quickly scooped up all the application packets Brasier had set out, and she handed her business cards to dozens more interested families.
When Ed and Suzette Spears, residents of nearby Ryan Street, heard the stories about the tens of thousands of children flooding into Texas, they decided to get involved.
"A kid's a kid," Ed said just after the public meeting. He and his wife are now open to fostering a child from anywhere in the world, he said.
"It doesn't matter if they came across the border or what they're fleeing from," he said. "It's still a kid, and they're still running."
********