The so-called 12th Man in Seattle (the 90,000 fans who pack CenturyLink Stadium and believe they can alter games by their rowdy presence) found an ally in the 13th Man — the Dallas Cowboys special teams.
The units fumbled a punt, and had another punt blocked and returned for a Seattle touchdown. Both turnovers threatened to kill the momentum that the Cowboys offense and defense were building. Luckily, Seattle isn't the only one with a 12th Man. We've got our own — first-year defensive coordinator Rod Marinelli.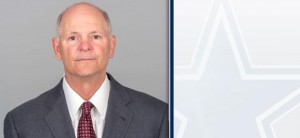 He took over the worst defense in the NFL from Monte Kiffin and has them playing like warriors, even though the defense lost its top two players (middle linebacker Sean Lee and defensive end DeMarcus Ware) before the season began.
The guy that left the Cowboys defense in such a shambles to begin with is former coordinator Rob Ryan, who was last seen starring as the Dude in the Broadway version of The Big Lebowski. Now he's defensive coach with the New Orleans Saints. Their defense sucks.
Comparing Marinelli's photo with Ryan's (see below) makes it clear that Ryan's hair was holding back the Cowboys defense. Then again, Marinelli could never play the Dude on Broadway (although he'd make a convincing Donny's corpse).
Not sure who will portray Marinelli in the stage version of the Dallas Cowboys Kick Ass All The Way To The Super Bowl! Maybe Bruce Willis? Don't know, but Off Asides suggests Jim Carrey and Jeff Daniels as Jerry and Stephen Jones.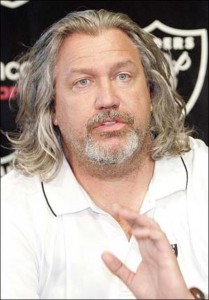 OK, that was mean. The backwoods Joneses from the Arkansas sticks sometimes come across as dumb and dumber, but they've been doing a great job lately. They got rid of Ryan when they needed to in 2012, nabbed Marinelli as defensive line coach, and then promoted him to coordinator earlier this year.  That looks pretty smart now.
Jerry is an easy target. Sportswriters and fans have been demanding that he fire himself as general manager. But the team is his little toy and if he wants to slobber all over it and bang it against the table leg, that's his business.
Truth is, he's on a roll.
His drafts are getting better (picked Dez Bryant, DeMarco Murray, and Terrance Williams in recent years, all of whom played a big part in yesterday's win).
His decisions are growing sounder (rebuilt the offensive line by spending three of the last four first round picks up front, making it possible for Murray to be the league's best running back).
And Jones has resurrected talent from the trash heap, such as Rolando McClain, whose interception in the fourth quarter sealed a 30-23 victory over the defending Super Bowl champs.
So instead of Carrey and Daniels, maybe the more sophisticated Matt Damon and Ben Affleck should play the Joneses.
Of course, the big question is who will portray former first round draft pick Bobby Carpenter?
How about Hayden Panettiere?