Nancy Lamb is a Fort Worth icon. If Facebook is a trustworthy barometer, she is perilously close to her limit of 5,000 friends –– she's at 4,990 as of this writing –– so don't try to friend her. Instead, like her page, Nancy Lamb Artist, where you will be one of 25,557 people from around the globe who follow her. With numbers like that, Lamb has a wider social media reach than any other art space, museum, or performance venue in Fort Worth not named Billy Bob's Texas. (After all, it is the world's largest honkytonk.)
Her popularity online is rivaled only by her popularity in Fort Worth. She exudes love of and acceptance for everyone she meets, and that is evident if you see her at lunch or at one of the parties or annual galas that she attends to collect imagery for her Social Spaces series of paintings. Her high level of interpersonal engagement is evidenced through her art. Her energetic presence and unique perspective of the world are ever-present in the daily lives of collectors. She also is an avid collector of other North Texas artists' work.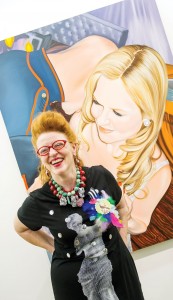 Hanging now through Saturday, May 9, at Artspace 111 is the largest celebration of all things Nancy. In The Gang's All Here, candid photographs are paired with selections of paintings whose imagery has been culled from her huge archive of film and digital photography. The massive exhibit is a fitting mid-career retrospective of sorts for this Arlington Heights High and TCU alum who has exhibited all over the country. And who, by all appearances, is at the top of her game.
I am meeting with her in the garden at Artspace 111, the day after her solo show opened, to talk about art and painting, her friendships, an artist's life in Fort Worth, and her advice to young artists.
DN: How was your opening last night?
NL: I think it was pretty successful. I know that I didn't get to see a lot of people because this is a big place. My family was here, and I got a lot of great compliments. People brought me presents!
DN: Because people love you.
NL: I love people!
DN: Were there any surprising moments of people recognizing themselves in your photographs?
NL: Well, no, because I put that out ahead of time on Facebook and said, "I can't promise anything, but you may or may not be on the walls. Just come take a look." I wanted everyone to see it, everyone I know. A lot of young artists came, people who said they had followed my work for years.