My name is Keegan McInroe, and I am a singer-songwriter from Lubbock who's been living in Fort Worth off and on since 2001 when I began my four years of study at Texas Christian University. Over the course of my ten-plus years writing, performing, and recording original music, I've played hundreds of shows and traveled thousands of miles throughout the United States and Europe. My latest tour is a four-month trek and ramble north, east, south, and west around the Old World. Whether you're a fellow musician, a fellow traveler, or simply a reader who loves a good tale from the road, Texas Troubadour Abroad –– my bi-weekly travelogue published here on the Weekly's website –– will have something for you.
"Man is condemned to be free; because once thrown into the world, he is responsible for everything he does." — Jean-Paul Sartre
The open air. Top deck of a ferry bound for Italy. I'm sitting over a drink at the poolside bar. A chill breeze has me slightly bundled. A little over three-quarters of the moon hangs in an otherwise black sky, yellowed and hazy. There's no water in the pool, but the bar is well stocked. We've just pushed out from Barcelona. It's Saturday, near midnight, and though Barca is no town to leave on a Saturday, it seems at least some of that frantic, wild energy from the city has made its way aboard this vessel.
I chose this perch so as not to miss anything. Not the moon, not the sea. Not the smorgasbord of languages being clucked around me. Not the crowd of young twenty-something-year-old women gathered with their twenty-something-year-old male companions. Maybe they're younger. Maybe they're students. It's hard to tell, but most of the ladies look properly grown and fully developed.
I just ordered my rum con heilo next to a man with the tattoos wearing a vest with an insignia informing me of his membership in the Hell's Angels. He is with three companions. All four men well over twenty-something. All properly grown and fully developed. And Canadian.
The smell of burning hashish wafts by and lifts my curious eyes — there is a friend here somewhere I need to make.
The only thing it seems I might miss is a good, old-fashion drunk. A lack of foresight and information means I didn't bring my own booze to the party. I figured there would be a shop on board to buy liquor, but I figured wrong. At four euro a meager pour of rum, I'm in the unfortunate position of either spending myself into poverty chasing intoxication and whatever else I might hunt in such a state, or giving my liver a little break and saving some cash.
The young ones have already started dancing and whooping it up, wiggling their hips right downstairs, it seems. Where are they going? More distractions walk by smoking, laughing. I've sucked down my first and ordered a second.
The high tolerance can be a beast. Yesterday at my gig in the little northern Basque Country town of Éibar at a shotgun music pub called Ez Dok, I arrived to discover that my previous bout of drinking there back in February had apparently become something of debated mini-legend:
"The last time you were here you drank — how many bourbons? — 16 or 17, at least!"
"No, it was 14. I counted. He drank 14. Plus shots. And smoke."
"I really don't know how much I drank. I don't count. But I do remember it fondly."
"Well, my friend here has an incredible memory, despite his own drinking. He says you drank 16 bourbons. And cervezas. And shots. And smoke."
"Hmm. It's possible."
"It's a record for this bar. Those weren't even regular drinks. They were full glasses! Where did you sleep that night?"
"In Goiatz' car."
And that, at least, is fact. Goiatz Dutto, a Basko rascal fiddler from folk-punkgrass trio Moonshine Wagon, and I had drove with his girlfriend from Vitoria that last visit, played our show, partied with our new friends, and slept in his little car after however many bourbons and other intoxicants it was.
For better or worse, I didn't do anything to lessen my reputation last night. Arriving around 7 p.m., I began drinking Punk I.P.A.s, shared a Spanish beer with a habanero chile in it, and then moved onto the harder stuff. Started the set around midnight, and with the exception of a 15-minute break, played until four in the morning. The party stumbled along in the pub to 7 a.m. when, sleepless, I caught the first of three buses that would eventually bring me to Barcelona about 12 hours later.
On the last leg of the journey, a four or five-year-old little darling with mocha skin and four pigtails shooting off her head in various directions in the seat in front of me would turn, face me, and unknowingly play wingman through exchanged funny faces, staring contests, and fist bump games, finally opening up natural dialogue between myself and the unknown beauty sitting beside me. An architect student living in Barcelona with hair shorn close to the skull with a little party in the back, sharp features, and sparkling, dancing eyes once engaged. This lovely would point me in the direction of my port upon arrival at Barcelona Nord after a welcome swapping of information.
Anyhow, I mention the above bit about drinking, not out of pride or boasting, but because it has become a fairly common experience along the road. I mostly enjoy meeting these expectations, which is how the expectations began building, I suppose. I'm quite happy and natural throwing back drink after drink and socializing and getting a little rowdy with new and old friends. It's one of my favorite pastimes.
Thankfully, I have not yet developed a chemical dependency.
But, I can see the possibility of becoming a sideshow one day, if I haven't already in some instances.
I know I've turned off at least one woman whom mattered. Apparently I am a deep blue light when sober, a red light with a multitude of colors shooting off from me when drunk. It rings of truth, though I am not sure what the problem is. The latter sounds pretty exciting — beautiful, even.
Which strangely reminds me: what the hell am I missing downstairs? All of a sudden, this chilly upper deck has become a ghost town. Where's my Barcelona frenzy? There is a party somewhere on this boat. I might as well turn on the red light and go find it.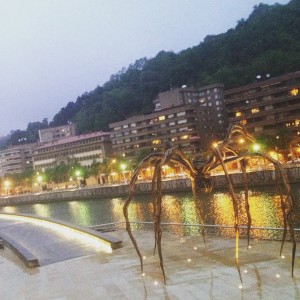 You can't get blood from a turnip, as they say, and I'm inclined to believe they're correct. This boat isn't as full of magic as I'd originally hoped. I just spent a few hours in the so-called disco, the only place still slinging drinks. They're slinging them even now as I write, and there are some funny young kids with Latin blood vibrating about a small dance floor with shirts tied below breasts, flat bellies exposed, sweat accentuating that nice bit of flesh between the shoulder blades.
But it was a rather small party. I eventually lost interest in the goings-on there, and retired from my bar stool to my room. I did meet the disco DJ. He's been six months on this ferry. Six long months. Tomorrow is his last day, and he wants to play the blues with me. We're to meet around 3 p.m. tomorrow with guitars at one of the bars on board.
So, a kind of compromise of choices leading to a new musical friend, a clear-ish head, and only a little less money. And I'll get to sleep in, which I should take advantage of when able.
Back in England, about 10 days ago, I slept in when I shouldn't have and missed my bus from Swindon to London. I bought a ticket for the next bus, and then missed that one sitting at the wrong bus stop. That makes four bus tickets I've paid for and not used. I'm going for multiple sorts of records on this adventure.
I eventually got to London via train and caught my flight to Bilbao –– one of my favorite cities because of the friends I've made there. Since I first came to the city in February 2014, I've made it a staple of each European tour.
I took the airport bus into town, which conveniently has a stop right around the corner from my home bar, The Coppola. I ran into a couple of friends there by accident, one of whom plays guitar and sings in a fabulous rock and roll band called Los Brazos — named after the river in Texas — and a couple of friends who met me through planning, as I was to stay with them.
The following day I helped churn up some dirt with said friend who is planting a garden behind an occupied building in the city. The dirt came complete with broken glass and bits of plastic, but seemed otherwise rich. It had served as a garden before.
The notion of an "occupied" building may be foreign to most American readers, but it is something that exists in many places around many European cities. The idea is that a building goes unused, people move in, and stay long enough to where they are legally protected, though the strength of this protection varies by location: squatter's rights.
After my brief gardening work, I played a show in the picturesque coastal town of Getxo, just north of Bilbao about 10 kilometers, at a bar called Matxitxako. The following night I played my beloved Coppola with my singer-songwriter friend Lorelei Green which has become a bit of a tradition for my shows there. And Sunday night I returned to the Matxitxako for their jam night.
It happened to be Bob Dylan's birthday, so when I joined the band onstage we did covers of "Don't Think Twice, It's Alright" and "Maggie's Farm," as well as The Rolling Stones' "Dead Flowers" and Creedence Clearwater Revival's "Green River."
I had the following two days off to kick around town with my adopted Irish mother, a Bilbao-transplant who I stay with from time to time in the city. She is a wonderful cook and makes sure I stay well fed.
By Wednesday I was itching to play again, this time in a tiny oyster bar called El Puertito. The bar was small enough to perform unplugged, so I hollered and banged through a couple of hours between glasses of white wine and a dozen or so French oysters.
I played the old Irish song "Fields of Athenry" for several of the Irish folks in attendance, which naturally became a sing-a-long, and David Alan Coe's "Tennessee Whiskey" for a random, fellow Texan business man who happened to stumble in that night. A highly intoxicated, but quite talented, gyrating, dancing man inspired me to play Warren Zevon's "Werewolves of London" with his moves and wild facial expressions.
A few friends I'd made in Venice on my last tour, very nice American girls who just finished studying in Madrid came to the gig, and we all made the move after the show to Coppola, which was in the midst of a hard-partying celebration of two year's in business. In addition to being a great bar and occasional music venue, it is primarily an Italian food restaurant. A quite good one. The pizza there is killer, and they make a pear gnocchi with a gorgonzola sauce that is a must-try. And they pour a strong drink.
Karaoke was the culmination of the night's fiesta in a late-night basement bar, though I must say things were getting pretty fuzzy around the edges — and in the middle — by that time. We took a cab home in the wee hours, made and devoured sandwiches, and enjoyed a hard, lovely slumber.
I woke to a beautiful morning, in a most beautiful way, showered, and met up with the fellas from Two Baskos, Edu and Txuma, a couple of highly talented and creative Baskos who film various musicians, local and otherwise, performing in various locations around town. Last summer we filmed videos for my songs "Lay Down" and "Coffee and Whitey."
This time we made a small hike up a hill in the part of Bilbao known as Deusto, to a little area overlooking the city. They set up their gear, I played a relatively new song for the cameras, and we hiked back down to enjoy a beer together before parting ways.
I met back up with the American girls up from Madrid, and through a hook up from a friend of mine in town, we got into the Guggenheim with free tickets. We arrived a bit late, so I wasn't able to take in as much as I'd have liked, but I did rather enjoy the top floor, which was hosting an exhibition of Niki de Saint Phalle's work.
The rest of the evening was spent kicking around and laughing with the girls, eventually making our way to yet another American friend of mine's place, who is looking after and staying in a hostel during it's off season. It's currently a temporary flat for various interesting characters, myself being one of them that evening.
The next day, my host prepared an amazing lunch. I parted ways with all my friends and made my way to Éibar, where I learned of my fine reputation.
I am entirely uncertain what the next two days hold. The boat is set to arrive in Italy tomorrow around 6:30 p.m., but I am not sure if I'll go into Rome or make my way somewhere new and do some exploring. I have two days off before my next gig in Pesaro.
Not too far to travel and plenty of time to get there.
And now sleep, as George Jones lullabies me: "I've had choices, since the day that I was born…."
Keegan McInroe
May 31, 2015
Somewhere in the Mediterranean Sea