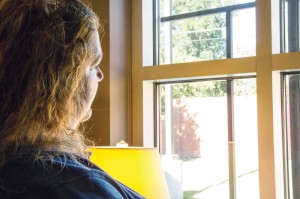 Though their stories are different, Anderson, Turner, Sullivan, and Lewis are linked together by their shared value of education. After choosing to overcome great hardship, they are now continuing to reshape their lives by pursuing their degrees, whether it's for their own security or the wellbeing of their children.
There are several ways the public can help. The Women's Center relies heavily on public assistance, such as volunteerism and donations of clothing. And teddy bears.
One of the greatest challenges facing shelters and support centers is funding. Though the Women's Center provides support for victims, Meir said, most of it is free.
"Cost should never be a barrier to a survivor," Meier said.
Donating is not the only way to make a difference. Friends and family members of victims can help by simply being supportive. Listening to others and acknowledging the bravery required to talk about their struggles can be invaluable.
"Always be willing to listen," Caddy said, "because you may be the first person they choose to tell about what has happened to them."
In other words, she said, "Become their cheerleader."
After a busy week of school, work, Zumba classes, and trips to the gym, Caroline Lewis relaxes in front of the television with her son. As she grows tired, the sound of the TV fading in her ears, she closes her eyes and takes a moment to breathe deeply. Her daily life is hectic, but it's in moments like this that she remembers she is safe and secure. After all, this is her new life: her life without fear.
A version of this story appeared in The Collegian.