There was a lot of buzz surrounding the sixth Lolaspalooza this past weekend at Lola's Saloon (2736 W 6th St 817-877-0666). And for good reason. This year's installment of the annual local music lovefest was a celebration of the legendary Wreck Room, which closed its doors in 2007. For the three days of the "Wrevival" (get it?), Lola's was like a time warp. The three-day event was a reunion as much as it was a tribute, with bands from the Wreck Room-era bringing out crowds filled with faces who hadn't been seen around town in years.
While I would love to have done a minute-by-minute timeline of the weekend, I am going to focus on a few highlights for brevity's sake. First and foremost, one of the most anticipated reunions of the weekend was Slow Roosevelt. The Dallas metal-but-not-really-metal quartet called it quits in 2004 after spending more than half of their decade-plus career seemingly on the brink of superstardom. While this wasn't their first reunion show since the break up (the band reunited in 2009 for the grand re-opening of Deep Ellum mainstay Trees and has played a handful of one-off gigs since), they were easily the most talked about band from the moment the line-up was released. Lead by frontman Peter Thomas, Slo Ro (as they are called by their faithful followers) was known for their high-energy live shows, and their set Saturday night was more of the same. Save for a couple of technical problems with guitarist Scott Minyard's cables, the quartet (which also features bassist Mark Sodders and drummer Aaron Lyons) ripped through their set, culling favorites from all three of their albums –– 1996's Starving St. Nick, 1998's Throwawayyourstereo and 2003's Weightless –– in front of the biggest crowd of the event. Wreck Room founder and Lola's co-owner Brian Forella was so caught up in the spirit that he stage dove during "Everyone's a Liar."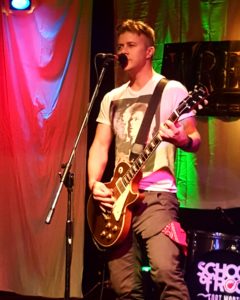 Casey Hess, veteran of many North Texas heavy hitters such as Doosu, Descenter, and The Burden Brothers, stopped his solo set Sunday evening to tell the origin story of his band, The Jump Rope Girls. Forella talked him into driving out from Carrollton after his Thursday night shifts at "some crappy restaurant" to play solo gigs at the Wreck. Hess spoke about the early days of what eventually became the critically lauded dream-pop trio, featuring keyboardist Bobby Maloney and programmer Don Relyea. Hess' solo set seemed fitting for the low-key Sunday night vibe. After having spent the past decade in hard rock bands, it is easy to forget the softer side of his songwriting, which was showcased during his half-hour performance. Jumping back and forth between a gentle tenor and a falsetto that could melt butter, Hess' shoegaze cover of "Mystify" by INXS (a song he mentioned was a mainstay of his Wreck Room days) was a high point of the evening.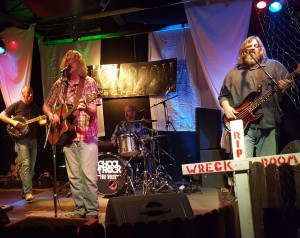 While there were many notable reunions over the weekend, including Benway's first show in 12 years, Tony Diaz's pop-rocking Goodwin, and the Hochimen (featuring members of Mildred and SPOT), many acts that are still alive and kicking (some of which played the Wreck and some whose members were in bands that played the club) performed as well. Haltom City cape-rock quartet The Me-Thinks broke out a new fog machine for the festivities. Dove Hunter, comprised of four guys who played in too many bands during the Wreck Room era to even begin to list here, shared stories of late-night after-parties at the venue between cuts from their recent release, Black Cloud Erupt Us. Wreck Room and Lola's pillar Carey Wolff and his current backing band, The Morning After, mixed new tunes with tracks from his past project Woodeye , which is often credited with being the first band to ever play the Wreck. Pinkish Black's headlining set Friday night reminded everyone who the alpha male in the Fort Worth music scene truly is.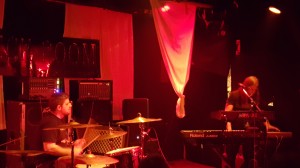 It was a weekend of looking back at the scene of the past and understanding how today's local music landscape took shape. At the center of it all was the Wreck Room. No word as of yet to the truth of the rumor (which is being started right now) that Yellabelly, Serotonin, and Strap are all on board for next year's tribute to the famed West Vickery venue, The Impala. But let's keep our fingers crossed.