Breaking fashion news: Bucket hats are in this year.
This comes as happy tidings for those of us who have hung to ours waiting for them to re-ascend the style ladder.
My source for this apparel assessment, Alex Dean, no doubt considers such headwear especially fashionable if it sports a colorful number, like 31, or 20, or 14. Mr. Dean is Executive Vice President – Strategy for Fanatics, the company that runs the new NASCAR Track Superstore. Fanatics hopes to bring a high-quality retail experience to stock car racing fans looking stay on trend with, say, some Danica Patrick flip flops or a Jeff Gordon Penn State tee.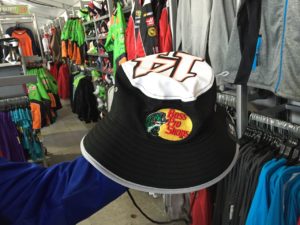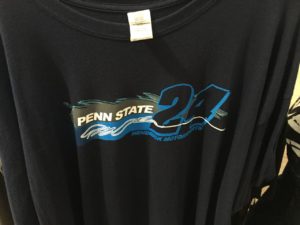 "There used to be a lot of merchandise haulers that had either single drivers or combinations of drivers. That has been phased out to be one giant superstore," Dean explained. He hopes the new setup, organized mostly by driver, will enable fans to touch and feel more merchandise and have a speedier checkout experience.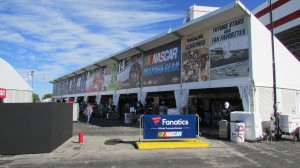 The new concept debuted at the Pocono races in early August and visited Fort Worth's Texas Motor Speedway last week. A huge store should conceivably offer a sizable selection. As someone whose day job revolves around doing creative work for sports entities, I was curious about what sorts of fun and innovative items might populate the Superstore's shelves. I found lots.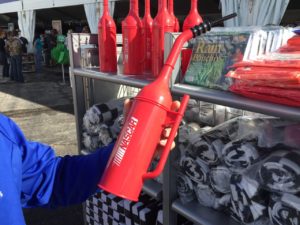 For instance, why rehydrate out of a plain water bottle when you can sip from a Fan Fueler – a replica of the gas cans pit crews use to refuel race cars. The NASCAR-logoed ones have proven popular enough this year that Dean indicated Fanatics will introduce driver-specific vessels next season.
Dean's crew has had 2016 on their minds over the past two-plus months as they've tweaked their brand-new concept.
"We're testing a lot of things right now," said Dean. "Some things that work on Friday and Saturday don't work on Sunday because they don't scale due to the amount of traffic we have. We've done a lot of testing over this year to figure it out."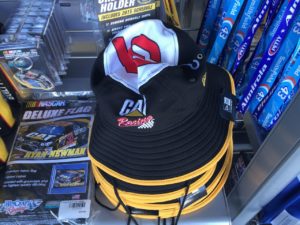 That evaluation, performed with an eye to next season's improvements, applies to all aspects of the store, including inventory. Hence the introduction of those sexy bucket hats, which Dean called "trend-relevant." That might not be the same thing as "in-fashion," but I'm going with it. One focus moving forward will be on women looking for the latest fab NASCAR wear, I assume to accessorize their chic new bucket hats.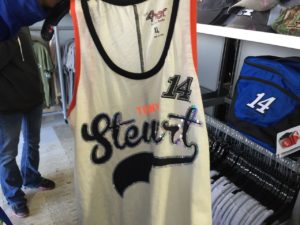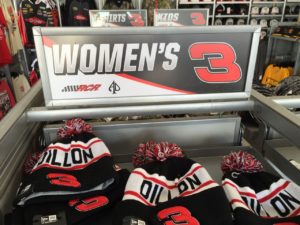 "We brought a lot of really nice women's fashion pieces into play," Dean said. "When they could see the quality, see the cut, they started to do really well. Unfortunately, we didn't buy enough. We definitely sold through a lot of it and we're making those adjustments for next year."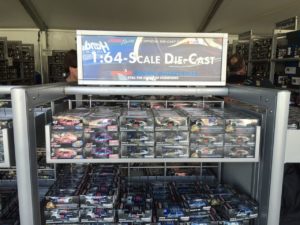 Dean cited die-cast replica cars as another beneficiary of the new system.
"We've seen big increases in sales in that business, partly because kids now can go and interact with the car," he said. "If you think about the old trailer model, they could barely see over the counter. So the shopping market for children is much more engaging and we're actually carrying a lot of drivers (cars) that weren't represented on the haulers."
Less well-known teams who didn't take haulers to the tracks may benefit from the new setup.
"Given the expense associated with the prior at-track merchandise model, we had virtually no presence on race weekend," explained Don Smyle, Director of Marketing & Sponsorship for Leavine Family Racing.  "The new business model provides smaller teams the same opportunity to showcase merchandise as the much larger organizations, albeit on a smaller scale."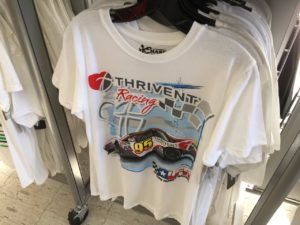 Leavine Family Racing runs the number 95 car in the Sprint Cup Series, driven by Michael McDowell.
"We've met with quite a few of the smaller teams and Xfinity (Series) teams and we're doing a lot of testing with drivers and they're able to have a representation where they haven't had it before, which is fantastic," said Dean. "It's good for their sponsors, it's good for the sport, fans of those drivers, and people who wouldn't know those drivers by name, but now are introduced to them in the retail environment."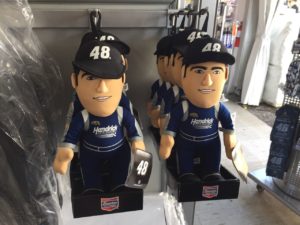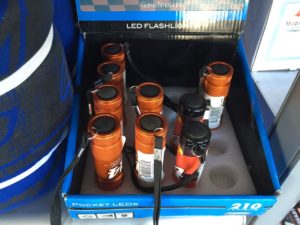 The more those drivers sell, the more of their, say, LED flashlights or plush dolls we'll see on Superstore shelves. Not every item bears a driver's mark, however. A growler/beer glass set or SPF15 smooth mint lip balm might bear the NASCAR logo or that of a team's advertising partner.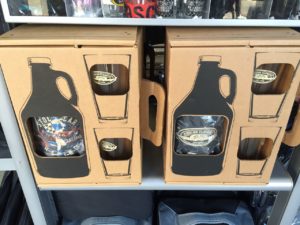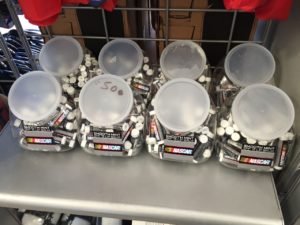 "There are some really cool sponsors in the sport," noted Dean. "The affinity may not even be for the driver, but more for the fan to the sponsor."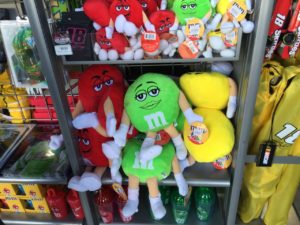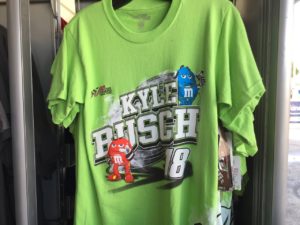 So you can get M&M stuffed toys, for instance, next to the shirts for the driver the candy brand sponsors, Kyle Busch. South of the Trackside Superstore, specialty vendors and car manufacturers maintain hauler emplacements, along with a pair of team Penske drivers whose contracts mandated they run haulers until the end of this season. Dean indicated that Ford, Toyota, and Chevrolet will move some retail product into the Superstore next year, along with the two remaining drivers, Brad Keselowski and Joey Logano.
Logano's trailer may have gotten some extra attention this past weekend after he got tangled up in a controversial wreck during the previous week's Martinsville Sprint Cup race.
"Performance on the track, and even, potentially, controversy on the track, drives consumer interest," noted Dean, citing Jeff Gordon's Martinsville win as an event likely to stoke sales in Texas.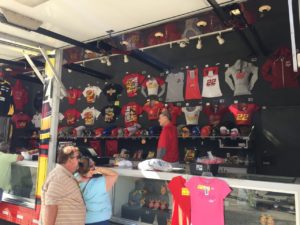 Logano himself professed to have seen an impact on merch sales from his recent success – and altercations.
"There are more No. 22 T-shirts and Joey Logano T-shirts and hats walking around," the driver said in his press conference Friday. "I have more fans than I've had before and I love it and I appreciate every one of them."
Dean agreed that notoriety could help Logano move shirts and hats.
"It's definitely going to drive interest and help his long-term brand, which is good for the sport and good for us in 2016."
Logano isn't the only competitor who may raise his merchandise profile thanks to the most recent dustup. The "Free Matt" t-shirts his suspended antagonist created are available at Matt Kenneth's website. Online sales at the official circuit site have a role in Fanatics' approach to its physical retail space.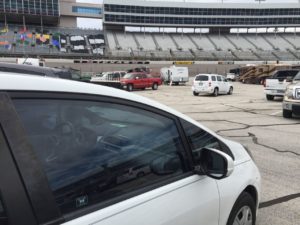 For example, what if some floozy punches you with a Carl Edwards foam fist so she can grab the last pair of those steering wheel earrings you had your eye on? Dean has anticipated such a possibility (okay, maybe not that one specifically).
"Fanatics runs and powers NASCAR Superstore on nascar.com. Those two businesses are going through a kind of a merging process right now," he said. "If they can't find what they are looking for here, we also have free shipping coupons that we give them so they can get it online and not have to pay any shipping, so it would basically be the same price as it was at the track."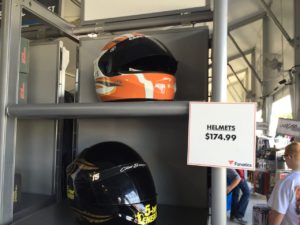 Thus you can get your replica helmet without much hassle – just heed the on-product warning: "Collectible helmet only. Not intended to be worn." You should also find ample supplies of traditional NASCAR items, like Total Print T-shirts.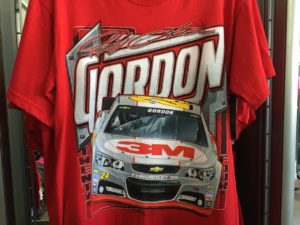 "This is NASCAR loud and proud," said Dean of the shirts boasting a front filled with art. "This was the number one seller on the trailers and it is still close to number one."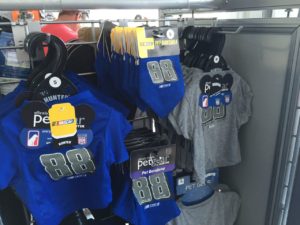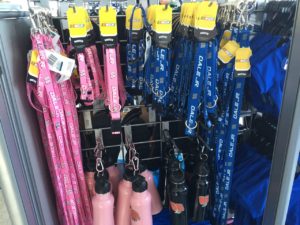 I saw a few patrons browsing the shelves accompanied by their dogs. Your hound can pick out her own leash or water bottle from the shelves stocked with pet apparel. If you bring your hunting dog, that's so much the better. You can find plenty of camoflauge patterns and other gear designed for the outdoors enthusiast.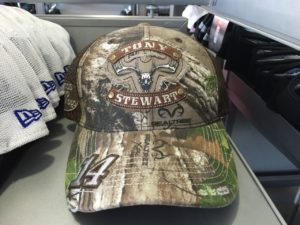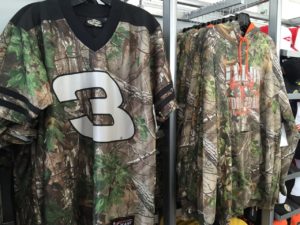 "There's a big crossover between the NASCAR core consumer segment and hunting," Dean pointed out.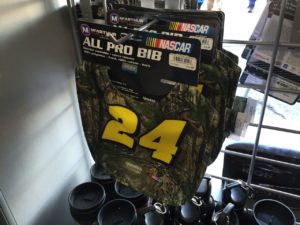 Let's say you need to feed your baby and you don't want to drip pea puree in your deer blind. You can get a Jeff Gordon camo bib so the little guy can neatly eat while also evading detection by nearby whitetails.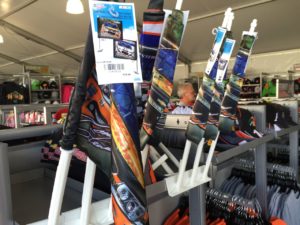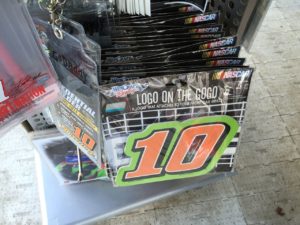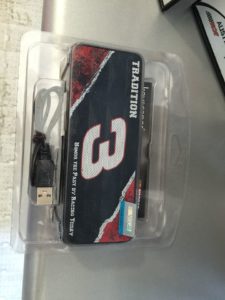 You can pick up a logo decal to attach to your 4×4's front grille and a car flag for the window. Keeping those on the store racks alongside the flair hair, color-me pennants, party lights, and bluetooth speakers requires a lot of work.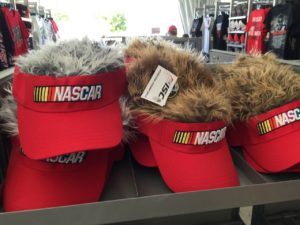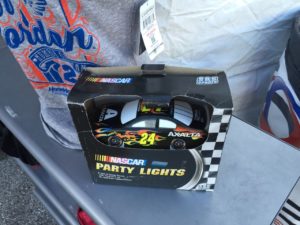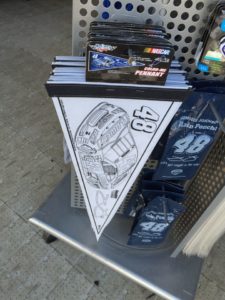 "We have a team that goes to every track, a team that goes to every other track, and a tent company that sets up at every third track," said Dean, who travels to all the races and hopes to spend 1-2 days a week at his Fort Lauderdale, Florida home. "Start to finish, it's about a three-week process."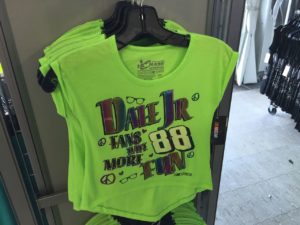 The inventory travels to every track. If they've sold too many "Dale Jr. fans have more fun" t-shirts, they just truck in more.
"We have a warehouse facility in Concord, North Carolina, just outside of Charlotte, which basically supports this business," said Dean. "Replenishment product usually comes in on a Tuesday, sometimes a Wednesday. One to two trucks are filled with product to basically restock for the next race."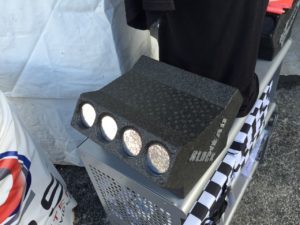 I wonder if the truck drivers wear blockheads on the road? You know, foam hats in the shape of engine blocks? Or maybe they just go for bucket hats.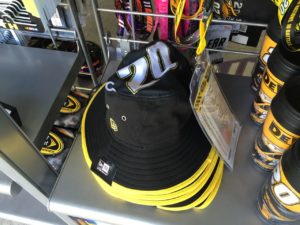 NASCAR and the Trackside Superstore will return to Texas in April, and you'll be able to pick up your own officially licensed bucket hat, assuming they're still in fashion (I really hope so).