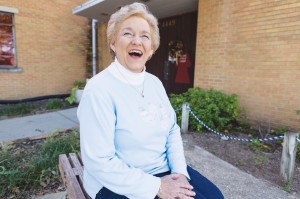 The anchor of the community around the girls' choir is the choir's home, a large building on Camp Bowie Boulevard near Hulen Street. The former home of Gideon Baptist Church, the 67-year-old structure lacks modern frills. Many of the ceiling tiles are worn and faded, but choir staff and volunteers keep every square inch spotless.
A humble display case in the prep choir rehearsal space holds several relics (a red cowboy hat, ceremonial Native American objects, and photos) that once belonged to the nonprofit's charismatic founder, Shirley Carter. Part of the new recruits' education involves learning about the larger-than-life figure who confronted racism and poverty while mentoring thousands of girls throughout her life.
The musicians rehearse twice a week, on Monday evenings and Saturday mornings. If the girls advance to the concert choir, a third rehearsal is added on Thursday.
During a recent prep choir rehearsal, artistic director Layne Trent kept the new vocal novices focused and on task. From one side of the classroom, she faced her pupils from behind a grand piano. Time was of the essence. Trent didn't give the girls a lot of time to get distracted and start chatting.
"Alright, everyone stop," she said. "In excelsis Deo. It's pronounced een excelsis in Latin."
Trent fired off the intro to the next piece on the program, Pachelbel's "Canon in D."
The girls, Trent said, are learning breath control, much the same way an athlete learns how to regulate muscle control during practice. Within two months, the singers will learn how to count to 50 in one breath and sing intervals properly.
The girls were having a blast. Or at least they were giggling a lot. At one point, a tiny tot turned to the girl next to her and whispered, "This is fun."
The chorus sounded angelic, but a few singers looked shy.
"When the girls first come into Texas Girls' Choir, they are certainly not sure of what they are getting into," Trent said.
Some girls come ready to belt it out, she said, but just as many are not accustomed to vocal rehearsals.
"They usually sit and watch for a little while, perhaps even a rehearsal or two," she said. "I think that is fine. By the second or third rehearsal, the music is becoming more and more familiar, so the girls will begin to sing out. That moment when the girl realizes she loves to sing with her friends is a magical moment indeed."
Former Texas Girls' Choir member Alice Priddy knows what that first year feels like. When she first joined in 1996 at age 10, her first worry was that she wouldn't have any friends. She said she wasn't popular at school. But the first day of rehearsals proved her wrong. She still keeps in touch with a lot of the girls she met back then.
Now 30, Priddy volunteers for the music group three times a week. It's a small way for her to show her gratitude for a program that transformed her life. Growing up in a rough part of Fort Worth, Priddy knew lots of kids who began abusing drugs and became teenage mothers in high school.
"I think choir kept me away from that population and gave me a positive place where I could be myself," she said. "That's why I volunteer now. I want these girls to have a positive role model."
For many of those formative years, Shirley Carter was that role model for Priddy.
"She taught me to keep my dignity and always treat people the way I want to be treated," Priddy said. "She always encouraged me to do the things I wanted to do and not let people talk me out of that."
Priddy makes it a point to tell new choir members about Carter. Sometimes she will recount a story about the matriarch or quote advice that the founder gave her 20 years ago. The former director of the Texas Girls' Choir is still influencing young lives.
******