Love FW, a Curated Singles Event
Fort Worth Weekly contributing writer Sarah Angle promises that Love FW will be the "hippest singles event in Fort Worth" this year. The matchmaking night is hosted by the Weekly, Tanglewood Moms, and LoveFrogKisser, and will be held Friday, Feb. 5 at The Collective Brewing Project. Single folks will be given green bracelets, and participants who are already taken will have a –– you guessed it –– red band. Tickets include two beers, a special pint glass, live music, prizes, and a swag bag full of cool stuff. Food trucks will be parked outside, and raffle ticket sales benefit the Ronald McDonald House of Fort Worth. Tickets can be purchased here.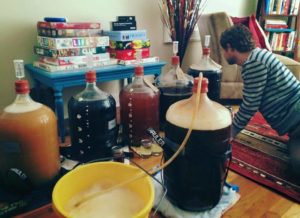 The Fort Brewing Company: Homebrewing Heavyweights
As far as recreational hobbies go, homebrewing takes an exceptionally high level of commitment. Anything less and you've wasted several weeks (not to mention $$$) making some rancid soup that was supposed to be a coconut cucumber saison.
Craft beer fans view these die hard enthusiasts as balancing the worlds of consumption and manufacturing. Any rightfully so. With all the expertise it takes to make and bottle a batch of beer it's no wonder many amateur brewers harbor desires to open breweries themselves.
And therein lies the rub for The Fort Brewing Company, a close-knit group of friends turned competitive homebrewing team. After a slew of recent homebrewing competition wins (Brew Riot, Bluebonnet Brew-off, and Martin House Brewing Company Riverside Shootout), the sextet is considering opening a brewpub in Fort Worth. At this point, it's only a business plan, but that is more than they could have dreamed of just three years ago.
Jenni and her husband (then boyfriend) John Hanley started brewing in early 2013. The effort got a boost when a mutual friend, Ashley Oaks, offered a 15 gallon mashton and kettle system he had built as part of a college project 15 years prior. John Koch, Collin Zreet, and Samantha Glen joined the team around that time.
"We've all grown in this together," Jenni said. "The system we were using was kinda old, and we had to bring it up to date."
The Fort Brewing's first customers were participants at local kickball tournaments. Those humble events provided encouraging feedback, prompting the homebrew group to throw its hat in the ring for the 2014 Dallas homebrew competition Brew Riot.
Setting the tone for the next two years, the brewing team went big and entered Super Freaker, a five chili Double IPA. It won first place in the specialty category. The team also won People's Choice and Best Female Brewer as well as awards in the hefeweizen and ale categories. The Fort entered Super Freaker again and Funkytown Peach the next year. Both placed in the top three. The 2015 Martin House competition offered something the other events didn't, though, the opportunity to see their beer sold across pubs and restaurants in Fort Worth and North Texas.
The Thanksgiving Day-themed Holidazed and Confused was a game changer. Winning the Martin House Shootout meant a chance for The Fort Brewing to collaborate with an established brewery.
"We had fun ordering it" at area bars, Glenn said.
Admittedly giddy, Glenn used the craft beer app Untappd to read comments from locals rating the beer. When a pub had a Holidazed and Confused tap night, Glenn excitedly showed up to represent her nascent brewery.
"That was really cool," she recalled. "Everyone thinks their baby is beautiful, but this really helped us get our name out."
Homebrewing competitions are intermittent, meaning showing up to craft beer events and posting on social media are a must to keep in the public's attention. Hanley and her friends are using the lull explore the possibility of opening a brewpub.
Why a brewpub and not a brewery?
"A brewpub gives us more freedom," Hanley said. "With a commercial brewery you really have to meet the demands of your distributors, and you are making a lot of the same thing. As much as we like to experiment, we like to be able to ask ourselves, 'What do we want to put on the tap next month.' "
And then there are the food possibilities.
While still early in the planning phase, the team is considering a play off the idea of a tree fort. Childhood favorites like grilled cheese sandwiches, PB&J, and s'mores will get an adult twist while staying well within the affordable family dining budget.
If everything goes to plan, the brewpub will offer a handful of favorites like Super Freaker Funkytown Peach while offering rotating one-offs. Given the group's reputation for bold beers, it might come as a surprise that The Fort Brewing spends a lot of time mastering session beers too.
Glenn has a sober outlook on the brewpub business, which outsiders mistakenly see as a cash cow.
"I know a lot of people think opening a brewery is going to be a dream, and you'll make tons of money," she said. "There is a lot that goes into it. A brewpub would be around a $1 million just to get started. It'll take a year to open your doors and a few more years before you have positive revenue. We're developing our business plans and talking about how our structure will be. We may be a little slower, but we want to make sure we are looking at this like a businesses and doing it right."
Meet the rest of the team:
John Koch graduated from Rose-Hulman Institute of Technology with a degree in computer engineering and now works in robotics at Lockheed Martin. Like many engineers, he visited breweries and spent as much time inspecting the brew system as drinking beer — wondering at first "How does all this work?" Eventually, that turned into, "I bet I can do this." On New Years Day 2013, he and then-girlfriend Jenni made good on that promise and brewed their first batch using an extract kit from a local homebrew store. But it wasn't long before they felt the itch to learn more about brewing science and try their own recipes. So they teamed up with a friend and colleague who had built an automated brew system in college, and after stripping away the automation and poring over the immortal words of Charlie Papazian, they brewed their first signature beer, Hell's Hefe Acre. John still loves to visit breweries and ogle their systems.
Ashley Oaks started homebrewing while attending Purdue University in the late '90s.  Like many, he started making extract brews in his apartment (sometimes far too many at once, according to his spouse). As his interest in homebrewing grew, he met a few homebrewers in the engineering department, including one of his professors. His senior project was to demonstrate his knowledge of fluid systems and controls by building an automated (okay, mostly automated) all-grain brewing machine. The group could not run test batches or even present the project on school grounds because it was a "dry campus." So the professor gave the group a key to his house, cleared out some garage space for them to work, and provided couches to crash on.  Fast forward to 2012 when Ashley unearthed the brewing machine at the request of some friends that wanted to transition to all-grain brewing; the old automation was stripped away, but the original stand and keggles are still in use by The Fort today!
Collin Zreet was bitten by the homebrew bug in 2008 as an undergraduate engineering student at The University of Texas in Austin, helping out friends and roommates who already homebrewed. Upon preparing to move back to Dallas and looking for a new hands-on science-y hobby, he grabbed a homebrew starter kit from the ever popular Austin Homebrew Supply before leaving town. He started with basic malt extract recipes from Charlie Papazian's Joy of Homebrewing. From there he moved on to more complicated recipes and techniques, while starting to enter local competitions. After meeting some new friends through ultimate frisbee, who also knew an old friend from high school, the The Fort Brewing team was born.  Since then, we've won multiple awards and competitions, and the rest is history.  Currently Collin is pursuing his MBA and Masters in Entrepreneurship at The University of Texas at Dallas to better understand the business side of the beer industry.
On Tap this Week:
Press Cafe
There's a new restaurant with a decent craft beer selection worth checking out. I visited Press Cafe on a weekday evening and found the place bustling. Not bad, considering it's only been open three weeks. There were several great beers on tap, and I even found a new one, Dankosaurus by Cedar Creek Brewery. The service was quick. Go see what all the buzz is about for yourself.
On tap for next week is a profile of Wild Acre Brewing Company, a craft beer brewery opening soon in Fort Worth.