At 20, Fort Worth rapper Le'Marr Warren — better known as Lyric Le'Velle — has drawn comparisons to J. Cole and earned Leon Bridges' seal of approval with his increasingly confident live performances. Some of his lyrics convey disturbing imagery but not in an attempt to romanticize violence. Le'Velle's goal is to make listeners think.
Since he was 13, hip-hop has been a way of dealing with internal struggles in response to conflicts around him. Le'Velle remembers making music to balance out the stress as he started high school while money was tight at home. He released his first mix tape, Said and Done, as soon as he finished his senior year at Boswell High School in 2013. It was a way of putting the past behind him and letting everyone know who he was as an artist.
Le'Velle is fairly shy in person, but he seems to flip a switch when he goes on stage. Fort Worth hip-hop artist and promoter Lorenzo Zenteno, a.k.a. Smoothvega, caught one of Le'Velle's earliest performances a year ago in Deep Ellum on a bill with Royce da 5'9" at Trees.
"I was very impressed and had no idea he was from Fort Worth," Zenteno said. "His sound is very authentic. With hip-hop, a lot of it is believability. But he is a natural artist and belongs on a stage."
Le'Velle's sound is old school East Coast hip-hop with a lyrical, down South flavor that reminds you that he has lived his entire life in Texas.
Zenteno stayed in touch with Le'Velle, first putting him on a bill with an Immortal Technique show at Ridglea Theater in December. Zenteno wasn't sure what to expect, but he was stunned by the performance from the 20-year-old who had played only a few shows.
Fort Worth hip-hop artist Lou Charles saw Le'Velle perform for the first time at the Ridglea. Charles was caught off guard when he realized that someone so young was rapping with such an impressive level of skill and really connecting with the crowd.
"His music initially caught my ear because it sounded like it came from a place of truth," Charles said. "It's also very wise. He has a very intimate feel. It's like having someone go up there and tell you a story. You listen intensely to his lyrics. He brings you in to his world."
Zenteno booked La'Velle for another performance, this one at The Live Oak Music Hall & Lounge. During his set, Leon Bridges happened to wander in and was impressed enough to hold up his phone and capture some of it on video. Later on, Bridges tweeted a picture of him and Le'Velle. He even included Le'Velle's website address and Twitter handle. In the Tweet, Bridges says he was "blown away" by the rapper's talent and said he was "next."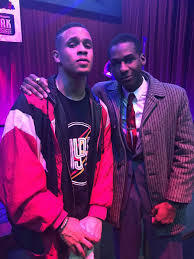 "I was unaware that he was in the crowd," Le'Velle said.
After his performance, he was greeted with Bridges' approbation. The two had a quick exchange. Le'Velle was unable to even determine what made such an impression on the Fort Worth soul singer. But Bridges made sure he had Le'Velle's info so he could draw attention to him on Twitter.
"He just came through and showed love," Le'Velle said. "I could tell he was genuine."
The gesture put Le'Velle on a small pedestal, and he enjoyed the response. Bridges' endorsement garnered a lot of attention from observers. The celebrity shout-out also seemed to help Le'Velle earn some respect from his peers in Fort Worth.
Through Zenteno's new talent agency, Premier Live Experience, Le'Velle was booked for his first tour last month, playing a few Texas dates with rapper Joe Budden. After watching Le'Velle's first performance, Budden was impressed enough to give the young Fort Worth cat shout-outs throughout the remainder of the tour.
"The performance element of what [Le'Velle] does is something you have to see in order to understand," Zenteno said. "There are certain performers who really translate better live, and he's just one of those guys. He's a far better performer than anyone I've ever known at his age."
Charles was also on tour with Budden and was surprised not only by how fearless Le'Velle was but also how fast he was progressing. With every show, Charles recalled, the young rapper's stage presence grew. He interacted with the crowd more and even mixed sets up as he noticed what the crowds were responding to.
"You just saw all the potential," Charles recalled.
After every performance, Le'Velle said he received positive feedback from his peers and, increasingly, had new fans asking to get a picture with him. And buying merchandise. By the time the tour landed in Houston, everyone seemed to point their phones at him, as if it was suddenly clear that Le'Velle was the up-and-coming artist everyone needed to know.
"People came up and congratulated me after I performed," Le'Velle said. "There were a lot of good reactions. Whenever I perform, I do want to provide an intimate setting so that people know me a little more."
Many have drawn comparisons between Le'Velle and J. Cole.
"Everybody swears up and down that I look like him," Le'Velle said, laughing. "I just take it as a compliment,"
The comparisons are understandeable because La'Velle looks like J. Cole and his lyrics are socially conscious ­­— not ficitonal, misogynistic, or romaticizing violence.
"At first," Zenteno said, "I didn't know if he seemed like J. Cole by design or if it was something natural. But that's just who [Le'Velle] is. He just happens to have a similar looks and similar mannerisms."
Le'Velle's debut recording, the EP Black, is not meant to be background music. Jazz, blues, and Southern bass inform it. A big fan of anything he deems "soulful," Le'Velle hopes to eventually record and perform with musicians. But as concerned as he is with his sound, it is just as important for listeners to walk away with something.
"I don't like to write anything without substance," Le'Velle said. "There has to be food for thought. Conscious music will never die. It's always appealing to someone and always evolving."
Le'Velle describes his style as lyrical and soulful. Many of his songs are about everyday struggles or romantic woes. But "Trissa" is an example of him using hip-hop to make sense of reality. The song tells the story he heard from a friend about a rape.
"That is a true story," Le'Velle said. "One of my close friends told me about what had happened to her cousin. I felt disgusted when I heard about it."
He transferred what he was feeling into a song to raise awareness.
With minimalist production and a percussion-heavy sound, "Trissa" starts with Le'Velle's descriptons of the scene of the crime. His ability to paint a vivid portrait with his words and tell the story from so many different angles — most prominently the victim's — is vivid to the point of shocking. Partying with men she thought she could trust, the victim called her boyfriend right before blacking out. The boyfriend heard the entire thing over the phone, at first trying to figure out what was going on and then desperately trying to figure out where his girlfriend was.
"She got caught up with the wrong crowd," Le'Velle said. "She ended up full of all types of drugs. She thought she could trust those guys, and they raped her."
It is a haunting story, a difficult one to forget, but he wanted to use those elements to convey a message with a song.
"It's a wakeup call for the fellas," Le'Velle continued. "We have to do better. Rape should never go unnoticed."
Le'Velle's songs are not just stories but experiences, thoughts, and sometimes the manifestations of something he has been harboring inside. "Wicked" is a track in which he tries to capture the hopelessness of finishing high school while trying to find a way to make a living, sometimes by desperate means.
"I was noticing how truly messed up a lot of people around me were becoming," Le'Velle said. "They were doing anything and everything just to stay afloat. It was graphic enough for me to write a song about it."
With a confident delivery, Le'Velle's socially conscious hip-hop sounds wise beyond his years with condeminations of violence and nods toward daily struggles. He is preparing to spend his 21st birthday in Austin for his first South by Southwest appearance, Thursday, March 17, but he's anything but nervous. He just sees it as another opportunity to improve his live show.
"I'm ready to execute," he said.
Le'Velle is already showing lots of potential. This is all the more remarkable because he is still relatively new to the live circuit and hasn't even had the chance to collaborate with any notable producers or artists.
"It's pretty apparent when you see something special," Zenteno said. "Le'Velle will be next."