This is not your father's ballpark brat, although you may want to bring Pops along to help you eat it.
We refer to a new food item set to make its debut at Globe Life Park in Arlington this season. They call it the Wicked Pig, and the prodigious porcine sandwich continues a recent tradition of medicine ball-sized food offerings at the local baseball park. The concoction has some traditional components like sausage products between bread products, but it offers so much more.
"The last several years, it's always been items that are horizontal," explained Arlington Sportservice General Manager Casey Rapp. "So this year (Arlington Sportservice Executive) Chef Cris (Vazquez) got to talking about "Hey, let's go vertical with it."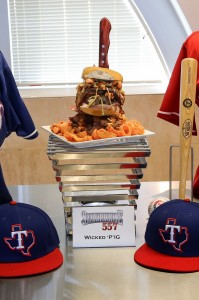 The tall sandwich does include a split sausage to maintain its ballpark hot dog credibility, but it also contains many other members of the pork family, including pulled pork, Danish bacon, prosciutto, thick sliced ham, and (because why not) pork rinds. They serve it near section 49 on a Hawaiian roll with barbecue sauce and cole slaw.
The Rangers and their stadium concessionaire, Sportservice, certainly know how to cater to meat junkies, and they will also introduce their Homerun Cheeseburger in the Captain Morgan Club. It includes four beef patties with American cheese, lettuce, tomato, and red onions on a brioche bun. However, they also will debut an entire menu for those who skew herbivorous. A new vegan stand near section 16 will feature plant-based versions of some standard ballpark fare.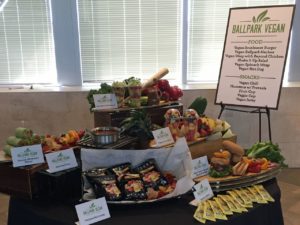 "We've always had a few health-conscious and gluten-free vegan items here at the ballpark, but we've been told by fans that they'd like more, and so we've added some ballpark favorite-type vegan items, like nachos, hamburgers, and hot dogs that, of course, don't have any meat products," Rapp said.
As the ballpark's top chef, Vazquez does a lot of the creative work in the kitchen. He looks for ways to put a new spin on more than just ballyard staples.
"Everybody's doing chicken and waffles, so I thought I'm going to make a little twist," said Vazquez. "So we're doing chicken and donuts."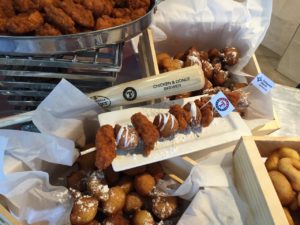 They'll serve the combination of donut holes and fried chicken on a 12-inch skewer drizzled with sweet & spicy buffalo honey sauce. It's available at the Flew the Coop stand by section 50.
When one operates in a venue capable of holding nearly 50,000 diners, one expects not all of them will want to eat the same thing. Rapp and his team come up with new food items by incorporating fan suggestions and also by getting creative with items hungry spectators don't even know they want – yet. That process starts early in the offseason.
"We start meeting once a week. There's usually five to eight of us that sit around a table and we just throw crazy ideas at each other," said Rapp.
Those nutty ideas (well, they could have nuts, anyway) have to be something that can be mass produced for a full ballpark, be able to be priced appropriately, and taste good. Plus, as with any recipe, Rapp's crew also has to be able to source the ingredients and vessels in which serve them.
"You've got find someone who will actually make the product for you. When we did the Boomstick (named for former Ranger Nelson Cruz and still available by section 24), we had to find someone who had never done it before to make a two-foot long hot dog," Rapp said. "You have to have something to serve it in. So with the Boomstick, we had to have somebody create a box just to carry the Boomstick. We have the same situation with the Wicked Pig. There's a special square box that it sits in, and that way if it falls over or you want to eat it like an open-faced sandwich, you can do that."
This year, Rapp, Vazquez, and company weren't the only ones who got to have input into the menu. In the tradition of their Beltre Buster burger and Choomongous sandwich, they will introduce a new item named for a Rangers on-field icon. This ballplayer got to contribute more than his name.
"We always try to come up with something based on a player," said Vazquez. "(Rangers Hall-of-Famer) Pudge (Rodriguez) likes to eat turkey. So we did a turkey panini with smoked turkey, lettuce, tomatoes, and onions, and we did a little rice stew. That's what they do in (Rodriguez's native) Puerto Rico. They call it a ropa vieja. It's basically just a stew. He tried it, he loved it, so it's going to be part of our new items."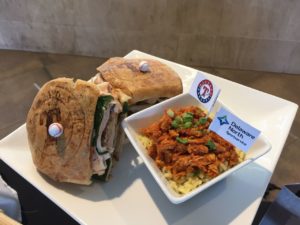 Fans can find the Ivan-approved "Pudge's Plate" at the Captain Morgan Club, which is open to all fans on game days.
Rapp had his own favorite among the new selections. It packs some kick and some crunch.
"We decided we were going to break down the Flamin' Hot Cheeto. We crunch it up to where it's almost powder. Then we take that and put it in a gigantic pot of nacho cheese and we stir it around and we turn the nacho cheese to hot nacho cheese with the Cheetos," he said.
They then add that mixture to the top of a hot dog and call it the "Flamin' Hot Cheetos Dog." You can buy one at the American Dog stands near sections 22 and 48. Before you do, however, they'll add more Cheetos on top.
"The Flamin' Hot Cheetos that are on top of it are not necessarily for the taste. It's to give that hot dog the texture, the crunchiness," Rapp said.
In all, the Rangers added 17+ new food items to their offerings in various parts of the ballpark, plus the new Best Damn Root Beer (5.5% ABV). One menu addition, however, actually made its debut late last year.
"We had featured it last year during the postseason and it was so well received, we're doing the Cotton Candy Dog again," said Rapp, of the frankfurter topped with cotton candy mustard.
As the Rangers begin the 2016 season, their fans will hope the team on the field can duplicate the Cotton Candy Dog's ability to succeed in October. Meanwhile, they'll have plenty to keep them, as well as their fathers and multiple other family members, satiated as they watch the campaign unfold.