When Adam Gonzales partnered with Chimera Brewing Company founder Carlo Galotto in 2012, the duo's lofty aspirations for the brewpub were softened by the realities of running a kitchen, restaurant, and brewery with little full-time help.
"We were working 40 hours a week just in the kitchen," Gonzales recalled.
Those hours were in addition to managing the business, addressing unexpected problems, and (of course) making beer. Not surprisingly, there wasn't as much time left for brewing as either would have liked. Still, they made it work and slowly built Chimera Brewing into the neighborhood hotspot and craft beer destination it is today.
Walk into Chimera Brewing now and several changes from those early years are evident. First, the choice of suds brewed in-house has expanded from two or three to several on any given day. Other changes aren't as obvious. Behind the kitchen is a 100-square-foot room that's been repurposed to house a new barrel aging program. In the coming months, Galotto and Gonzales plan to launch a new dinner menu. One contender for the evening selection is a Tuscan-style spare rib dish glazed in reduced balsamic vinegar and served with cheese grits.
The expanded offerings have become possible largely due to three new managers (Bryan, Mary, and "Q") who were hired or promoted over the past year, Gonzales said.
"We also purchased a good amount of kegs," he added. "Our serving tank can hold seven barrels. When we are down to the last two we can fill it with something else by storing the remaining beer in kegs. It helps our workflow."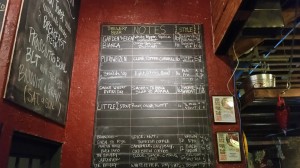 Over the coming months, Chimera Brewing plans to release several sour and American wild ales. Beacon of Hope, Gonzales said, should be ready by the end of the year. The brewing process for the ale is a blend of kettle-souring and traditional fermentation with the final product being aged in red wine barrels. Different fruits will be added to make five variants. In true wild ale spirit, Gonzales said he left the top (bung hole) of the barrels open for 24 hours.
Do the sours and wild ales represent a shift in Chimera Brewing beer offerings?
"It's just an augmentation," Gonzales said. "We're always going to have clean beers. We enjoy pale ales. We love English style ales. That's something that's always going to be part of what we do."
While the beer options have and will continue to expand, he added, Chimera Brewing fans can expect their favorites to remain on tap. Shields Up (American pale ale), 1011 (American amber), and Roman Empire (ESB brewed with myrtle) are some of the brewpub's oldest and best selling beers.
As Chimera Brewing continues to evolve, so does the surrounding community.
"We love our neighborhood," Gonzales said. "Most of [our employees] live in Fairmount. It's cool to see it grow. This area has really changed over the years. Everybody knows each other and what's going on in the neighborhood."
Fort Worth has been slow to come around to the craft beer movement, Gonzales said. But the co-owner, who has spent time visiting Austin and other major cities, sees a bright future for Cowtown among regional craft beer destinations.
"I've always promoted Fort Worth as a beer city," he said. "Years down the road, Fort Worth will be the beer destination of North Texas. There's lots of space. Real estate prices are spiking but reasonable. We're right in the middle of it"
On Tap this Week:
Chimera Brewing Company's We are Hellfire.
This week you can find a new English summer ale brewed at Chimera Brewing. The beer was made to honor a local soccer team, the Fort Worth Vaqueros FC. The suds are packed with deseeded serrano peppers and English cucumbers that cut through the heat and add a nice aroma.
Brewfest on Crockett
This Saturday, from 5pm to 10pm you can catch the 6th annual Brewfest on Crockett.
From the website: This is the 6th annual Brewfest on Crockett, and we're excited to bring you a great lineup of bands and craft beer. As always, there is FREE admission to the event, and you just pay for what you drink.
Beers on tap include Deep Ellum Neato Bandito, Deschutes Fresh Squeezed, Bishop Nectar Cider, Goose 312 Wheat, Goose Honkers, Community Mosaic, Oskar Blues Dale's Pale Ale, and Firemans #4.