Tandy Hills is located in an area that might have been called Tandyland if not for the national economic collapse of the 1930s. Developer George E. Tandy platted much of the East Side in the early 1900s with designs to turn it into a scenic neighborhood as Fort Worth was entering a boom phase. The city's population almost tripled between 1900 and 1910, from 26,000 to 73,000. George was the son of Roger Tandy, a pioneer who left Kentucky on a covered wagon in 1853, made his way to Texas, and started a ranch east of Fort Worth. George's son, Lewis, bought a lot in 1911 and built an unusual craftsman-style bungalow at 3427 Meadowbrook Dr., just a stone's throw from Tandy Hills. The house has remained in the Tandy family ever since, with various relatives of Lewis living there.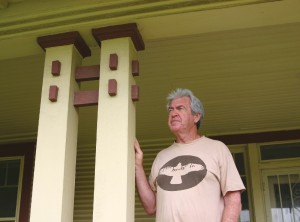 The most current resident is John Tandy. The adventurous John fled Fort Worth 35 years ago to seek his fortunes elsewhere. He has spent most of that time working as an urban planner in the Greater Los Angeles area. His mother lived in the old Tandy home until she died two years ago. Afterward, John returned to his hometown, moved into the house, and set about trying to apply his urban planning skills to help rejuvenate his old stomping grounds.
Tandy hears all the complaints from naysayers who believe city officials have abandoned them. He's not swayed. Tandy sees a neighborhood that is slowly improving and filled with possibilities. He grew up here during the 1950s and 1960s and recalls taking long walks in "the pasture," which is what his relatives called the wooded plains that would one day become Tandy Hills Natural Area.
"I really love Fort Worth, the East Side, and this house," he said on a recent afternoon while sitting in the living room of the old Tandy House, with its hardwood floors and vertically striped wallpaper. "I came here to contribute, to serve in a positive way as a force on the East Side. That is my purpose for being here, and that's what my family would all love. They were people who really believed in Fort Worth and were deep in service."
He stopped for a moment to point toward a discolored canvas bag that was being displayed next to the chair where I sat. He considers his involvement a modern twist on what his great-grandfather Roger and family had done 160 years earlier.
"That bag there? That was on that wagon," Tandy said. "They were pioneers, and now I'm an urban pioneer here on the East Side."
Tandy serves on the city's Urban Design Commission and the Fort Worth chapter of the Native Prairies Association of Texas, and he works closely with several other groups.
"I'm a flag-waving East Sider," he said.
He's particularly excited about the role that nearby Texas Wesleyan University can play in the area's revival. Tandy's relatives donated land for the college that was founded in 1890. University leaders recently worked closely with Tandy Hills supporters to put on BioBlitz, a celebration of Earth Day. The event attracted professional and amateur biologists from around the state as they documented the natural area's remarkably diverse ecosystem.
Tandy sees the experience as a turning point for the East Side, a bringing together of Texas Wesleyan, city officials, state officials, and others. Residents such as Don Young have done wonders in protecting Tandy Hills during the past decade. The native prairie land that was almost ruined by illegal trash dumpers and four-wheel enthusiasts during the 1980s and 1990s has become pristine under Young's watch. Tandy envisions the next step: using the land as a marketing tool to align it more heavily with the university.
In recent years, the college has done a makeover on itself, adding new sidewalks, benches, furniture, intramural fields, and landscaping. Last year, college trustees agreed to invest $11 million in capital improvements and new academic programming. Add all of that to recent infrastructure improvements along nearby Rosedale Street, and that once-scary looking part of Poly is looking better all the time.
"Texas Wesleyan is where the center of the action is on the East Side," Tandy said. "That's the real buzz."
The school, which currently enrolls about 2,500 students a year, has been increasing its property holdings, beautifying its campus, and boosting enrollment in recent years. And the university is re-establishing its football program after a 75-year hiatus. The team is expected to begin play in the National Association of Intercollegiate Athletes (NAIA) in 2017.
"Whether you care about football or not, it's a big deal," Tandy said. "There have not been many good things going on in the East Side for a long time, but there are some good things starting to happen here. That's why we want to protect Tandy Hills more."
Developers who build coffee shops, clubs, and other stores want warm bodies to fill those places. A college teeming with young people is vital, particularly when those graduates decide to buy a home nearby and raise a family. And families love places such as Tandy Hills. Four residence halls at Texas Wesleyan provide on-campus housing for 530 students. Many others live in apartments nearby.
"From the urban planning standpoint, it is a crown jewel," Tandy said. "One of the keys on the East Side is creating partnerships that can make something happen."
Neighborhood groups are strong and active in this part of town but somewhat isolated from one another as they focus on their own problems. Partnering up those groups with university and city officials and coming up with a coordinated plan just might entice developers.
Mayor Betsy Price attended the BioBlitz and admired the scenic views at Tandy Hills. Just past the park's boundary she could see Broadcast Hill with its large tower and facility that was once owned by KXAS/Channel 5 but was deeded to the city in 2014. The hill is surrounded by about 100 acres of privately held land, much of it owned by Chesapeake Energy. Beyond Broadcast Hill and just across I-30 is the mammoth, 1,000-plus acre Gateway Park. The Trinity River Vision Authority plan that calls to improve the Trinity River while creating development opportunities includes extensive improvements at Gateway Park. Connecting it to Tandy Hills by hike and bike trails would create something unique, Price said.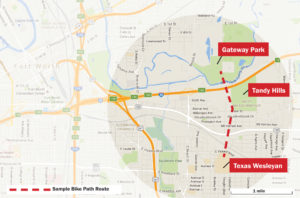 "Gateway, long term, is going to be the largest urban park in the nation, bigger than Central Park when we get it finished," she said. "Gateway and Tandy Hills are really close together. We know for a fact that the animals use the corridors underneath [I-30] to come and go. It's a wonderful opportunity in the heart of the city to have great green space."
The Trinity Trails bike paths have been extended to Gateway already. Connecting them to Tandy Hills wouldn't be that difficult, although bicycles are not allowed to be ridden on the actual Tandy Hills property.
"The goal is to link [Tandy Hills/Gateway] into Arlington, and then Arlington links to Grand Prairie, and Grand Prairie to Dallas," Price said. "If we could get it to the edge of [Tandy Hills], wouldn't it be fun for people to ride out here and park their bike and walk around and see this? Green space is critical for growing cities."
Residents lament that commercial development has been stymied on this part of town for decades. Creating the second coming of Central Park might help boost commercial development, although care will need to be taken when planning improvements, Price said.
"We want commercial development here," she said. "The neighborhood desperately needs it. But we don't want to encroach on this piece or the piece there [Broadcast Hill] that can stay natural prairie."
The trail connections, along with the growing university presence, just might be the impetus for Eastside renewal. Residents in large cities such as Fort Worth, the 16th largest in the nation, are moving closer to the inner city and abandoning the suburbs that created white flight decades ago. That bodes well for the East Side, where housing is plentiful and relatively inexpensive.
"Very few places have the location this East Side has," Price said. "Quick access to downtown, easy access to Dallas, and you don't' have to fool with I-35 if you're going that way. More and more young people are starting to look out here and locate out here. I've got a couple of young people on my staff who have bought out here, and they were surprised with how cool it is."
It all sounds good in theory.
"Tandy Hills is an essential piece of east Fort Worth if we are being revitalized," Young said. "I'm not sure we are. In the East Side, everybody is kind of in their private world. You've got a bunch of different ethnic cultures over here. In some towns, that mix turns into something special, like in Austin. Here, it hasn't gelled yet. It's happening, but it's real slow."
 *****