Aaron Leonard isn't the first name that pops up in discussions about Pouring Glory, Wild Acre Brewing Company, or Panther Island Brewing Company, but that's gradually changing. The young East Texas native designed and built several of those businesses' creative bar tops, tables, and décor.
We met at Pouring Glory recently. Late last year, Leonard was putting the finishing touches on the restaurant's industrial chic bar top. Pouring Glory co-owners Kevin von Ehrenfried and Scott Glover gave Leonard the basic design theme of the Near Southside growler fill station, which is influenced by the science fiction-based genre/subculture steampunk. With the owners' feedback, Leonard worked with his brother Cory, through their co-owned business Millennium Wood Products, to fabricate the wood, metal, and resin bar top in Pittsburg, Texas. The brothers are natives of the small town.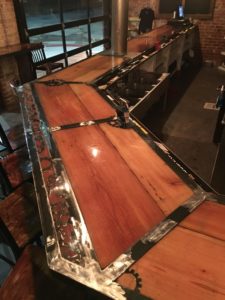 Leonard "has that entrepreneurial spirit," Ehrenfried said. "We gave him the layout and he came up with the bells and whistles."
You might think a contract with Pouring Glory and Wild Acre only comes with decades of experience in the field, but Leonard's big break came from a chance visit to Panther Island Brewing shortly after it opened December 2014. This next part says a lot about Leonard's colorful personality.
"Two weeks after moving here, I didn't know anyone in town," he said. "I was driving my moped near downtown and passed Panther Island [Brewing]. I saw parked cars and thought it was a wedding. I told myself, 'I'm gonna crash this wedding.' "
The first sign that the event had nothing to do with wedded bliss came when the doorkeeper asked to see his ID. The second clue was the large sign reading "Panther Island Brewing." As it happened, the brewery's founder and co-owner Ryan McWhorter was giving his tap room tour spiel just as Leonard walked in. The Fort Worth transplant already had an affinity for breweries. A cross country tour (also by moped) had previously shown Leonard that craft breweries always offer warm welcomes. Panther Island Brewing would be no exception.
McWhorter "seemed easy to talk to," Leonard recalled. "He's a humble person. I told him I'd like to learn more about his brewery."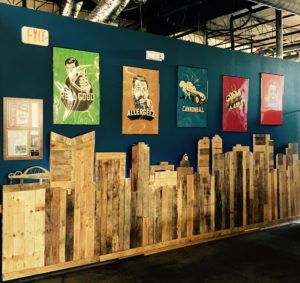 As is all-too-often the case in the craft beer world, a chance meeting, hoisted beer, and a handshake led to an opportunity. Leonard began volunteering at the Northside brew site. He and his brother had recently purchased a saw mill, and Leonard wanted to try his hand at carpentry work. McWhorter let the new volunteer's imagination run wild. Visitors can thank the Pittsburg native for the brewery's vinyl record wall, city skyline décor, TV-shaped projector wall, a small bar top, and the recently renovated outdoor space. Kristi Wilson, now working for Wild Acre Brewing, was heading sales at Panther Island Brewing at the time. She connected Leonard with the folks at Pouring Glory. After switching to the company now famous for "fanning the flames" of craft beer, she also introduced Leonard to Wild Acre founder and owner John Pritchett.
It was near the end of 2014 when Leonard first met Pritchett. Over the next two months, Leonard would design and build the outdoor overhang that now shades musicians, a large wire wall that will one day be adorned with ivy, and the taproom's sprawling brick bar top.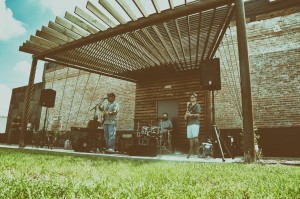 After pondering on Wild Acre's historic, rough and tumble brand, Leonard decided to use materials that would have been familiar to Fort Worthians a century and a half ago. Using an experienced bricklayer, Dallas Beasley, Leonard oversaw construction of the massive bar top. Everything about the structure is bold, from the board and batten sides to the circular tabletop that accents the bar top's corner.
In between construction projects, Leonard is taking classes in drafting at Tarrant County Community College. He aims to start his own design company with a full-time crew of artisans and carpenters  that focuses on creative commercial projects.
"I want to focus on the detailed stuff that you can't just buy at IKEA," he said. "I stay behind my rule of thumb: I will not mimic my own works anywhere else. Uniqueness is what people are drawn to."
Leonard can be reached via: millenniumwoodproducts@gmail.com
Don't forget to follow On Tap in Fort Worth's Facebook page.
On Tap this Week:
Top 10 Craft Beer Events this Fall
Along with seasonal trends toward stouts and pumpkin ales, fall brings the 817 several fun beer-related events. To help you plan ahead, here are my top 10 picks in chronological order.
2016 Fort Worth Weekly Homebrew Throwdown

The Weekly is proud to announce its second annual homebrewing contest as part of North Texas Beer Week. We are still finalizing details, but now would be a good time to start planning for the November 20th event at Panther Island Pavilion's The Shack. For inquiries on how to enter please e-mail me via: Edward@fwweekly.com
Beer, Beards, and Beethoven

Fort Worth's venerable Chamber Music Society is getting into the craft beer movement. Wild Acre Brewing Company is the venue of choice for a not-to-be-missed music experience.
From the Chamber Music Society: The Chamber Music Society of Fort Worth believes classical music has a home wherever great music and appreciative audiences converge. For one night this fall, that home will be Wild Acre Brewing Company. The evening concert will be a fun, community-minded experience that will please lovers of great music and craft beer. The 30-minute program will feature popular classical music favorites as well as arrangements of popular songs. The event will be emceed by CMSFW artistic director Gary Levinson and conclude with a post concert "Schmooze and Brews" where you can mingle, meet the artists, and enjoy complimentary Wild Acre Brewing Company suds. A food truck (not complimentary) will be on site as well. Bring a date or grab your friends. This unique concert is one night only.
Tickets are $20 per individual or $30 for two and includes up to three pints of beer after the show. Guest artists will be announced soon. Reserve your spot on the event page.