Arlington police officials are investigating a complaint of "unbecoming conduct" against Officer Jesse Davis.
If Davis' name sounds familiar, it might be because he incited viral outrage in 2011 after shooting a family dog five times (and missing with one shot) in front of the owner and all three of his children. Davis said the dog was aggressive and had charged him and backed him into a corner. Police investigators determined that Davis had fired in self-defense. The family said the dog was a 2-year-old Dachshund/beagle mix named Bucky, who weighed less than 40 pounds, had short, stubby legs and floppy ears, and served as a special friend to the family's young autistic son.
The dog shooting prompted an online petition at Change.org, signed by thousands of people asking for Davis to be fired. Other similar petitions popped up as well. Internal investigators exonerated Davis two months later but reprimanded him for making inflammatory comments on social media during the commotion.
Police officials had previously exonerated Davis on another dog shooting, this one in 2009.
Conduct unbecoming an officer, according to the Public Agency Training Council, is "any conduct which adversely affects the morale, operations, or efficiency of the department or any conduct which has a tendency to adversely affect, lower, or destroy public respect and confidence in the department, or any officer or employee."
The definition also includes conduct that "brings the department or any officer or employee into disrepute or brings discredit upon the department or any officer or employee. Officers and employees shall conduct themselves at all times, both on and off duty, in such a manner so as to reflect most favorably upon the department."
Arlington police are saying little about the current investigation, but one man believes it's the result of a complaint he had filed, alleging his now ex-wife had engaged in an improper relationship with Davis while the officer was on duty beginning about two years ago.
The complainant believes Davis wasn't the only Arlington police officer involved with his then-wife while on the job. The ex-husband also accuses a former Arlington police officer. Police, however, are not investigating him. That officer "retired from the city of Arlington [earlier this year] and was not under investigation at the time," said police Spokesperson VaNessa Harrison in an email.
The Fort Worth Weekly is not naming the retired officer because there is no record of an investigation and he is no longer serving. We are not naming the divorced couple for privacy reasons.
Davis is single and has worked at the Arlington Police Department for at least 10 years.
I called a phone number I believed to be Davis', and a man who answered and confirmed he was Jesse Davis did not wish to answer any questions.
"I am not permitted to speak to the media," he said and then hung up.
The couple divorced last month after 27 years of marriage. The wife had filed for divorce last year. When contacted for this article, she said she did not wish to comment about the allegations involving the police officers. She also characterized her ex-husband as "insane" and "dangerous."
The former couple have clean police records with no arrests.
The complainant shared a phone plan with his wife and found numerous contacts between his wife and Davis, including text messages, phone calls, and photos and videos. Phone records indicate that someone using Davis' phone had made 4,189 contacts with the ex-wife's phone number over a 16-month period.
The ex-husband wants Davis to be fired.
"The other guy conveniently retired," the man said. "He got out in time enough to get his pension and everything like that."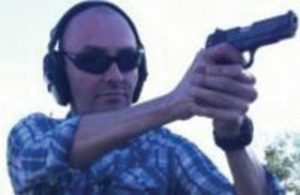 Davis' disciplinary summary report, provided to the Fort Worth Weekly by police, lists about a dozen complaints made against Davis dating back to 2008, including his use of force in the two dog shootings. More recently, he was accused of being discourteous in 2015, and the complaint was sustained, resulting in a memo being placed in his personnel file. He was reprimanded that same year for an allegation listed only as "offense report."
Buck Yandle is not surprised that Davis is being investigated by police's internal affairs again. Yandle was stunned when Davis and another police officer showed up at their South Arlington home in response to a neighbor's complaint that Yandle's dog, Bucky, had allegedly bitten a young boy. The officers knocked on Yandle's door, and Yandle stepped outside to talk to them. But his 4-year-old son opened the door a moment later, and Bucky ran outside.
"He ran straight past me and the police officers," Yandle said. "Jesse went, 'Hey hey, hey,' and the dog turned around and started barking. Jesse pulled out his gun and starting shooting."
Yandle said the dog was 10 feet away with his front legs on the ground and his butt in the air.
"It was playful," Yandle said. "I don't know why Jesse shot him."
Yandle's three children, aged 3 to 9 at the time, witnessed the shooting.
"They were screaming at the top of their lungs," Yandle said.
Yandle shooed all of his kids inside while they were still screaming and then went inside himself before looking out the window.
"Jesse Davis and the other office stood over the dog and were talking and laughing," Yandle said. "That's when I went out and confronted them. They threatened to take me to jail. I told Jesse to get off my yard."
Yandle's former wife, Natalie Brett, arrived home shortly after the shooting. She, too, recalls seeing Davis laughing in the yard as the dog's body lay there.
Davis, she said, "had no concern over anything. There was no remorse for anything."
The Yandle children were floored, Brett said.
"It traumatized them for a really long time," she continued. "They freaked out every time a police officer came around or got close.'
The Yandles' oldest son is autistic, and the boy had relied on Bucky as a sort of service dog. The boy suffered the most of the three children, Brett said. When he would get angry or upset about things, Bucky would calm him down.
"Bucky was not a trained therapy dog, but he was an emotional support dog," Brett said. "My autistic son had trouble coping and did not have that emotional support like he had."
Brett still maintains the Justice for Bucky Facebook page and pushes for legislation to reign in dog shootings. The site contains screenshots that Brett took of Davis' Facebook page depicting questionable posts, including a photo of the Mexican flag with the eagle in the center being shot and killed.
"Enough said," Davis wrote underneath.
One of Davis' profile photos depicted him pointing a gun. His Facebook page is no longer available.